After winning four titles back-to-back since 2012, you would be forgiven for expecting their title celebrations to be a little subdued, not this mob…
Bayern Munich finished their incredible season in the Bundesliga with a 3-1 home win over Hannover on Saturday.
They finished the Bundesliga season having only lost two games and ended 10 points clear of their rivals, Borussia Dortmund.
It was another outstanding season under Pep Guardiola who is waving goodbye to the Allianz Arena to join Manchester City. The Germans sure showed him a great farewell.
Epic Beer Fight
They started with a traditional trophy presentation on the pitch after the game but it soon turned in to a massive beer fight.
.@FCBayernEN celebrate a fourth straight #Bundesliga title in traditional style https://t.co/YLTEOX2GJJ

— BT Sport Football (@btsportfootball) May 14, 2016
In Germany, winning the title is often accompanied by masses of beer and Saturday in Munich was no different.
Bullseye! #MiaSanChampionspic.twitter.com/yupODLPw5H

— FC Bayern English (@FCBayernEN) May 14, 2016
Instead of drinking their massive glasses of beer, the players and the staff threw it all over each other in an epic beer fight on the pitch.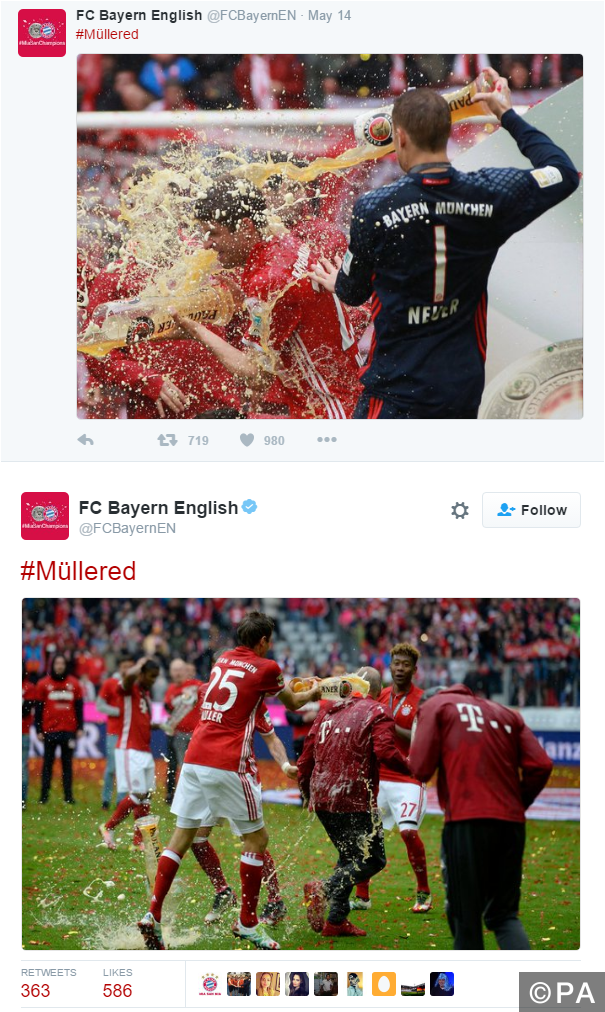 Changing Room Dance Moves
Jerome Boateng posted a video of him and his teammates showing off their dance moves in the changing room.
Paaaarrrrtttttyyyyyyy! This is how champions do the #RunningManChallenge! #MiaSanChampions pic.twitter.com/sYUsxkuK5f

— FC Bayern English (@FCBayernEN) May 14, 2016
They weren't great but it's still pretty funny and it shows that this Bayern Munich team has got great chemistry.
Title Parade
The celebrations then moved on to the city centre where the team were greeted by more than 10,000 fans all awaiting them so they could join in the party too.
Not long to wait now…the CHAMPIONS are coming! pic.twitter.com/HCRWi7aVQn

— FC Bayern English (@FCBayernEN) May 15, 2016
Thomas Muller led everyone in a classic Bayern Munich chant. Even the players' wives and girlfriends joined in. Absolute scenes!
Need a boost this morning? Here's @esmuellert_ leading 10,000+ #FCBayern fans in the #MiaSanChampions celebrations!https://t.co/yR6FnlF2B0

— FC Bayern English (@FCBayernEN) May 16, 2016
Title Party
The celebrating continued long in to the night as the team went to a local club where OneDirection played a set for the German champions.
Time for the #MiaSanChampions to hit the dancefloor! pic.twitter.com/iFW3TFqO5j

— FC Bayern English (@FCBayernEN) May 14, 2016
Thomas Muller looks like a right joker!
You've been hit by, you've been struck by a smooth criminal! #Müllered pic.twitter.com/YbUcSLV7Yh

— FC Bayern English (@FCBayernEN) May 14, 2016
Back To Work
The players made the most of the celebrations whilst they could but they're such a good team that they've still got another trophy to compete for as they face Borussia Dortmund in the German cup final on Saturday.
Neuer: "The celebrations are over now. From today we are fully focused as we prepare for the #DFBCup final! #FCBBVB

— FC Bayern English (@FCBayernEN) May 17, 2016
If you're having a bet on Bayern Munich's last match then take a look at our Bayern Munich vs Borussia Dortmund betting tips which will give you all the information you need for the big game.