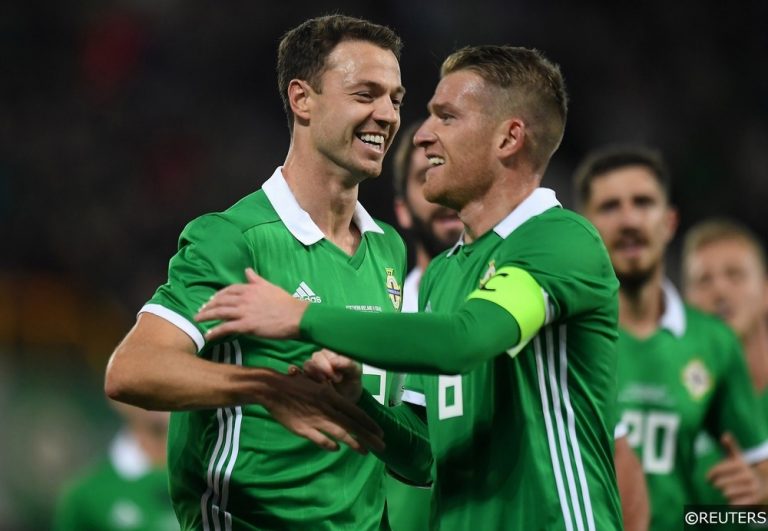 Before becoming a Sports Journalist for Free Super Tips, Aaron spent three years studying Sports Journalism at the University of Sunderland while taking in the Black Cats' 'glory years' under Martin O'Neill. Now back in Northern Ireland he turns niche stats into predictions for FST, while he's one of the few people on this island who is equally comfortable at Windsor Park and the Aviva.
Northern Ireland's players return to club football after a worrying double header. Monday's 2-0 defeat to Bosnia-Herzegovina in Sarajevo has left the Ulstermen struggling for form. They're heading towards relegation in the UEFA Nations League, but that's not the end of their worries. November's games have taken on a huge significance in the long-run, even if their fate already seems sealed.
However, the pressure is now on Michael O'Neill to turn around their fortunes. After three great years, things have taken a turn of late. The manager has tried to write off recent results, but their hopes of making Euro 2020 are shrinking with every loss. O'Neill has failed to tee them up for a return to a major tournament, and now the pressure is on. We're looking at how the manager has missed the point of the Nations League, and what he has to do next.
Also See: Nations League Minnows Pushing for Euro 2020
Dzeko the Difference
Northern Ireland were simply overpowered by the biggest star on the pitch on Monday night. Edin Dzeko had that little bit of quality which made the difference. The same thing happened in their defeat in Austria at the weekend, Marko Arnautovic scored the only goal late in the game, and the Ulstermen left with nothing. Overall, it's been a fairly testing week for Northern Ireland.
However, they were in this game throughout. Just like the meeting at Windsor Park last month, NI really pushed the Bosnians. O'Neill saw his side offer a scoring threat, and they hit the post on three occasions, which shows just how close they came to turning things around. Of course, that's an encouraging sign for the future, but right now it's not enough for them to stave off relegation. With three defeat from three in the Nations League, it looks like NI are heading for the third tier.
Also See: Time for O'Neill and Keane to go?
Pointless NI Missing the Point
As things stand, relegation is looking unavoidable for O'Neill's side. However, the manager doesn't seem too concerned. He's made a point of testing things out during their clashes with Austria and Bosnia, and they did put in a decent shift throughout. However, this was always going to be a tight group. Despite talking up the Nations League last month, the manager hasn't focused on results. It seems like he's written off the competition without realising what is at stake, based on a
recent interview
.
"What's the significance of relegation in this competition?" he asked ahead of the Bosnia game. "It means we play in League C when it comes around again in two years. That's not really our concern to be honest."
However, it should be his concern. O'Neill has written off relegation as a minor issue, switching his focus before the Nations League campaign is over. "Qualification, if that is to happen, it will have to come through direct qualification for Euro 2020," he added ahead of the Bosnia clash.
However, relegation means more than a tier three start in 2020, it will define the qualifiers. With their drop down all but secure, they'll now be put into pot three for the Euro 2020 qualifying draw in December. That's a massive issue for a side like NI, who have shown a toothless forward line during the Nations League. Staying up isn't something for two years' time, it means avoiding a potential nightmare draw.
As things stand, they could end up facing both of the 2018 World Cup finalists in the qualifiers next year. Trying to beat France and Croatia to one of two spots at the tournament is a huge task. They could even land Germany and Spain as qualification rivals, which would end Northern Ireland's tournament hopes before they begin. While that's part and parcel of being a smaller European nation, it was avoidable. That's what makes relegation such a major concern.
Windsor Clash Still Key
Obviously O'Neill had to be limited in his criticisms, given that relegation is basically certain. Austria have two games in November, and a point is all they need to relegate the Ulstermen. Even if Austria lose both games 1-0, NI will be relegated on goal difference. There's little hope of a turnaround in their fortunes, but that doesn't mean that November's big clash is a write-off.
While there's little O'Neill can do now if they are paired with two European heavyweights, he still needs to prepare the squad for the qualifiers. The concern about their hopes of challenging for the Euros is the form they have ahead of the campaign, which has seen them fail to win in seven competitive games, losing six. They've struggled across the last 12 months, which could have a knock-on effect.
Their last two qualifying campaigns brought top two finishes, and that was due to two factors. A sense of opportunity and belief, along with solid starts which were the springboard for success. This time, they'll head into a potentially tricky group with awful Nations League form behind them, which is far from a morale booster. Finishing the group on a high is a must, even if relegation is put beyond doubt by then. The next qualifying campaign is going to be just eight months long, played across five international breaks. Momentum will be key, and a bad start leaves little time to recover. Things are already going against them, so O'Neill needs to recognise the importance of their group finale, even if it's a dead rubber.
Follow Free Super Tips on Twitter to stay up to date with our daily tips and predictions or browse more football content on our website: