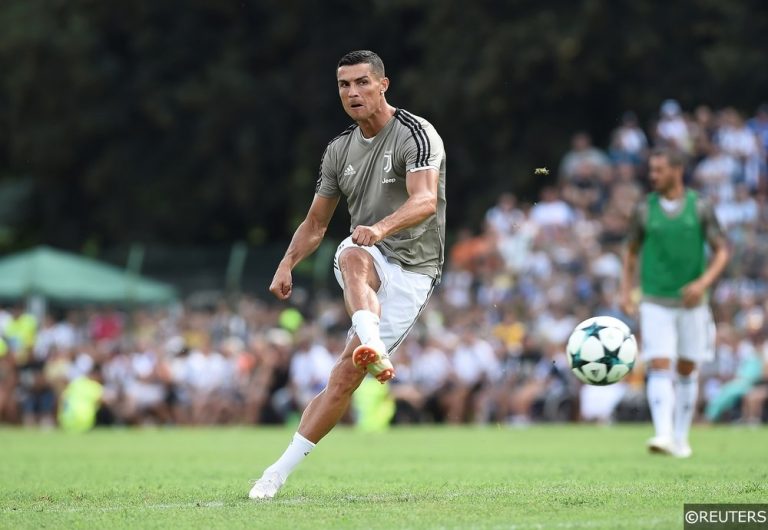 September 1, 2018
Show Bio
Before becoming a Sports Journalist for Free Super Tips, Aaron spent three years studying Sports Journalism at the University of Sunderland while taking in the Black Cats' 'glory years' under Martin O'Neill. Now back in Northern Ireland he turns niche stats into predictions for FST, while he's one of the few people on this island who is equally comfortable at Windsor Park and the Aviva.
One of the weekend highlights in Serie A is Juve's trip to Parma on Saturday. While the Old Lady are going to have a big following with Cristiano Ronaldo on board, there's more than just the Portuguese superstar to focus on here. His two games without a goal have led to some early questions being asked of their record signing.
However, it's the air of classic Serie A which makes this encounter interesting. Parma's glory days made them household names when Italian football was at its most popular. They've fallen on tough times, but after building their way back to the top flight, they now host Juventus on Saturday. For many clubs, facing the champions is a worry. For Parma, they're just delighted to be back.
Read More: Parma vs Juventus Predictions and Betting Tips
Parma's Comeback is Complete
Parma are facing their third game back in Serie A, but this weekend is the one which will make them feel like they're back in the big time. They're hosting the champions, clashing with Juve in a throwback to their famous glory days.
The hosts won eight trophies between 1992 and 2002, while that spell included Serie A title challengers, and success on the continent. The club signed some of European football's biggest names during that period, and they timed that spell just as fans in the UK and elsewhere began to follow Italian football. That's made Parma well regarded by many.
However, the good times didn't continue for the Crociati. They ended up bogged down in 200million euros worth of debt, as they were relegated from Serie A fighting for the club's very survival. Their bankruptcy sent them down to Serie D, but the spirit of the club took them straight back up. They completed three straight promotions to reach Serie A – a first in Italian football. That makes their meeting with Juventus a well-earned occasion at the Tardini.
Ronaldo Under Pressure Already
While Parma are celebrating their return to the big time, Juventus are dealing with problems which seem trivial in comparison to the hosts. This is a clash which shows the huge gulf which exists between the very top of Serie A and the rest. While Parma are working their way back from a £179million debt, Juventus are worrying about the opening two performances from their £112million record signing, 33-year-old Cristiano Ronaldo.
That huge price tag has brought a lot of pressure on to the Portuguese superstar, with many fretting over the fact that he hasn't scored in his opening two games. Never mind the commitment he showed, or that he impressed in a big game against Lazio. People want goals from CR7, and he's being expected to hit the ground running.
This week's Champions League draw showed the pressure on his shoulders. When talk turns to the European Cup, Ronaldo and Juve's chances aren't far behind. They've laid out their ambitions of winning this competition with him on board. Everything is being expected overnight from Ronaldo, despite that fact that he didn't score until October for Real last season.
Also See: Can Juventus Qualify in the Champions League?
Juventus Look Unsure in Approach
It's not just Ronaldo who is taking his time to warm up this season. Juventus are still running through systems to find what works. This is a familiar problem for Max Allegri, a manager who is a little too fond of tinkering. Even with wins in their opening two games, they're switching between systems. Their impressive transfer dealings have boosted the club, but they still don't seem certain how to use them.
Don't go weeping for the Old Lady just yet. It's hard to have sympathy with a side who are trying to crowbar a £112million signing in to a side which just won the Italian title for the seventh season running. They've used a 4-2-3-1 so far, before going with a 4-3-3 last weekend. It seems like they're planning to switch back for this trip, too.
It's hard to Allegri to find a place for Ronaldo. He's not a lone-forward, while he can't really play as a winger either. Meanwhile, he now has an embarrassment of riches at the back; enough defenders to play three centre-halves, and a squad full of wing-backs.
A 3-4-3 might be the next test for Juventus. It would give them a solid back four, and properly utilise their full-backs' attacking ability; providing support which Ronaldo was used to before moving to Italy. Mix in a holding and a creative central-midfielder, and then tee up an impressive forward line. Cristiano Ronaldo and Paulo Dybala have the freedom to drift around, knowing that Mario Mandzukic will do all the grunt-work in attack.
Can the Champions Learn from Parma Trip?
The champions have two games to prepare for their Champions League opener against Valencia; this is one of them. This is going to be a key game as Allegri tries out more combinations, while they look to continue their perfect start to the season. While the Old Lady view this as a box ticking exercise, the hosts are marking the culmination of years of hard work, taking a crumbling club back to the big time.
Regardless of how the champions line-up in this trip, it will take time for them to peak. While Juventus frantically search for all of the answers, it's worth casting an eye at their opponents. Parma are in the moment, enjoying the occasion and thriving off hard work and patience. Juventus could do worse as they search for a way to enjoy the Ronaldo years.
Follow Free Super Tips on Twitter to stay up to date with our daily tips and predictions or browse more football content on our website: