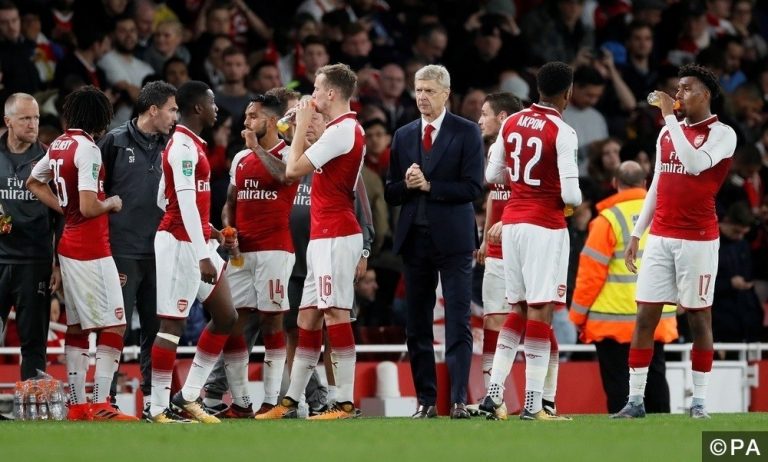 In the second of our three part Premier League Climax series, we turn our attention to the battle for Europa League Qualification. If you haven't read part one on the race for second place then we recommend having a read of it first.
Ok strap yourself in for some permutations and counter-permutations. As things stand, Chelsea occupy the Europa League qualification spot in 5th, comfortably ahead of Arsenal in 6th with a buffer of six points with five matches to play. However, because Manchester City won the Carabao Cup in February, the Europa League qualification place reserved for the winner of that competition transfers to the Premier League team that finishes in 6th – which is as we mentioned, Arsenal.
Burnley, one of the 2017/18 campaign's biggest success stories, are just two points behind Arsenal in 7th and are dreaming about competing in Europe for the first time since the 1960s. And although the Clarets are capable of securing their own continental qualification, 18th placed Southampton might just do it for them.
The Saints have made it to the FA Cup Semi Finals alongside Man Utd, Spurs and Chelsea. Southampton are understandably rank outsiders to lift the Cup and Burnley will be watching on and hoping that the Saints get nowhere near it. Because as long as Southampton don't do the unthinkable, Burnley's place in next season's Europa League qualification stages will be confirmed. That is of course barring a monumental Burnley collapse that would see Leicester City in 8th make up a nine point deficit in five matches.
Man Utd, Spurs and Chelsea will all have qualified for Europe's various tournaments by the time the FA Cup Final rolls around on May 19th, which means that the spot reserved in the Europa League for the winners of that competition will go to the team that finishes 7th in the Premier League. That of course, as things stand is Burnley.
In simple terms, if Southampton can somehow manufacture a miracle by taking the FA Cup back to St. Mary's and with it a place in the Europa League, only the team that finishes 6th will be guaranteed to join them in the competition in 2017/18. If that unlikely scenario plays out, who would be favourites to snatch the remaining qualification spot in 6th?
ARSENAL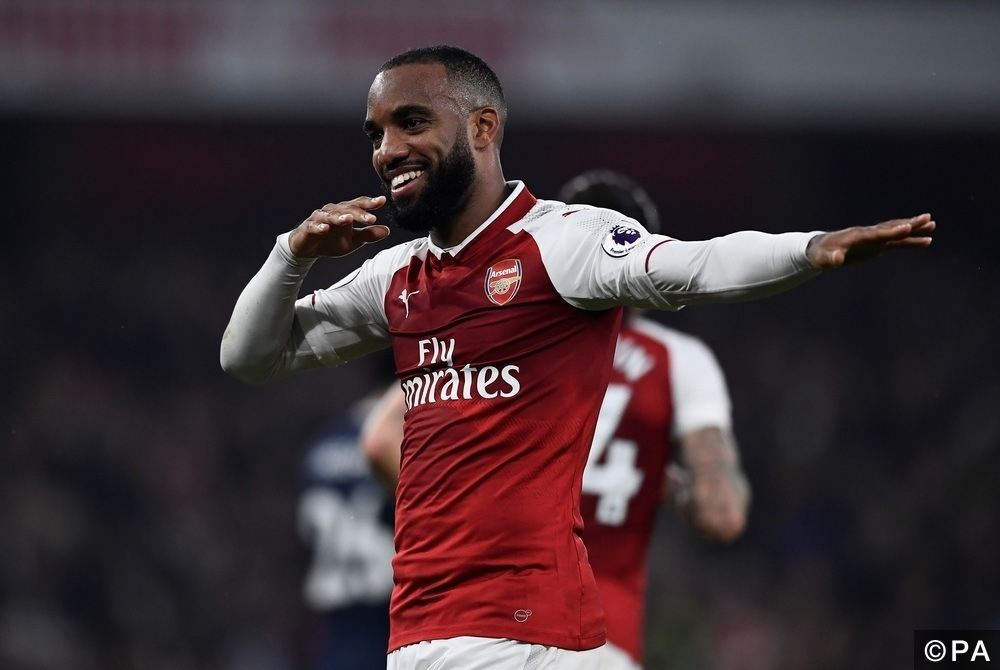 Current Position: 6th
Points: 54
Games Left to Play: 5
Odds on Top 6 Finish: 1/10
Remaining Fixtures:
West Ham (H)
Man Utd (A)
Burnley (H)
Leicester City (A)
Huddersfield Town (A)
It's a little ironic that Arsenal's best chance to avoid playing in the Europa League next season is to win the competition this season. The Gunners motivation has got to be twisted in that direction, with the Europa League often considered an unnecessary distraction for teams with loftier aspirations.
If Arsenal can battle their way past Atletico Madrid and onto victory in the Final in Lyon on May 16th, then they will earn a place in the Champions League. If they fail, they face the prospect of starting their pre-season just eleven days after the summer's World Cup finishes to prepare for another campaign in Europe's secondary club competition. That could have a serious impact on their scheduling and performances next year.
With that considered, it's likely that Arsenal will finish their Premier League campaign as meekly as they have contested the rest of it. It goes without saying that if Arsenal have struggled while fully committed to their Premier League programme, their domestic performances would slide further in terms of quality if their focus was elsewhere.
The Gunners look set to have their worst season under the management of Arsene Wenger and they have already lost a third of their thirty three league fixtures. Arsenal have lost all five of their Premiership away matches in 2018 and they have won only three times on the road in total this term.
Arsenal face the prospect of negotiating three more away matches in their five remaining games, while maintaining enough freshness to compete with Atletico Madrid in the Europea League Semi Final double header. Trips to Old Trafford, the King Power Stadium and the John Smith's Stadium could easily prove fruitless and though their decent results at the Emirates have provided a much needed antidote to their festering away form, continental distraction could have a sizeable impact on their games against West Ham and Burnley.
Naturally, their duel with Burnley on May 6th will be pivotal, but the game comes just three days after Arsenal fly to Spain to take on Diego Simeone's Atletico on their own patch. It's hard to fathom why the odds on Arsenal finishing in the top six are so incredibly short and with their problems and hectic schedule, it's conceivable that they only rack up four to five more points before the season ends. That would give them a maximum total of sixty, which looks a beatable target for the team chasing them.
BURNLEY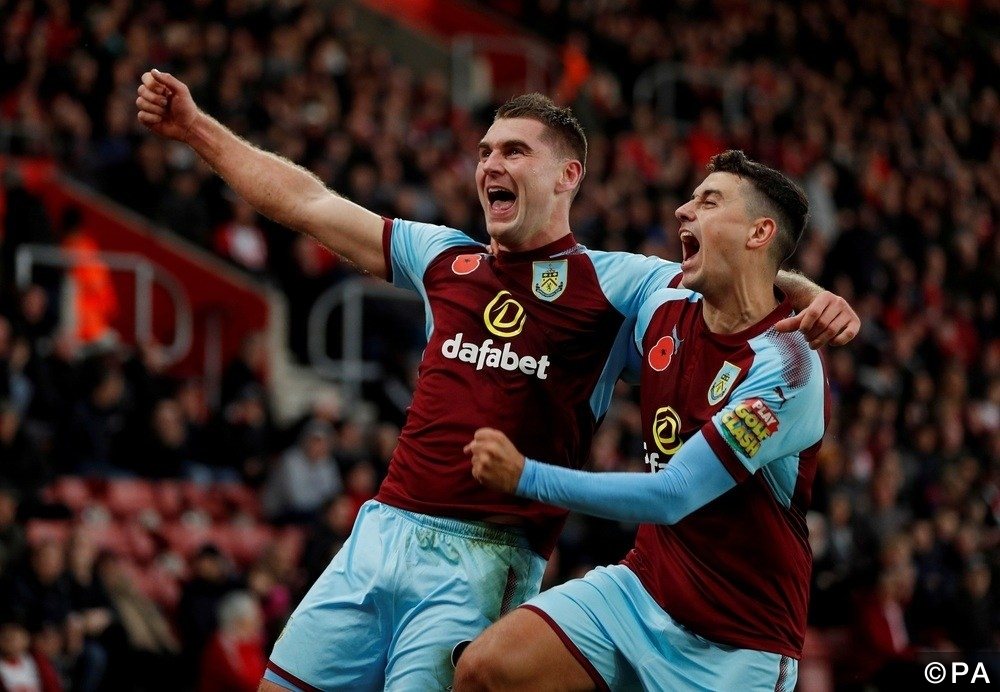 Current Position: 7th
Points: 52
Games Left to Play: 5
Odds on Top 6 Finish: 13/2
Remaining Fixtures:
Chelsea (H)
Stoke City (A)
Brighton (H)
Arsenal (A)
Bournemouth (H)
Currently sitting top of the Premier League form table, Burnley are on a five game winning streak. It's now just one defeat in nine overall for the Clarets who are finishing superbly to bookend a poor middle third and impressive first third of the season. Their run has carried them to within two points of Arsenal in 6th, a gap that sets up a potential leapfrogging in a single round of fixtures.
Operating with one of the smallest budgets in the Premier League, the term "punching above their weight" could easily have been coined for Burnley. In many ways, Sean Dyche's work is comparable to Pep Guardiola's this season and though the Catalonian is a shoe-in for the Manager of The Year Award, Dyche should be considered the next best performer.
Among their five remaining league fixtures, the two against London opposition stick out. Burnley face Chelsea on Thursday looking to emulate their wonderful 3-2 victory at Stamford Bridge on the opening weekend of the 2017/18 season. Burnley's home record against the other teams in the current top six hasn't been good however, they lost four and drew one of their matches against the division's big hitters.
Remarkably they played Spurs, Liverpool, Man Utd and Man City in successive games at Turf Moor in the space of a little over a month.
A visit to the Britannia followed by a home clash with Brighton are games that Sean Dyche will expect points from and three more will be demanded from their last fixture against Bournemouth. An awful lot could hinge on their trip to the Emirates just before that, though they will be banking on Arsenal's Premier League commitment being less than 100% by the time that game comes around.
We think ten points should be an achievable target for Burnley from their final set of Premiership games. Sixty two points could very well push them past Arsene Wenger's ailing Arsenal and into their highest top flight final position since they finished 5th in 1971.
VERDICT
Arsenal will understandably be going all out to win the Europa League to salvage what's been a miserable season for the Gunners. The salve of Champions League qualification would send their supporters smiling into the summer break, but with total commitment in one area comes a slip of focus in another.
Arsenal's meeting with Burnley on May 6th looks key and the Clarets may need to avoid defeat for the first time in seven meetings with the Gunners to pip their hosts to 6th. However, there are enough points elsewhere to play for, and that should ensure that even a defeat for Burnley in London won't be decisive.
Ultimately, Burnley look incredible value at 13/2 to dislodge Arsenal just above them. The Clarets are peaking at the perfect time and with their favourable set of fixtures, we're tipping them to slip past a Gunners side distracted by their quest to win the Europe League.
Click here to see our detailed Premier League predictions, match previews and expert betting tips.