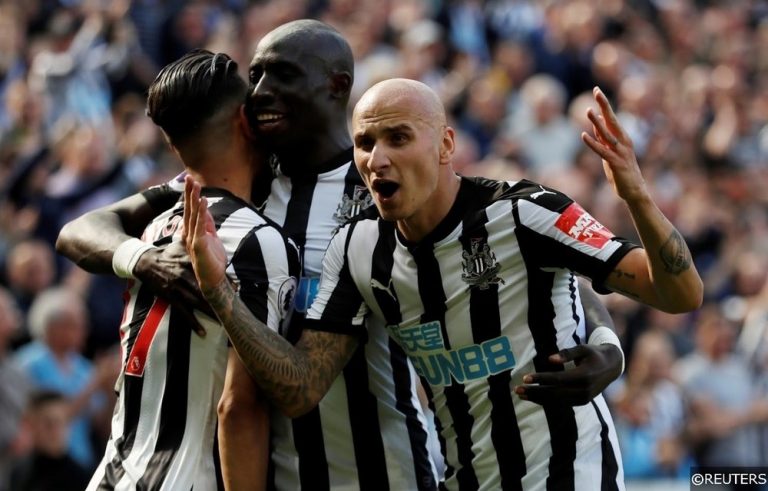 Simon Winter
@simonjwinter
Born in the south east of Ireland, Simon put his life-long love of football to good use when he started a successful independent blog in 2010. That opened up an alternative route to a career in journalism, and having had work published across a number of sites and publications, Simon joined the staff at Spotlight Sports Group in 2018.
Having already shattered the notion that possession football is king, and confirmed through in-depth statistical analysis that teams generally do drop more points after mid-week European excursions, we thought it was about time that we gave another of the game's familiar tunes a good going over.
This time we chose to test the validity of the often referenced, Premier League second season syndrome. We will try to figure out whether second season syndrome is an actual thing or whether it's just a clichéd construct used to pad out the air between strangers making football small talk.
Of course, the information we have gathered should be of particular interest to Newcastle United, Brighton & Hove Albion and Huddersfield Town fans who might be worried that the survival their clubs secured last season was a false positive and a precursor to inevitable doom. The data could also prove useful for those looking for an angle when perusing Premier League survival odds.
Read More: FST's Premier League Team of the Week: Game Week 7
What is "Second Season Syndrome"
Second Season Syndrome isn't an aversion to summer, it's a name given to a perceived common regression in the performance of teams in their second Premier League season that eventually leads to their relegation.
It's often hypothesised that newly promoted teams who survive their first season at the top of the English football period, enter a stage of rapid depreciation in their next season at that level.
People cite number of different reasons, factors and generalised say-nothing platitudes to offer a foundation to their second season syndrome axiom.
Typical examples include: "They have been found out", "they were an unknown quantity last year", "the euphoria and adrenaline of promotion kept them up last year – that's gone now"  and so on and so forth.
But what does the data say? Does Premier League Second Season Syndrome have any basis in reality?
Read More: Premier League Expected Goals Round Up – Gameweek 7
The Data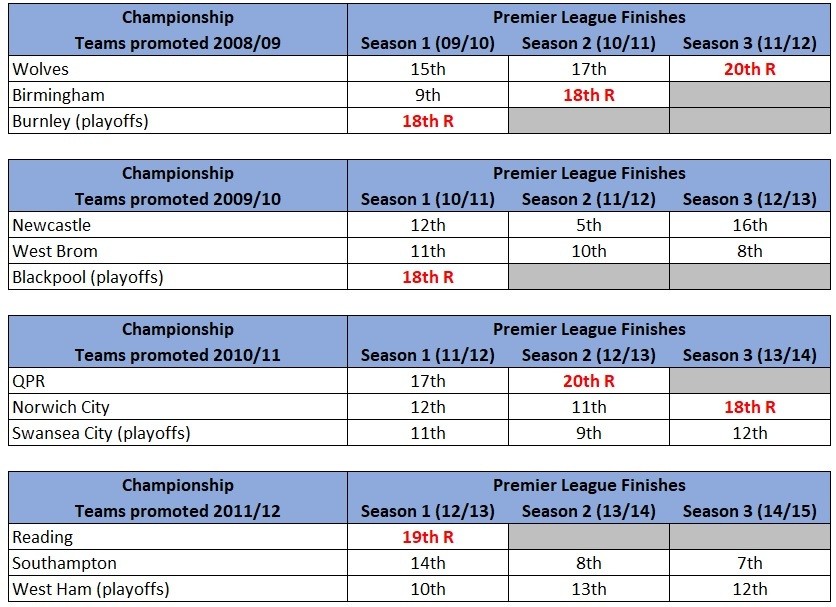 Analysis
Let's start by stripping out the teams who yo-yoed between the Championship and the Premier League inside the space of a year. Of the 27 teams promoted from England's second tier to the country's top flight (2009/10 to 2017/19), 9 went straight back down at the first time of asking.
On average, 33.3% of the teams promoted from the Championship in that period went straight back down.  However, last season was only the second time all three promoted teams managed to avoid Premiership relegation during the same time span (2009/10 to 2017/18).
In 2017/18, Newcastle, Brighton and Huddersfield emulated the heroics performed by QPR, Norwich and Swansea in the 2011/12 Premier League season.
Those numbers would suggest that First Season Syndrome is much more potent contagion than it's Second Season relation, but that's a different article.
Read More: FST's Premier League Power Rankings – Gameweek 7
Relegated in their second season
In the next stage of our analysis, we have to remove last season's promoted teams from the equation, because….well……they haven't had a second season to have a syndrome in yet.
Between the 2009/10 and 2016/17 Premier League seasons, 15 of the 24 teams promoted from the Championship survived their first campaign with the big boys.
Of those 15 clubs, just 3 of them were relegated at the end of their second season in the Premiership. Birmingham City couldn't beat the drop in 2010/11, QPR made their exit in 2012/13 and Hull City were relegated in their second season up in 2014/15.
In total, just 20% of the clubs who made it past their first Premier League season between 2009/10 and 2016/17 were dumped out of the league after their second year there. That's an extremely low number.
Second Season Syndrome a Myth – but what about THIRD season syndrome?
There is little evidence to support Second Season Syndrome or even Second Season Sniffles over the past decade, but what happens promoted teams who survive all the way through to their third successive Premier League seasons?
Our sample size is reduced a little further to incorporate relevant data only, as the teams who maintained their top-flight status and beat the Premier League relegation odds from 2015/16 onwards are only entering their third successive top-flight campaign in 2018/19.
There are two exceptions however; Middlesbrough and Hull City were two of the Premier League's relegated teams in 2016/17 having spent just one season in the division and are therefore included in our data set.
If that hasn't twisted your noodle too much, here is the result of our convoluted number juggling: Of the 23 relevant clubs promoted to the Premier League between 2010/11 and 2016/17, 15 or 65.2% of them had returned to the Championship in three seasons or less. Ouch.
Conclusion
The next time you over hear some colleagues or strangers discussing Second Season Syndrome and throwing around their ill-informed Premier League relegation predictions , feel free to guffaw loudly and dismissively. For maximum effect, we recommend you wait for their hollow retort before showering them triumphantly with the facts and stats we have presented here.
Our research shows that since the start of the decade, Second Season Syndrome isn't really a thing at all and it definitely shouldn't be feared.
Between the 2009/10 and 2016/17 Premier League seasons, 15 of the 24 teams promoted from the Championship kept themselves up. Of those 15 clubs, just 3 or 20% of them were relegated in their second season.
Myth busted.
Get in touch with us by emailing us at info@freesupertips.co.uk or tweet us on Twitter @FootySuperTips.