It's been a very long time since you could describe St James' Park as a happy place, but things took yet another turn for the worse in the north east this summer as their Premier League campaign started to fall apart before it's even kicked off.
Rafa Benitez, the manager who masterminded The Magpies' promotion back to the top flight and their subsequent survival despite the limited resources at his disposal, opted to jet off for a payday in China this summer.
He was swiftly followed by last season's on-loan striker Salomon Rondon, and after Ayoze Perez was sold to Leicester it had the fans wondering where on earth Newcastle's goals were going to come from. Perez and Rondon accounted for 54% of Newcastle's Premier League goals last season, and even with them up front it wasn't great.
Of the clubs to avoid relegation, only Brighton scored fewer than them. Take away Rondon and Perez' goals and you have a squad that managed just 19 goals in 38 matches. Much maligned owner Mike Ashley has dipped his hands into his incredibly deep pockets since then, but whether new boss Steve Bruce and the incoming faces can replace all that they've lost this summer remains to be seen.
Click here for all our Premier League betting tips, predictions, and news ahead of the new season.
Position last season: 13th
Top scorer: Ayoze Perez – 12 goals
Key Stats:
Of the teams that stayed up last season, only Brighton (35) scored fewer goals than Newcastle (42).
Newcastle conceded 33% of their Premier League goals in the final 15 minutes last season.
Just 37% of Newcastle's away games last season saw Over 2.5 goals scored, the joint lowest in the Premier League.
Ayoze Perez and Salomon Rondon accounted for 54% of Newcastle's Premier League goals last season.
TRANSFERS
Newcastle Arrivals
Joelinton – Hoffenheim – £44m
Allan Saint-Maximin – Nice – £18m
Kyle Scott – Chelsea U23 – Free
Jetro Willems – Eintracht Frankfurt – Loan
Newcastle Departures
Ayoze Perez – Leicester – £33.4m
Joselu – Alaves – £2.24m
Mohamed Diame – Al Ahli – Free
Kenedy – Chelsea – End of loan
Salomon Rondon – West Brom – End of loan
Possible Line-up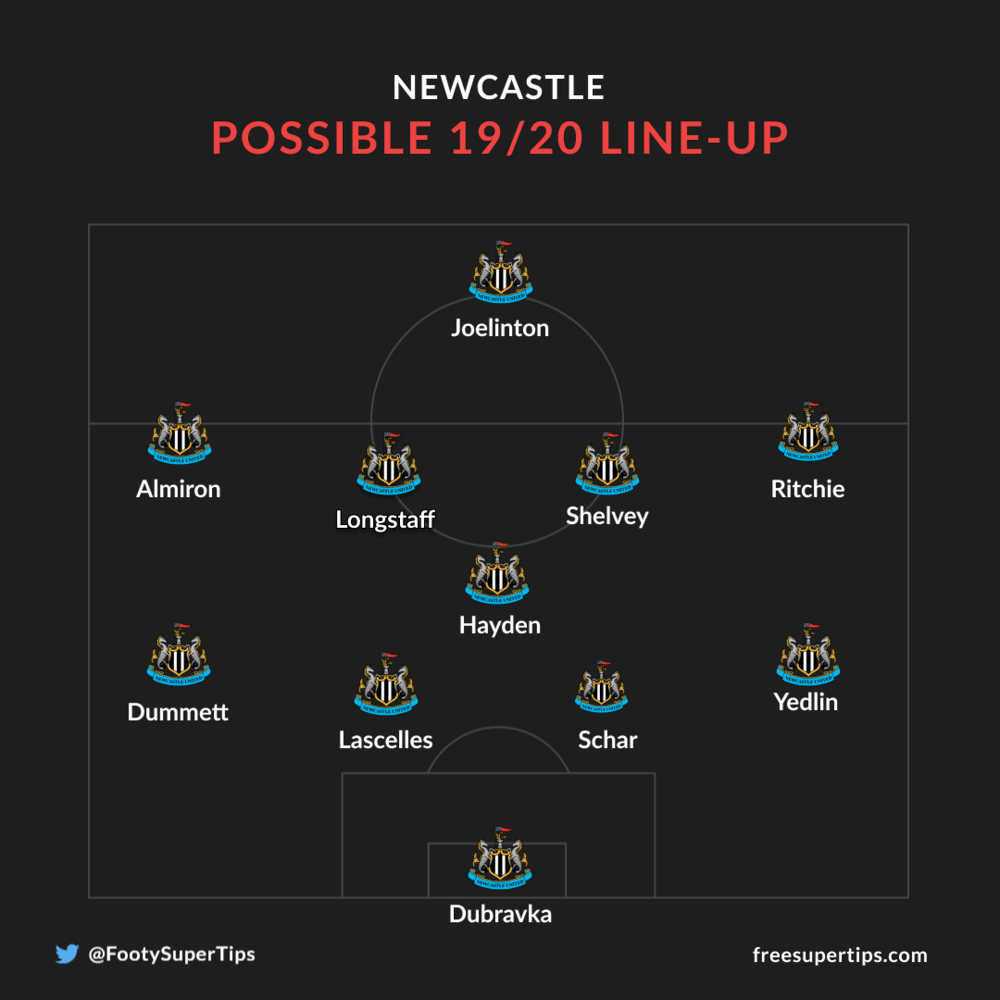 Player to Watch
Miguel Almiron
Newcastle dipped their toes into the transfer market in January to sign rising star Miguel Almiron from Atlanta United. They are believed to have paid around £21m for him, a then club-record fee, and this will be the year when they find out whether he was worth it.
Almiron had a difficult start to life in the Premier League as he battled niggling injuries while trying to adapt to the unquestionably higher level of football in the Premier League, but there's no doubt that the talent is there.
Almiron netted 21 league goals in his two seasons in the MLS and bagged an excellent 19 assists on top of that. Obviously replicating that form in the Premier League will be incredibly difficult, but if he can adapt to the higher level of football it could be a very exciting season for him as he partners up with new signing Joelinton.
The Season Ahead
Quick adaptation needed up front
One thing you couldn't criticise about Newcastle last season was their defensive organisation. Rafa Benitez set his side up to shut out the opposition, and with just 48 goals conceded over the course of the league campaign they had the joint 7th best defensive record in the entire league.
Their problems materialised at the other end of the pitch, where attacking threat was basically non-existent at times. Salomon Rondon and Ayoze Perez were the 2 shining beacons of goalscoring hope and contributed over half of the Magpies meagre 42 goals, but both of these proven Premier League goalscorers have left.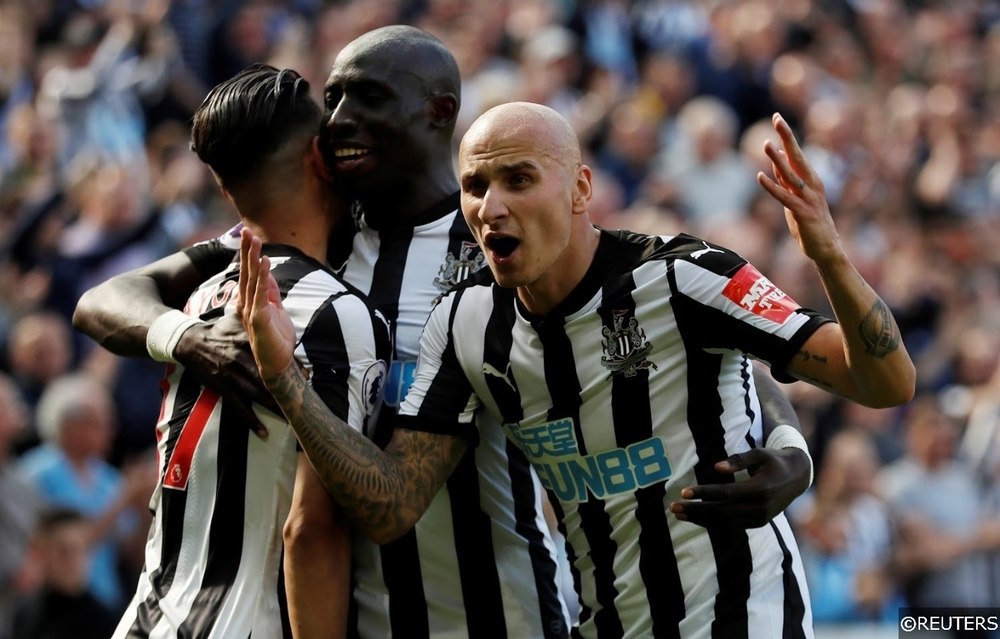 That leaves a huge weight on the shoulders of 2 South Americans with very little English football experience to their names. Miguel Almiron will attempt to take the role of playmaker having played 10 games for Newcastle since joining them 7 months ago. Then, the main man up top will be 22-year-old Joelinton, who arrived from Hoffenheim last month as their club record signing.
The £44m Brazilian striker has only actually scored 22 goals in his 87 league appearances since moving from Sport Recife in 2015, and most of those goals and appearances came in the far weaker Austrian Bundesliga. That being said, he stands a few inches over 6 feet and looks a very similar type of player to Rondon, so there is a chance he could adapt quickly to life in the north east.
However, if him and Almiron don't start firing straight away, Newcastle could find themselves in big trouble.
Want some preseason outright bets? Check out our 2019/20 Season Outright predictions hub and schedule here!
Can Bruce build on what Benitez has left?
If you're still confused about why Newcastle fans loathe Mike Ashley so much, this is the perfect example.
Rafa Benitez was hailed as the second coming of Christ by a large proportion of the St James' Park faithful, and the fact he was allowed to walk out of the door with seemingly no effort on Ashley's part to keep him at the club was bad enough. However, then he pulled another one out of the bag, completing one of the most uninspiring managerial downgrades in recent memory by appointing Steve Bruce in Benitez' still-warm seat.
Then, everybody remembered that he actually used to manage Sunderland.
But can Steve Bruce prove the endless supply of doubters and naysayers wrong this season and build on the limited progress that Benitez left behind?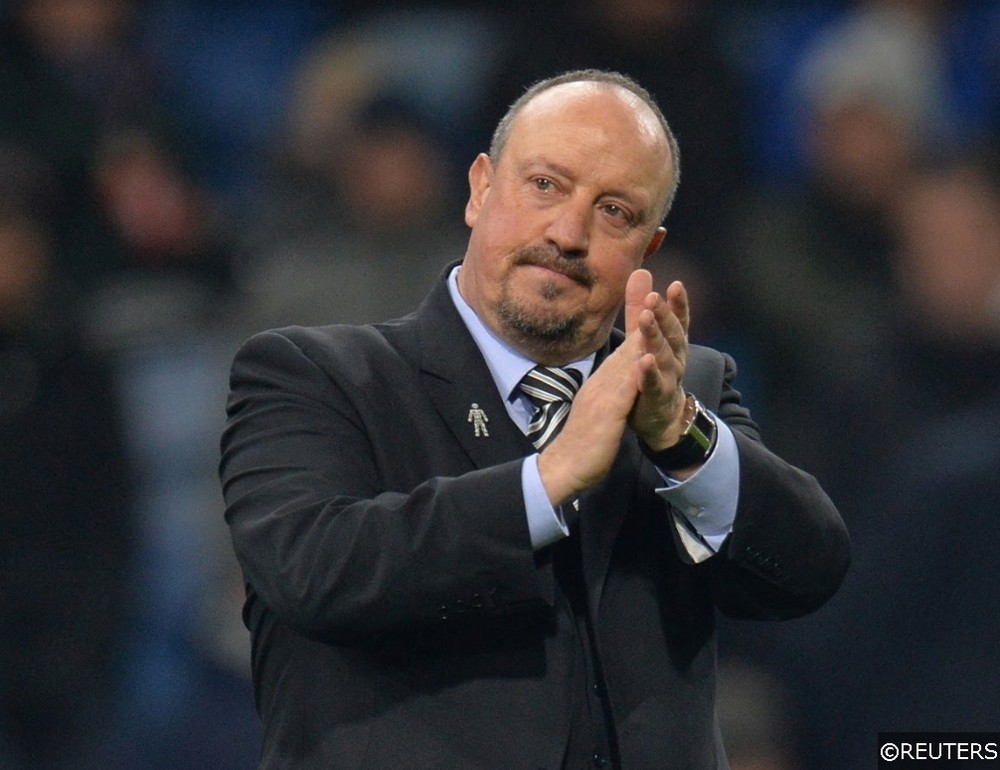 In all honesty, it looks unlikely. Benitez managed to squeeze every last ounce of quality out of a lacklustre bunch of players, drilling a work ethic into them via rigorous training methods and constant tactical animations from his technical area. Benitez had his downsides, but the Spaniard was meticulous in his tactics and demanding in his training, and it propelled Newcastle higher than many expected.
Bruce, by his own admission, isn't a tactician. That's bad news when working with a limited set of players, and while it will undoubtedly yield more entertaining football than Benitez' turgid setups, the results are likely to decline. Not only that, but there's also Steve Bruce's shocking win ratio is the top flight – 28.1%. Bruce's rudimentary approach of firing crosses in and hoping for the big man up front to get on the end of it is a winning tactic in the Championship.
In the Premier League? Not so much.
Newcastle Betting Tips
Newcastle to be Relegated at 9/4
Newcastle have lost their only 2 consistent attacking threats and are relying upon the unproven Almiron and Joelinton to replace them, while also desperately trying to hang on to the glimmer of hope that is Sean Longstaff.
Steve Bruce will be given nowhere near the leeway that Benitez was during poor periods of form either, and you get the impression that a poor start to the season would have the fans on his back almost immediately. Combine that with their protests over Mike Ashley's reign of the club, and it's a fiery cauldron to enter into.
Ultimately, Benitez held Newcastle at a level higher than their squad would suggest. With an arguably weaker squad and manager and an even more incensed fan base, this could be the year that it all comes crashing down at St James' Park.
Find the rest of our Premier League relegation predictions for the 2019/20 campaign here.
9/4
Newcastle to be Relegated from Premier League
Bet Here