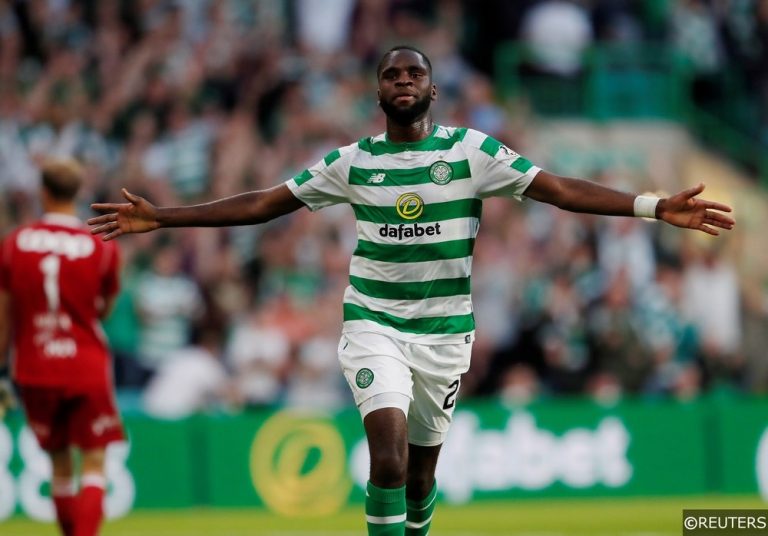 When Brendan Rodgers initially joined Celtic, his first transfer window would be crucial for the Northern Irishman as he built a team that would go on to dominate Scottish football for the next three seasons.
The Hoops signed a young Moussa Dembélé from Fulham, and it's safe to say that the French striker went down as one of the club's best players in recent years. The following season saw Celtic fish out for yet another striker as a way to relieve Dembélé of his duties whenever he needed a break or was recovering from an injury, and the Glasgow club found a suitable replacement in Odsonne Édouard.
The French Guinea born striker was brought in as a loanee for the full season, and Celtic had the option to buy him- at a hefty price. Édouard struggled to adapt in his first few months, albeit he was able to score and grab an assist on his Celtic debut against Hamilton, followed by another assist in the Glasgow club's game against Ross County.
Injuries plagued young Édouard from the get go, and he wouldn't score again until Celtic thrashed Motherwell 5-1 in a game that saw the youngster score a hat trick. This game was followed by another goal drought and the Frenchman only scored two more goals in the Premiership that season.
Nonetheless, Celtic were more than happy with his overall performances and the capability that Brendan Rodgers has to develop young talent made his permanent signing an easier decision to make, even if the cost of his transfer exceeded £8m pounds. It was also fueled by the fact Dembélé left the club for £20m pounds in the last days of the summer transfer window, forcing Celtic to invest back into the squad for the season ahead.
The 2018/2019 season, which you can read all about here, has been better for Édouard, but not many people are considering him to take the title of top scorer, as both Alfredo Morelos and Sam Cosgrove are the two strikers currently at the top.
Morelos presently sits at the top with an impressive 16 Premiership goals to his name as well as 4 assists. The Columbian is the favourite to stay in the position he's in, and it's no surprise- he's a goal machine. It's worth noting that the Rangers striker has only scored two goals in a game twice, and he's able to score a goal every 118 minutes of football that he plays. Moreover, only 52% of his 64 shots have been on target this season.
Cosgrove shares some similar stats to the Columbian, only the Aberdeen frontman has exploded onto the Premiership scene, which you can read more about here. Cosgrove has racked up 14 goals this season, 12 of which have come from his previous 13 games. Unlike Morelos, the Englishman has bagged four doubles this season, including one against Hearts and another when Aberdeen faced Rangers. 55% of Cosgrove's 44 shots have gone on target, and he also scores every 114 minutes, so there's isn't much separating him from Morelos.
Although Édouard has 12 goals, 4 less than Morelos and 2 behind Cosgrove, the Frenchman has been more efficient than his fellow strikers. He's only scored three doubles all season- against Hibs, Hearts and Motherwell- but the Hoops' striker has been a crucial impact substitution, especially in Celtic's victory over Aberdeen on Boxing Day and in their latest league game against Hearts, when Édouard grabbed a late winner to give his side all three points. The ex-PSG striker also has an incredible efficiency when taking his shots, as 72% of them have gone on target this season- although he has taken half the amount Morelos has and 12 less than Cosgrove- and he scores every 103 minutes.
MATCH REPORT

Neil Lennon enjoyed victory on his return to Celtic thanks to a last-gasp goal from Odsonne Edouard in a 2-1 win over 10-man Hearts-https://t.co/VDOJUqOTEi pic.twitter.com/3jn2TSLS2W

— Sky Sports Scotland (@ScotlandSky) February 28, 2019
At the end of the day, stats only help us understand how a player is performing and what he may or may not excel at. However, it's crucial to mention that Édouard is only 4 goals behind Morelos having played a whopping 642 minutes (roughly 7 games) less this season in the Scottish Premiership than the Columbian, as injuries have got the better of him.
It's going to be an interesting and equally entertaining battle between these 3 strikers to see who can claim the top scorer accolade, as the trio will more than likely have to face each other at least twice in the latter stages of the season thanks to the fixture split in April. This could potentially see them struggle more for goals as they'll be playing against tougher opposition, but evidently whoever comes out on top will deserve it.
We fancy Odsonne Édouard to finish as top goalscorer this season, and he's currently priced at 10/1 by bet365 to do so, which is a fantastic price considering that he's merely 4 goals behind Morelos and with easier fixtures against Dundee, St Mirren and Livingston in the next few weeks, as well as 2 crucial ties against Aberdeen and Rangers, having scored 3 times against the latter.