Now that we are drifting through the club footballing limbo that exists between the old and new Premier League season, we thought it would be an ideal time to engage in some interesting betting research and analysis.
In our first explorative experiment, we've pored over pages of results and historical betting odds* to try to determine which Premier League club was the most profitable team to back in the win, draw and loss full time results markets last season.
In this hypothetical probe, we've calculated the profit or loss that would have been made by backing every respective team to either win, draw or lose all their Premier League matches in the 2018/19 season with a £10 stake on each result.
Example: What would your profit/loss have been had you placed a £10 bet on Man City to win in each of their 38 Premier League contests?
Check out the somewhat surprising results below:
(*Historical odds were taken from OddsPortal.com )
The Overall Results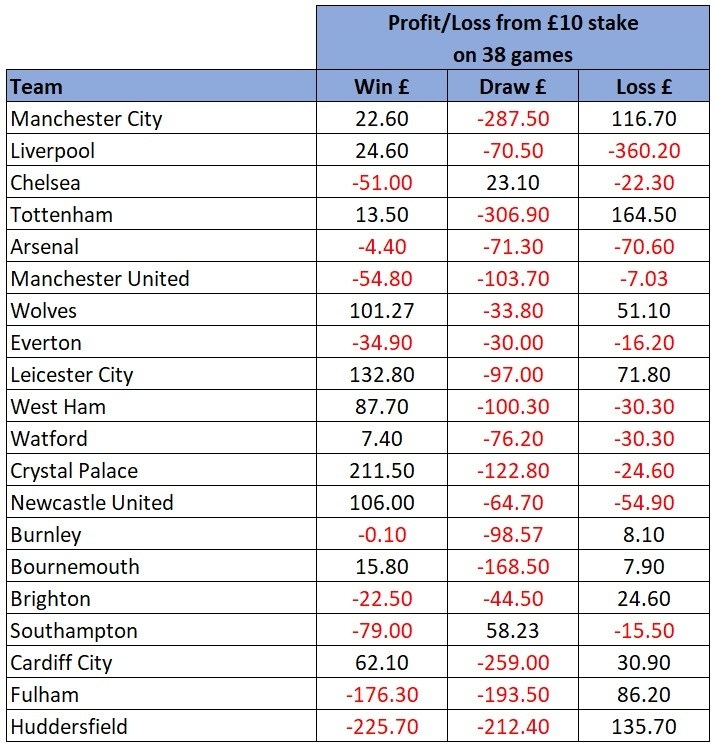 Right from the get-go, you can see that backing the incredibly consistent, title winning Manchester City team to win every week wouldn't have been much fun last season.
The Citizens won 32 of their 38 league matches in 2018/19, but their overwhelming dominance all but completely sucked the value out of their odds to win, and backing them at £10 a pop over the course of the season would have returned a measly £22.60. We are however backing Man city get three points away from home against West Ham in their Premier League opener at lunch time on Saturday.
If you had been brave enough to back City to lose at the same price 38 times, you'd have won a much healthier £116.70, even though the champions were beaten on just 4 occasions.
Similarly, Liverpool's relentless winning machine left little room for profit in the win market for the club, and had you backed them to lose every week, you'd be in a serious hole. Jurgen Klopp's men were beaten only once all season and we are tipping them to beat Premier League newcomers Norwich in the opening game of the 2019/20 season.
In total, 11 of the 20 Premier League clubs would have returned a profit had you backed them to win every game last season, while 10 clubs would have left you in the black had you backed them to lose every time. Just 2 clubs (Chelsea & Southampton) would have made a profit from draws.
I know what you're thinking, but don't worry….we haven't got our maths wrong. There was a noticeable overlap between some of the club's numbers. In fact, Man City, Tottenham, Wolves, Leicester, Bournemouth and Cardiff would have all returned profits had you backed them to either win or lose before each of their respective 38 games last term.
Interestingly, Arsenal, Man Utd, Everton who finished 5th, 6th and 8th respectively would have left you in the red had you backed them to win, draw or lose their games right through the campaign. Another reason for Arsenal and United fans to be cheerful….
The Best Performers
Wins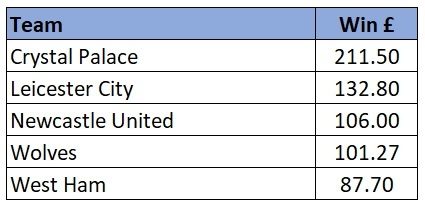 Crystal Palace would have returned £211.50 in profit had you been brave enough to back the Eagles to win every week in last season's Premier League, despite taking maximum points in only 36% of their games.
Roy Hodgson's men have their coupon-busting, surprise triumphs at Man City and Arsenal to thank for their meaty looking final figure. Palace were also aided by their terrific away form that saw 9 of their 14 total league wins secured on the road. They also managed to keep Wilfried Zaha during the transfer window so will likely cause upsets again this season and feature regularly in our weekend football tips.
Backing Brendan Rodgers' talented young Leicester team to win every week would have made you a sizeable £132.80 in profit, with their successive mid-season wins against Chelsea and Man City accounting for a good chunk of those winnings.
Newcastle and Wolves would have also returned substantial profits north of £100 had they been backed to win every week, while putting your money on West Ham would have left you with £87.70 after a season's punting.
Draws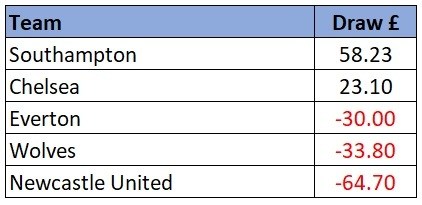 Southampton and Chelsea are the only 2 Premier League clubs that would have left you with winnings had you backed them to draw all 38 fixtures at £10 a go.
The Saints drew 12 matches in total during the 2018/19 – a final stalemate figure that made them the most prolific team at taking points in singles last season. It should come as no surprise that we're predicting them to share the points with Burnley this weekend in their opening Premier League fixture.
Chelsea's 9 draws made them the joint second most frequent points sharers alongside Man Utd, Wolves, Everton, Newcastle and Brighton, though the Blues were the only club from that 6 to return a draw profit..
Losses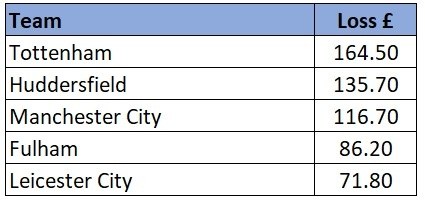 Beaten Champions League finalists Tottenham Hotspur lost a staggering 13 Premier League matches in 2018/19, though there was plenty of scratch to be made on the back of their misfortune.
Those adventurous enough to back against Mauricio Pochettino's men for the duration of the season would have had £164.50 to stuff into your pockets after close of business. We are however tipping Spurs this week in our Saturday accumulator, they face new boys Aston Villa and expect them to get all three points after a successful transfer window.
Bottom club Huddersfield were also well worth backing to lose every week despite their pre-season relegation favourites tag. The Terriers lost 22 of their 38 games in total, and those horrible results would have returned £135.70 in profits.
Manchester City defeats are treated like show-stopping, sporting miracles by bookmakers and they are priced accordingly pre-game. You'd have made a tidy £116.70 profit had you placed 38 separate £10 bets on City losing every week, even though they tasted defeat just 4 times.
Most profitable individual fixtures
The most profitable overall team, Crystal Palace, also secured the most profitable overall individual result last season. The Eagles unexpected 3-2 win at the Etihad against Manchester City last December would have returned a Premier League prediction prophet a well earned £184.60 in winnings from a £10 stake.
Newcastle also conquered the eventual champions in January this year, beating the Citizens 2-1 at St. James' Park. A £10 stake on that result would have returned a £161.40 profit.
Jamie Vardy's solitary match-winning goal for Leicester against Chelsea at Stamford Bridge on December 22nd would have bagged a pre-game Fox fancier £92.30 in profit from a £10 away win bet, while Cardiff City's last day 2-0 triumph over Man Utd at Old Trafford was worth £87.20.
Unsurprisingly, 7 of the 10 most profitable individual fixtures were away wins, while Liverpool's 1-1 tie with Leicester at Anfield on January 30th is the only draw to make the top 10.
Remarkably, 7 of the 10 most profitable individual Premier League fixtures of the season were played during the notoriously busy December and January schedules – in fact, 5 of the games took place inside the space of 7 days between the 22nd and 29th of December.
Keep up to date with the latest Premier League predictions, betting tips and special offers here!