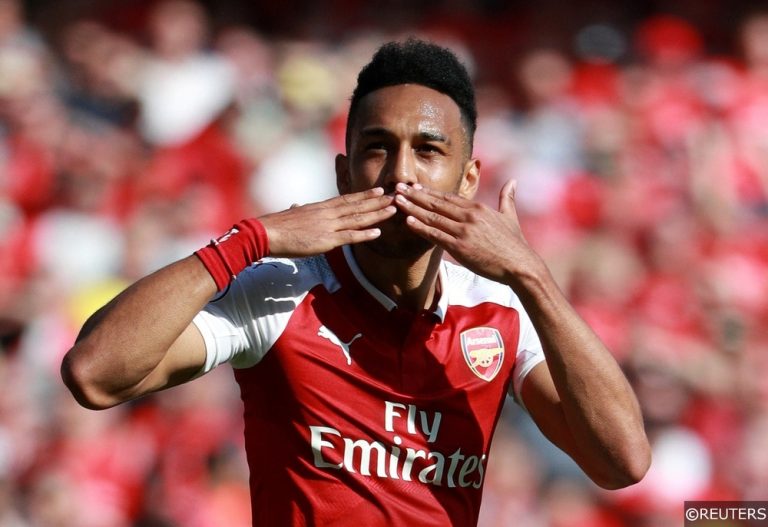 An Arsenal supporter and occasional match-goer, Liam has been involved in football journalism for a number of years and joined the Spotlight Sports Group in 2018. He is studying for a degree in German and Spanish, can speak French too and is particularly interested in the Bundesliga and La Liga.
From Aaron Ramsey to Alexis Sanchez, Samir Nasri to Robin van Persie, Arsenal's star performers have been departing the Emirates every few seasons for the past decade and Pierre-Emerick Aubameyang is the latest talent whose head could be turned.
The head of the football association for Gabon, the country Aubameyang represents internationally, certainly thinks a move away from north London would be in the forward's interest.
Speaking to ESPN, Pierre Alain Mounguengui said: "I don't want to say that Arsenal aren't ambitious. But Arsenal don't have ambitions as high as some other clubs as far as Europe is concerned.
"So if Pierre could secure a contract with a more ambitious club, he'd definitely find his place there."
Aubameyang himself has kept relatively tight-lipped about his future and while some Arsenal fans could scarcely envisage anything worse than allowing their captain to leave, others feel his mega-money sale could free up the funds to finally rebuild the team effectively.
So should Arsenal keep hold of their star man at all costs or cash in while they have the chance?
Aubameyang's figures are hard to replace
It is worth noting firstly that Aubameyang would not be easy to replace. His Premier League figures are indicative of an elite attacking predator with the kind of instincts only a handful of forwards across Europe possess. In 75 matches played in the top flight Aubameyang has scored  49 goals, had 86 shots on target and laid on ten assists.
His pace and gliding runs make him the archetypal Arsenal forward and he has led from the front since taking the captain's armband from midfielder Granit Xhaka earlier this season.
Striker conundrum should be a blessing not a scourge for Gunners
Of course the main argument in favour of Arsenal selling their top talent does not dispute his ability but instead emphasises that Arsenal already have another excellent forward – so why do they need two?
While it has been seemingly impossible to find a system in which both Aubameyang and Alexandre Lacazette can flourish, they are different forwards who offer the team different attributes. Arsenal's possession of two talented forwards, although somewhat of a headache for Mikel Arteta, should be viewed as a blessing not a scourge.
Money from Aubameyang deal would not be enough for a rebuild
But ultimately the main reason some fans give for letting Aubameyang go is the cash injection he would give the club. Realistically, though, Arsenal are only looking at around £50 million for their star man, who turns 31 in  June. Even added to the money gained from no longer having to pay his salary, that is not enough for a significant rebuild in the modern game.
The additions of Nicolas Pepe and Kieran Tierney last summer alone cost in excess of £100 million and if it is funds Arsenal are looking to free up, surely the likes of Mesut Ozil, Granit Xhaka and Sead Kolasinac, who all reportedly scoop six-figure salaries, should be the first out the door?
Simply put, Aubameyang's attacking contribution significantly outweighs the financial benefit Arsenal would get from selling their star man. Letting Auba go would undoubtedly be a step backwards rather than forwards.