With just 3 days remaining until the NFC & AFC Championship games kick off we predict the winner of each game and who will end up in Super Bowl 50 on February 7th.
Prediction: Denver Broncos vs Carolina Panthers at 3/1 with Ladbrokes
This market is only available at three bookmakers. Ladbrokes who are best priced for our prediction, SkyBet and Paddy Power. Here's why I think the Broncos and Panthers will advance to the Super Bowl.
Denver Broncos
The Broncos will face Tom Brady and the New England Patriots in what will be the 5th Brady vs Manning matchup in the playoffs. Brady has never defeated Manning in the playoffs on the road and whoever has home field advantage has never lost in the playoffs when these two quarterbacks square off. I think the Broncos have all the tools to beat Brady and the Patriots – a solid run game averaging 107.4 yards per game, a good pass rush with the ability to put pressure on  the quarterback and an elite secondary who rank number 1 against the pass in the league. We saw the Patriots negotiate the Chiefs pass rush last week but this Denver secondary is a hell of a lot better than the Chiefs. Denver on offense will run the ball to keep Brady off the field and their defense should be able to stand up against the Patriots passing attack. Peyton Manning look a lot better last week and he'll know this is likely to be his last shot at winning another Super Bowl.
Carolina Panthers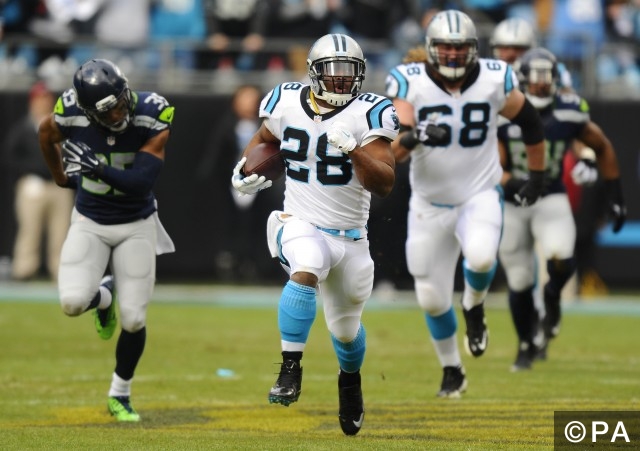 The Panthers are for real, last weeks first half performance against a good Seattle team was super impressive. The Carolina offensive line bullied the Seattle front 7 last week and they ended up rushing for over 100 yards which was the first time Seattle had given up a 100 yard rushing game since the 2014 playoffs. Their defense pressured Wilson all day and recorded 5 sacks and 2 interceptions, 1 which went back for a touchdown. Yeah, they were sluggish in the second half but that was obviously the game plan to run the ball and use as much clock as possible. I think this game will be a shoot out against the Cardinals and their offense will be too much, look for Jonathan Stewart to have another big game.
Check back after the Championship games have finished for our Super Bowl betting tips for the big one on February 7th!