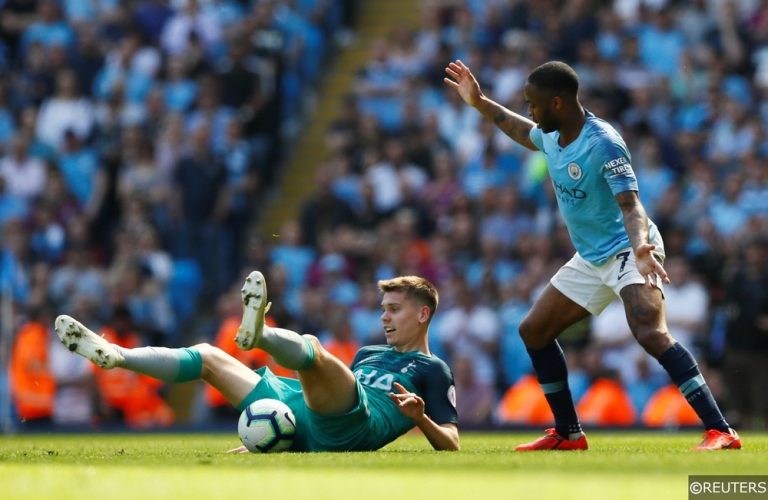 Simon Winter
@simonjwinter
Born in the south east of Ireland, Simon put his life-long love of football to good use when he started a successful independent blog in 2010. That opened up an alternative route to a career in journalism, and having had work published across a number of sites and publications, Simon joined the staff at Spotlight Sports Group in 2018.
Ahead of the potentially season-defining 178th Manchester Derby between United and City at Old Trafford this evening, the tension that had been slowly building between the Mancunian antagonists is threatening to spill over.
Ole Gunnar Solskjaer and Pep Guardiola have been the architects of the fresh animosity, fanning the flames of rancour through the media by taking thinly veiled shots at each other's teams.
Guardiola insisted that playing United at Old Trafford is "no longer scary", while Solskjaer warned his players that their City counterparts will "nip at your ankles and heels and kick you", and that "they are not going to allow us easy counter attacking because there will be fouls."
In response, Guardiola fired back saying:
"I don't like it. No. My team is not built to think and create for that, not at all……… with an average of 65% or 70% with the ball, how do you do that [make many fouls]?
Yet, Solskjaer isn't the first manager to suggest that tactical fouling is a flow-disrupting mechanism often used by Pep Guardiola's City team.
Jurgen Klopp and former United boss Jose Mourinho also alluded to City's penchant for that particular dark art, while the Citizens' "clever" indiscretions have been a hot topic of debate among football fans since Guardiola's arrival in the Premier League in 2016.
But is there any truth behind Solskjaer's and the others' insinuations? Let's take a closer look:
Check out our comprehensive Man Utd vs Man City match preview for more predictions and 100% FREE betting tips here.
Man City & Fouls: The Numbers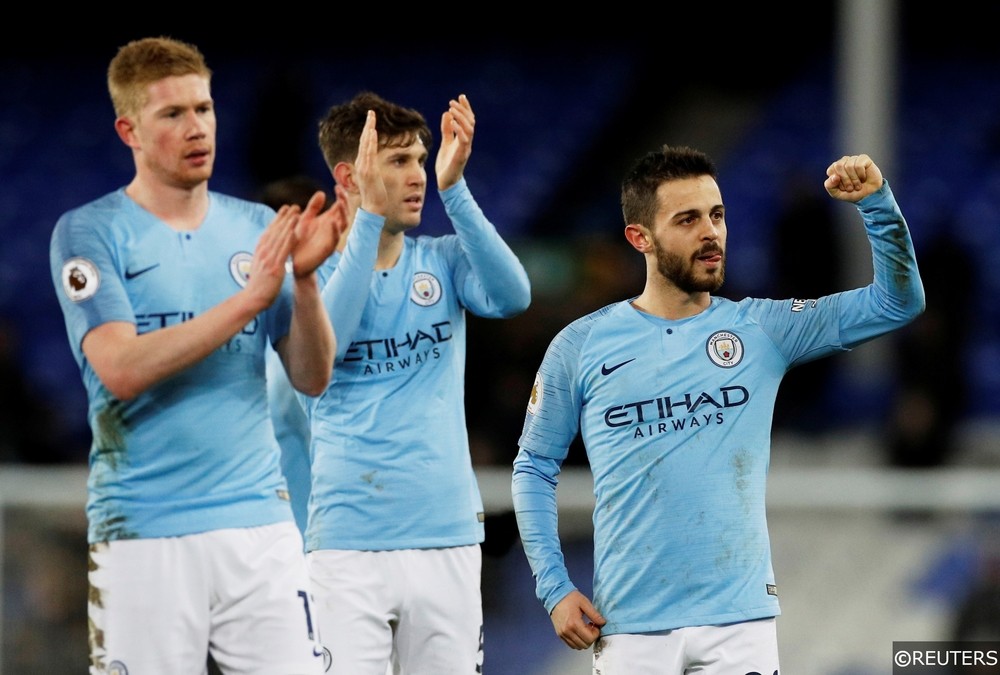 Pep Guardiola's assertations that a team that dominates possession as much as his can't possible commit that many fouls are true in terms of raw statistics.
City's 8.6 fouls conceded per game average is the lowest figure in the Premier League this season, in fact the Citizens have committed the fewest number of fouls in total to date in 2018/19 (291).
Naturally, a team that enjoys the lion's share of the ball in almost every game they contest will give fewer fouls away – simply because most of those fouls committed during a game are made by players trying to win possession back for their side.
In that sense, Guardiola is correct – his team have been penalised less than every other team in the Premier League this term, and only Liverpool have collected fewer yellow cards than their title chasing rivals City.
However, it's worth asking how the figures stack up when City are NOT in possession. How do they perform in terms of fouls conceded on the relatively rare occasions they are trying to win the ball back?
Here is where it gets really interesting…
City's Foul Statistics Without The Ball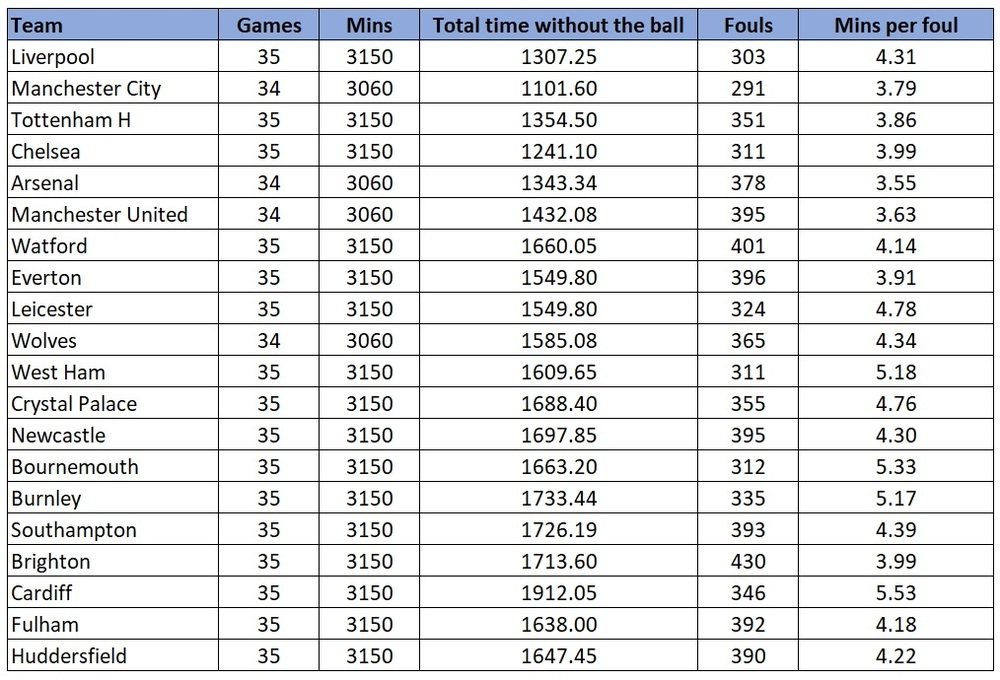 Manchester City have been the most dominant team in terms of possession in the Premier League this season, keeping the ball for 64% of their matches on average overall.
City have spent 36% of their Premier League fixtures without the ball – which equates to a total of 1101.60 minutes out of possession across the 34 games they have played to date in 2018/19.
The Citizens committed a total of 291 fouls across that same set of fixtures, and based on the assumption that the vast majority of those fouls were attempts to win back the ball, City gave away a free kick every 3.79 minutes when out of possession.
That figure places City as the THIRD most prolific team in the Premier League in terms of fouls committed without the ball behind Arsenal (foul every 3.55 minutes without the ball) and chief accusers Manchester United (foul every 3.63 minutes without the ball).
Those who live in glass houses Ole….
Interestingly, 5 of the top 6 worst offenders in the table above occupy 5 of the Premier League's current top 6 places (Arsenal, Man Utd, Man City, Tottenham & Chelsea), suggesting that tactical fouling is a stratagem employed by the majority of the division's big hitters.
Current table toppers Liverpool rank a relatively respectable 10th, having given away a foul every 4.22 minutes when out of possession.
Read the latest Premier League match previews, predictions, betting tips and special offers here!
Manchester Derby Ramifications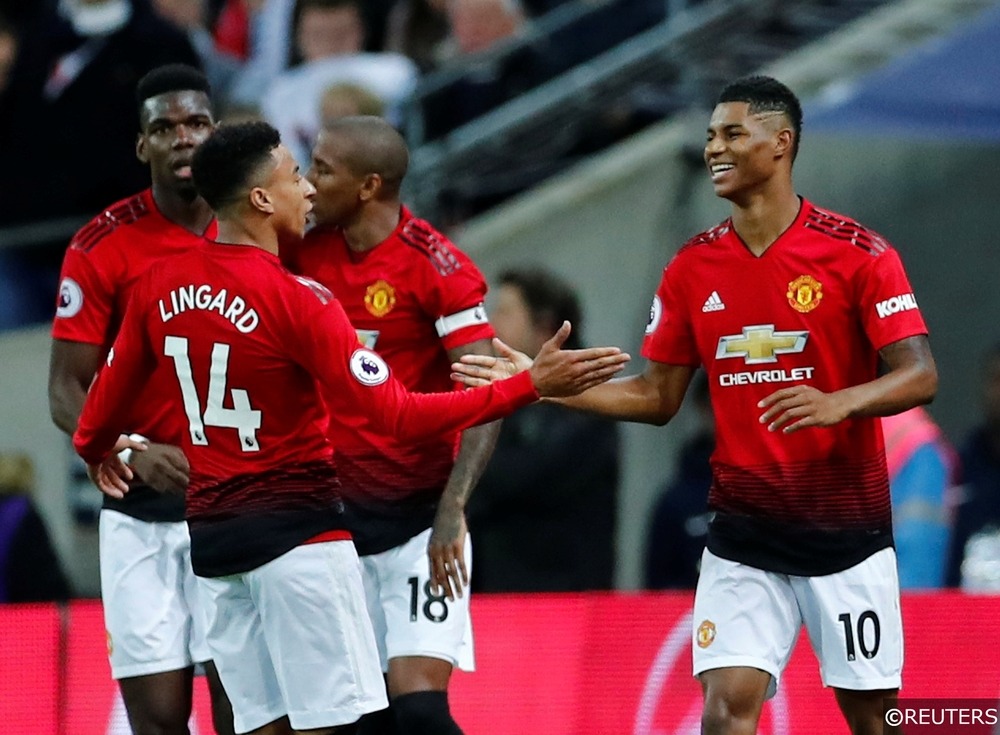 Our research suggests that this evening's make or break Manchester Derby could well develop into a tactical and counter-tactical fouling contest between two clubs well versed in using underhanded methods to disrupt the flow of an attack or break.
Despite his protestations to the contrary, Guardiola will want his City team to play with aggression at Old Trafford, and Ole Gunnar Solskjaer will be impressing the importance of matching the Citizens in that department on his own players.
The combativeness and gladiatorial edge that's almost certain to be on show this evening opens up some interesting avenues of approach in the betting markets.
With both teams keen to start the game on the front foot, bet365's 1/1 odds on over 2.5 free kicks being awarded in the first 10 minutes looks well worth considering.
You can also grab a potentially lucrative 5/1 with bet365 for a free kick to be awarded inside the first minute of the contest.
If you think the players' enthusiasm could spill over into recklessness, bet365 have 11/4 odds on their being a red card at Old Trafford this evening.
Read about Manchester United's involvement in the race for a top 4 Premier League finish here.