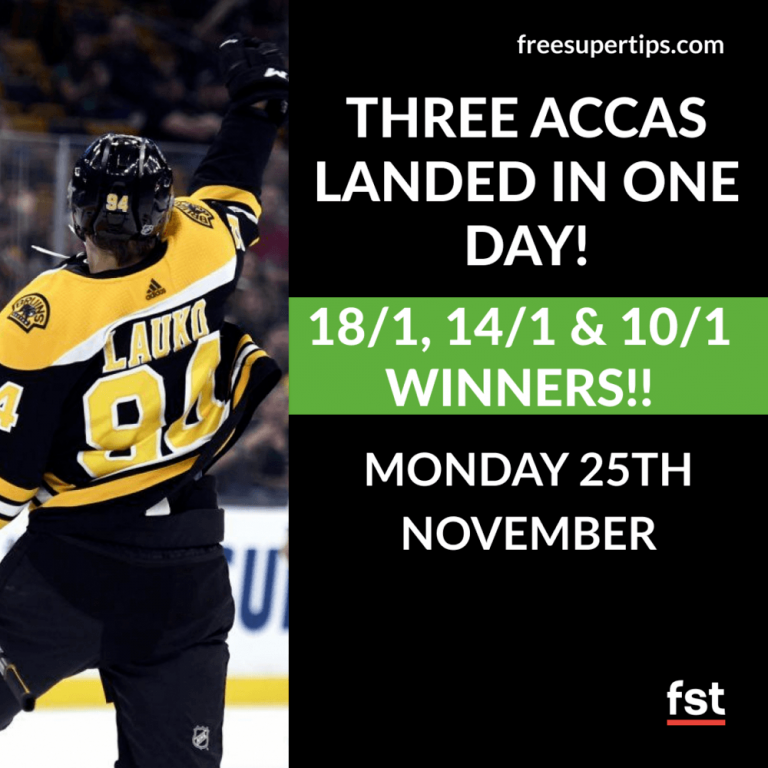 To say our tipsters have been on fire recently would be a big understatement!!
We have once again crushed it and added three more Accumulator winners, bringing our total to 9 winners in just 12 days!!
It was a magical night and here's how it all played out:
18/1 Both Teams to Score Acca Lands
GOOOOOOOOOOOAAAAAAAAAAAAAALLLLLLLLLLLLLLLLLLLLLLLLLLLL!!!!

ENTELLA WITH THE 18/1 ACCA WINNER!!!!

THAT'S 8 ACCAS IN 11 DAYS! 🔥🔥🔥

— Free Super Tips (@FootySuperTips) November 25, 2019
The Acca kicked off in Denmark and Germany. Our first tips of the day landed in Germany as it took 42 minutes for both Viktoria Koln and Duisburg to both score. In the end it was the home side who came out with a 2-1 win in this one.
It took a little longer in the Odense vs Midtjylland match, the visitors went ahead in the 24th minute, doubled their lead just before the break. The home side responded 12 mins into the 2nd half with a goal and that was all she wrote, we were 2/2 on the Acca.
Next up it was a eventful game in Romania where Viitorul Constanta beat Sepsi 4-1. In a match in which 9 yellow cards and 2 red cards were shown, the two teams managed to score within the first 27 minutes and landed our tip with ease here.
Our focus switches to Italy for the final two legs on the Acca.
55 minutes into the match, SPAL and Genoa were locked at 0-0, but then within just two minutes both teams scored which meant we were down to one final leg on our Acca!
In that final leg it was Chievo Verona and Entella in Serie B. Chievo went in front early and doubled that lead in the 40th minute. We were one goal away and the visitors made us happy as they found the net in the 54th minute to land our Accumulator!!
10/1 BTTS & Win Double Lands
YEEEEEEEEEESSS!!

10/1 BTTS & WIN DOUBLE LANDS!!!

GET IN YOU BEAUTY!! pic.twitter.com/3XRQYN8WlV

— Free Super Tips (@FootySuperTips) November 25, 2019
Our BTTS & Win Double featured Duisburg and Viitorul Constanta.
Despite going down 1-0 in the 23rd minute, Duisburg were able to turn it around with goals in the 42nd and 85th minute. They left it late, but we'll take it!
As mentioned earlier, it was a crazy match in Romania between Viitorul Constant and Sepsi. After the two teams both scored, the visitors were shown 2 red cards in the a span of just 3 minutes which meant it was 11 vs 9 for more than 50 minutes of the match. It was an easy job for the home side in the 2nd half as they grabbed three more goals here and landed our 2nd Accumulator of the day!
14/1 NHL Accumulator Lands
OVERNIGHT WINNERS!! 💥

✅ 14/1 NHL Accumulator 🏒
✅ NHL Double 🏒
✅ NBA Double 🏀

WHAT A NIGHT!!! 🤩🤩

GET IN!!!! 😎 pic.twitter.com/33RaVWbV3J

— Free Super Tips (@FootySuperTips) November 26, 2019
Tonight Acca was a 5-fold and in three of those five games we required Overtime for the winner to be settled.
First up it was the first meeting of the season between the New York Rangers and Minnesota Wild. With both teams being in the bottom of their respective divisions, it was a highly contested game. It finished 2-2 in regulation and the Rangers were able to snatch the win in OT thanks to Tony DeAngelo who scored just 32 seconds into the OT period.
It was also the 1st meeting of the season between Pittsburgh and Calgary. Just like the previous game, the two teams were locked at 2-2 before OT and it was Jake Guentzel who found the winner for the Pengiuins who have won their 13th game of the season.
Tampa Bay didn't need overtime as they beat the Buffalo Sabres 5-2. The two teams were tied at 1-1 after the first period, but Tampa Bay shifted into another gear in the final two periods and scored four more goals to put the game beyond doubt.
A 2-0 first period ensured Dallas a solid win against the Vegas Golden Knights. The two teams scored 1 goal each over the remaining two periods and it finished 4-2 in favour of Dallas and it meant we were down to one final game on the Acca!
It couldn't go without drama in the end as we required OT to settle the winner of the last game on our Acca. The Sharks were up 3-0 in regulation, but blew that lead as tt finished 3-3 in regulation between the two division rivals. The decider was scored by Patrick Marleau in OT as the Sharks continued their great play by winning the 4th game in their last 5 outings, but more importantly landing our 3rd Acca of the day!!!
Free Football Predictions
Feel free to bookmark our FREE FOOTBALL TIPS page for even more winning accumulators!
Free NHL Predictions
We post Daily NHL Tips on our FREE NHL TIPS page, so be sure to bookmark that page so you don't miss out on any more winners!
Followers' betslips
Here are a few winning betslips sent to us by our followers on twitter:
So close to a full house lads. Thanks 👍🏼 pic.twitter.com/jVHj1aoV7L

— jayden7 (@jayjayjay7777) November 26, 2019
@FootySuperTips I love you guys, mixed your NHL & NBA last night. Thank you so much pic.twitter.com/8qUn8QkkGj

— Robert Butcher (@RobButch14) November 26, 2019
Thanks guys! pic.twitter.com/BN9EtTwgY3

— Juan Guerrero (@jhonwarrior2009) November 26, 2019
@FootySuperTips yasssss pic.twitter.com/OAHMnKStBE

— Annie (@AnnParkes2) November 26, 2019
— Andrew Stackhouse (@STAC2) November 25, 2019
@FootySuperTips pic.twitter.com/yLimdUB3OJ

— BrakeRL (@brake_rl) November 25, 2019
— Jamie Swan (@JamieRFCSwan) November 25, 2019
Cheers fellas pic.twitter.com/JFJy46nGIL

— Devin (@DevBowers5) November 25, 2019
🎉🎉🎉 pic.twitter.com/sdNFatyG9I

— Marc (@AFCMarc73) November 25, 2019