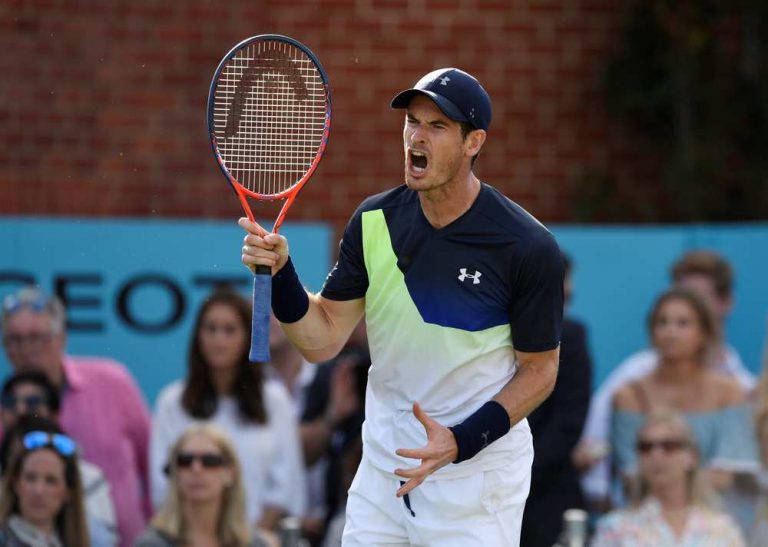 Former world number one Andy Murray made his long awaited return from injury this past week at the Queen's Club Championships, and now all focus will turn to whether the Scot will play at this year's Wimbledon Championships in a couple of weeks' time. The former two-time Wimbledon champion hadn't played a competitive match of tennis, prior to this week, since losing in the quarter-finals of last year's Wimbledon to American Sam Querrey. However, after eleven months out, Andy Murray finally returned to competitive tennis this past week, as he took on Australian Nick Kyrgios in the first round at Queen's. Despite losing the match 2-1, Murray will take plenty of positives from the match and he'll be hoping to use it as a stepping stone for the rest of the season.
There have been concerns, however, that the Scot might be absent from this year's Wimbledon. These concerns arose after he said in a post-match press conference that it would be a possibility that he chooses to play at Eastbourne next week and skip Wimbledon the week after, as he looks to do what he feels is best for him. Whatever Murray decides, a Wimbledon Championships without the former two-time champion would be worse off for it, and let's hope that he will be ready to play at Wimbledon in just over a weeks' time.
Murray's injury and ranking
Andy Murray initially picked up the injury that has kept him out for the past eleven months during last year's Wimbledon quarter-finals, and it would prove significant as he would go onto lose in a five-set match to Sam Querrey. Murray twice led in sets to the American, at 1-0 and 2-1, but the injury took its toll in the latter stages as he lost the final two sets of the match 6-1 and 6-1, as his title defence came to a hugely disappointing end. At the time of that defeat, Murray was the world number one, after a remarkable twelve months prior to the injury.
However, due to the fact he's played only one competitive match in the past eleven months, he now finds himself outside the world's top 150 in the rankings and he looks set to drop even further down the rankings. Murray's defending quarter-final ranking points at this year's Wimbledon, and if he decides to not compete this year he'll tumble even further down the rankings. However, even if Murray is fit enough to play this year, there's no guarantee he'll have a great run. Murray would be unseeded in the draw, which means he could face the likes of Roger Federer and Rafael Nadal in the first round. Murray will also be lacking severely in match practice and so he'd find best-of-five-set-matches extremely difficult at this stage. Murray's decision on whether or not to compete will be a big one, but he ultimately needs to decide what's best for him and if that's to skip Wimbledon then he'll need to make that decision.
How can Murray be fit to compete at Eastbourne, but not be ready for Wimbledon?
While many might wonder why Murray is fit to play at Queen's and potentially Eastbourne, but not Wimbledon, the answer might not be straight-forward. The obvious answer would be that his body's not ready for potential five-set matches that come with a grand slam event like Wimbledon. Five-set matches not only drain a player physically, but they can also drain them mentally, and Murray might think he's not prepared for that just yet. It's impossible to understate just how difficult it is for a player to pick up right from where they left off after such a long absence from the court. The perfect example to use would be Novak Djokovic.
Novak Djokovic missed the entirety of the second half of last season due to injury, like Murray, but he opted to come back at the start of the season. However, since his return it has not been plain sailing for Djokovic. The twelve-time grand slam champion has reached only two quarter-finals all season, with his best run being a semi-final appearance in Rome, and he went on a streak of losing three-matches straight. This is Novak Djokovic we're talking about, the man who held all four grand slam titles at the same time, after his 2016 French Open triumph, and so if it wasn't easy for him it's certainly not going to be easy for Murray. However, if Murray makes does decide to play at Wimbledon in a couple of weeks' time, he will be going there thinking he has a shot at winning a third Wimbledon crown.
Murray at Wimbledon
The three-time grand slam champion came close to winning the Wimbledon title a few times before he finally did, with Murray reaching the third round here in his first appearance in 2005. Murray reached the semi-finals at Wimbledon for three consecutive years between 2009 and 2011, but in 2012 he finally took that next step and reached his first Wimbledon final. Murray would take on the great Roger Federer in that final, and things started out promisingly for Murray. The Scottish ace took the first set off Federer in the final, but that would prove to be just a consolation for Murray, as Federer ran off the next three sets straight to win his seventh Wimbledon title. Despite the defeat, Murray was edging nearer the title at Wimbledon, and he wouldn't have to wait too much longer to get his hands on it.
2013 Wimbledon champion
Andy Murray went into the 2013 Wimbledon Championships a much improved player, having won Olympic gold at the 2012 Olympics and his first grand slam title at the 2012 US Open, and he had the belief that 2013 would finally be his year to capture Wimbledon glory, and as it turned out he wouldn't be disappointed. Murray defeated the number one seed Novak Djokovic in the final, in straight-sets, to finally win his first Wimbledon title.
Andy Murray's triumph in 2013 saw him become the first British male player to win Wimbledon since Fred Perry achieved the feat in 1936, a 77-year wait at the time of Murray's triumph. Murray also became the first Brit, male or female, to win Wimbledon since Virginia Wade won the women's title in 1977, a 36-year wait for a British Wimbledon champion at the time of Murray's 2013 victory.
A two-time Wimbledon champion
A dip of form in 2014 saw Murray's defence of his Wimbledon title come to a disappointing end at the quarter-final stage, as he was beaten by Grigor Dimitrov in four-sets. Murray regrouped and came back the following year with the added belief that he could once again be the Wimbledon champion, but an inspired Roger Federer proved to be too good for Murray, as the Swiss ace defeated the number three seed in the semi-finals. However, the 2016 Wimbledon Championships saw Murray win the title for the second time, overcoming Milos Raonic in the final. That victory would prove to be a catalyst for Murray for the rest of the season, as he would go onto win a second Olympic gold medal and overhaul Novak Djokovic to finish the 2016 season as the year-end number one for the first time in his career.
Overall Wimbledon record
Andy Murray has a great record at Wimbledon, and he's currently on a run that has seen him play at every Wimbledon Championships since 2008. The Scot possesses an impressive 85.1%-win record at the Championships, winning 57 of his 67 matches, and he remains the only man to have reached at least the quarter-finals at Wimbledon in every year since 2008.
There's no doubt that Murray has a big decision to make over the next week or so on whether or not he will compete at this year's Wimbledon, but he needs to make the right one. Yes, it would be disappointing not to see him compete at this year's Championships, but what would be even more disappointing would be to see him there when he's clearly not ready. If he's not 100% prepared, physically and mentally, he could easily pick up another injury that could lead to him missing even more tennis, and that's something nobody wants. If he's fit and ready to compete there's no doubt he's capable of winning the title, but the question remains: Will Andy Murray decide to play at Wimbledon?
Free tennis betting tips and predictions for Wimbledon 2018.