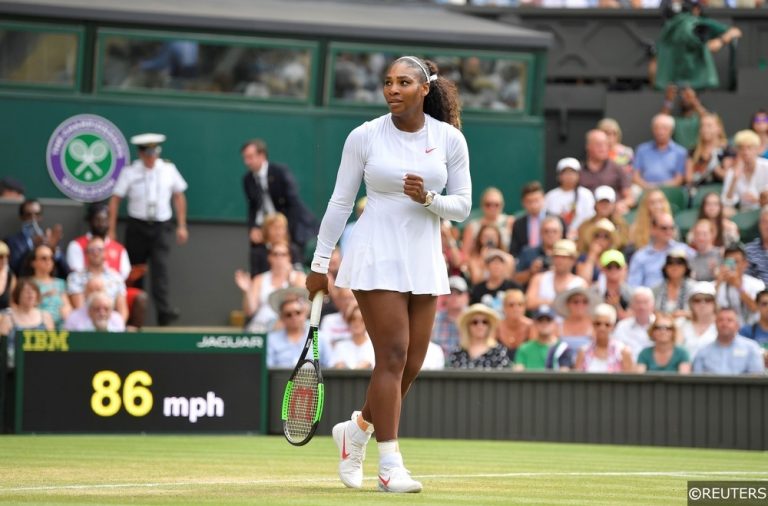 Serena Williams is the greatest female tennis player of all time, but there's still one record that eludes the American great.
Serena Williams has won a record-breaking 23 grand slam singles titles in the Open Era. However, Margaret Court won a record 24 grand slam singles titles throughout her career, although more than half of those were before the Open Era began. While Serena is still regarded by most as the greatest women's player of all-time, it's clear the American great is desperate to win at least that record-equalling 24th title, before she calls it quits on her glittering career.
The American great won her 23rd, and most recent, grand slam title at the 2017 Australian Open, a title that saw her move ahead of Steffi Graf for most singles titles won in the Open Era. However, since then Serena has taken time off from the Tour to have a baby, and since she returned, things haven't gone entirely her own way. The thirty-seven-year-old has had to deal with injuries and setbacks since returning, but we have seen glimpses of the Serena of old.
We're going to have Tennis Betting Tips and Predictions for all of Serena Williams' matches throughout the 2019 US Open!
Let's talk about the positives first. Serena Williams holds a sensational record at the US Open. Serena is 95-12 in singles completion at the US Open, an 89% win-rate, while she's won the title a joint-record, in the Open Era, 6-times throughout her career. It should also be noted that the last time Serena failed to make at least the semi-final stage here when she's competed was back in 2007 when she lost in the quarter-finals. From 2008 to present, Serena has won the title on four occasions, reached two other finals, been beaten in the semi-finals three times, while she was absent in both 2010 and 2017. Serena Williams will be competing in her 19th US Open this year, and we have a preview for the 2019 Women's US Open up now.
Serena Williams' Last 5 US Open Appearances
2018 – Finalist
2017 – DNP
2016 – Semi-Finalist
2015 – Semi-Finalist
2014 – Winner
2013 – Winner
Since returning, Williams has also made three grand slam finals, the most anyone has managed to reach in that time. The American great has shown that she's still one of the very best players in the world when she's fit, and she's still one of the leading contenders at any grand slam tournament she enters.
However, she's been comprehensively beaten in all three of those finals, leading some to speculate that the 'fear factor' she once possessed has gone. At the 2018 Wimbledon Championships, Serena won just 6 games in the final, as she was comfortably beaten in straight-sets by Angelique Kerber. In the highly controversial 2018 US Open final, Serena was beaten 6-2 6-4 by Naomi Osaka, while Serena was beaten in last month's Wimbledon final by Simona Halep, and by a resounding 6-2 6-2 score line.
It's clear that Serena has struggled in grand slam finals since returning to the Tour, and there could be a good reason for that. Serena had very little match practice going into any of those grand slam events, and the matches she did play in reaching those respective finals, saw Serena ease to victory more often than not. The American was going into those finals extremely undercooked, and playing against players whose levels were far and above anything Serena had played against in the previous rounds, and she just couldn't find the solutions she needed.
Serena Williams Grand Slam Results Since Returning in 2018
2018 French Open – Fourth Round (Withdrew due to injury)
2018 Wimbledon Championships – Finalist
2018 US Open – Finalist
2019 Australian Open – Quarter-Finalist
2019 French Open – Third round
2019 Wimbledon Championships – Finalist
Now a positive for Serena heading into this year's US Open is the fact that she did get some much needed match practice at the Canadian Open a couple of weeks ago. Serena reached the final in Toronto and she played extremely well, against some top opponents, in doing so. The thirty-seven-year-old also reached the Wimbledon final just last month, and so she's coming to New York having won 10 of her last 12 matches.
However, Serena picked up a back injury prior to that final in Toronto, and she had to retire just 4 games into the final against Bianca Andreescu. Since then Serena has been forced to pull out of the Cincinnati Masters, and she now heads to New York with some question marks surrounding her fitness.
While there are some injury concerns surrounding her, her biggest obstacle over the next fortnight might be herself. It might be weird to say that, but there's the possibility that she'll try too hard to win this title, and that she'll want it 'too much'. We saw in last year's final that the whole situation got on top of her, and so it will be interesting to see how she approaches this year's tournament.
Serena Williams has a terrific record at the US Open, and this is arguably the best chance she'll have at winning that record-equalling 24th grand slam singles title. You'd be a fool to bet against Serena Williams in New York, but will everything line up perfectly for her, as she tries to finally get her hands on number 24?
Free Tennis Predictions
We'll being have Daily Tennis Tips, including Tennis Accumulators, throughout the two weeks in New York!
Remember to follow our Free Tennis Predictions page of the website so you don't miss out on any future winners!