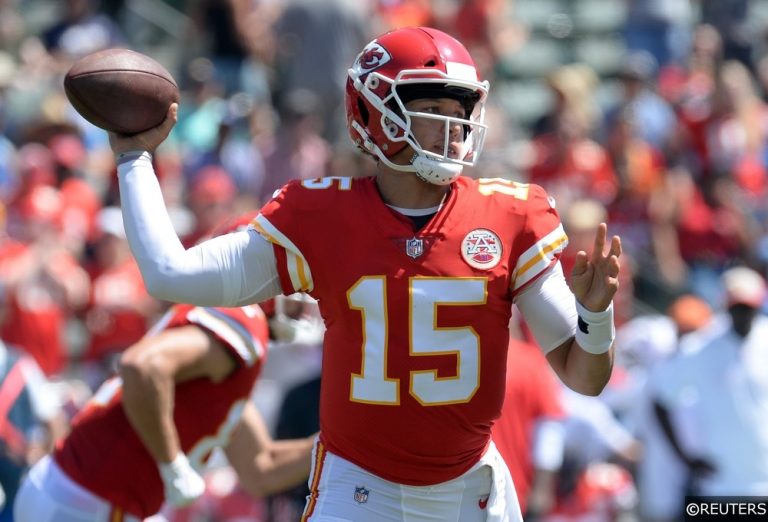 The 9-1 Kansas City Chiefs take on the 9-1 LA Rams in week 11 on Monday Night Football. Two high powered offenses go head to head in what promises to be one of the most entertaining games of the season. This would easily be a mouth watering Super Bowl clash and we get it during the regular season!
This game has already had some drama, it was originally supposed to be played in Mexico City but the NFL decided to move it to LA on Tuesday night due to poor field conditions at the Estadio Azteca. It's believed that music concerts and soccer matches left the field in a terrible conditions which you can see below.
BREAKING NEWS 🚨

NFL still set on Chiefs-Rams Monday night game in Mexico City despite horrible field conditions. pic.twitter.com/xYbWCkzOgq

— PickswiseNFL (@PickswiseNFL) November 13, 2018
From a betting point of view this game has opened at a historically high total of 64 with bet365.
Will it go over the total?
On paper we have two offenses that average 423.1 and 448 yards of total offense per game. The Rams average 33.5 points per game and The Chiefs average 35.3 points per game. On the other side of the ball we have a bit of a contrast as Kansas City have the fourth worst defense in the league allowing an average 410.7 yards per game for 24 points scored. The Rams have a top 12 defense in yards allowed at 355.20 but allow an average of 23.1 points per game.
The weather forecast for the game on Monday Night in LA is zero wind and 21 Celsius – perfect scoring conditions.
NFL High Totals Stats & Trends
Since 1990, no total has opened higher than 62. There has been 11 totals close at 57.5 or higher since 2003 and they have all gone over the total, that includes three this season. 11-0 is very impressive for high totals but what's even more impressive is that they've beaten the points total by an average margin of just over 10 points.
Match
Date
Opening

O/U

Closing

O/U

Points

Scored

OAK-KC
12/25/04
59
60
61
KC-NE
10/14/18
57.5
59.5
83
GB-ATL
1/22/17
61
59.5
65
DET-NO
1/7/12
58.5
59.5
73
NO-ATL
1/1/17
55.5
58.5
70
NE-IND
11/16/14
57
58
62
WAS-DEN
10/27/13
56.5
58
66
MIN-IND
11/8/04
58.5
58
59
LAR-NO
11/4/18
60
57.5
80
TB-ATL
10/14/18
57
57.5
63
PHI-DEN
9/29/13
57
57.5
72
Many bettors are usually put off by high totals but it's hard for bookmakers to price up these games with high powered offenses in what's now a pass first league for most teams. You only have to take the Saints vs Rams game in week nine of this season which highlights that. The line opened at 60, got bet down by sharps to 57.5 and we saw 80 points on the board.
If you're having a bet on the NFL this week then be sure to check out our NFL predictions for more great betting insight.