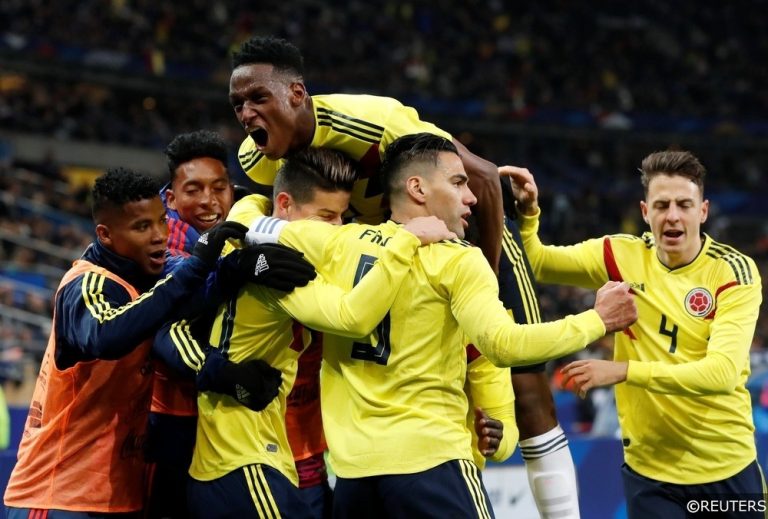 After impressively reaching the quarter finals in 2014, before bowing out rather unfortunately to hosts Brazil, Jose Pekerman's Colombia are back amongst the world's elite once again in 2018. With their 2014 appearance their first since 1998, Los Cafeteros have competition experience in their ranks this time around and will be looking to use that to ruffle feathers once again.
After limping over the qualification line, failing to win any of their last 4 matches, Colombia have been priced at odds as long as 50/1 to lift the Jules Rimet, whilst odds of 7/4 are on offer for the South Americans to top a group containing Poland, Senegal and Japan. In the following article, we profile the men selected in Pekerman's provisional squad and give insight as to what viewers can expect from the side once action begins.
Be sure to check out our World Cup Trends: Previous Winners Stats And Facts feature!
Fixtures:
Tuesday 19th June (13:00) – Mordovia Arena, Saransk: Colombia vs Japan
Sunday 24th June (19:00) – Kazan' Arena, Kazan': Poland vs Colombia
Thursday 28th June (15:00) – Samara Arena, Samara: Senegal vs Colombia
The Squad:
(35 man provisional, 12 men to be cut on June 4th)
Goalkeepers:
David OSPINA (Arsenal)
Camilo VARGAS (Deportivo Cali)
Jose Fernando CUADRADO (Once Caldas)
Ivan ARBOLEDA (Banfield)
Defenders:
Santiago ARIAS (PSV)
Farid DIAZ (Olimpia)
Bernardo ESPINOSA (Girona)
Frank FABRA (Boca)
Stefan MEDINA (Monterrey)
Yerry MINA (Barcelona)
Johan MOJICA (Girona)
Oscar MURILLO (Pachuca)
Davinson SANCHEZ (Tottenham)
William TESILLO (Leon)
Cristian ZAPATA (AC Milan)
Midfielders:
Abel AGUILAR (Deportivo Cali)
Wilmar BARRIOS (Boca)
Edwin CARDONA (Boca)
Sebastian PEREZ (Boca)
Yimmi CHARA (Junior)
Juan CUADRADO (Juventus)
Gustavo CUELLAR (Flamengo)
Jefferson LERMA (Levante)
Giovanni MORENO (Shanghai Shenhua)
Juan Fernando QUINTERO (River Plate)
James RODRIGUEZ (Bayern Munich)
Carlos SANCHEZ (Espanyol)
Mateus URIBE (Club America)
Jose IZQUIERDO (Brighton)
Forwards:
Carlos BACCA (Villarreal)
Miguel Angel BORJA (Palmeiras)
Radamel FALCAO (Monaco)
Teo GUTIERREZ (Junior)
Luis MURIEL (Sevilla)
Duvan ZAPATA (Sampdoria)
Squad Overview:
There's quite a few new faces in the provisional list, considering just 10 of the men named in it were a part of the 23 man squad back in 2014, although that figure would read 11 had Radamel Falcao not have been injured for the competition in 2014.
It's fairly clear cut in the goalkeeping department; David Ospina will start once again and will be backed up by Camilo Vargas and Ivan Arboleda, with Jose Cuadrado set to drop out of the squad barring any late injuries between now and June 4th. 82 cap Ospina didn't miss a minute of qualification and is one of the senior leaders in the camp whilst Camilo Vargas, who was the third choice keeper back in 2014 is now first backup, with the remaining slot going to hot prospect Ivan Arboleda after an impressive season with club Banfield.
Defensively, it looks quite apparent who will be cut and who has a seat on the plane, the real question is more how the starting back four will look. Centrally, although Oscar Murillo and Cristian Zapata made substantial contributions to qualification, the emergence of Yerry Mina and Davinson Sanchez could well see them watching from the bench, despite Mina's lack of game time with Barcelona being a concern. Right back Santiago Arias is assured of his place and has very little competition for his position, whilst it's a far closer call at left back between Frank Fabra and Johan Mojica, both of whom have had excellent campaigns with clubs Boca and Girona. Trailing behind in the pecking order, Farid Diaz, Bernardo Espinosa, Stefan Medina and William Tesillo can all expect to watch from home.
With Pekerman typically fielding two holders and three more creative men in his 4-2-3-1 system, the midfield area of the list is the most populated and a large portion of the travelling party will be made up of those in that sector. The two sitters don't look like being a point of discussion, with Carlos Sanchez an established starter and a key piece in the team, whilst he's all but certain to be supported by Wilmar Barrios, a man surely on the brink of a move to Europe after his consistent performances with Boca. The trio in front of them is a more debatable topic. James Rodriguez will once again be playing in the number 10 slot, whilst Juan Cuadrado will be wide right barring any of the fitness troubles he's suffered from so far in 2018. That leaves a huge number of men fighting for one remaining place; each with as good a shout as the other. Juan Fernando Quintero, Jose Izquierdo, Mateus Uribe or Luis Muriel dropping back from his usual forward role are all in with a chance of securing the wide left role and it'll likely be performances in friendlies that prove to be the deciding factor. Perhaps the biggest talking point of the entire squad will be the rumoured exclusion of Edwin Cardona, despite some pivotal goals in qualification, but all Colombian sources suggest he will be dropped alongside the far less controversial culls of Sebastián Pérez, Gustavo Cuéllar, Yimmi Chara and Gio Moreno.
Up front you don't need our analysis to tell you that captain Falcao is the indisputable starter, with only backup roles a topic of conversation. Luis Muriel, a possible starter in a wide position as mentioned earlier, will certainly be a part of the travelling party, leaving 2 slots for 4 players. It'd be a huge surprise if Teo Gutierrez travelled, with age having caught up with the front man, making it a shootout between Carlos Bacca, Miguel Borja and Duvan Zapata, one in which we expect Zapata to be the unlucky man in. It's very hard to envisage Bacca being dropped, despite the Villarreal forward having struggled to really make a lasting impact internationally, whilst Borja looks like being handed the final place after a strong start to the season with club Palmeiras.
Star Player: James Rodriguez
Whilst Radamel Falcao would be just as worthy of the tag, it's the man who lit up the 2014 World Cup that's the central figure of this Colombian team. James Rodriguez's performances four years ago put himself at the very peak of the world stage and he'll be looking to prove any doubters wrong with some sparkling showings once again.
6 goals from 13 qualification matches prove Rodriguez's importance and having matured as a player since the last tournament he's now one of leaders of the group and undoubtedly the team's talisman. If the Bayern man can turn up once again, Colombia will be a force to be reckoned with no matter the opponent.
One to Watch: Juan Fernando Quintero
Just a year and a half separate the aforementioned Rodriguez and Juan Fernando Quintero in age, but their careers have certainly taken different paths. Once the future of Colombian football and tipped to be one of the world's greatest, after leading his nation to the South American Youth Championship in 2013 and starring in the U20 World Cup in the same year, Quintero now finds himself at River Plate after regaining confidence from a spell at home town club Independiente Medellin.
On the pitch, nobody can doubt Quintero's credentials and he's truly a joy to watch when he's on song. His problems have came away from the pitch, with poor professionalism putting a glass ceiling on undoubted potential. At 25, Quintero still has time to turn things around and having knuckled down in recent months, Russia could well provide the platform for the attacking midfielder to finally announce himself to the world.
Other players to keep an eye on can be found in our potential breakout stars this summer in Russia feature.
Potential Lineup:
Colombia's play style is fairly set in stone and the side can certainly provide entertainment on their day. Pekerman's system is based around providing protection for the creative trident behind Falcao, with the objective being to work the ball through to the team's technicians in order for them to tee up one of the world's most lethal finishers, whilst having enough steel behind them to prevent quick counters from the opposition. Barring one or two alterations, the following men could well form the side that lines up against Japan on June 19th:
Ospina; Arias, Mina, Davinson Sánchez, Fabra; Sanchez, Barrios; Cuadrado, Rodriguez, Quintero; Falcao.
This Colombian team certainly brings some talent with it, but one can hardly have them up there with the top picks of the dark horses given they only just made it into the competition by the skin of their teeth. How do you see Peckerman's men performing? Will it be an early exit or can the team's big hitters inspire the side to glory?
Follow Free Super Tips on Twitter to stay up to date with our daily tips and predictions or browse more football content on our website: