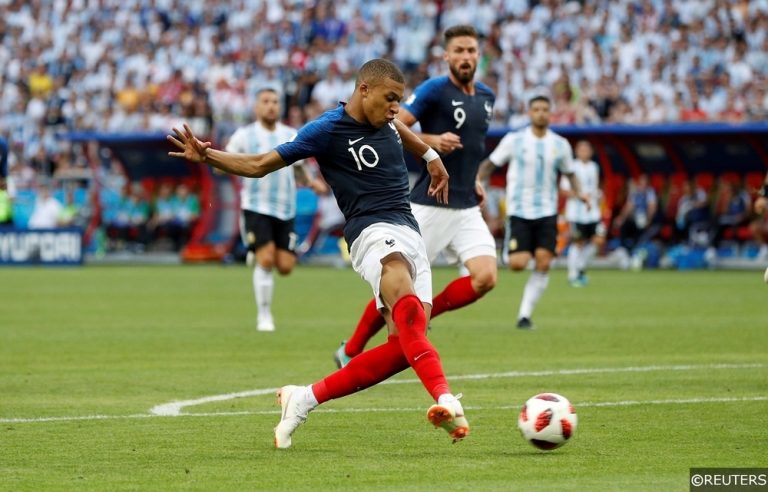 The boy wonder Kylian Mbappé managed to win over every one of the World Cup's 3.4 billion viewers during the summer as he led France to win the competition for the second time. Not many 19-year-olds have achieved what Mbappé has in his young footballing career so far; the Frenchman already has two Ligue 1 titles, one Couple de la Ligue, one Under-19 European Championship as well as a World Cup medal under his belt. He has absolutely exploded on to the footballing scene and after commanding a £130m transfer fee while still a teenager, there isn't anyone in their right mind who would object to this player becoming the best in the world someday.
The real question is: how quickly can he get there?
Betting Tips: PSG vs SM Caen Predictions
After an unreal 2017/18 campaign in his first year at Paris Saint-Germain, Mbappé will be wondering if he can push aside the ageing Lionel Messi and Cristiano Ronaldo in his bid to be named The Best FIFA Men's Player, which doesn't quite have the same ring to it as the Ballon D'Or did but that's a story for another day, or possibly win the Champion League or domestic quadruple with PSG. So, what can Mbappé realistically win this season and how is he going to do it?
All For One
You guessed it! Our giveaway jersey for #L1Wk34 comes from none other than #Ligue1Conforama top scorer (25 goals) @ECavaniOfficial!!! Now checkout this selection of amazing goals from El Matador nd tell us which one is your favourite… pic.twitter.com/AmxWeIQneB

— Ligue1 English (@Ligue1_ENG) April 20, 2018
Ligue 1 has a great selection of deadly finishers with 23 players getting over 10 goals last season but Mbappé finished some way off the pace in the end at 13th. If he is going to change that this season, he luckily finds himself in a great squad to do it.
Up top, PSG's four main attackers aren't really matched by anyone in the league; last year Mbappé managed to get 21 goals in all competitions as did Angel Di Maria, Edinson Cavani bagged 40 and Neymar managed 28 in an injury hit season, coming to 110 between the foursome. Lyon also have a pretty formidable front four with their attack consisting of Nabil Fekir, Memphis Depay, Bertrand Traore and Mariano Diaz but even with each of the players being in red hot form, they only managed 84 between them.
Read More: Nabil Fekir Caught In Career Limbo
These numbers just show the level above that PSG are currently and with them winning a domestic quadruple last year, their third in four years, they will be looking to continue that this time round and Mbappé will be a pivotal part of this. With the performances that Mbappé has been putting in, it's would only be expected that the expectations on him would increase and with him only scoring 13 goals last season in the league, these are definitely numbers that could be improved upon.
For comparison, Premier League rejects Mario Balotelli and Florian Thauvin managed to score more goals than the young striker but Mbappé should be aiming to finish top of the pile this year if he's to continue his astronomical bell curve of quality. Mbappé scored 13 times in the league but failed to convert 50 chances created by his Parisian teammates. This left Mbappé with a conversion rate of about 20% but if he wants to be the best in the world, he will really need to bump that up to at least 28%. His fellow attackers Cavani and Neymar both averaged a much better conversion rate with them sitting at 30% and although this may seem tough to critique this as he already has such a good rate of scoring, he will need to correct this next year.
Luckily for him though, he is surrounded by some of the best playmakers around with Neymar creating 71 goalscoring chances last season and Cavani, Di Maria and Dani Alves all creating over 34. Mbappé was actually second in his team for this statistic but he needs to find himself at the end of these chances more often rather than making them for him to be considered one of the most clinical strikers around. Mbappé does slightly play on the wing, as he did in his Monaco days, which could hinder the amount of goals he scores in his career but as Mo Salah proved last season, you can still be deadly out wide.
He will have to beat many of his teammates to finish as top scorer but after a fantastic World Cup and with Edinson Cavani another year older, anything could happen. If he manages to jump on a streak of goals early this season, then it would surely put him in the driver's seat for The Best FIFA Men's Player award this year. Cristiano Ronaldo winning the Champions League and Luka Modric leading Croatia to the World Cup final might be the main factors which restrict him this year but he has landed a place on the preliminary selection list, so he just has to make sure he starts this season with the same energy he put into the World Cup to be in with a shout.
One For All
PSG have now beaten Monaco in seven consecutive meetings:

🔴 ASM 1-4 PSG 🔵
🔵 PSG 5-0 ASM 🔴
🔴 ASM 1-2 PSG 🔵
🔴 ASM 1-2 PSG 🔵
🔵 PSG 3-0 ASM 🔴
🔵 PSG 7-1 ASM 🔴
🔵 PSG 4-0 ASM 🔴

Define: bragging rights. pic.twitter.com/gCCdCBAV27

— Squawka Football (@Squawka) August 4, 2018
Another domestic quadruple last season with them winning Ligue 1 by 13 points really just shows how dominant this club have been over the past seven years. Despite their blip in the 2016/17 season mainly caused by the person that this article is all about, they have firmly had their grasp on French football for years and don't look willing to let it go anytime soon, with the new appointment of super-attacking manager Thomas Tuchel looking to just extend their command over the nation.
Read more: Premier League 2018/19 Outright Betting Tips and Predictions: Title Winners and Top 4 Predictions
When at Borussia Dortmund, his team scored 245 goals in 108 games and he left with a +132 goal-difference which is an absolutely unreal statistic. Tuchel's way of football really flourishes when there is a formidable defence to back up the attacking flair. That's why it worked so well at Dortmund as when Aubameyang and Reus would lose the ball in the middle of the pitch, the defensive group of Lukasz Piszczek, Marcel Schmelzer, Sokratis, Marc Bartra would win it back with the aid of Nuri Sahin and Sven Bender. They had everything that a good team needs, flair and creativity backed up by a solid defensive unit.
This is why it didn't work out at Mainz for Tuchel though; when Adam Szalai and Andreas Ivanschitz were playing so well up top, they didn't have that comfortable defence to rely on. It really was a defence of contrasting ages back then with Svensson, Pospech, Noveski and Zabavnik all too old during the latter part of Tuchel's Mainz career and Kirchoff and Bell too young to cement themselves in the starting eleven. They still managed to score goals, 248 in 182 games, but with 288 conceded, it all really fell apart towards the end.
At PSG though, this defensive fragility isn't the case. Seasoned internationals and World Cup and Champions League winners make up the bulk of their defensive squad depth. Marquinhos, Thiago Silva and Dani Alves have all been fantastic in their time at the club, but former manager Unai Emery always made sure there was a young plucky defender nipping at their heels should they begin to age or fall out of form. Thomas Meunier rotated the right-back role with Alves for much of last season and will probably dominate the role this year with Alec Georgen just under him; Presnel Kimpembe looks ready to take over as first choice centre-back at the club and Stanley N'Soki will probably see a bit more of an involvement in the first team over the next few years, exchanging starting places with Layvin Kurzawa.
This group of players have mixed so well and should bring the Ligue 1 title home again this year. The elusive trophy for the Parisians since their financial takeover has been the Champions League, though. They have still to even reach the semi-finals which is why the club's hierarchy have put so much money into this squad, literally hundreds of millions of euros have been invested into several players and if it doesn't come off for them this season, they'll have to go back to the drawing board, which basically means bring in Pep Guardiola when he gets bored of freezing Manchester.
Despite Emery's mixed success domestically when at the club, it was his lack of European progression which ultimately cost him the job. Similar stories were there for Laurent Blanc and Carlo Ancelotti and now Thomas Tuchel has been brought in to break that trend. He didn't manage to quite make his mark on Europe during his time at Dortmund, only reaching the quarter finals in the Champions League and Europa League, but he has a much more powerful financial backing at PSG, one of the strongest in the world, so if he can't win it with that, he probably never will.
Kylian Mbappe faces one of the biggest seasons of his career. 19-years-old, a World Cup winner and £130m worth of expectation on his shoulders; for someone so young, this year will make or break the striker. Many normal teenagers would crumble in his position, but as he's shown over the last three seasons, he isn't a normal teenager.
Follow Free Super Tips on Twitter to stay up to date with our daily tips and predictions or browse more football content on our website: