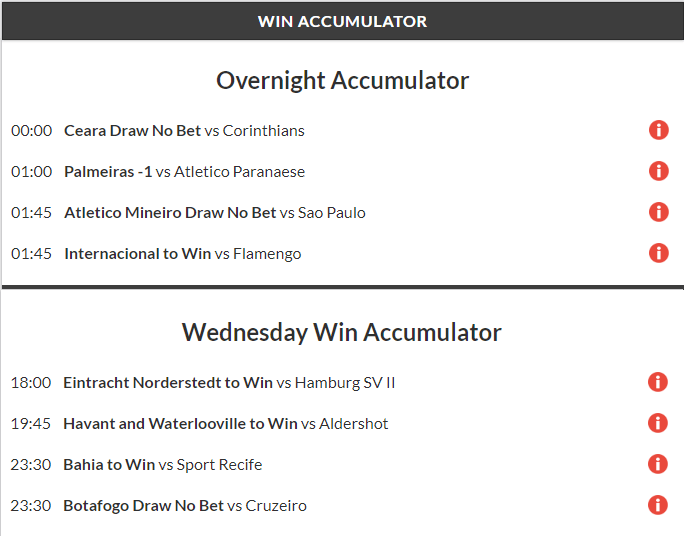 Another fantastic day for us here at FST!
Despite a limited selection of games due to international break, our analysts have once again showed they are in-form!
Two football Accumulators were landed yesterday, which continues our great start to the month of September! We landed a 11/1 MLS Acca on Saturday and a 11/1 MLB Acca + Double on Tuesday night!
The Overnight Acca winner was priced at 13/1 and the Wednesday Win Acca was priced at 17/1 but was cut to 11/1 due to one leg being void, but we'll take it!
Here's how it went:
TRIPLE OVERNIGHT WINNER!!!!!!!!!

13/1 Overnight Acca
11/1 Weds Win Acca (as a treble)
MLB Double

Cracking start to Thursday!!

GET IN!!!!!!!!!!!! pic.twitter.com/TzOQKya8GV

— Football Super Tips (@FootySuperTips) September 6, 2018
13/1 Overnight Acca Wins
We went with a slightly safer option in the 1st leg of the acca as we backed Ceara Draw No Bet against Corinthians. The home team didn't have much of the possession in this one, but in the end it didn't matter as they ran out 2:1 winners to start us off!
A dramatic late goal in the 2nd leg kept our Acca alive! Palmeiras took the lead in the 71st minute, but we needed them to win by 2 goals at least. And luck was definitely on our side here as they were awarded a penalty deep into injury time and Moises converted in the 95th minute to land our 2nd game on the acca.
Similarly to the first leg, we had America-MG Draw no Bet against Sao Paulo. An early own goal was enough here as 6th placed Atletico beat Sao Paulo who have now dropped to 2nd place after this result.
And finally Internacional and Flamengo battled in the last leg of the Acca. Flamengo dominated possession here with 61%, but just like the first match of our acca that did not matter much. Internacional took the lead early in the 5th minute and that was the score at the break. Flamengo leveled the score in the 57th, but only 2 mins later the home team grabbed the lead again as Dourado bagged a goal. They managed to hold on and that was all she wrote here!
11/1 Wednesday Win Acca Wins
The Weds Win Acca kicked off in the German lower leagues as Eintracht Norderstedt beat Hamburger SV II. The game was never really close, the home team was up 3:0 in the 67th minute and HSV II grabbed a consolation goal in the 87th and it finished 3:1 Norderstedt.
Up next we were in the National League as Havant & Waterlooville took on Aldershot Town. Both teams lost two games in a row heading into this one and it wasn't a easy match to predict. Luckily for us though, the home team delivered. They went up in the 27th minute and doubled that in the 83rd. A late goal from Aldershot gave us some tense moments at the end of the game but it finished 2-1 to the home team in the end and we were 2/4 for the Acca!
Next up was Bahia at home to Sport Recife. With 3 losses in their last 4 games, Sport Recife were in bad shape heading into this one and it showed. They managed to hold on to a scoreless half in the first 45 mins, but Bahia took care of business in the 2nd half with 2 goals from Gilberto and Pagnussat. This meant we were down to one final leg on our Acca!
In that final leg we backed Botafogo DNB against Cruzeiro. With the game finishing 1:1 the tip was void and the odds of the Acca were reduced a bit, but we managed to land the Accumulator as a treble!!
Free Football Predictions
Missing out on all these winners? Remember, you can be back all of our Accumulators on the Free Football Predictions page of the website. They are posted each night at around 10 pm for the following day.
Followers Betslips
This was our 3rd Overnight Accumulator winner in the first 5 days of September and our followers were once again with us and they showed that by sending their winning betslips to us via twitter:
Yes sir pic.twitter.com/wJWO10JfVy

— Dom B (@DloBrown86) September 6, 2018
@FootySuperTips BOOM!!!! pic.twitter.com/E2mvyqnmCM

— Super Sonic (@davesmart1989) September 6, 2018
@FootySuperTips two overnighters in two days, naughty pic.twitter.com/M0Vc5oh0pV

— ols (@basicthugz666) September 6, 2018
@FootySuperTips double boom. Nice work lads. pic.twitter.com/6Q8EMKL5TQ

— Antoine O' Hara (@jackban1984) September 6, 2018
@FootySuperTips pic.twitter.com/YxAtz7bTR6

— Joseph Donovan (@josephdnvan) September 6, 2018
@FootySuperTips thanks! pic.twitter.com/piC16Bufsl

— Nixon Pang (@nixonpang19) September 6, 2018
@FootySuperTips the overnight acca has been ridiculous lately pic.twitter.com/t45qhRwVbW

— Rhys (@RhxsCFC) September 6, 2018
Boom overnight acca strikes again, what a crazy game the Flamengo match was, could have easily been a draw! pic.twitter.com/Z4QoiNGpbt

— JS (@joshhscott) September 6, 2018
Winner winner chicken dinner … pic.twitter.com/HADrx5wZre

— Saravana (@tskm91) September 6, 2018
@FootySuperTips all cashedout another cracking winner boom pic.twitter.com/9kcz8ArhvQ

— liam (@liamnatalia501) September 6, 2018
Cheers mate pic.twitter.com/ErgHrovRt3

— Collis11 (@colski11) September 6, 2018
@FootySuperTips played, lads pic.twitter.com/XQc4Nwxsqp

— Ben (@Fr33m0) September 6, 2018
@FootySuperTips your on what a nice surprise to wake upto pic.twitter.com/GsfgPKGS5R

— Cloynejoker_1981 (@1981Cloynejoker) September 6, 2018
— kieran.. (@kieran_childs) September 6, 2018
Nice one pic.twitter.com/tCvtFq1b6b

— james (@james20573997) September 6, 2018