The 2015-2016 Premier League seasons was definitely one of the best in the history of the game. We take a look back at some of our favourite moments of the seaosn
#BPL SEASON IN NUMBERS
Games – 380
Goals – 1026
Hat-tricks – 14
Pens – 91
Passes – 332,180
Yellows – 1,186
Reds – 59 pic.twitter.com/f4a0sXrQqP

— Premier League (@premierleague) 18 May 2016
1) Leicester Champions
Where else could we possibly start? The biggest upset in sporting history was completed by Leicester City Football club. The 5000/1 underdogs won the league by 10 points for the first time in their 132 year history and cost the bookies £50 million in the process.
If you couldn't quite believe we won the @PremierLeague, here are some photos to prove it! #havingaparty pic.twitter.com/UOxIUIghrw

— Leicester City (@LCFC) 7 May 2016
2) Claudio Ranieri
The 64 year old Italian has gone from to winning the Premier League and being named by the LEague Managers' Association. On top of that he also provided us with some quality press conferences including the 'Dilly Ding Dilly Dong' moment.

3) Jamie Vardy's Party
CHAMPIONS!!!! pic.twitter.com/pFtvo5XUNx

— Christian Fuchs (@FuchsOfficial) 2 May 2016
Vardy not only hosted a banging party but he also went on an incredible scoring run. He found the back of the net in 11 straight games to break Ruud van Nistelrooy's scoring record hel from 2002.
Again. #vardyparty https://t.co/hiLvQrqb2g

— LeicesterCity Turkey (@LCFC_Turkey) 7 May 2016
4) Jurgen Klopp
Liverpool fans reacted to his appointment like:
#LFC vs #BVB. Ok, I've calmed down. We can do this!!! @LFC can defeat @BVB. #Klopp says boom so we boom! https://t.co/bralWSQcer

— zima (@maaadcow) 18 March 2016
and here's Klopp's reaction to the Crystal Palace game
Jurgen Klopp:
"The words Crystal Palace mean nothing to me." – 07/11/2015

02/12/2015 https://t.co/mL1bhQuFLb

— CPFCGIFS (@GIFS_CPFC) 2 December 2015
5) Villa Relegated
Aston Villa were relegated from the Premier league for the first time since 1986. This season was so bad for the Villa fans, this is how they reacted to getting a corner against Watford.
The Aston Villa fans celebrate and chant "set piece" after winning a corner yesterday.

This is brilliant haha.pic.twitter.com/i7jPLmKp93

— LFC Live News (@LFC_NEW5) 1 May 2016
Relegation wasn't their lowest point of the season. That belongs to Joleon Lescott who apparently posted this "from his pocket" following a 6-0 defeat against Liverpoool.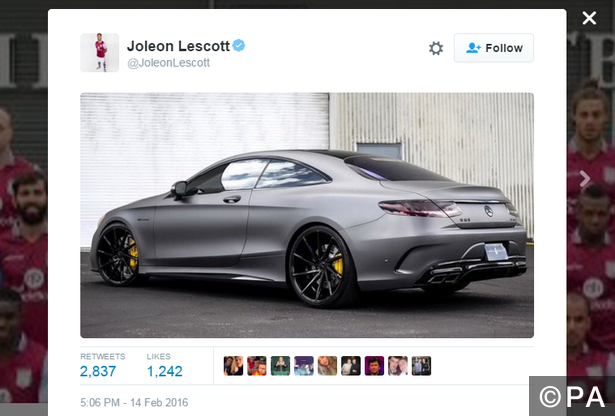 6) Arsenal Top 4 (but still above Spurs)
The #WengerOut fans won't be happy with a 2nd place finish in the league and Champions League Football for a 20th consecutive season.
Arsenal:

– Finish 2nd in the BPL
– Finish above Spurs for 21st consecutive season
– UCL for 20th consecutive season pic.twitter.com/Cycx7UOjfu

— BBC Sporf (@BBCSporf) 15 May 2016
7) Mourinho Sacked
Jose was sacked by Chelsea for a second time, just seven months after winning the league. Chelsea sat 16th in the league, just one point above the relegation zone following an appalling run of 9 losses in 16 games.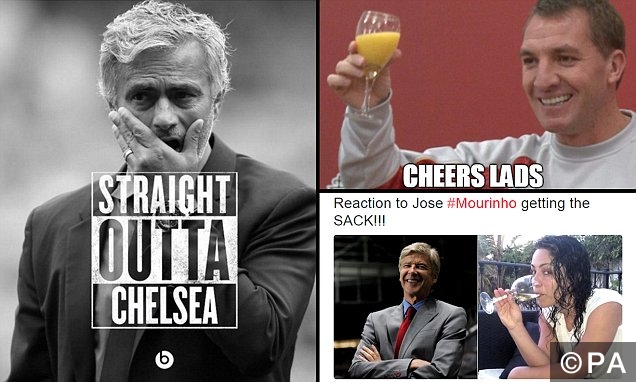 8) Van Gaal
Manchester United manager Louis Van Gaal broke the internet on several occasions with his outrageous antics. His dive against Arsenal took gold.
RT @RafaelH117: Van Gaal's dive simulation, the best thing you'll see today: https://t.co/hUNgp7Pexx

— Luis Navarro (@lnavarrom22) 29 February 2016
Our 50 shades of Van Gaal looks at more hilarious moments.
9) Eva Carneiro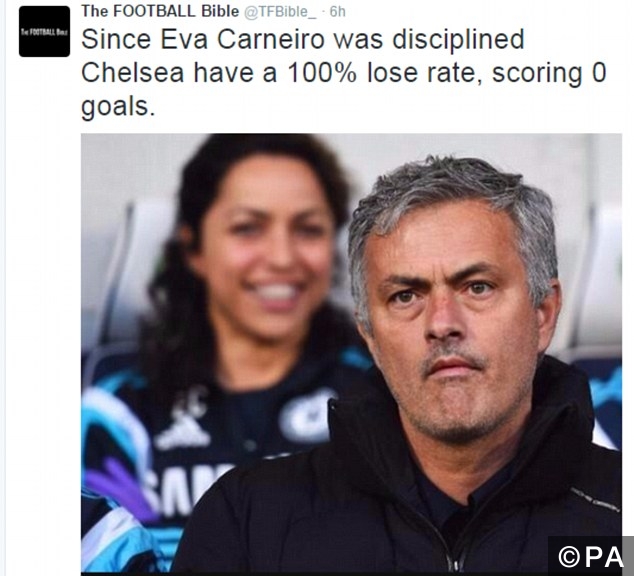 It was a sad day for all Premier League fans as we no longer get to see this on a weekly basis…
If you're watching Reading – QPR I feel bad for you son, just in case here's a picture of Eva Carneiro's bum pic.twitter.com/RyzfEv6rKF

— Wilkoooo (@Wilkos71) 28 April 2013
10) Dele Alli
The Spurs youngster burst on the scene after signing from MK Dons last year. Alli has been named in the England Euro squad after scoring 10 goals for Spurs including this worldy:
He celebrated in typical Dele Alli fashion
— Ahmed (@ClockMerchant) 15 May 2016
11) Riyad Mahrez
From a £375k transfer fee to Premier League Winner, multi award winning football and 93 rated on FIFA. Hats off to the Algerian for a stunning season in the Premier League.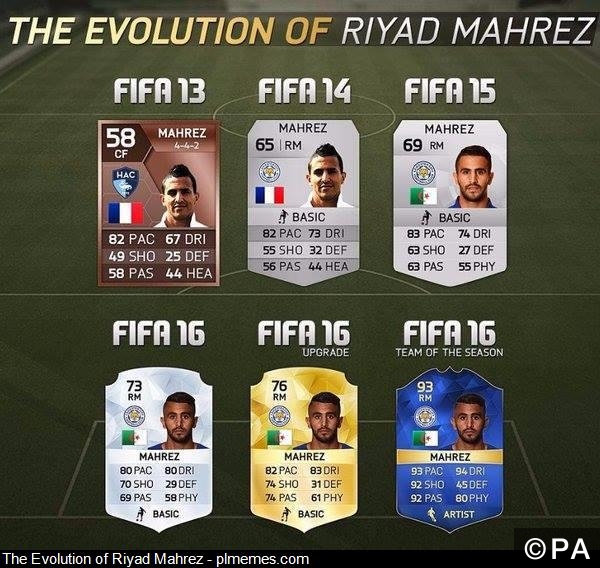 12) Harry Kane
The England forward continued his great form from last season. He picked up the golden boot with 25 goals in the Premier League and looks to lead the line for England in Euro 2016 during the summer.
Barclays Golden Boot winner @HKane hit 25 #BPL goals this season – here's a few of his most memorable…https://t.co/kxtIpE9mHv

— Premier League (@premierleague) 18 May 2016

13) Boleyn Ground
West Ham said farewell to the Boleyn ground. They move to the Olympic Stadium next season but were blessed with some absolute worldy free kicks from Payet this season including this:
Tonight we say #FarewellBoleyn to a stadium that has seen some special free-kicks…https://t.co/megGs37Y3s

— West Ham United FC (@whufc_official) 10 May 2016
The fans also went out in style:
Man United coach attacked on arrival #FarewellBoleyn pic.twitter.com/16Fa5dqWHJ

— Joshua Emmanuel (@big_man_joshy) 10 May 2016
12) Marcus Rashford
The rise of Rashford saw him go from studying in Chemistry exams to scoring a brace on Premier League debut against Arsenal and being included in the Euro 2016 provisional squad.
That game was harder than my chemistry exam and the Arsenal game#MUFC #ManUtd

— Marcus Rashford (@MarcusR39) 2 March 2016
14) Old Trafford bomb scare
A calamity at Old Trafford to round the season off when a fake explosive was left in the ground after a training exercise. At least the fans reacted well to the news…
@ManUtd best attack all season

— jay (@j4ydivision) 15 May 2016
@ManUtd hope LVG dies

— Joe (@Brikka23) 15 May 2016
The Bournemouth fans found the funny side during the rearranged fixture
Bournemouth fans singing "Is there a bomb scare?!", as Man Utd fans started to leave Old Trafford this evening. pic.twitter.com/z28nGB14mC

— Football Away Days (@AwayDays_) 17 May 2016
15) Justice for the 96
Families of the 96 Liverpool fans who died in the Hillsborough disaster declared that justice had finally been done. An inquest jury concluded that the tragedy was caused by the police and the victimes had been unlawfully killed.
Justice at last for the 96!! You'll never walk alone!! pic.twitter.com/FCOWDJDkCH

— Luis Suarez (@LuisSuarez9) 27 April 2016