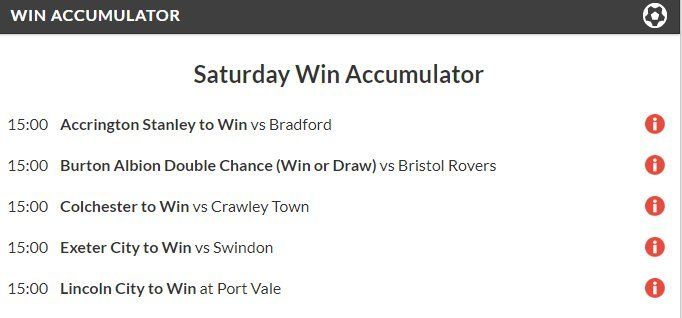 We're just 2 weeks into October and our 6th Football Accumulator has landed! Our analsyts are at it again, after landing a 15/1 Boosted BTTS Accumulator last Friday, we followed it up with a 15/1 Boosted Win Accumulator  on Tuesday before landing an 18/1 Boosted Win Accumulator on Saturday!
All 3 of these accumulators were boosted by Unibet to make our followers day even better!
18/1 Win Accumulator LANDS!!!

Accrington 3-1
Burton 1-0 (Double Chance)
Exeter 2-0
Colchester 3-1
Lincoln 6-1

BOOSTED from 16/1 to 18/1 with @unibet – Cheers lads!

GET IN YOU BEAUTYYYYYY!!!!

International footy? No problem with FST!

(18+) pic.twitter.com/cCyMNVnRbI

— Football Super Tips (@FootySuperTips) October 13, 2018
Here's how the accumulator went down:
All of the games in this accumulator kicked off at 3pm. We needed wins from Accrington Stanley, Exeter, Colchester and Lincoln, as well as Burton to avoid defeat. We didn't have to wait long for the first goal of the accumulator, as Lincoln took a lead inside 3 minutes thanks to Harry Anderson. They didn't stop there, as they added 2 more before the break, thanks to McCartan and a Legge own goal. The 2nd half saw Port Vale grab a goal back on 51 minutes, but not before Bostwick made it 4-0 to Lincoln. Goals from Wharton and Wilson for Lincoln, and an added time consolation from Whitfield saw the game end 6-2.
Exeter got off to a similarly strong start, taking the lead through a Jonathan Forte goal on 14 minutes. They added a second on the hour mark, making for a very routine 2-0 win against Swindon Town. The third and final League 2 game saw Colchester United take a lead after 27 minutes through Szmodics against Crawley town. The away side equalised through Felipe Morais on 40 minutes, and that's how the game went into half time. In the 2nd half the home side regained their dominace, scoring just before the hour through Nouble, before adding a 2 goal cushion via a Luke Norris goal in the 90th minute. The game ended 3-1 to Colchester.
Finally we just needed a win from Accrington and Burton to avoid defeat in League One. Accrington got off to a slow start but took the lead before half time thanks to a Billy Kee goal. The 2nd half saw Stanley go 2-0 up thanks to a Zanzala goal, before Doyle brought one back for the visitors Bradford. Sean McConville replenished Stanley's two goal cushion on 66 minutes, and that is the way the game ended, 3-1 to Accrington.
A very boring final game from Burton saw neither side score until the dying seconds of the match. With the scores tied after 90 minutes, a goal in injury time left us with our hearts in our mouths, but luckily for us, it was Burton substitute Ben Fox who grabbed the goal, with the game ending 1-0, landing the 18/1 Win Accumulator.
Free Football Predictions
This month particularly has been a great month for our Football Analysts, be sure to bookmark our Free Football Predictions page of the website so you don't miss out on any future winners!
Followers' betslips
Find below some of our followers who were kind enough to share their winning bet slips with us!
Took the cash pic.twitter.com/RTxc7ZmXrK

— d bainbridge (@BABS202020) October 13, 2018
@FootySuperTips pic.twitter.com/2jafu4dGwi

— Singhie (@stevesingh14) October 13, 2018
Well done Cheers for the tip pic.twitter.com/tf7M7I09ew

— Grant Cook (@needwhitedriver) October 13, 2018
Only a couple of quid on it but a nice little fund booster ! pic.twitter.com/PIWt2lamV3

— Chris Trowers (@lastword62) October 13, 2018
@FootySuperTips thanks Boooooooooom pic.twitter.com/vGprX3s1uj

— Wedge (@coljambo) October 13, 2018
@FootySuperTips boom  pic.twitter.com/Bnvo0uE0Cz

— CARL MARTIN (@Carlmartin80) October 13, 2018
Cheers yet again pic.twitter.com/88lNupXoU8

— Lee Foley (@Lee_Foley) October 13, 2018
@FootySuperTips thanks pal  pic.twitter.com/UIhce1FDhI

— Graeme Black (@Grakaz29) October 13, 2018
Managed to get the winner in the end! Cheers fella pic.twitter.com/avbm1Z36uF

— Ja'Crispy (@BaxtersSoup) October 13, 2018
Oh yeah baby  pic.twitter.com/Geb9hmKbhW

— DAVE  (@westhamdaveE16) October 13, 2018
Cheers mate  best tipster about beers r on me 2night  pic.twitter.com/2Wr6UdHVOV

— Gareth (@Geddy7777) October 13, 2018
Happy days pic.twitter.com/CPjsWsP5kx

— Joe mcadorey (@JoeMcadorey) October 13, 2018