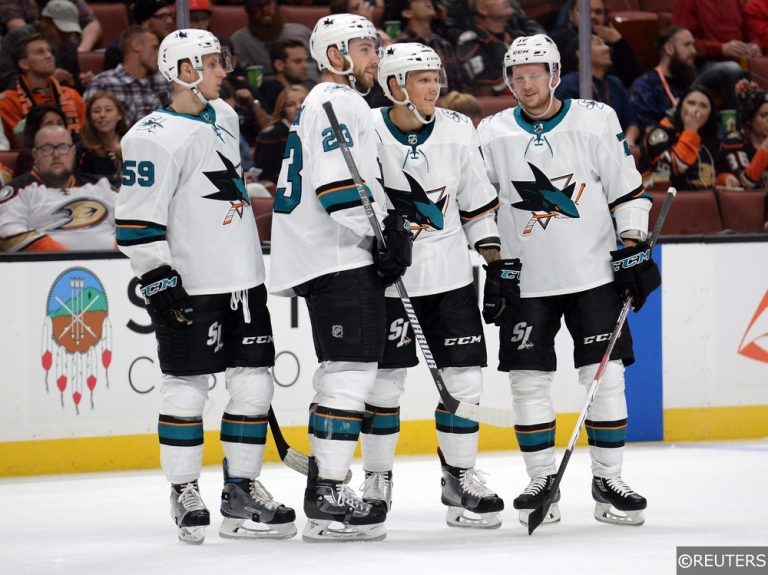 Pacific Division Predictions
Anaheim Ducks
Last Season: 2nd (9th overall); 44-25-13.
Eliminated by San Jose Sharks in the first round.
Team Leaders: Rickard Rakell (Center, 25 years old, 34-35-69), Josh Manson (Defenseman, 26 years old, 7-30-37), John Gibson (Goalie, 25 years old, 31 wins, 92.6 save percentage, 2.43 GAA, 4 shutouts).
Anaheim's most notable gains were Andrej Šustr (Defenseman, Tampa Bay, 2-5-7), Luke Schenn (Defenseman, Arizona, 1-6-7) and Brian Gibbons (Center, New Jersey, 12-14-26). Ducks lost Francois Beauchemin (retired).
The Ducks have always been a defensive-minded team. Their defense is pretty solid and Gibson's numbers are incredible; he is one of the best goalies in the entire league. Problems are with the offense. The former hotshots Ryan Getzlaf, Ryan Kessler, and Corey Perry had a very average season last year and they're also not exactly the youngest guys in the league. There are some offensive prospects (like Silfverberg, Rakell or Kaše), but for offensive-minded NHL of these days… It won't be enough. Anaheim will need to change their game soon, otherwise, they won't make the playoffs this season.
Arizona Coyotes
Last season: 8th (29th overall); 29-41-12.
Never qualified for the Stanley Cup playoffs. The last franchise success was when they were named the Phoenix Coyotes and they got to the conference finals in 2011/12.
Team Leaders: Clayton Keller (Center, 20 years old, 23-42-65), Oliver Ekman-Larsson (Defenseman, 27 years old, 14-28-42), Antti Raanta (Goalie, 29 years old, 21 wins, 93.0 save percentage, 2.24 GAA, 3 shutouts).
Yotes acquired Alex Galcheyuk (Center, Montreal, 19-32-51), Michael Grabner (Right Wing, New Jersey, 27-9-36), Vinnie Hinostroza (Left Wing, Chicago, 7-18-25) and Jordan Oesterle (Defenseman, Chicago, 5-10-15). Arizona lost Max Domi (Montreal).
Arizona Coyotes will try to bounce back from the stigma of being one of the worst teams in the league. Antti Raanta had a great end of the season, and if he continues in the same way, Arizona's goaltending problems should disappear very quickly. Oliver Ekman-Larsson is still only 27 and he is already one of the best defensemen in the league. With many young talented players on offense, we believe that the Yotes will end up way higher than last season.
Calgary Flames
Last Season: 5th (20th overall); 37-35-10.
Did not qualify for the playoffs.
Team Leaders: Johnny Gaudreau (Left Wing, 24 years old, 24-60-84), Mark Giordano (Defenseman, 34 years old, 13-25-38), Mike Smith (Goalie, 36 years old, 25 wins, 91.6 save percentage, 2.65 GAA, 3 shutouts).
Main acquisitions: James Neal (Left Wing, Vegas, 25-19-44), Elias Lindholm (Center, Carolina, 16-28- 44), Noah Hanifin (Defenseman, Carolina, 10-22-32), Derek Ryan (Center, Carolina, 15-23-38). Calgary lost Dougie Hamilton (Carolina), Micheal Ferland (Carolina) and Troy Brouwer (Florida).
Mike Smith's numbers were quite impressive last season, but this era and style of hockey is quite a lot for a 36 year old. The Flames spent a lot of time making their defensive lines work properly, and they finally started focusing on their offensive line during the off-season. Now they have players like Neal, Lindholm, Ryan, together with Gaudreau, Monahan, Frolík, Tkachuk… if the chemistry is right, making this year's playoffs shouldn't be a problem at all for Calgary.
Edmonton Oilers
Last Season: 6th (23rd overall); 36-40-6.
Did not qualify for the playoffs in 11 of the last 12 seasons.
Team Leaders: Connor McDavid (Center, 21 years old, 41-67-108), Darnell Nurse (Defenseman, 23 years old, 6-20-26), Cam Talbot (Goalie, 31 years old, 31 wins, 90.8 save percentage, 3.02 GAA, 1 shutout).
New faces in Oilers uniform: Tobias Reider (Right Wing, LA, 12-13-25), Kyle Brodziak (Center, St.Louis, 10-23-33) and Jakub Jeřábek (Defenseman, Washington, 2-6-8). Edmonton lost Laurent Brossoit (Winnipeg) and Iiro Pakarinen (Magnitogorsk – KHL).
It's hard to believe Connor McDavid is only 21. But even without him, Oilers offense is in great shape. On the other side, the defense is just plain bad – 5th worst defense in the league in terms of goals against: 262, 3.20 GA per game. Cam Talbot's numbers are also not exactly great for a no.1 goalie of a team that wants to reach the playoffs.
Los Angeles Kings
Last Season: 4th (12th overall); 45-29-8.
Eliminated by Vegas Golden Knights in the first round 
Team Leaders: Anze Kopitar (Center, 30 years old, 35-57-92), Drew Doughty (Defenseman, 28 years old, 10-50-60), Jonathan Quick (Goalie, 32 years old, 33 wins, 92.1 save percentage, 2.40 GAA, 5 shutouts).
Kings acquired Ilya Kovalchuk (Left Wing, CSKA Moscow, 11-20-31) and lost Torrey Mitchell (Lausanne HC – Switzerland) and Tobias Rieder (Oilers).
LA Kings have always been a "defense first" team. This could work, and has worked, a few seasons ago but the NHL has evolved to a fast, high-scoring, offensive style of hockey. Ilya Kovalchuk, as the only aid for the King's attack, is simply not enough. One Californian team has already realized that a defensive gameplan is obsolete, the other two teams are yet to follow suit. Without major improvement, the Kings will not make the playoffs this season.
San Jose Sharks
Last Season: 3rd (11th overall); 45-27-10.
Eliminated by Vegas Golden Knights in the second round.
Team Leaders: Joe Pavelski (Center, 34 years old, 22-44-66), Brent Burns (Defenseman, 33 years old, 12-55-67), Martin Jones (Goalie, 28 years old, 30 wins, 91.5 save percentage, 2.55 GAA, 4 shutouts).
In a trade of the year, Sharks gained Erik Karlsson and lost Chris Tierney, Dylan Demelo, Rudolfs Balcers, Josh Norris, Conditional 2nd round pick in 2019 and Conditional 1st round pick in 2020.
The improved Sharks are now even better. Their new gameplan already involved offensive-minded defensemen such as Brent Bruns and Marc-Edouard Vlasic, and the arrival of the superstar Karlsson will change their game even more. It looks like last year's Sharks did not get used to their new style even though it could already have been deemed a success after their 4-0 sweep of Anaheim in the first round. We will wait for the chemistry of the team, but the Sharks should definitely be candidates for the Stanley Cup this season.
Vancouver Canucks
Last Season: 7th (26th overall); 31-40-11.
Did not qualify for the playoffs for the third time in a row.
Team Leaders: Brock Boeser (Right Wing, 21 years old, 29-26-55), Alexander Edler (Defenseman, 32 years old, 6-28-34), Jacob Markstrom (Goalie, 28 years old, 23 wins, 91.2 save percentage, 2.71 GAA, 2 shutouts).
Canucks acquired Antoine Roussel (Left Wing, Dallas, 5-12-17), Jay Beagle (Center, Washington, 7-15-22) and Tim Schaller (Center, Boston, 12-10-22). Vancouver lost their superstars, twins Henrik and Daniel Sedin (retirement).
Post Sedin era will be tough for the Canucks. Both defense (259 goals against, 3.20 GA per game) and offense (218 goals scored, 2.66 per game) was the 6th worst in the NHL last season. Markstrom, the no. 1 goalie, was very inconsistent and Nilsson, the no. 2 goalie, had some ups but way too many downs. Vancouver simply need a few more years to regroup.
Vegas Golden Knights
Last Season: 1st (5th overall); 51-24-7.
Lost to Washington Capitals in the Stanley Cup Finals.
Team Leaders: William Karlsson (Center, 25 years old, 43-35-78), Colin Miller (Defenseman, 25 years old, 10-31-41), Marc-Andre Fleury (Goalie, 33 years old, 29 wins, 92.7 save percentage, 2.24 GAA, 4 shutouts).
Golden Knights acquired Paul Stastny (Center, Winnipeg, 16-37-53), Daniel Carr (Left Wing, Montreal, 6-10-16), Nick Holden (Defenseman, Boston, 4-13-17). Vegas lost James Neal (Calgary) and David Perron (St.Louis).
Great offense, one of the best goalies in the entire hockey world… The Golden Knights' roster doesn't have many holes. Maybe the lack of a top defenseman after their failed attempt to capture Erik Karlsson. Their main problem could surprisingly be their success last season. As a new franchise, they reached not only the playoffs but also the Stanley Cup finals, so there will be a lot of pressure on this team. However, we think the Golden Knights can make playoffs again in what will be just their second season.
Weekly NHL Picks, Predictions & Betting Tips
Follow Free Super Tips on Twitter to stay up to date with our weekly NHL picks, predictions and betting tips or browse more NHL content on our website: