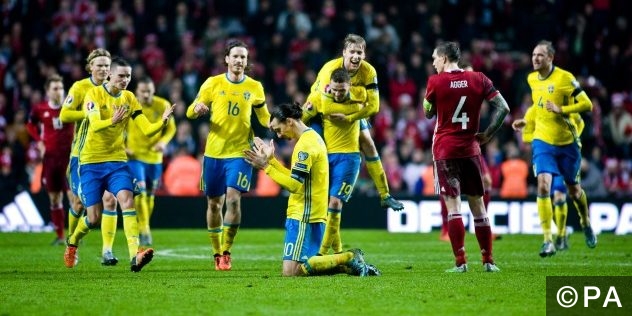 We just can't seem to stop winning accumulators at the moment! This time, it was a huge 26/1 winner on our Both Teams to Score accumulator on Tuesday night! Not only that, to add to the total profit for the night, we also landed a Correct Score tip (as a single) at 5/1.
Free Football Betting Tips
This BTTS win was part of our free football betting tips which are posted daily so make sure you bookmark our Both Teams To Score Tips page as we have been smashing it recently including a 13/1 winner on Monday to make it 2 BTTS accumulator wins in 2 days!
26/1 Both Teams To Score Accumulator
Our Both Teams to Score tips all kicked off at 7.45pm on Tuesday night. It involved four National League North fixtures, one international fixture and an EFL Trophy fixture.
We start off with the Sweden v Holland game. It was a quiet game up until the 43rd minute, when Marcus Berg struck for Sweden to put the home nation ahead. 23 minutes from the end, Wesley Sneijder found the back of the net for Holland, levelling the scoreline to 1-1. Leg 1 had landed.
Next up, we visited the National League North competition for four of the picks of our 6-fold. In these 4 games we tipped there was a massive 22 goals involved. The first fixture to mention is Fylde v Curzon. 12 minutes in Fylde took the lead. The score stayed 1-0 until half time. Shortly after the second half got underway, Fylde had scored again but only 2 minutes after their 2nd goal, Curzon had pulled one back. The 2nd leg won with great time left and the game finished 4-1.
After 38minutes of the Stalybridge v Gainsborough match, we had our 3rd winner. Gainsborough took the lead with Stalybridge replying in the 38th minute. This game ended  3-2 to Stalybridge. Another quick winner for us was within the Worcester v Alfreton game. Alfreton took the lead to land our pre match challenge bet for the day, but shortly after scoring, Worcester had levelled it up and the score was 1-1 after 16 minutes. The game finished 5-3 to the home side.
The game that we were waiting on the longest from the National League North was the Tamworth v Gloucester City match. Tamworth took the lead in the first half with a brace from Danny Newton. At half time it was 2-0. With just 15 minutes to go, ourselves and our 280,000 Twitter followers were getting anxious for a Gloucester City goal. Finally the moment came – Gloucester found the back of the net through Jack Deaman. The game ended 3-1 to Tamworth, who scored again deep into injury time.
Last but not least, we were waiting on Rochdale v Sunderland u23's in the EFL Trophy to come in. After a goalless first half, we were relying on both teams to score in the second half of this hybrid fixture – and we did not have to wait too long. After 15 minutes of the 2nd half, Sunderland u23's scored and Rochdale had equalised. This result saw our £260 profit land and that prize money sailed it's way in to our betting accounts.
Followers Bet Slips
Our followers bombarded us with their winning bet slips as soon as Gloucester City scored in the 75th minute of their game, as we were waiting on them as the last team to score to land our 26/1 BTTS acca.
These bet slips were sent in to us via our Twitter page. Feel free to follow us on Twitter and also browse through some of the winning bet slips that are on display below.
Had 2 BTTS accas tonight. 2 goals shy of one, but thanks to @FootySuperTips this one came in! Thanks!! pic.twitter.com/A8O8cUPKbL

— Silent Addict (@S1L3NTADD1CT) September 6, 2016
@FootySuperTips cheers boys pic.twitter.com/RkRl4yBgva

— Liam Myers (@myerss4) September 6, 2016
@FootySuperTips pic.twitter.com/PIzv4wMS3j

— Jphn Payne (@JphnPayne) September 6, 2016
@FootySuperTips won over 2G in the last two nights legends FSTpic.twitter.com/oQyVXR3gkh

— Dean Bell (@Deano_B1985) September 6, 2016
@FootySuperTips absolutely love you's bastards! pic.twitter.com/nh0zpvNDp9

— Martin (@martinreilly123) September 6, 2016
@FootySuperTips yet again you are on FIRE BOOOOOOOOOMMMMMMMM pic.twitter.com/g76m0qETEe

— Andrew moon (@Moondog5363Moon) September 6, 2016
@FootySuperTips cheers boys pic.twitter.com/FZ5CDeGcBM

— ☆Darren Holden☆ (@ukdazzauk) September 6, 2016
@FootySuperTips lost for words boys I've had just over £600 in 2 days from inplays and these accas pic.twitter.com/nAOJHEtZG6

— Gussey (@jasenic93) September 6, 2016
@FootySuperTips £500 in 2 days. Not too bad gents pic.twitter.com/9QcqP4JRLm

— Ian (@ifarqs23) September 6, 2016
BOOOOOOM @FootySuperTips pic.twitter.com/21koglCJwk

— Dermot Prendergast (@DartsEverton) September 6, 2016
@FootySuperTips pic.twitter.com/uvKZVXIBef

— Dorota (@DorotaSmenzykd) September 6, 2016
@FootySuperTips pic.twitter.com/SyvOFwGZIy

— Mark (@mark_nolan15) September 6, 2016
@FootySuperTips boooooom get in there pic.twitter.com/REfX73AD7q

— Antoine O' Hara (@jackban1984) September 6, 2016