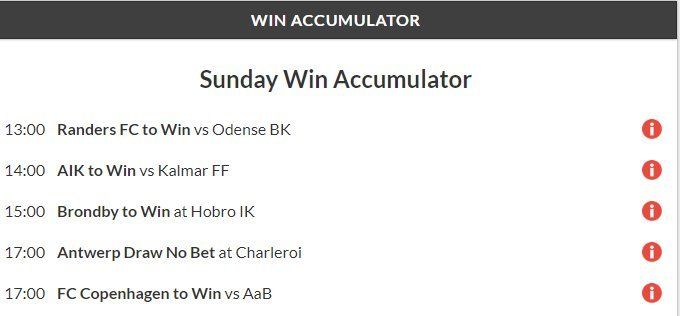 FST are on fire right now! That's the third accumulator we've landed in consecutive days!
After landing a 11/1 Both Teams to Score Acca a week ago, a 18/1 Win Accumulator on Friday, and a 13/1 Both Teams to Score Accumulator on Saturday we've landed yet another accumulator!
Sunday's 32/1 Win Accumulator landed today and here's how it went:
32/1 SUNDAY WIN ACCUMULATOR LANDS!!!!!!!!!!

Friday: 18/1 Win Acca
Saturday 13/1 BTTS Acca
Sunday 32/1 Win Acca

ABSOLUTELY BUZZING LADS!!!!!!!!!!

View the Winner HERE  https://t.co/1EcgzUAL1b

(18+) pic.twitter.com/2FPvW0upCP

— Football Super Tips (@FootySuperTips) July 29, 2018
We started our accumulator in the Danish league, where we needed Randers to beat Odense BK. The game got off to the perfect start as Andre Rømer scored for Randers in just the 1st minute of the game. Nothing else really happened in the game, and it ended 1-0 to the good.
Next we headed over to the Swedish Allsvenskan, where AIK took on Kalmar. We need the home side AIK to win this match. The game got off to a much slower start than the first leg of the accumulator, with the game still goalless as the teams headed into half time. It took until just after the break for the first goal, which came courtesy of a Henok Goitom penalty which gave AIK the lead. The game ended 1-0 to AIK and we headed into the third leg.
For the third leg, we needed Brondby to beat Hobro IK as we headed back to Denmark. Like the last leg, the game went into half-time with the score at 0-0. It took until the 59th minute for Brondby to get the breakthrough, thanks to a Larsson goal. They were pegged back in the late stages of the game, as Hobro made it 1-1 on 86 minutes. It looked like the accumulator was about to crash and burn, but in the final seconds of the game, Uhre grabbed a goal for Brondby to end the game 201.
The penultimate leg required Antwerp to defeat Sporting Charleroi away from home. The game got off to the perfect start, with Yatabare scoring in the 16th minute to give Antwerp a 1-0 lead. There were no other goals in the game, so it ended 1-0 to Antwerp.
At the same time, Copenhagen took on AAB. It couldn't have got off to a better start, as Copenhagen striker Dame N'Doye scored a hat-trick inside 22 minutes. It looked like that was the way the game would end, but Fischer grabbed a 4th goal for Copenhagen so the game ended 4-0 to the good, landing the accumulator.
Free Football Predictions
You can get daily predictions on our Free Football Predictions page of the FST website. Be sure to bookmark that page so you don't miss out on any future winners!
Followers' betslips
Loads of our followers were on this accumulator, here are a few of their betslips:
Boom pic.twitter.com/qSakMxITEj

— Antony (@izzyred20) July 29, 2018
@FootySuperTips legend!! Cheers pic.twitter.com/BAgXXi7Wmy

— Stephen Holland (@dino_holland) July 29, 2018
Another great tip…cheers pic.twitter.com/BZbg2o87C1

— Lee Foley (@Lee_Foley) July 29, 2018
BOOM!! pic.twitter.com/NiC25DAJKP

— Callum Park (@CallumPark) July 29, 2018
Cheers again!! 🙂 pic.twitter.com/3rZxX6R6Io

— AMOLAD (@willmouse69) July 29, 2018
@FootySuperTips cheers lads pic.twitter.com/CaBwFMVciM

— Gary Twatchman (@GTwatchman) July 29, 2018
Legends!!! pic.twitter.com/VRDuiXzd2a

— BabaTunde (@TundeOaktee) July 29, 2018
Thanks again lad pic.twitter.com/ULR0Ta4AKh

— Just My Thoughts (@RichHomieQuorn) July 29, 2018
@FootySuperTips nice one nice little winner before my holiday to the states pic.twitter.com/SY6Sk8NbY9

— Parez (@MisterPee91) July 29, 2018
@FootySuperTips you lads on fire last few days!! Cheers. pic.twitter.com/E1aoBFyEWw

— Gary Davies (@garydavies28) July 29, 2018