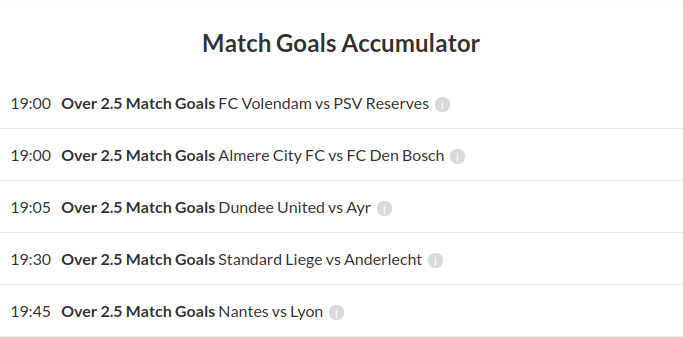 6/1 Match Goals Acca Lands! That's our 3rd winner in as many days! FST analysts are on fire!
The Acca was originally 14/1 but due to fan disruption in Belgium, our bet would go down to a 4 fold.
Here's how it went down:
MATCH GOALS ACCA LANDS!!!!!!!!!!!!!!!!!!!

GET IN YOU LITTLE BEAUTY!!!

Shame it wasn't Lyon scoring but a wins a win!!

OI OI!!

(18+) pic.twitter.com/GaFoC3OA4K

— Football Super Tips (@FootySuperTips) April 12, 2019
1st leg we headed to the Netherlands where FC Volendam would take on PSV Reserves! This league is renowned for lots of goals so we were confident this would fly in. PSV got off to a quick start scoring in the 13th minute. The game stayed relatively quiet for the next 40 or so minutes which was fairly worrying. PSV then doubled their lead in the 58th minute with a goal from Zakaria,putting us a step closer to securing this leg. 62nd minute hits and GOAL! Piroe scores to make it 3-0 to the visitors. This leg lands and we are up and away.
2nd fixture we would put our faith in the Eerste Divisie again! Both of these sides are having a great season so were expecting plenty of goals. Almere dominated the first 30 minutes but struggled to find the net. The deadlock was broken in the 32nd minute where Efmorfidis put Almere 1 up! We were to wait just 6 minutes till we saw a 2nd goal! Unfortunately Nicolas Romat scored an own goal, putting the home side firmly in the driving seat. Despite the visitors being 2-0 down, they came out fighting in the 2nd half! 55th minute hits and GOAL! Get in! Den Bosch get 1 back and secure our 2nd leg! Score finished 3-1!
Next up Dundee United were to face Ayr! We were confident this would be a comfortable win for the home side, but comfortable it was not. The visitors were to make the 1st blow, taking the lead in the 24th minute. Dundee completely dominated 40 or so minutes but just couldn't find the net! FINALLY! Much to our delight the home sides dominance paid off! Pavol Safranko scored in the 63rd minute to level the game up! 1 goal needed with 30 minutes to go, but we only needed 10! The favourites displayed a miraculous come back scoring in the 73rd to go 2-1 up, secure this leg of the acca and securing another 3 points! Another step closer to a winner.
Finally we move to the French Ligue 1 where Nantes take on French giants Lyon! Just 11 minutes in, the underdogs were to make the first blow! Lyon would dominate the rest of the first half. Their dominance paid off and they were to level up in the 41st minute with a goal from Terrier! 2nd half gets underway and it seems has if the players had left their talent in the changing room. Both sides look tired and hardly any efforts were being made. With just 10 minutes to go, it looked very unlikely we would see another goal! in the 83rd minute Nantes were awarded a free kick in front of goal! GOAL!! Anthony Limbombe scored a worldy free kick! 2-1 Nantes and our match goals acca lands!! The lads at FST HQ were buzzing!
That would be our 3rd winner in as many days!! May the winners continue!
Free Football Predictions
Don't forget to bookmark our Free Football Tips page so you don't miss out on any of our upcoming winners!