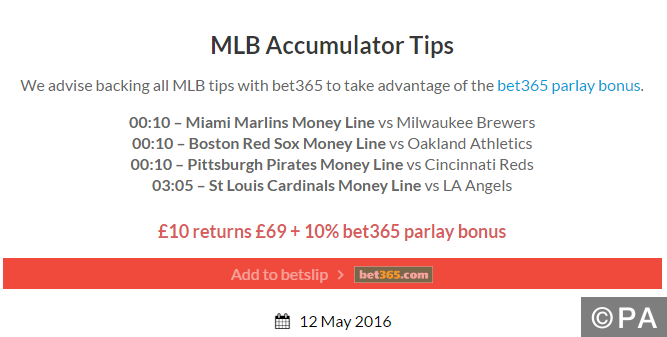 WHAT A NIGHT for Free Super Tips followers as our tipsters pick out a 6/1 MLB accumulator win to go with our 8/1 MLS accumulator win on Wednesday night's action in the US!
Morning BOOOOOOOM!!!

Two ACCAS Landed overnight!!

8/1 MLS ACCA
6/1 MLB ACCA

RT if you were ON & Send in your winning betslips!!!

— Football Super Tips (@FootySuperTips) May 12, 2016
6/1 MLB Accumulator
Our winning tip was a 4-fold accumulator that included 4 straight money line picks – that means 4 teams to win their games outright.
3 of the games started just after midnight with the Marlins, Red Sox and Pirates kicking it off. The Boston Red Sox made easy work of the Oakland Athletics winning 13-3 but the other legs were slightly tougher. The Miami Marlins and the Pittsburgh Pirates each won their respective match-ups against the Milwaukee Brewers and Cincinnati Reds by a single run.
The final leg saw the St Louis Cardinals take on the LA Angels at 3am. The Cardinals started perfectly for our accumulator as they took an early 4-0 lead. They eventually won 5-2 and we had bagged another overnight boom!
Followers Betslips
Firstly, well done if you got on! Secondly, congratulations if you got on both of our Wednesday night winners! Thirdly, what a great sight it was to see that many of our followers had the confidence in us to back both our MLB and MLS accumulators together for a mega boom! Check out some of the winners that were sent in to us on Twitter:
@FootySuperTips got me through the night shift. Cheers lad  pic.twitter.com/SrgQ3fi0zN

— Dan Ridout (@DanRidout90) May 12, 2016
@FootySuperTips MLS coupon with NHL added. Nice. pic.twitter.com/xn2Ukm1xJX

— Chris Hobson (@ChrisHobson83) May 12, 2016
@FootySuperTips Gotta love these morning BOOOOOMS. Cheers dude  pic.twitter.com/Z6vK5vtGQ2

— Mark Woodley (@markusthegreek) May 12, 2016
Get in morning boom cheers boys @FootySuperTips  pic.twitter.com/WKJkAySsPl

— winston (@TBet5) May 12, 2016
Thanks @FootySuperTips nice to wake up to this. pic.twitter.com/hU2mpHtvBn

— Paul phillips (@Paulspark1) May 12, 2016
@FootySuperTips pic.twitter.com/RIP6l9vq2v

— maro (@m8sus) May 12, 2016
@FootySuperTips You know it's a good day when you're annoyed you only got on the MLB double and MLS acca #winning pic.twitter.com/mGsQuIfJ3m

— ScousePickle (@LMW91) May 12, 2016
@FootySuperTips double booooooom fantastic wake up pressie pic.twitter.com/4unr2Rlpew

— george allan (@georgeallan999) May 12, 2016
@FootySuperTips pic.twitter.com/QWFnOdH2Kw

— Andy C (@Leeds_Lad001) May 12, 2016
£5 on Sparta Prague no clean sheet returned £13.13, put on mlb tip returns £100! I love @FootySuperTipspic.twitter.com/HoEwhpcZUo

— Liverpool FC Tickets (@sparesliverpool) May 12, 2016
MLB Picks
We provide free MLB picks daily so make sure you bookmark our page so you too can join in the overnight booms and make yourself some money!