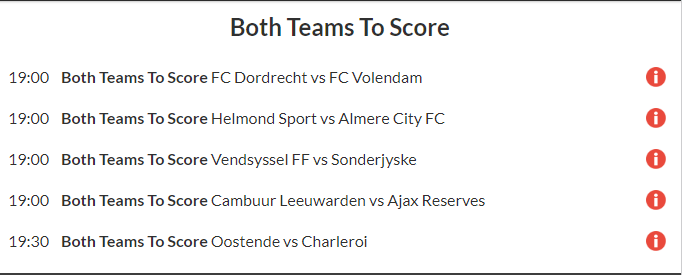 What a start to November!! After landing a 15/1 Win Accumulator Yesterday, our Footy analysts have done it again landing a 9/1 BTTS accumulator!
YEEEEEEEEEEEEEEEEEEEEEEEEEEEEEEEEEEEEEEEEEEEEEEEEEEEEEEEEEEEEEEESSS!!

9/1 BTTS ACCA LANDS!!!!

GET IN YOU BEAUTY!!!

2ND ACCA WIN IS AS MANY DAYS!!

(18+) pic.twitter.com/NJBeN0iq2Q

— Football Super Tips (@FootySuperTips) November 2, 2018
Here's how our 9/1 winner went down tonight!
Every Friday night we see a full schedule of Holland Eerste Divisie. This league is renowned for seeing plenty of goals and our analysts took advantage of that, using 3 fixtures from that league in our acca!
First fixture we saw FC Dordrecht take on FC Volendam. The visitors got off to a flying start scoring in under 10 minutes! Just before half time, Dordrecht gave away a silly penalty. Volendam convert and double their lead! Despite the home side being 2-0 down, they looked the better side and definitely looked like scoring! They made us wait some time but in the 74th minute, Dordrecht clawed a goal back and secured the 1st leg of our acca!
Next leg again came from the Holland Eerste Divisie League! Despite these sides being complete opposite sides of the table, we were super confident in BTTS. Helmond have failed to score just once at home this season and Almere have also failed to score just once away from home. In the 33rd minute we saw the hosts make the first blow with a goal from Brusselers. This was great news for our acca as Almere are by far the better side. Helmonds lead did not last long as the visitors levelled it up just before half time. This leagues reputation for goals was not disappointing with our first 2 legs flying in!
The 3rd leg of the acca would see our final fixture from Holland! Cambuur would take on Ajax Reserves! The visitors are usually a dominant force in this league but seem to be struggling this season. With just 1 win & 5 losses away from home we fancied Cambuur to pinch this one! In just 6 minutes we saw Cambuur take the lead with a goal from Justin Mathieu. Half time whistle went and the hosts would lead a goal to nil! 7 minutes in to the 2nd half our acca took a huge blow! Ajax give away a silly penno and get reduced to 10 men! Cambuur convert from the spot and double their lead, at this point we felt Ajax had no chance of getting a goal back! With just 15 minutes to go our luck changed! Cambuurs goal scorer saw a straight red! The visitors took advantage of this, getting a goal back just 2 minutes later! 3rd leg lands and takes a step closer to another winner.
Next up Vendsyssel would take on Sonderjyske! Despite both sides struggling for wins, they were both averaging over 1.3 goals per game! The last 3 meetings between these 2 sides has also seen BTTS so we were super confident this leg would come in! In the 14th minute we saw the home side make the first blow with a goal from Thorsteinsson! Similar to the Almere game this was great news as the visitors were definitely the better team. The visitors dominance soon became too much as they levelled it up in the 47th minute with a goal from Jakobsen. 4th leg was in and we took one stop closer to that win! This game ended up being extremely lively finishing 2-3 to the visitors.
5th & final leg we headed to Belgium where we saw a mid table clash between KV Oostende vs Sporting Charleroi! 4 of the last 6 meetings between these 2 sides has seen BTTS so our confidence was at an all time high relying on this game to land our acca. 26 minutes in we would see our first goal! It came from Zivkovic giving the hosts a small advantage! After the hosts went 1-0 up, they sat right back making it extremely hard for Sporting to make a break! With just 5 minutes to go our hopes of landing back to back accas were slowly draining and then boom!! 86th minute equaliser from Henen! Absolute scenes at FST HQ! 9/1 Acca lands to make it 2 winners in as many days! Absolutely buzzing!
Free Football Predictions
Remember to follow our Free Football Predictions page of the website so you don't miss out on any future winners! They go live each night around 10 pm for the following day.
Followers' betslips
As always our followers were overjoyed with the winner, here are some of the betslips they sent to us over on twitter:
Happy days free weekend to make sum big booms cheers lads pic.twitter.com/LqW5da1Yet

— Gareth🔴 (@Geddy7777) November 2, 2018
Small stakes but now my bets covered for weekend cheers again pic.twitter.com/E98TVo58gX

— David O'Keeffe (@DavidOKeeffe1) November 2, 2018
KAAAAAAABOOOOOMMMMM pic.twitter.com/sYqnHdVMq5

— Cláudio Ferreira (@Claudim78) November 2, 2018