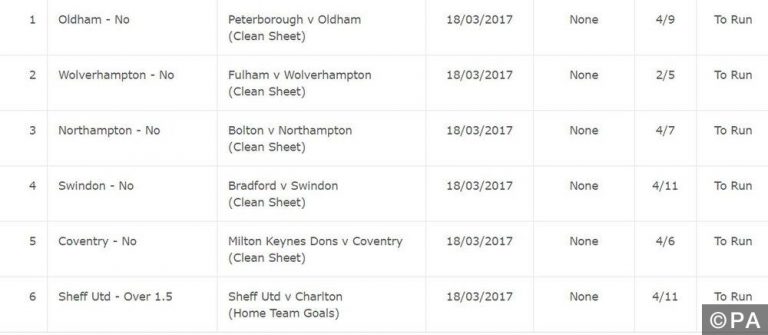 Weekends are always a lot of fun here at FST and Saturday was no exception. And to make things even more entertaining, our tipsters have managed to land yet another accumulator!
After landing a 15/1 Correct Score Tipon Wednesday night, this time around it was a 9/1 Half Time 6-fold Accumulator, mostly based games in the Championship & League One.
9/1 Half Time Acca Lands
BOOOOOOOOOOOOOOOOOOOOOOOOOOOOMMMMMMMMMMMMMM!!!!!!!!!!!!!!!!!!!

9/1 HALF TIME ACCA LANDS

LIKE IF YOU WERE ON & SEND IN YOUR SLIPS!!!!

— Football Super Tips (@FootySuperTips) 18 March 2017
Five of the six games played were in League One with 1 game being was in the Championship.
We were off to a promising start as soon as the second half kicked off as Sheffield United managed to score their 2nd goal against Charlton, landing our Over 1.5 Goals Tip for the home team in the 48th minute.
Not long after that, we had our 2nd tip also come in as MK Dons scored against Coventry in the 51st minute. It turned out that was the winning goal as well for the home team.
Just three minutes after that half our tips were in on the Acca. Super-sub Dennis Odoi scored for Fulham against Wolves only a minute after coming on to the pitch.
With 3 of 6 tips landing in the first 9 mins of the 2nd half, we were well on our way to landing our Acca!
It was 4 of 6 in the 73rd minute as Peterborough leveled the score against Oldham, earning themselves a valuable point in yesterday's game.
Two minutes after that Bolton scored at home against Northampton from the penalty spot, which was the start of their comeback in which they overturned a 0:1 deficit into a 2:1 win.
Things were starting to get tense with just 1 goal needed to land our Acca!
4th placed Bradford were 1:0 down against relegation candidates Swindon at home and similarily to Bolton they were in a losing situation up until the 85th minute.
In that 85th minute the hosts finally found the breakthrough as Charlie Wyke scored to make it 1:1 and landed our Acca! Not that it mattered for our Acca, Bradford went all out in search of a win and it paid off as Wyke scored his 2nd goal in injury time to give Bradford a 2:1 win.
The total return on the Accumulator was £98.40 for just £10 staked!
Free Football Tips
You can find all of our Accumulators on our Football Tips page of the website every night at 10 pm for tomorrow's games.
Followers Bet Slips
Quite a few number of our followers enjoyed this particular accumulator yesterday and here are some of their winning betslips:
@FootySuperTips thanks guys haven't been as active with bets recently but put some odd change on this. N1 🙂 pic.twitter.com/SEzBgKNQGt

— David Steele (@DavidSteele2k13) 18 March 2017
@FootySuperTips pic.twitter.com/Q0mwZhtIww

— Emlyn Jennings (@EMJEN87) 18 March 2017
@FootySuperTips cheers pic.twitter.com/xlRFpAmeJg

— Glassback wortley (@DanielWortley) 18 March 2017
@FootySuperTips pic.twitter.com/0vEMEE5Ihe

— Mark Lonergan (@Lonergan85) 18 March 2017
@FootySuperTips Boom pic.twitter.com/I8Iaw5LClo

— vivek dhyani (@dhyani_vivek) 18 March 2017
@FootySuperTips boom town! pic.twitter.com/LjuAuTeUn2

— Steve Sales (@StevenSales) 18 March 2017
@FootySuperTips boom. Thanks. pic.twitter.com/86DVkwrDLP

— Mick (@mick197811) 18 March 2017
@FootySuperTips best tipster about pic.twitter.com/t6YthwkutE

— Lewis Holland (@lewisholland_) 18 March 2017
@FootySuperTips pic.twitter.com/qdCRKpM2Kl

— Chris Watson (@cbubblesw) 18 March 2017
@FootySuperTips pic.twitter.com/8aDLjKEBsz

— desmond nelson (@desmondnelson84) 18 March 2017
@FootySuperTips BOOOOOM! pic.twitter.com/HDtXap9rWX

— Ryan (@RyanB_0494) 18 March 2017
They were sent to us through twitter, you can follow us on there to see more winning betslips, live inplay tips and much much more!