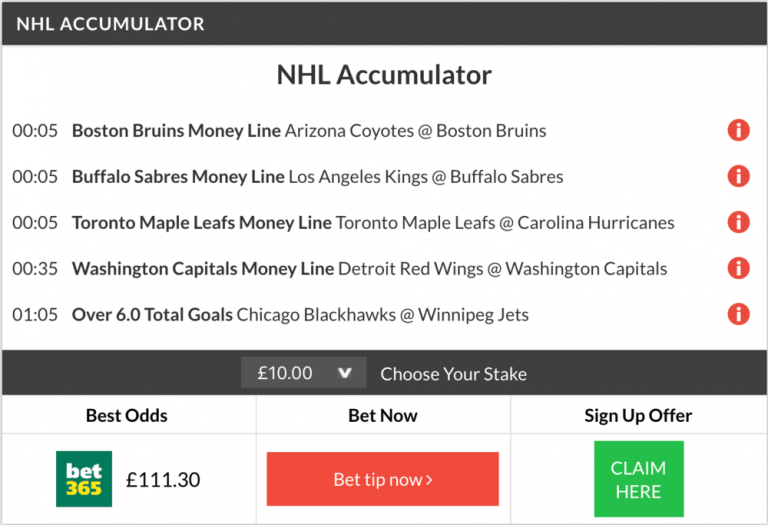 Our Hockey analyst is officially on fire!
After landing a 11/1 Accumulator + Double last night, he followed it up with yet another Acca & Double winner last night!
This means 3 Accas have landed in the last 10 days to go along with 4 straight NHL Double winners!
Here's how it went:
10/1 NHL Acca Lands
OVERNIGHT WINNEEEERRRR!!!

10/1 #NHL Accumulator + Double 🏒

Back-to-back Hockey Accas LANDED + 4th Double IN A ROW!!!!

GET IN!!!!!!!!!! pic.twitter.com/kvNQP2YDDF

— Football Super Tips (@FootySuperTips) December 12, 2018
Five games were in last night's acca and the night started with Boston vs Arizona.
We were off to a poor start with Arizona going up 2-0 in the first period, but a furious comeback by the Bruins came just in time. They won the 2nd period 4-1 which gave them a 4-3 lead which they were able to hold on to and got the win!
Overtime was needed in the 2nd game of the Acca as the Buffalo Sabres and LA Kings were locked at 3-3 after regulation. But luckily for us Buffalo found the win in the Overtime period which meant we were 2/2 on our Acca!
Next up Toronto didn't have much problems with the Carolina Hurricanes. They were leading 1-0 after the first period, 2-1 after the 2nd period and finished it off with 2-0 in the 3rd to give themselves a comfortable 4-1 win.
Washington dominated Detroit in the 4th game of the Acca. The game was already in the books after two periods when the Capitals were leading 5-0, in the end it finished 6-2.
And finally, we needed Over 6 goals between the Jets and Blackhawks. 3 goals in the first period meant a great start to the bet. The two teams followed it up with 3 more in the 2nd which meant one goal would give us a winner and we didn't have to wait long as three more were scored in the closing period to ensure another Acca winner for us!
Free Hockey Predictions
Our Hockey predictions go up every single afternoon on our FREE NHL TIPS page of the FST website! Have you bookmarked our page yet? Be sure to do so in order to be on the next winner!
Followers' betslips:
Shoutout to our followers on twitter for sending in their betslips:
Cheers lads pic.twitter.com/dBBIYoN20w

— roboff (@robofff) December 12, 2018
@FootySuperTips Lovely to wake up to this morning, cheers mate! pic.twitter.com/MsdvvcojDF

— Ashley (@SsCXPredatorZ) December 12, 2018
Smashing it had the double to! pic.twitter.com/LJcquoBRTF

— David horwood (@davidhorwood5) December 12, 2018