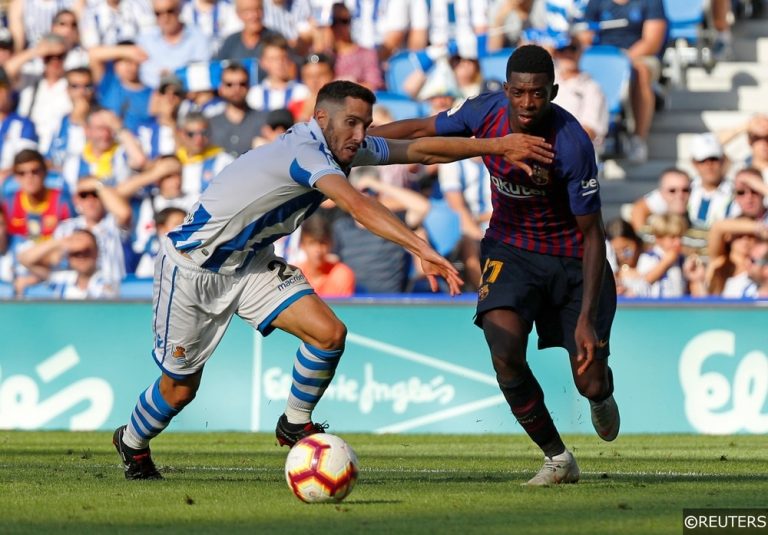 November 22, 2018
Show Bio
Content Editor at Free Super Tips, Alex was born in the shadow of Old Trafford and is an avid Man Utd fan. After graduating from university he combined his love of football, writing and betting to join FST and now closely follows goings-on in all of the top European leagues.
Fifteen months have now passed since Barcelona made Ousmane Dembele the second most expensive player of all-time when they signed the Frenchman for an initial fee in the region of £97 million from Borussia Dortmund. While there have been two larger deals since then involving Kylian Mbappé and Philippe Coutinho, Dembele remains the 4th most expensive player in the history of the game but it's a price tag he has struggled to live up to.
To some extent you have to have some sympathy for the now 21 year old. He joined as a raw talent rather than the finished article but with a fee that suggested he was arriving as the direct replacement for Neymar. It would have been unrealistic for anyone to expect Dembele to instantly fill the Brazilian's boots and a serious injury early in his time in Barcelona only hampered the settling in process. However as we head towards the middle part of his second season at the club, more serious doubts are starting to emerge about both Dembele's ability and his level of professionalism, leading to some speculation that his days at Camp Nou could already be numbered.
A Media Storm – Dembele's Lifestyle under the Spotlight
—Talent without effort
—More interested in PlayStation than football
—Not respected in the dressing room
—Not Kylian Mbappe

What's wrong with Ousmane Dembele at Barcelona? https://t.co/7LQt4OIli5 | @Richard_Fitz pic.twitter.com/xibiMzWdys

— B/R Football (@brfootball) November 19, 2018
Playing for Barcelona can take its toll on even the strongest of characters with intense media coverage scrutinising a player both on and off the pitch. This season, there has been a growing media storm surrounding Ousmane Dembele's lifestyle away from the club and he has been a regular feature on the front-page of Barcelona based newspaper Sport. Essentially the criticisms have brought his professionalism into question, with accusations he is not eating or living properly away from the club. The winger lives in Barcelona but with a host of childhood friends from France, who have been dubbed his 'playstation pals' amid suggestions he has made little effort to integrate with players at the club.
Many Barcelona fans and even the club for a large period accused the media of staging a witch-hunt against their young star but increasingly over the past few weeks, it has become more apparent that there has been a fair amount of truth to the reports. Dembele was dropped from the Barcelona squad for their recent defeat against Real Betis having, not for the first time, failed to report for training. His excuse was a lack of battery on his phone which prevented him from calling in to report a stomach bug but it seems Ernesto Valverde's patience is starting to wear thin.
There have also been public comments from the likes of Gerard Pique and Luis Suarez on the matter, with both players hinting that Dembele needs to start acting in a more mature and professional manner although both did also highlight the fact that most 21 year olds do make mistakes.
Is he doing enough on the pitch?
Barcelona set €100m (£88.7m) transfer fee for #Chelsea Target Ousmane Dembele. #CFC pic.twitter.com/uRRFhYBGME

— The Blues (@TheBlues___) November 21, 2018
Barcelona would be more willing to tolerate Ousmane Dembele's off-field issues were he delivering on a more consistent basis on the pitch. Fifteen months into his Barcelona career, he is no longer the new kid on the block and it was hoped by now that he would be at the very least be a regular in the side but despite a brief run of starts and some encouraging moments at the start of this season, he has since largely been relegated to a back-up role with Philippe Coutinho being used to complete the front three alongside Luis Suarez and Leo Messi.
Two schools of thought now seem to have clearly developed when it comes to Dembele the player, or at least his suitability for this Barcelona side. One is that he offers the Catalan giants something they don't otherwise have. He possesses a burst of pace and an unpredictability that might just unlock the door and prove the difference in tight games. To some extent he has already been a real difference-maker this season, scoring a brilliant winner in the Super Cup against Sevilla, the only goal in a win at Valladolid and a key late leveller which proved the turning point in Barcelona's recent 3-2 win at Rayo Vallecano.
However there are also times when he looks little more than a square peg in a round hole. Flowing Barcelona moves frequently break down when the ball reaches Dembele and worryingly he has shown no real signs of settling into the way Barca play. While youth is on his side, there are now those who believe Dembele lacks the football intelligence to become a regular feature in this side and that his moments of brilliance aren't enough to make up for his overall deficiencies. Dembele is set to return to the squad but most likely the bench as Barcelona visit Altetico Madrid this weekend.
Could Barca cut their losses?
Liverpool are reportedly ready to make a club record £85m bid in January for Barcelona winger Ousmane Dembele.

Gossip: https://t.co/RGaeAjbbMI pic.twitter.com/FuqxC85Xwg

— BBC Sport (@BBCSport) November 13, 2018
There is now more serious talk that Barcelona will at the very least be willing to listen to offers for Ousmane Dembele in January and beyond with the Premier League perhaps his most likely destination. Barca will be keen to recoup close to the £97 million they paid for the Frenchman which could be a stumbling block given his mixed time in La Liga so far.
It's widely known that Ernesto Valverde was not keen on signing or for that matter playing Malcom and it seems very feasible that the Barca board will look to cash in on both wingers to fund a move for a player of more proven quality next summer. The possibility that things could go full circle and Barcelona could sell Dembele to help buy back Neymar should not be ruled out either with a few recent rumblings suggesting the Brazilian is now more open to returning to Camp Nou despite a fairly acrimonious departure, at least between him and the board.
Another reason why selling Dembele sooner rather than later may appeal is that the deal to sign him from Dortmund included a reported €40 million worth of add-ons, which Barcelona would clearly rather not pay if they genuinely do not see a long-term future for the Frenchman. However that is countered by Dortmund being due to receive a hefty sell-on fee.
Either way the whole Dembele saga finally seems to be coming to a head with his off-field issues now out in the public domain. It may largely come down to the young winger to take it upon himself to knuckle down and focus on football. He clearly has the talent to be a real star over the next decade or so, but he already has plenty of doubters in Barcelona and right now it's starting to increasingly feel like he could be on the move again in the not too distant future.