Next up in our Betfair Exchange educational series, we take you through the process of placing a back bet on the Exchange.
Placing a back bet is what we do when betting on traditional bookmakers, but doing so on the Betfair Exchange offers a number of advantages. For example, you can often find better odds on offer, or even request your own odds and wait for a layer to match your bet. You can also use Exchange back bets as the basis for ante-post or in-play trading, so there are plenty of reasons to use the Exchange for backing.
The process for actually placing these bets can differ slightly from other online bookmakers though.
Placing a Back Bet on the Betfair Exchange
When launching the Betfair Exchange platform you're welcomed by a screen similar to this. From here you can navigate to your desired sport and event, or you can place bets directly from this page. When placing a back bet, the columns we're interested in are the blue ones.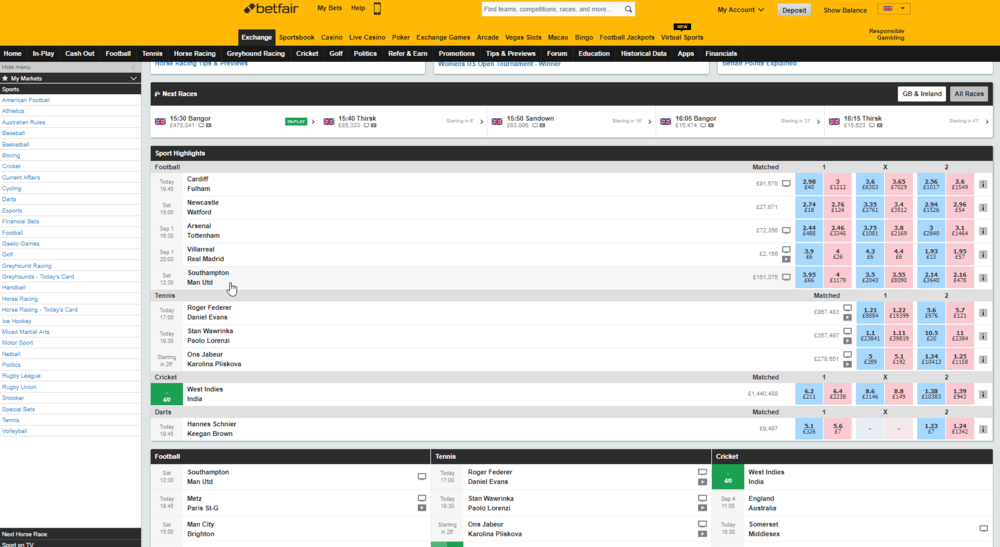 For the purposes of this guide, let's say we want to place a bet on the Southampton vs Manchester United match. Click on the fixture and you will be taken to a familiar looking screen where you can find odds for many different markets.
We decide that we want to back Both Teams to Score, so we scroll down to that market and look at the blue column. Odds of 1.75 are on offer. The number below the price (£314) is the amount of money currently available at that price. This means that you can bet up to £314 before your money will start going unmatched.
If you're happy with this price, just click the blue button, enter your stake, and click Place Bet. Job done.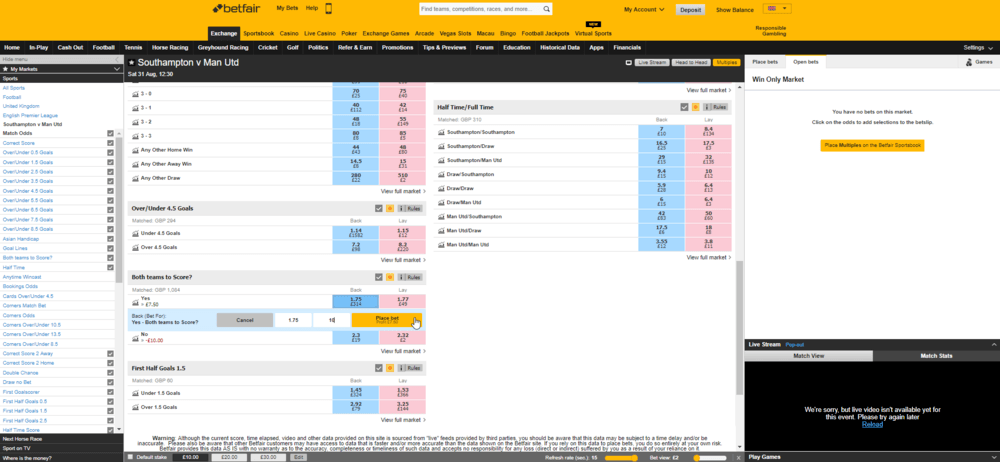 However, if you're not happy with the odds on offer, or you want to bet more money than is currently available, there are a couple of options you have.
If you want to bet a bigger stake, you can click the View Full Market button to see the liquidity at other odds. In this case, you can see that a further £911 is ready to be matched at odds of 1.74.
If you want better odds (who doesn't?) you can request them by changing the Odds field after adding something to your betslip. In this instance, I'm requesting odds of 1.8 for BTTS, and upon placing that bet I then have to wait for a layer to come and take me up on that offer and match my bet.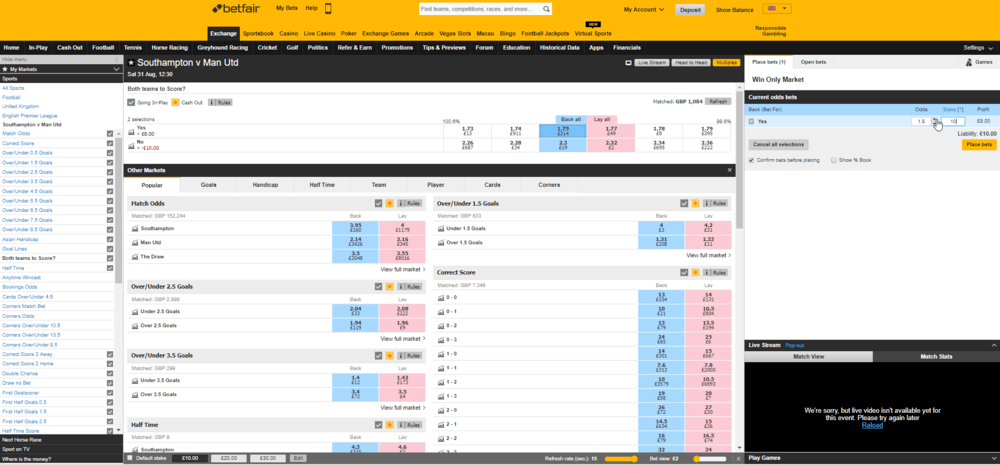 Remember though, your bet won't always get matched. Sometimes, there simply isn't anyone on the other side willing to accept your requested odds. Make sure you know exactly what has been matched and what's outstanding to avoid the disappointment of a bet landing and you sitting there with unmatched bets in your account!
More in this series
What is the Betfair Exchange?
Back and Lay Betting Explained
Advantages of Using the Exchange
Placing a Lay Bet on the Exchange
How to Set Your Own Odds and Why You Might Want To