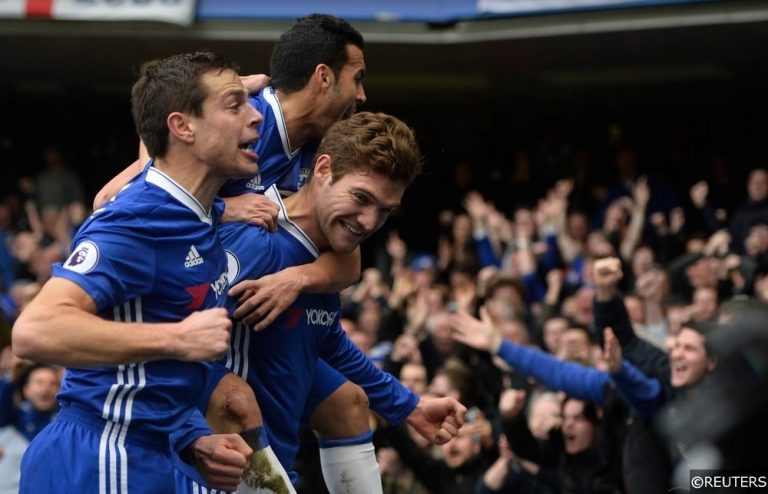 Simon Winter
@simonjwinter
December 19, 2018
Show Bio
Born in the south east of Ireland, Simon put his life-long love of football to good use when he started a successful independent blog in 2010. That opened up an alternative route to a career in journalism, and having had work published across a number of sites and publications, Simon joined the staff at Spotlight Sports Group in 2018.
Late goals are among the most dramatic match-defining moments in football. When they are scored, they send opposing fans hurtling towards antithetical ends of the emotional spectrum.
Last-gasp winners or equalizers can set off a chain reaction of euphoric delirium in the stands, while losing a game at the death can turn an entire stadium numb with despair.
Similarly, in football betting terms, a late goal can instantly turn a losing selection into a winning one, and vice versa. Who hasn't punched the air triumphantly on seeing a positive score update when all seemed lost in injury time?
While late goals in football matches might feel like rare game-changing occurrences, they are actually much more common than you might think.
How Often Are Late Goals Scored?
In the Premier League this season, 23.3% of all the goals scored so far were registered after the 75th minute. Comparatively, 12.2% were scored between 0 and 15 minutes, 15.8% between 16 and 30 minutes, 18.5% between 31 and 45, 13.9% between 46 and 60, and 16.4% between 61 and 75 minutes.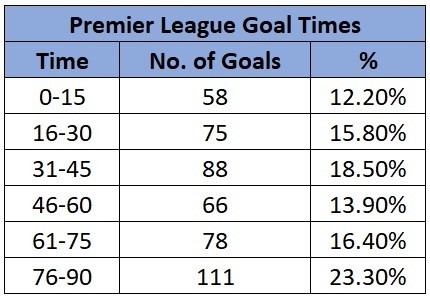 In basic terms, approximately 1 out of every 4 Premier League goals that have been scored in the 2018/19 season so far were registered in the final 15 minutes of games.
The late goal trend is not unique to the Premier League. 23.5% of the total goals scored in this season's Bundesliga arrived after 75 minutes, while 24.9% of all of La Liga's goals in 2018/19 were scored in the same period.
In France, Ligue 1's equivalent figure stands at 27%, while in Serie A 22.6% of the goals hit the net after the 75-minute mark.
Link Between Late Goals And The Drop Zone
The statistics show us that the various teams currently occupying relegation zones across Europe are of particularly fond of conceding late on.
It stands to reason that teams that find themselves defending for long periods of their games, tend to tire in their respective fixtures' final throes. There are only so many tackles, blocks, tracking runs, headers and clearances a body can make before physical and mental exhaustion set in.
The numbers seem to back that train of thought up – of the 21 teams that currently occupy the drop zones in the Premier League, Bundesliga, La Liga, Ligue 1, Serie A, Eredivisie and the Portuguese Primeira Liga, 15 of them conceded more goals in the final 15 minutes than at any other time during their games.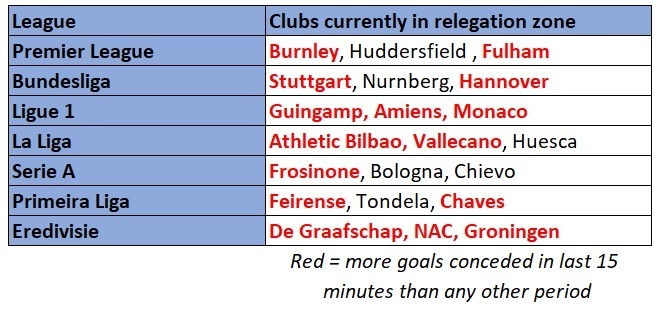 What Is The Late Goal Market?
The Late Goal market is one of the most underutilized, but potentially most lucrative markets offered by bet365.
The time parameters can shift a little depending on the fixture in question, though generally the odds offered on a late goal being scored are the same.
The segment of time allocated by bet365 to their late goal market for a particular fixture can range anywhere from 70 to 90 mins, 75 to 90 mins or even 79 to 90 minutes.
Identifying Late Goal Specialists for Betting
Now, here is where we can transform the raw data into useful betting information. While a rate of 1 late goal for every 4 scored might not be a frequent enough occurrence to get your punter pulse racing, as always, there are teams that buck the trend.
Let's take a look at some examples from this weekend's impending football schedule.
Ligue 1 side Amiens, who currently sit 3rd from bottom in the table, have conceded 12 of their 30 or a whopping 40% of their goals after the 75th minute this season.
On Saturday, they play away to Bordeaux, and bet365 are offering 5/6 odds for a goal to be scored after the 70:59 mark.
Coincidentally, the other two clubs currently in the Ligue 1 drop zone, Monaco and Guingamp meet on Saturday too, and both sides have a penchant for leaking late goals.
Guingamp have conceded 13 of their 34 goals (38%) in the last 15 mins, while 29% of the goals Monaco have shipped were registered during the same period.
You can get odds of 5/6 for a late goal in that game with bet365.
More Late Goal Teams To Look Out For
Struggling Millwall, who occupy one of the Championship's relegation places, have conceded 13 of their 38 goals (39.47%) in the last 15 minutes of their games since the summer.
They play Stoke City this weekend, and yep you guessed it – you can get 5/6 odds with bet365 for a late to be scored in that contest.
At the other end of the goal gamut, you have the teams like Millwall's fellow Championship combatants WBA, who have developed a knack for scoring late on.
The Baggies have scored 17 of their 46 goals (37%) in the last 15 minutes of their games. The same 5/6 odds are available with bet365 in the late goal market there (after 75:59).
Chelsea have scored 13 of their 35 goals (37%) in the last 15 mins of their Premier League games this season. Again, bet365 are giving 5/6 odds for a late goal (after 75:59) to be scored in the Blues meeting with Leicester at Stamford Bridge this weekend.
In Germany, Borussia Dortmund have scored 14 of their 42 goals (33.3%) in the last 15 minutes of their games, while Barcelona have hit 33% of their La Liga goals after 75 minutes this season. Both teams' games this weekend against Gladbach and Celta Vigo respectively are priced at 5/6 with bet365 for a late goal to be scored in them.
Conclusion
The high frequency of late goals being scored compared to the equivalent figures and percentages from other periods during games suggests there is something tangible attack the market with.
With so many interesting statistics bubbling to the surface and the odds sitting close to evens for every fixture, bet365's late goal market is definitely worth dipping into.
Check out our detailed match previews, predictions and betting tips for all other upcoming fixtures here.