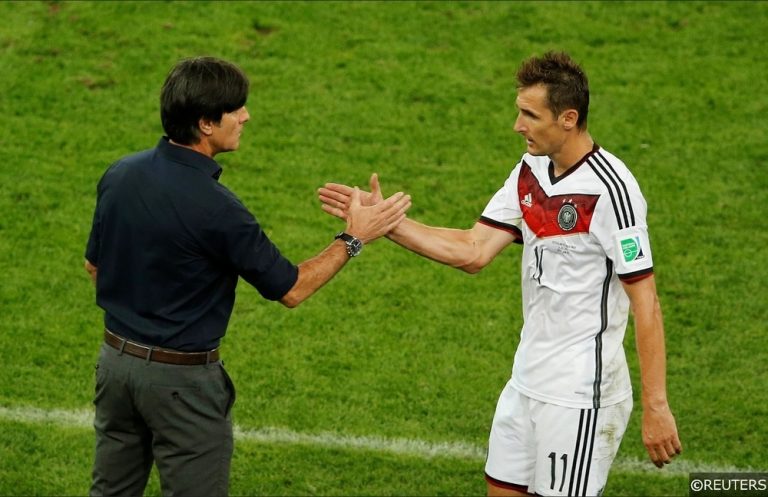 Content Editor at Free Super Tips, Alex was born in the shadow of Old Trafford and is an avid Man Utd fan. After graduating from university he combined his love of football, writing and betting to join FST and now closely follows goings-on in all of the top European leagues.
Reigning world champions Germany come into this tournament as the bookies second favourites behind Brazil, but there has been one shadow looming large over Joachim Low's side for the past few years, and this summer we get to see whether that shadow will be lifted.
Germany's list of iconic strikers is endless and almost incomparable, but a month after their success in Brazil four years ago the latest in their long line of national heroes unsurprisingly announced his retirement from the international scene. Miroslav Klose closed his Germany account with the sought after World Cup winners medal, leaving a gaping hole in their front line.
Read more: Germany's 2014 World Cup Winners – Where Are They Now?
The End of an Era – Miroslav Klose Retires
Klose's list of honours is almost as long as Germany's successes, despite lacking certain physical attributes that world class strikers often possess. A hair over six feet tall, Klose was never blessed with the blistering pace of other icons of his day such as Ronaldo, and his dribbling ability wasn't on a par either. He made up for this with bucket loads of physical strength, determination, footballing intelligence, positional awareness, and most importantly finishing.
It wasn't just Klose's footballing ability that set him apart from the crowd though. He gilded his career with a sense of honour and integrity that is, sadly, a rare sight in the footballing world. Back in 2005 he refused to accept a penalty given to him when playing for Werder Bremen because he knew the referee had got it wrong, later receiving a fair play award for the gesture. Fast forward seven years and a similar incident occurred, with Klose scoring for Napoli using his hand but instantly informing the referee of what happened and getting the goal chalked off.
This will be the first time since the turn of the millennium that Germany head to a World Cup without Klose in the squad, and the benchmarks he has set down will be incredibly difficult to match. Here are just a few of his many records for Germany:
Germany's all-time leading scorer with 71 goals in 137 appearances
World Cup all-time leading scorer with 16 goals
Joint record for most World Cup matches scores in (11, tied with Ronaldo)
All-time record for most World Cup tournaments with at least four goals (3)222
World Cup record for most knockout matches played (14)
World Cup record for most matches won (17)
World Cup record for most tournament top three finishes (4)
Read more: A Look into Germany's Rising Stars
Life Before Klose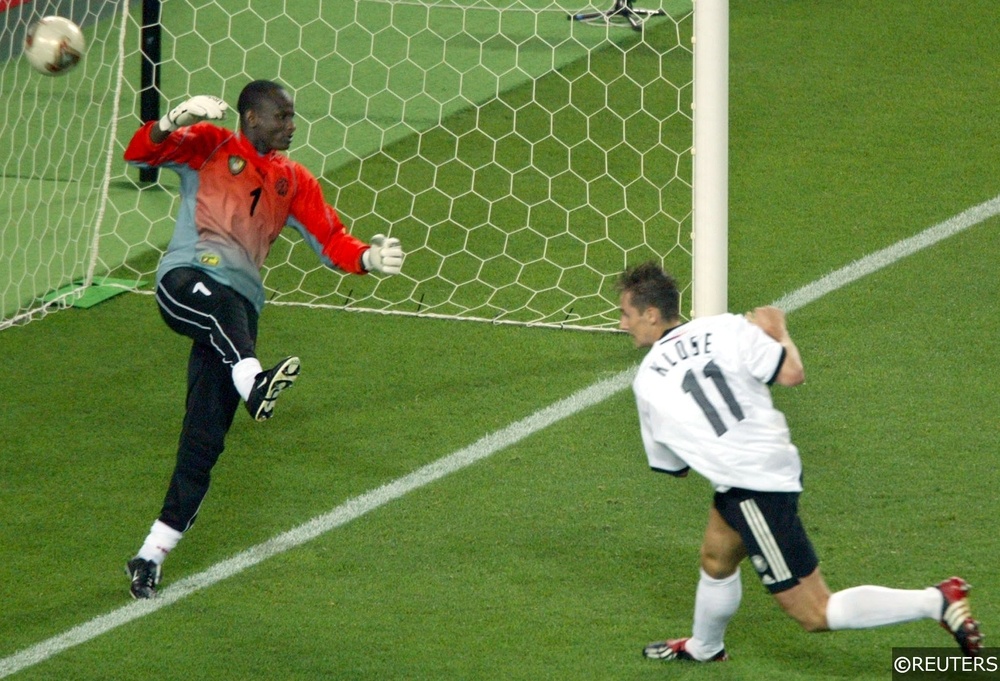 It's not like Germany were short of talent before Klose came along. After all, there's a reason they are the joint second most successful side in World Cup history. In fact, German players occupy three of the all-time top six World Cup goalscorers, and they have another just behind that list who still has a tournament or two left in him.
Miroslav Klose joined up with the German World Cup squad back in 2002 in South Korea and Japan and partnered Carsten Jancker up front for the group stages, announcing his arrival on the World Cup scene with two goals inside 25 minutes as they demolished Saudi Arabia. Oliver Neuville replaced Jancker for the knockout stages, with the ageing Oliver Bierhoff being resigned to a backup role. Klose finished that tournament with five goals to his name, second only to a Ronaldo Nazario who was at the height of his powers and led Brazil to the trophy.
Prior to that the German national team boasted the likes of Jurgen Klinsmann and Oliver Bierhoff up front, with both of those netting three goals in the 1998 World Cup. Four years earlier, Klinsmann was again part of the strikeforce as him and the legendary Rudi Voller scored seven goals between them. That was an identical partnership to the one in Italy 1990, where Klinsmann, Voller, Lotthaur Matthaus, and Andreas Brehme scored 13 goals between them to lead West Germany to the trophy.
As you can see, Klose was just the latest and potentially greatest in a long line of World Cup heroes for Germany. The likes of Max Morlock and Helmut Rahn started things off back in the 1950s, and since then the talented Germany supply line has yielded talents such Uwe Seeler, Gerd Muller, Karl-Heinz Rummenigge, Rudi Voller, and Jurgen Klinsmann.
There is a row of very big shoes to fill for any player coming in as a promising centre forward for Joachim Low's side.
Life After Klose
There is still one attacker still playing who is already a Germany legend in the making. Thomas Muller is still just 28 years of age, but he sits joint 4th on the list of all-time German goalscorers at the World Cup and joint 8th in the worldwide rankings. This is unlikely to be his final World Cup, so we could well see Klose's record fall by the time Muller hangs up his boots.
The Bayern Munich attacker tends to save his very best for the World Cup, and it's quite a striking statistic that over a quarter of his international goals have come in the World Cup Finals. Still, it's hard to ignore the fact that Muller just isn't an out-and-out striker. He has played there just twice for Bayern Munich this season, so the hold left my Klose still needs to be filled.
Enter Timo Werner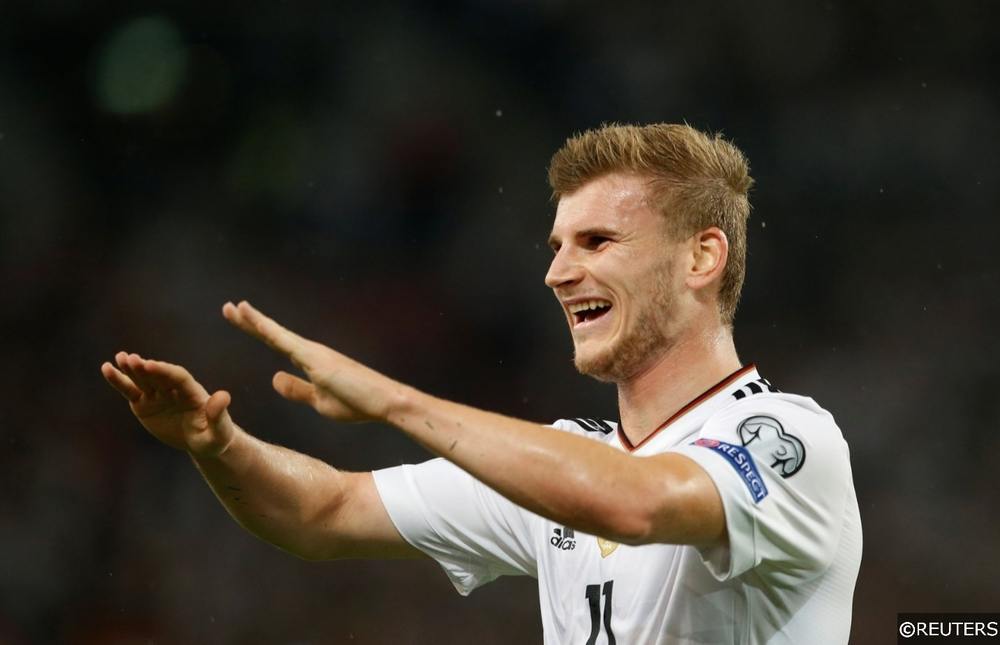 The latest in Germany's supply line is looking overwhelmingly likely to be Timo Werner. He comes into the 2018 World Cup a year younger than Klose was for his first World Cup, and eerily has precisely the same amount of caps for Germany. As if the similarities aren't striking enough as it is, Werner has scored just one less goal than Klose had for that trip to Asia in 2002. The stage is well and truly set for the RB Leipzig forward to take the mantle.
A product of the famed VfB Stuttgart academy, along with six others in this year's World Cup squad, Timo Werner was promoted to the Under 19 squad at just 16 years of age. He scored 24 goals that season, and as a reward was called up to Stuttgart's Europa League qualifier the next year. That made him Stuttgart's youngest ever player, and after signing a professional contract with them he went on to become the youngest ever player to reach 50 Bundesliga appearances.
It was after Stuttgart's relegation that Werner's career really took off though. He signed for the rapidly progressing RB Leipzig in 2016, and by September he had broken the record for youngest ever player to reach 100 Bundesliga appearances. More importantly, he was performing at the highest level during those appearances.
Werner scored 21 league goals that season, making him the highest scoring German player in the division and helping the freshly promoted RB Leipzig to a ridiculous 2nd placed finish. Unsurprisingly, this earned him a phone call from Joachim Low. He travelled with Germany to the 2017 Confederations Cup, scoring three goals and bagging two assists to earn him the Golden Boot.
Overall, he has made 12 appearances for Germany and scored seven times, and with the only two other central strikers being the uncapped Nils Peterson and the ageing Mario Gomez it's looking very likely that Werner will take a starting berth in Russia.
Whether he can make the same blistering impact as Klose and Muller did in their first World Cups remains to be seen, but with Muller behind him and Klose on the coaching staff he is most definitely learning from the best. Only time will tell whether he can become Germany's next great striker, but it's undeniable that he possesses the potential to be just that.
Follow Free Super Tips on Twitter to stay up to date with our daily tips and predictions or browse more football content on our website: