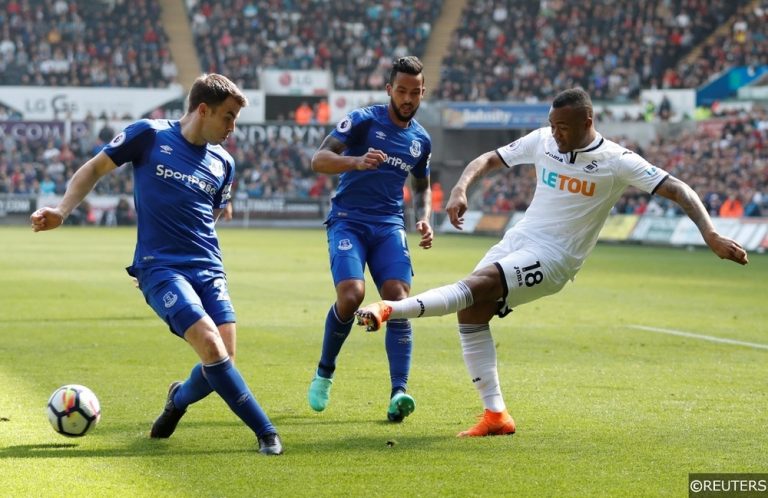 Before becoming a Sports Journalist for Free Super Tips, Aaron spent three years studying Sports Journalism at the University of Sunderland while taking in the Black Cats' 'glory years' under Martin O'Neill. Now back in Northern Ireland he turns niche stats into predictions for FST, while he's one of the few people on this island who is equally comfortable at Windsor Park and the Aviva.
After relegation to the Championship, winning your first two games seems like a strong way to bounce back. It's an impressive achievement, given that few sides manage to start that well in the second tier. After this weekend's win over Preston, Swansea are only the second team from the last 30 to start life outside the Premier League with six points out of six. Despite that, the Swans are slowly shrinking back into the ugly ducklings of the division.
The Welsh side haven't benefitted from the fixture list. They kicked off the season against Sheffield United, a team who were brilliant for the first half of last term. Saturday saw them beat the side who finished seventh last season, so things on the pitch have gone well for Graham Potter and his men. However, he's doing that despite major problems off the pitch at the Liberty Stadium.
In the middle of their two victories, Swansea had a horrible time on deadline day. That capped off a poor summer following relegation, and fans are rightly angered by the board dragging their feet. While the hierarchy promised loan arrivals are coming this month, that's too little, too late for many.
Also see: Championship 2018/19 Outright Betting Tips
Deadline Disaster
The weekend victory came as Potter worked with limited resources. The Swans saw the transfer deadline come and go, with no late incomings. That meant that Potter could call upon one senior centre-back, one fit striker and three fit midfielders for their second game of the campaign.
Thursday saw three players leave; with Jordi Amat, Sam Clucas and Federico Fernandez all heading elsewhere for a combined £13million. They also saw Jordan Ayew – last season's top scorer – leave on loan after turning down a £8million bid earlier this summer. They sold off 15 players since relegation, with three big names going on loan. Together, those departures have raised over £45million for the Swans and cut their wage bill.
That's not a bad return in total, although individually many of those departures were cut-price deals. Some of that can be explained given their situation. Many fans would understand cost cutting after relegation. However, the failure to add in key areas can't sit well.
Deadline day saw Swansea continue their pursuit of Ryan Woods. They forced Sam Clucas out the door for £6million to Stoke – down on the £15million paid 12 months ago. However, that fee seemed set to fund the signing of the Brentford man. That was until they failed to meet the £6.5million asking price.
Woods was an open goal for Swansea. He's a talented midfielder for a side chasing the top six. The player wanted the move, and he completely suits the style the Swans played in their recent pomp. Meeting that fee would have at least strengthened one area, giving something to the fans who have suffered more than enough over the last couple of seasons.
Also See: Championship Deadline Day Review
Board Dismay
The fierce atmosphere between fans and the club forced the board to step out with a statement on their transfer business and financial cutbacks. Jason Levien and Steve Kaplan talked of overseeing a "cultural change" to bring about a "stronger and more secure future". However, they also mentioned needing a squad overhaul, despite spending just £6million on new signings this summer, while key players departed.
It's understandable for a club to want to balance the books following relegation. Reckless spending does put a Championship side in danger. However, there's got a be a limit. Remaining competitive and securing a stable footing in the second tier has to be key. Sunderland and Hull City went down similar paths and look how things have gone for those two.
The board seem to want to make the financial side sound complicated, so people back away and leave them to it. However, the fans are right to question the decision making. Adding the Woods' fee to their business so far wouldn't have even covered their parachute payment for the year. After slashing the wage budget and making close to £50million, Swansea's numbers can't be that dire.
Challenging the myth that relegation equals a fire-sale and financial Armageddon is important, too. Stoke and Middlesbrough have dropped down and thrown money at a promotion push, holding on to top tier talent at the same time. Swansea just ended a seven-year spell in the world's richest league, so the need to pinch pennies feels extreme.
They've put forward this change as a squad detox, as they look to fix years of mismanagement. However, their current, thrifty approach is a big reversal from their position back in May. Following relegation they claimed, "Our commitment is total and the determination to regain Premier League status is our only focus." However, it seems that they're intent on taking the scenic route back to the top flight.
Collapse of the Liberty
The talk of a culture change at the club is apt. This is a huge shift from what seemed to be the one of the Premier League's best run clubs. The playing model was impressive, their signings seemed to work and those in charge had a nose for finding managers.
In fairness, they've got the last part right. In a limited summer, Swansea pulled off some excellent business bringing in Potter. He seems like someone who can work on a shoestring; if the board are willing to offer that much. He'd have effortlessly slotted in at the Liberty a few years ago, when the Swans were at their best. However, the former Ostersunds boss now needs to restore Swansea to former glories.
Swansea went down after they strayed too far from their club identity. They became just like all the other average sides at the bottom, and that saw them drop down. The excitement and energy of their early days evaporated, replaced by a rotating cast of average managers. However, that comes at a board level too. They've kicked off an alarming downward slide, and asset-stripping the squad isn't going to put the brakes on that decent.
Swans Need to Look Forward
The worst part of their struggles is the rise of the myth that relegation is somehow soothing to a troubled club. The idea is that getting back to basics in the division below will help. That relegation brings major job losses, smaller revenues and the departure of some of your best players is rarely mentioned. None of that is going to help bring a club forward. It's the equivalent of quitting your job and racking up debt in an attempt to save up for an Xbox. The best way for Swansea to move forward is in the top flight, working off massive revenues with room to improve the players and staff who work to bring in money in the first place.
We're constantly told football is a business now. Usually, that cliché lands when ticket prices get hiked up, or when businessmen swoop in to get involved. However, a successful business needs investment to move it forward. McDonalds and Apple aren't slashing their staff or budgets to become successful. They aren't going to spend a year only selling mouse mats or straws in order to bring a "stronger and more secure future". They're earning as much as they can and investing it to continue to grow.
Swansea need that. While a couple of wins or a good manager can paper over the cracks, the club must be backed. Ridiculous FFP laws from the EFL are partly to blame, but they can be a smokescreen for owners who want to deny responsibility. While Levein and Kaplan's talk of protecting the club is admirable, pushing self-sufficiency over investment is foolish, and reeks of disinterest. The only way a profitable club are leaving the Championship is by falling in to League One. That's not something foreign investors stick around for. Like Ellis Short at Sunderland, owners quickly lose interest when they're visiting Accrington instead of Arsenal.
Follow Free Super Tips on Twitter to stay up to date with our daily tips and predictions or browse more football content on our website: