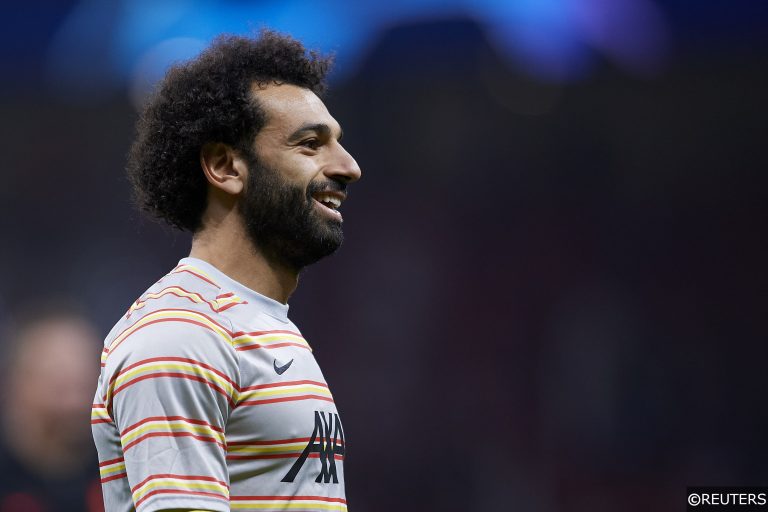 February 10, 2022
Show Bio
Content Editor at Free Super Tips, Alex was born in the shadow of Old Trafford and is an avid Man Utd fan. After graduating from university he combined his love of football, writing and betting to join FST and now closely follows goings-on in all of the top European leagues.
FST caught up with former Liverpool and Manchester City midfielder Didi Hamann ahead of the return of the Champions League next week, talking about the Liverpool's January transfer business, the top four race and that fateful night in Istanbul 17 years ago!
What do you make of Liverpool's deal for Luis Diaz? Can he translate his impact with Porto to England with Liverpool?
I think he can do; he's a very tricky player and we all saw that in the little cameo when he came on against Cardiff.
He's another option for Liverpool, obviously it's really hard to get into the starting XI and I'm not sure if he could be used a bit deeper, but that could be an option.
The biggest positive is now Liverpool have players that can potentially change a game from the bench and Jurgen Klopp has lacked that option at times.
But with the signing of Luis Diaz, he now has that option.
Now that Liverpool have strengthened a key area in attack with Luis Diaz, what area of the first-team need the most attention in the summer?
I've said a few times that Gini Wijnaldum is still a big loss and if you look at the players in that area, there's some issues.
Thiago is very injury prone; he can't seem to play two or three games after one another.
Fabinho and Henderson are very solid next to each other, but Liverpool need a midfielder who can get you seven or eight goals from open play.
Another Wijnaldum would be nice, but it is probably the only position where they can strengthen.
At the back, the centre backs are as good as any and the fullbacks are arguably the best around, so the midfield is the only position where they could do with another player.
Is Curtis Jones a long-term proposition for Liverpool? Do you see him as a box-to-box midfielder? Where can he improve?
I think to be a midfielder in this Liverpool team, you don't necessarily need to create because the fullbacks will do that, but you do need goals from open play.
Sometimes I think he needs to be calmer on the ball, but that obviously comes with age.
When there's a lack of opportunities it can be hard to get into a rhythm, but he will be learning an awful lot from other players in training every day.
He's been part of this squad for around two years now and at some stage you do have to make that spot your own.
But he's still a young man and that potential is there to be a starter for Liverpool or at least be a squad player that is first option to come if someone else is missing.
What are your thoughts on Jurgen Klopp's future? Will he sign a new deal with Liverpool or move on?
I think he's said this will be his last contract, but I haven't an idea what his plans could be in the future.
In modern football it's very rare there's a manager who's in charge for such a long time at a top club.
Simeone is probably the only other at a top club along with Guardiola who have been there for a substantial amount of time.
Clubs change managers on such a regular basis, and it comes down to whether Klopp thinks he can continue once his contract is up.
His contract is up in 2024, but two years in football is an awfully long time and it will depend on what he wants to do.
If the team still functions and the players still like to work with him, then I don't see any reason why he wouldn't stay on.
It's a decision he needs to make in the future, Germany have a new national team manager and that might be one position he has pencilled in to potentially do.
Maybe he wants to win a major tournament with Germany in the future, but it's too far down the line to even think about it at this stage.
How has Guardiola managed to guide City to the top of the table after missing out on Harry Kane last summer?
He's proved before that he's capable of it, obviously Aguero left, and Jesus doesn't always play through the middle, so they are missing a focal point of the team.
I am quite surprised how well they've managed to do, but then again, they won 12 Premier League games on the spin which makes it hard to keep tabs on them.
They do win every game more often than not, Liverpool could cut the gap with their game in hand, so there is a chance, but then again, it's very difficult.
Liverpool would have to win their remaining games, but you'd expect teams to drop a few points here and there which makes a big ask.
I am surprised after that Champions League final, which they should have won, how strong they've come back again.
You saw Ferran Torres dismantle Germany, any surprise Man City allowed him to leave for Barcelona? Could they regret it?
I think the form he showed for Spain, he didn't really show for City, but he can play multiple positions.
He's a very versatile player, he could play on either wing or through the middle.
There was that game at Newcastle where he scored a hat-trick playing through the middle, so it has come as a bit of a surprise to see him let go.
Sometimes it just happens in football, you can't always bring players in, you have to let some go.
I think he's a very useful player, he can make a difference when it comes to crunch games such as the later stages of the Champions League.
He's probably a player Guardiola really liked, but they got a lot of money for him, and you can only keep so many players happy when there's competition for places.
There are probably a few reasons why he wanted to leave, but if Pep thought it was best for the club then it's a decision that just needs to be accepted.
What has happened to Manchester United, who is to blame for the mediocre results on the pitch currently?
There's probably a combination of everything, it was always clear that it wasn't going to be easy to replace Sir Alex Ferguson.
Maybe they should have stuck with some managers a little bit longer especially David Moyes, but they've had five managers now in nine years since Ferguson retired.
There does come a point though where the players have to take responsibility, some of the managers have achieved some great things in their careers, just not at Manchester United.
Moyes now is doing a good job at West Ham and these managers do not become bad overnight.
It just looks like whoever walks in there can't seem to get a tune out of the players.
Jadon Sancho is probably a prime example; he's been fantastic in the Bundesliga for the past few seasons but hasn't really found his feet in Manchester.
He's starting to get into the team now and pick up his own form personally, but it's been such a shame to see because he's struggling in a team that is struggling.
I remember years ago when I was a Liverpool player and we lost to Burnley, the media and the whole of England were laughing at us.
But yesterday United drew away to the team at the bottom of the Premier League and nobody was really surprised that they did.
I think that shows how far down they've fallen.
I don't think it's even because they have a manager who won't be in charge in the long term, there's just a lot of problems at Manchester United right now.
Can you put your finger on why Jadon Sancho is struggling in the Premier League having thrived in Germany and would you be concerned over his form and future at Manchester United?
I think at the moment, the environment Manchester United have is not helping him one bit.
I don't think there's an identity to this United team which makes it difficult for a player to come into.
There's question marks over Ronaldo and whether he hinders the team and whether people are actually scared of him.
It doesn't look a good environment to work in and as a new player it's never easy to perform from day one.
He should know the way the Premier League is having come through Manchester City's academy, but I am surprised he's struggled this much so far.
But you could say that about most of the team, they don't look like a side who pulls together, and a manager has to try to come in and sort that out.
Someone needs to make sure these players pull in the same direction which isn't the case right now.
They paid an awful lot of money for Sancho, and I think they'd struggle to recoup that, so he'll be here for the long term.
Hopefully he can start to play better than he has done so far.
Did Manchester United make a mistake in not signing two Bundesliga stars in Denis Zakaria and/or Amadou Haidara during the January transfer window?
I'm not sure about Zakaria, I know he scored on his Juventus debut, but I'm not sure Zakaria would be a Manchester United player.
People talk about Declan Rice, who is arguably the best player in his position right now and miles above Zakaria.
Haidara is a good player, but then again, I'm not sure whether he's suited.
He's a very capable player on his day, but I'm not sure these two would be the answer to Manchester United's problems and take them back to where they want to be.
Tottenham were the only team going for top four who brought players in the January transfer window, who do you think will gain that 4th spot?
Arsenal and Spurs obviously have those games in hand, and I wouldn't rule Wolves out completely yet.
I would probably go with Spurs right now if they can string a run of results together, after watching Manchester United, I don't think they're finishing in the top four.
West Ham have that spot at the moment, so they have a chance of course, but I would back Spurs to finish fourth.
Are Arsenal missing a trick letting Dino Mavropanous leave? He's spoken about trying again for the Premier League after some time with Stuttgart – can you see him doing that?
I think he could play in the Premier League; I really do.
It's always been an area Arsenal have struggled in and should do better, but he's playing really well in the Bundesliga.
He can score a goal; he's really threatening from set pieces and has really improved as a player.
I think he's a player who Arsenal could actually do with.
Tell us a little about Borna Sosa. Can you understand why Chelsea have been watching him this season? Can you see him being a first-choice for Chelsea?
I think potentially with Alonso currently being the first choice for Chelsea.
There was actually talk of him (Sosa) being sold a couple of years back, but he's come back to life with the arrival of Kalajdžić.
He crosses the ball as well as anyone around and I think he's assisted at least half of the goals Kalajdžić has scored.
He's a danger going forward and he's very good at defending his own goal as well.
I think he's a very decent player who could do a job in the Premier League and at a club like Chelsea.
Has Timo Werner done enough to make you believe he has a future at Chelsea or might they be tempted to cash in on him this summer?
No, I don't think he has, he's a very streaky player.
At Stuttgart he needed a lot of chances to score, he was a lot more clinical at Leipzig, but he seems to have gone back to his old ways.
He's missed a lot of easy chances, which does happen sometimes, but he's missed too many.
I don't think he has done enough without question; he should have done better and obviously they've brought Lukaku in for a reason.
But I don't think we should forget that he's won a Champions League and has contributed to that last season.
I always worry about him with the ball at his feet because he needs a lot of space, in a Chelsea team he's more often than not going to come up against packed defences.
I thought he may take some time to settle, but I expected him to be better than he has been so far.
Have Newcastle have done enough with their signings to stay up and what do you make of the players currently there?
I think they've signed some decent players and we've seen already what Kieran Trippier can do for them and his contribution.
I don't think the teams at the bottom will get too many points, so for Newcastle they may only need 35 or 36 points to stay clear of relegation.
I'm sure they'll get it and avoid any trouble.
You saw against Everton after the first goal, the noise that the supporters made.
They'll be right behind them as they try to pull away from the relegation zone and the players, they've brought in will improve them.
I wouldn't say that they won't be anywhere near the relegation places, but I think they'll have more than enough to stay up.
Do you think Robert Lewandowski will really seek a new challenge after this season or do you see him signing a contract extension with Bayern Munich?
He's still got a couple of years left on his contract and he is so important to this Bayern Munich team, he's been the main man for years.
He's achieved everything he could possibly achieve in Germany and the Bundesliga, and the one prize that was taken away from him was the Ballon d'Or.
Maybe he feels he has a better chance of winning that accolade elsewhere, which I would agree with.
I think it comes down to what he wants to do, he's done everything here and it'll be down to whether he wants a new challenge.
I think this summer might be his last opportunity to get another big move, he'll be 34 next season and it would be very hard to get that move.
It will depend on the club as well and what they want to do, I believe that they will want to keep him, it just depends on whether they can agree on an extension that both clubs are happy with.
Where do you think things went wrong between Niklas Sule and Bayern Munich?
He's said before that he was under-valued by the club, but I think he was valued, just he was underrated.
Even with Upamecano and Hernandez, I still think Sule is the number one centre back.
Then again, they've offered him a new contract which he didn't accept, and he has had two long-term injuries.
I think the club has done right by offering him a new deal, but if he doesn't want to accept then there's not much more they can do.
It's just one of those things, I do think it's a big loss for Bayern Munich because he is the number one centre back at the club, so he'll be very hard to replace.
Were you surprised to see him join Dortmund?
He was always talking about a move to the Premier League and Barcelona were also interested in him.
I didn't think it was possible, but it's a great move from Dortmund.
Their defence is their Achilles heel, they've conceded one of the most in league even though they're second.
It's an absolute masterstroke from Dortmund to bring in a player from Bayern Munich, especially since usually it's the other way around.
It's a big loss for Munich, but a brilliant piece of business from Dortmund.
Julian Nagelsmann recently said that he sees Jamal Musiala as a Thiago Alcantara type of player, do you think Musiala will eventually fit into that mould or do you see him as more of an attacker at wing or attacking midfield?
At the moment it's very hard because all of the offensive players are scoring goals and playing well.
The question is how much game time he will get currently, but his time will come, but whether it comes at Bayern Munich remains to be seen.
I think they'd be silly to ever let him go because he's a very special talent.
At the moment he probably thinks he has showed enough to be playing more, wherever that may be on the pitch, but it's important he shows patience.
I think he's one of the best young players I've seen in recent years and it's a matter of how much time he will get in this team.
Who are your favourites for the Champions League this season?
I think it's got to be between Bayern Munich and Liverpool for me.
You can never rule City out, but they had their opportunity last season and didn't take it.
For an outsider chance I think you can look at Atletico Madrid and Manchester United.
Atletico are conceding a lot of goals which is unlike them, but against Liverpool they played so well, even though they got beat.
You can't rule out United because on their day they are very capable and it's always easier to do it in a cup competition because in the league you have to be consistent for 38 games.
I think whoever comes out on top in that tie may be one to keep an eye on.
Obviously, it depends on the draw afterwards because they could end up with City, Liverpool and Bayern Munich to get past.
But we've seen it before when teams get on a run in this competition, anything can happen.
When did you find out you weren't starting the 2005 Champions League final? How did you react?
I was disappointed, but it's a team game.
The manager had an idea which is why he started the way he did, and he probably thought it was for the good of the team.
It's a team game though, you have to pull together, there were some guys who had contribute during the rest of the competition who weren't even in the squad.
I'll admit I was disappointed, but then again you have to be ready for the team when you're asked to come on and play.
What were you thinking on the bench in the first half as Kaka ran riot?
If I'm honest, I thought it was curtains for us.
I think I was thinking the same as everyone else watching the game, I didn't see a way back for us, even if we got one goal it was going to be very hard.
It was near enough impossible, but then that all changed at half time, I was warming up for near enough the full 15 minutes with the assistant manager.
The mindset changed and it was a case of trying to get the next goal and see what happens and how they react.
I didn't believe we could come back and win it, but I was hoping and once we got one back, I knew we'd get another one back.
Then at 3-2, even the best teams make mistakes and we saw that we got them thinking and within six minutes, which has probably never happened before, we were back level.
What did Rafa say at half-time? Could you hear AC Milan celebrating?
I was only in for two or three minutes, and I was just told they were making a change which obviously meant I had to be ready.
He just said the next goal was so important and then gave me my instructions.
I was coming on to partner Xabi Alonso in the middle and it meant Stevie (Gerrard) could push further forward.
I had my instructions on set pieces and that was it I was off to warm up, so I don't really know what was said afterwards.
You scored in the shootout with a broken foot. Did you not realise at the time?
I didn't realise at the time, but I had a stress fracture in my metatarsal which happened four or five minutes before the end of extra time.
I didn't know at the time, but I knew it hurt but you're full of adrenaline which helped, and we had run out of substitutions, so it never really crossed my mind to not finish the game or to not take a penalty.
I was one of the most experienced players on the pitch, so I knew I had to take and thankfully I scored.
I read you're a fan of cricket, how did that come about and why is a sport you like?
I watched it ever since I arrived in England and when I went to Liverpool, we ended up visiting Old Trafford a couple of times to watch England play.
I love the game, it's special game to watch, especially test cricket which is the pinnacle.
The hand-eye co-ordination these guys possess is incredible and I'm a huge fan of cricket.
I like that it's a team game, but at the same time when you're out at the crease, you're on your own so it's a bit of a mixture.
There's a lot of psychology in cricket which always intrigues me and when I got to know a few of the players it made the game more interesting to me.
It's strange to see somebody from a country who doesn't really play cricket enjoy the sport – would you like to see more of it in Germany?
Obviously, it's not really a big sport in Germany, but there is a team that are made up of a lot of players who are of Indian, Pakistani, English and Irish dissent.
I'm not sure how many Germans actually play cricket, but I do follow their results.
It's just a brilliant game and it would be nice to see more people get involved.
Is there any particular format you prefer?
I think test cricket is the ultimate test and it's where you talk about the mental strength of the players the most.
In football you've got 10 other guys who can dig you out of a game if you make a mistake or you can make up for your mistakes quite quickly in another game or in training.
In cricket you could get a duck as an opener and have to sit there and watch the rest of your team bat, then field for two days before getting another opportunity.
You go out again and face that first ball after a duck, that's where the mental strength comes in from the players.
There's so much pressure on test cricket for the guys involved and that's what I admire most about the sport and in particular test match players.
---

Build better bets with our free betting tips, predictions and accumulators, every day.
More betting news:
Super Bowl LVI predictions & tips with MVP contender
Championship & Scottish Premiership tips land 16/1 acca on Wednesday!
Hoop dreams for FST as 93/1 NBA Mega lands on Tuesday
Get the latest Premier League Predictions from the experts at Free Super Tips. Just one of the many leagues we cover with our daily Football Predictions.