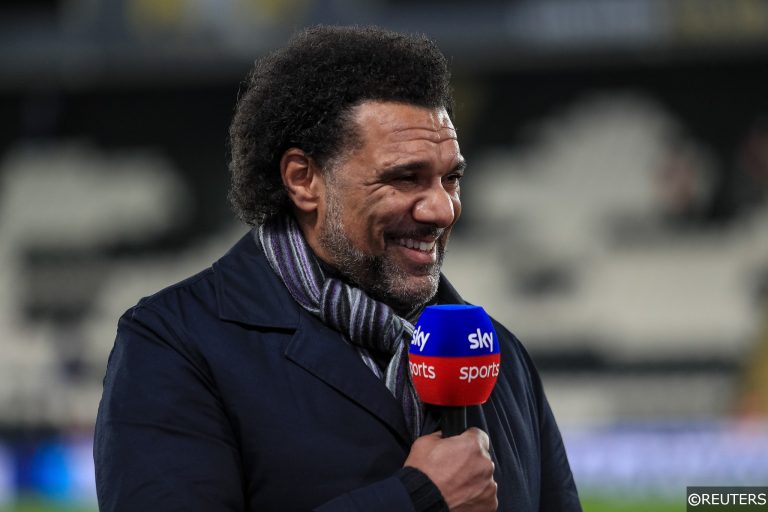 Content Editor at Free Super Tips, Alex was born in the shadow of Old Trafford and is an avid Man Utd fan. After graduating from university he combined his love of football, writing and betting to join FST and now closely follows goings-on in all of the top European leagues.
FST caught up with former West Brom, Sunderland and Wolves striker Don Goodman ahead of the Championship Playoff Final to get his thoughts on the winner of that match, Sunderland's chances back in the second tier and plenty more!
---
There were a few doubts around Jesse Marsch going in that game with Brentford on Sunday, how much credit does he deserve?
He deserves a lot of credit on different fronts.
I think anybody taking over from Marcelo Bielsa was going to find it difficult to follow in those footsteps really.
Marcelo Bielsa returned Leeds to the promise land after all those years and he will forever be a Leeds United icon, so it was always going to be difficult.
I thought Jesse Marsch really handed it well in the main, he's handled the jokes about him being American well and seems to have embraced Leeds and the Yorkshire culture by moving his whole family there.
I think he deserves an awful lot of credit for his actions off the pitch and the way he's handled himself.
But he deserves credit for doing the job that he was brought into do which is keep Leeds United in the Premier League.
It looked like it was going to be tough in moments, particularly the last few games, but ultimately, he's got the job done.
15 points in 12 games is an average of 47 points in a 38-game season, so he's clearly improved Leeds United by maybe making them a bit more solid.
But there's still work to be done, particularly in terms of how easy they are to play against if you're the top seven for instance.
Their record against the top seven is 14 games with one win and 13 losses, so they really do struggle to contain those better clubs.
People will say that those aren't the results that will keep you in the Premier League, but they only scored 12 and conceded 51 in those 14 games.
They are the kind of results that can do you damage and had Leeds gone down on goal difference then that was the part of it that would have proved costly because they were way too open against the better teams.
Hopefully he knows what he needs to do, he's been in there long enough, so they need to make themselves harder to play against and more solid.
There's no question that they need to deepen and improve the squad with six or seven bodies in and from those two or three need to go into the starting XI.
If they don't do that, then next season will be just as tough if not tougher.
How important is it that the owners invest into this squad and give Marsch the squad he needs to keep Leeds away from the threat of relegation?
It's really important but the one thing we know is that money alone doesn't guarantee you anything.
You've got to invest in the right players in the right positions and find lads who fit into the group because it is a strong group and a tight knit group.
You can't just chuck money at it, it's all about recruitment.
Football clubs all over the country live or die by their recruitment strategies and Leeds simply need to get it right because if they don't, then it'll be another long hard season.
But it is imperative that the board invest, we've already seen they're in talks with a midfielder from RB Salzburg.
They've got the ball rolling already which is really pleasing to see.
Do you fear for Burnley following relegation or would you expect them to bounce back?
It's a tough one because there's a lot of reasons why they might struggle.
But we've got to see in June and July who stays, who goes and what manager comes in before we can make any genuine assessment.
In this juncture, it looks very much as if a lot of players will be leaving such as Tarkowski, Cornet, Dwight McNeil possibly, Weghorst who are the best players.
I believe there's a lot of other players also out of contract, there's been lots of changes in the backroom staff and the academy status is under review.
There's also this financial issue with a large portion of this £65 million loan having to be repaid following relegation.
The Premier League TV revenue in the last accounts accounted for 90% of Burnley's revenue.
On the face of it you look at Burnley and you don't see a club who will do a Fulham or a Norwich and bounce back at the first attempt.
There's an awful lot going on and a massive overhaul will take place, but whether that restores some positivity remains to be seen.
For me, Burnley are a classic example of; if you stand still in the Premier League, then you go backwards.
It feels like although they've had a heck of a journey, 7th placed finishes, 10th placed finishes the season before last, it's a big achievement.
But slowly but surely over the past five years in the Premier League, we've seen this club stand still with the same players, playing the same way with the same manager.
They haven't really invested in players, last summer there were a few additions, but they only really spent money on Nathan Collins and Cornet.
Really the only upgrade they had was from Cornet as well and whilst they've stood still the average age of the squad kept going up.
Eventually you felt it was going to catch up with them, they finished fourth bottom last season and didn't invest enough in the summer.
They've paid the price ultimately and it'll be interesting to watch what happens at Burnley over the summer.
I hope for them and their supporter's sake, but will they be financially sound and capable of building a squad capable of challenging, that's the question hanging over them.
Fabio Carvalho has made the switch to Liverpool – do you expect him to be loaned out or can he force his way into Jurgen Klopp's plans?
It's an interesting one because he's one of the best young players I've ever seen in the Championship.
He's got 10 goals and eight assists this season, he's brilliant on the ball, he can finish, and he can pass.
Him, Mitrovic and Wilson were almost unplayable at times during the season, so there's a part of me thinking he wouldn't look out of place in the first team at Liverpool.
Then again, there's a part of me that thinks he wouldn't quite get the game time so maybe a loan away might be the best option.
But it'll be important for him that if Liverpool do loan him out, they find him the right club where he can get a lot of game time.
You look at Fulham and you wonder if Jurgen Klopp might think they'll struggle in the Premier League.
Sometimes putting a young talented player in a team that is struggling isn't the best thing for them.
If you're Liverpool you can't let him go to a serious rival, so it reduces the possibilities for him.
Maybe teams in the mid region, Leicester, Brighton or Wolves would be suitable.
It'll be interesting to see and of course if he did go somewhere like that, then it would upset Fulham fans, but Liverpool and Fabio Carvalho have to think about him and what's best for his continued development.
I certainly think he's going to be a star of the future though.
Lots of changes happening at Manchester United this summer – Tahith Chong, Ethan Laird and James Garner have all had spells in the Championship this season, should they get an opportunity to impress?
The answer is no, not really.
Those three players have done really well in the Championship, but I don't think any of them would be ready to make that step.
When you look at the pressure that's going to be on Manchester United next season, especially after underperforming this term, it'll be incredibly intense at Old Trafford.
All three of those young lads have done well, but I haven't seen enough to suggest that they are ready to improve Manchester United.
That's the key phrase, players going in now to Manchester United need to improve Manchester United and not keep them at the same level.
Based on that, I would say it would be wise for all three of them to enjoy loan spells away, but Manchester United need to choose the right homes for them.
Nottingham Forest and Huddersfield battle it out this Sunday – who do you back going into this one?
It's a tough one to call, I know the bookies have Nottingham Forest as overwhelming favourites and I can understand why.
But Huddersfield have had an incredible season, particularly with the recruitment.
They had the worst defence in the whole of the Championship last season and this season they have one of the best.
It's given them a platform, Carlos Corberan has scarified the way he wants to play, he wanted to replicate what Marcelo Bielsa did at Leeds.
It wasn't working for him; he didn't have the quality or the players to do it and they got found out.
They were lucky to avoid relegation, but he went away and found lots of different ways of playing.
Huddersfield Town are an awkward side, they're tactically flexible and difficult to prepare for.
They have quality individuals such as Sobra Thomas, who has a wonderful story coming from non-league and lighting up the Championship.
Lewis O'Brien is a Premier League ready player right here right now, so these are the sorts of players who can make it difficult for Nottingham Forest.
They were the last team to beat Nottingham Forest at the City Ground as well.
The bookies might have Nottingham Forest are favourites, but I can see reasons why it's more of a 50/50 call.
If both teams play at the best they possibly can, then I think Nottingham Forest will win and that's why the tactics of Carlos Corberan will be important.
But what a job he and Steve Cooper have done, he's done an outstanding job to even get them into the playoffs.
When he went in there it was about survival, so to get the playoffs is an incredible achievement for Steve Cooper.
I do look at how they handled some of their last four games, the second half against Bournemouth; clearly the pressure affected the players.
The second leg against Sheffield United, the pressure clearly affected the players and that's my one big concern when you play a team that can be very awkward.
How can these Forest players cope with the emotions and the stresses of a game they are favourites to win?
I've seen some of the three best performances from Huddersfield live which were: the away win at Fulham, the draw at West Brom where they absolutely battered them and the away win at Middlesbrough.
Those were outstanding, clinical performances and if they can get anywhere near those levels then they'll cause a lot of problems.
For me it's a 50/50 and I wouldn't want to say one way or the other because I believe it could go either way.
Levi Colwill could be in line for a Chelsea debut next season – how have you rated his loan spell at Huddersfield?
He's been outstanding, for a young player he looks so comfortable on the ball.
But he isn't a guaranteed starter in the Huddersfield team which shows how good their recruitment has been in that area.
They've focused on strengthening that defence which shows, but he has had an incredible season.
For me I don't think he's ready to take Chelsea to the next level, but I would understand if Thomas Tuchel wants him around to gain experience and start to feel comfortable around the first team environment.
The question remains is that the best for his development or is another loan the best for him.
I've got no doubts that he will be a Premier League player in the not so distant future playing on a regular basis.
You were full of praise for Forest duo Brennan Johnson and Sam Surridge a few weeks ago – Could Johnson be on his way to the Premier League regardless of the result on Sunday?
I think he almost certainly will be in the Premier League next season and if Nottingham Forest want any hope of keeping him then they've got to win on Sunday.
What a season he's had, 16 goals and 10 assists in the regular season, then scores in both semi-finals.
He's been outstanding and the good news for him is that he will get even better with experience because he gets himself into some fantastic positions.
He doesn't always make the best decision, so as soon as that decision making improves which comes with experience, then he'll just get better and better.
Clearly, he's comfortable in front of goal, he has all kinds of finishes at his disposal.
10 assists highlights that although I question his decision making at times, it shows that he does make the right choices.
He's a player with a big future and the main worry for defenders is that he has this searing pace.
The speed he has will cause defenders in the Premier League a lot of problems.
But the only way Forest keep him at the club is if they win on Sunday.
Additionally, Surridge has had a taste of Premier League football with Bournemouth – should he be playing at a higher level?
At the moment the Championship is his standard.
He's yet to become a top Championship striker, so I think he's some way off becoming Premier League standard.
This is his best season in terms of his goal scoring record and his previous best was when he was on loan at Swansea.
Whilst his numbers are decent, they aren't quite top end Championship, especially if you compare it to Mitrovic and Solanke.
He's not yet at those numbers and really, he probably isn't first choice at Nottingham Forest if all the strikers are fit.
He has to fight to play week in week out and if Steve Cooper has that full complement of strikers, then he isn't a guaranteed starter.
I think Sam Surridge himself would acknowledge that there's work to be done, but he's on the right lines.
Just when Nottingham Forest needed him most, he came up with the goods and I think he's having a great season.
Like the rest of those players, he'll want to finish it off on Sunday.
Sunderland are finally back in the Championship at the fourth year of asking – what should the ambitions be for a club of that size?
I think firstly it was a huge relief for everyone at the club to finally get that promotion.
I was really impressed with how comfortable they made the playoff final look barring a 10-minute spell in the second half.
It was a tactical masterclass from Alex Neil, he got his tactics right and his team selection spot on.
He brought in Elliot Embleton who had an unbelievable game in the 3-3 draw with Wycombe earlier in the season.
He caused Wycombe all sorts of problems that day, so to bring him in for Jack Clarke who had played well in both semi-finals was a big call, but ultimately the right call.
Having Sunderland back in the Championship is brilliant, but it's the first step.
I think the gap between League One and the Championship has grown, those clubs who have been promoted from the playoffs recently tend to struggle and Blackpool are the only ones to survive in four seasons.
It's not going to be easy, so the first thing is consolidation for Sunderland, getting to 40/50 points.
When you do that, you can see how many games are left and where you are in the table which allows you to reassess the situation.
They'll have ambition and money to invest into recruitment.
There's a good solid foundation there and I think Sunderland are in a good position coming into the Championship.
There's lots of calls for optimism and as a football club they would very much hope to consolidate but improve along the way to give themselves a chance of being a Premier League club again.
Look at the other two promoted sides from League One – we know what Wigan have achieved in the past, but can they and Rotherham make the step up this time around?
Rotherham have been the perennial promotion and relegation club in the past few years, and this is the third time they've been promoted in a row from League One.
They've found it hard because it difficult for them to bridge that gap.
I thought the last Championship season they were very unlucky actually because of covid and postponements.
They had to play 12 games in 36 days which really caught up with them in the end because the squad couldn't cope.
Paul Warne didn't have the luxury of rotating quality like for like players.
I thought they were desperately unlucky, and I don't think they would have gone down had it not been for the fact they had so many games in a short period of time.
It'll be difficult for them, and Paul Warne knows it, they won't break the bank but they're a solid football club and recruitment has to be key.
They do need better players with respect to the loyalty to the current players who got the job done.
Having been relegated the past couple of times from the Championship, the club need to recognise that and invest wisely.
But it will be another difficult season I suspect.
As for Wigan, they stumbled over the line a little bit, but they put themselves in that brilliant position and average two points a game.
On paper they probably look more Championship ready than Rotherham, they have some experienced players in their ranks and perhaps a little bit more quality.
Again, their summer will be important in their recruitment, but the history of Wigan in recent times, I love it when clubs go through the mill come back.
I was really pleased to see them get back up.
Port Vale and Mansfield go head-to-head for a place in League One – who's your favourite going into that game?
It's an evenly matched contest between these two teams.
I think if you look at Mansfield's form from October to March, they played 18 games and won 14 of those.
Nigel Clough has galvanised them after a very difficult start where they had lots of injuries.
Nigel Clough said publicly once he got these players back from injury then the team would shoot back up the league and that's exactly what has happened.
The pressure is on at Mansfield, it's a club with ambition and a club that has thrown money at it to get out of League Two.
It hasn't happened for them, so there's a lot of pressure on them to deliver.
Nigel Clough has built a really good team who finished the season strong which is always a good thing going into the playoffs.
As for Port Vale, they suffered at the end of the season and suffered when Darrell Clarke had his personal bereavement.
He was away from the football club for some time, and it shows the resolves, resilience and character of Darrell Clarke to drag himself back to the club because he recognised his team needed him to get that all important final day win.
He's guided them through the playoffs and his reappearance has galvanised his players which is understandable given the turmoil he's been through.
The Port Vale players will very much be playing for Darrell Clarke and it's tough to call which way this game will go.
If you were to force me into picking a favourite, then I would possibly go for Mansfield because of some of the experience they have at a higher level.
Stockport County return to the EFL for the first time in 11 years – they've had to overcome some difficulties in that but how big of an achievement is it for that club?
When you look at the National League, it must worry you as a fan, an owner and as a coach if you look at the names of the clubs stuck in there for years.
Luton were in there for quite some time and managed to get themselves out and to where they are today.
When you do get yourself out, you have to make sure you have a platform to compete.
But it's a brilliant achievement for Stockport, Dave Challinor took a risk leaving Hartlepool, bought into the ambition of the club and clearly thought he could get them promoted.
It's proven to be a positive move.
Just going back to Hartlepool, they and Barrow survived, Sutton United and Harrogate Town the season before survived, so those are key seasons.
You need to survive the first season and keep building which has to be the ambition for Stockport.
It'll be such a relief for Stockport County and those concerned to get back into the Football League.
It's a place that they really do not want to go back to because you look at some of the teams in there who seem to be stuck in that division.
It's a massive step forward for Stockport County on the road to recovery.
There's been a lot of incidents involving pitch invasions over the past couple of weeks – what is your stance on this, and should clubs be punished to stop these types of scenes where players and staff are assaulted?
I don't think you can hold clubs accountable for morons, idiots and thugs.
It's just not fair to hold the football clubs accountable.
Thankfully pitch invasions are only something really that happen at this time of year where teams survive relegation or gain promotion or get to Wembley through the playoffs.
We have a year now to evaluate to find a resolution to this problem.
But let's make it clear, this isn't a football problem.
I listened to Gareth Southgate speak articulately on the subject as he always does with anything, and I had to agree with him.
This isn't a football problem; this is a society problem.
The world seems to be becoming an angrier place and I'm so glad that the authorities didn't punish Patrick Viera.
I can only put myself in his shoes, to be goaded at close range, in your personal space and waving something at you which could have easily been a knife.
His heart must have been racing so you fight or flight when your response kicked in and he chose to fight back.
I'm glad the authorities understand what he was going through at that time because the actions of that fan were totally unacceptable.
Behaviour in society goes down to the individual, you have a responsibility for your own behaviour.
We do have a problem and it is getting worse, the world is getting angrier, and I have to question parenting.
I would be devastated if any child of mine did what any of those thugs did without morals and consideration.
Pitch invasions should be about jubilation and celebration, not goading, not thuggery and without violence.
I'm in despair at it really and the authorities have a year to come up with a plan whether it be portable barriers just for those games.
There are only a handful of games where you may need to crank up security because it's worth the money it would cost.
I wonder if the Premier League would get involved with all the wealth they have to pay for more and better-quality security.
Something needs to be done because we can't have it, I was at that game where Billy Sharp was assaulted and really banning orders or 24 weeks in prison is nothing.
This laughable punishment of individuals being banned for life, how do you even police that because you can't stop an individual.
They can just stick a balaclava on, stick a hat on or grow a beard, whatever.
But I don't think you can police that, so you need to come up with a deterrent.
This lad who headbutted Billy Sharp and gone to prison for 24 weeks is such a lenient punishment and not a deterrent for me.
If you say that's a five-year offence, then you'll have people thinking twice about it.
I lived in Japan for six months when I played there and there is hardly any crime because the punishments are so severe which makes it a deterrent and, in this country, I don't think there's enough sometimes, so the authorities need to look at it.
But going back to the original question, I don't think you can hold football accountable.
---

Build better bets with our free betting tips, predictions and accumulators, every day.
More betting news:
Champions League quiz: How much can you remember from this season?
5 Ways to back another Real Madrid Champions League comeback
Huge 381/1 Ultimate Bet Builder for the Champions League Final
Champions League Final betting trends with 26/1 Bet Builder
To squeeze every drop of value out of today's Football Predictions and Tomorrow's Football Predictions we highly recommend you take a look at our Free Bets hub, where you can compare all the best free bets and special offers from the best sportsbooks around.