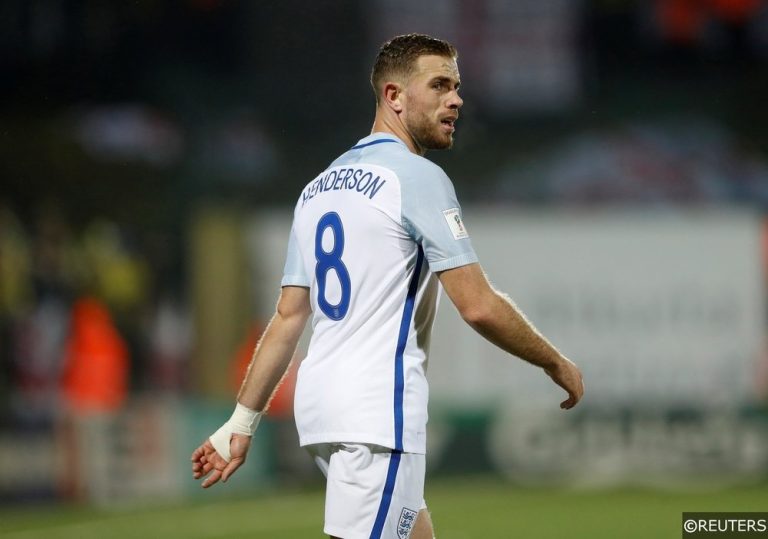 Content Editor at Free Super Tips, Alex was born in the shadow of Old Trafford and is an avid Man Utd fan. After graduating from university he combined his love of football, writing and betting to join FST and now closely follows goings-on in all of the top European leagues.
When Gareth Southgate named his England squad for the World Cup this summer more than few eyebrows were raised, and most of those eyebrows were aimed squarely at the decision to leave out Jack Wilshere. We've already discussed whether he was right to snub Wilshere, but the individual left out is less important than the position he occupies.
That central midfield berth is a hugely important one in the system that Southgate is likely to play. The right players in there can offer protection to the back three, as well as cover on the flanks when the wing backs burst forward. Not only that, but they are also the key link between defenders and attackers. Do England have enough steel and quality in this area? Let's take a look:
Read More: Analysing England's Centre Back Options
England's Midfield Options
Based on past analysis and England's recent 2-1 win over Nigeria, it's looking extremely likely that Gareth Southgate will opt for a formation that includes three central defenders, two wing-backs, two deeper central midfielders, and two more advanced and wider midfielders to support a lone striker. It's these two deeper midfield positions that could prove a potential problem for England, so let's take a look at the options:
Eric Dier
He's just 24 years of age, but it's looking like Eric Dier could be one of the most important figures in this England squad. Additional protection for the back three is a necessity in this formation, especially when up against the better quality opposition, and Eric Dier is the only truly defensively minded midfield option in the squad.
He's put in another solid season at Spurs this year, and has the versatility to slot into a centre back position too. Simply put, there is no player in the current squad that can replace Dier in this position, and should he get injured England could be in real trouble.
That being said, this isn't actually something that Southgate could have avoided. There are desperately few defensive midfielders to choose from in the England setup, and those that could have been backup players have had injury hit seasons. The three that spring to mind are Harry Winks, Nathaniel Chalobah, and Jack Cork. These three players have just two England caps between them, and with Winks still recovering from an ankle operation and Chalobah coming off the back of an injury ravaged season neither of those were realistic options.
Jordan Henderson
He was rested against Nigeria after his Champions League exploits last weekend, but Jordan Henderson is expected to be the one partnering Dier in the centre of the park. He's coming to the World Cup on the back of an excellent season at Liverpool and can pull the strings from a deep lying position. There are genuine concerns over the lack of creativity in this partnership though.
These concerns are well-founded. Henderson has scored just one goal all season and has only been credited with a single assist as well. Add the fact that he has never found the net for England, and the problems with this partnership come to the fore. The ability to link play between the defenders and strikers is key here, and while his passing ability is unquestionable his vision for that killer ball is very much open for debate.
Ruben Loftus-Cheek is a more attack minded option in the squad. He played fewer games than Henderson in an inferior side this season, but still managed to surpass the Liverpool man's goals and assist tally. Loftus-Cheek is certainly worth considering, although with just three caps to his name he's not likely to make the grade in the bigger games at the World Cup.
This is one area where Southgate may have made a mistake. Adam Lallana would have been perfect but for his injury problems, and whilst we have discussed the weaknesses in Jack Wilshere's game there's still that nagging feeling that he could have provided something England are missing this summer. If you want a creative passer to come on and change the course of a match, Wilshere is always going to offer more than Henderson.
Dele Alli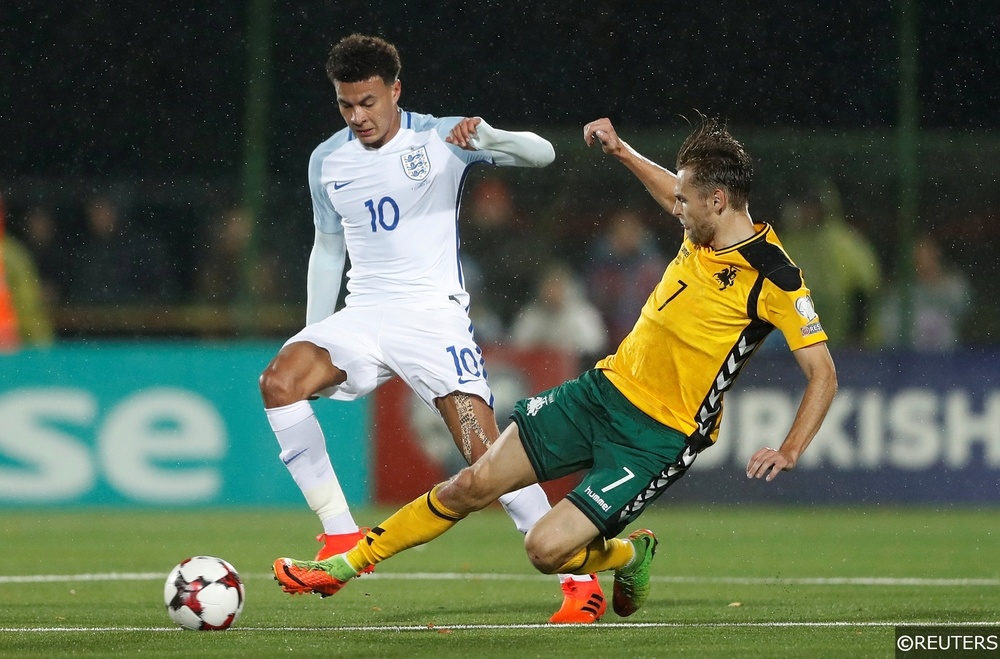 Of course, you might be thinking that I'm ignoring the presence of Dele Alli here. He offers a huge amount going forward, something which is evident by his return of 14 goals and 14 assists for Spurs this season. He's only 22 years old but three two solid seasons under his belt for Spurs, and despite many people believing he isn't up to scratch at the moment he is without a doubt the best attacking midfielder we have in the squad.
But is he suited to a central midfield role? I would argue that he isn't. His passing ability isn't on the same level as Henderson or Wilshere, and his youthful ways come with the added disadvantage of an attitude that is often petulant, childish, and aggressive. None of those traits are suited to this deep lying midfield role, but there is a more important reason why he shouldn't be played there.
Simply put, he'd be wasted. Alli's bursts into the penalty area, long range shooting, and attack-minded nature means that the majority of his talents would be invisible in a deep lying central midfield berth. Not to mention the fact that his long partnership with Kane at Spurs should be nurtured rather than distanced. He should be played as one of the two attackers who support Kane, rather than shoved into the scrappy areas in the middle of the park where he is more than likely to pick up a booking.
Read More: Just How Important is Harry Kane to England?
Ruben Loftus-Cheek
In my eyes, Loftus-Cheek is the only real backup option to Dier and Henderson. He is much more attack minded than both of these players, but at well over six feet tall he is physically imposing enough to get stuck in. He may be inexperienced, but his ability is unquestionable. His passing ability is often underrated, and he has the confidence and skills to take on a man.
He made his England debut against Germany back in November and was the most impressive player on the pitch. He was comfortable, assured, calm, and confident enough to actually try a few tricks against a star-studded Germany team. Whether he will be trusted enough in the big games is another matter, but he's definitely got a part to play this summer, and he could potentially be that attack minded game changer in the centre of the park.
Final Thoughts
Unless Southgate opts for an altered formation in which England only play with one deep midfielder, the Three Lions' lack of depth there could be an issue if bad luck strikes. Playing a single deep midfielder against the more talented attacking outfits is a huge risk though, so that's unlikely to be the case should the knockout stages come calling.
This leaves England with four options in the centre of the park. Dier and Henderson are expected to be the first port of call, but Loftus-Cheek has the ability and maturity to change the game if needed. Alli is an option, but you feel that his attacking ability would be criminally wasted in that deeper position. Should injury strike either Dier or Henderson there could be a real issue for England. They will then be forced to rely on Loftus-Cheek, who is by no means immune to injury, or risk upsetting the whole dynamics of the team by pushing Alli further back.
You have got to feel that the addition of an extra midfielder in the squad would have solved this issue. Whether that be Wilshere, Jonjo Shelvey, or Lewis Cook, just having that extra option could have avoided a lot of potential problems.
Follow Free Super Tips on Twitter to stay up to date with our daily tips and predictions or browse more football content on our website: