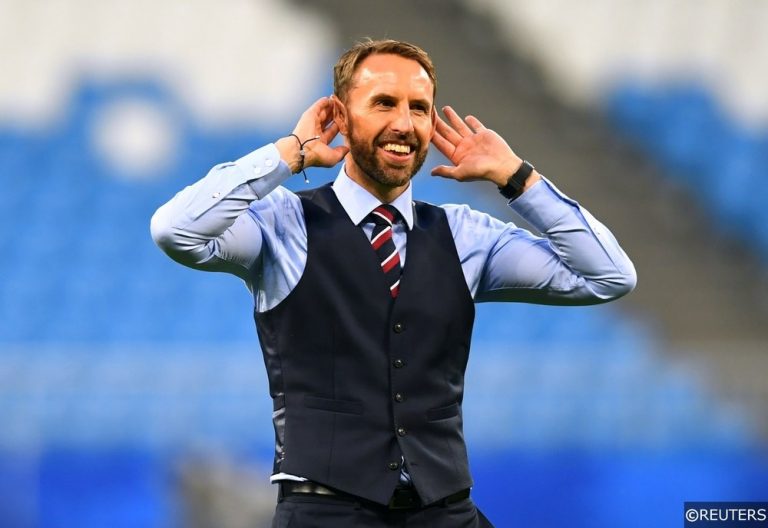 The draw for Euro 2020 qualification took place on Sunday afternoon, with all of the Home Nations eagerly awaiting their fate. England boss Gareth Southgate was delighted with the draw, saying his Young Lions can look forward to "an even more exciting next 18 months". His side will compete in the inaugural Nations League finals, facing one of Switzerland, Portugal and Netherlands in the semi-finals. Should they reach the same stage of Euro 2020, they will find themselves playing at home at Wembley Stadium, as England host the semi-finals and finals of the tournament.
England were the first team named in the draw, finding themselves in Group A. They are joined by Czech Republic, Bulgaria, Montenegro and Kosovo. The matches will take place between March and November next year, with the first of those coming at Wembley Stadium against Czech Republic on March 22nd 2019.
The top two teams from each of the 10 groups will automatically qualify for Euro 2020, with the usual play-off system being replaced by the Nations League. The winner from each of the 4 leagues in the Nations League will take the final 4 spots, rounding off to 24 teams at the main event.
Republic of Ireland had a very close escape, as they were drawn out in Group C, joining Germany and Netherlands, but had to skip the group and move to Group D, due to a rule allowing only 2 host countries to be in the same group. Next drawn out, replacing Republic of Ireland in what could be considered the "Group of Death", were their neighbours Northern Ireland. Michael O'Neill's team will also face Estonia and Belarus in Group C.
After their lucky escape, Republic of Ireland will now face a familiar foe in the form of Christian Eriksen. The Spurs man put in a heroic performance for Denmark as they smashed Ireland 5-1 at the Aviva Stadium in the World Cup play-offs. The two sides will be joined by Nations League semi-finalists Switzerland, as well as Georgia and Gibraltar.
Wales see themselves placed in a relatively easy Group E despite being in a group with World Cup 2018 finalists Croatia. Zlatko Dalić's side and the Euro 2016 semi-finalists will be joined by Slovakia, Hungary and Azerbaijan. Ryan Giggs will be hoping to progress from the group, but admits there will be challenges, saying "It could be better, it could be worse. It's good that we are in a five-team group, it's masses better. Croatia have an outstanding player in Luka Modric but also some very good players as well."
Rounding off the Home Nations, the last of the 5 out of the hat were Scotland. They were placed in Pot 3 alongside Northern Ireland and Republic of Ireland, being drawn into Group I alongside World Cup 2018 bronze medalists Belgium, as well as hosts Russia. Their group was rounded off with Cyprus, Kazakhstan and San Marino.
Group A: England, Czech Republic, Bulgaria, Montenegro, Kosovo.
Group B: Portugal, Ukraine, Serbia, Lithuania, Luxembourg.
Group C: Netherlands, Germany, Northern Ireland, Estonia, Belarus.
Group D: Switzerland, Denmark, Republic of Ireland, Georgia, Gibraltar.
Group E: Croatia, Wales, Slovakia, Hungary, Azerbaijan.
Group F: Spain, Sweden, Norway, Romania, Faroe Islands, Malta.
Group G: Poland, Austria, Israel, Slovenia, Macedonia, Latvia.
Group H: France, Iceland, Turkey, Albania, Moldova, Andorra.
Group I: Belgium, Russia, Scotland, Cyprus, Kazakhstan, San Marino.
Group J: Italy, Bosnia-Herzegovina, Finland, Greece, Armenia, Liechtenstein.
Hosts:
Euro 2020 will see the competition spread all across Europe for the first time, with 13 countries set to host games. This is to celebrate the 60 year anniversary of the tournament. The 13 host countries will be Denmark, Hungary, Netherlands, Republic of Ireland, Romania, Scotland and Spain – who host Group Stage and Round of 16 matches. Azerbaijan, Germany, Italy and Russia who all host Group Stage and Quarter Final matches, as well as England, who will be hosting the semi-finals and finals. Due to Belgium dropping out, Wembley will also host 2 group stage matches and a round of 16 tie.