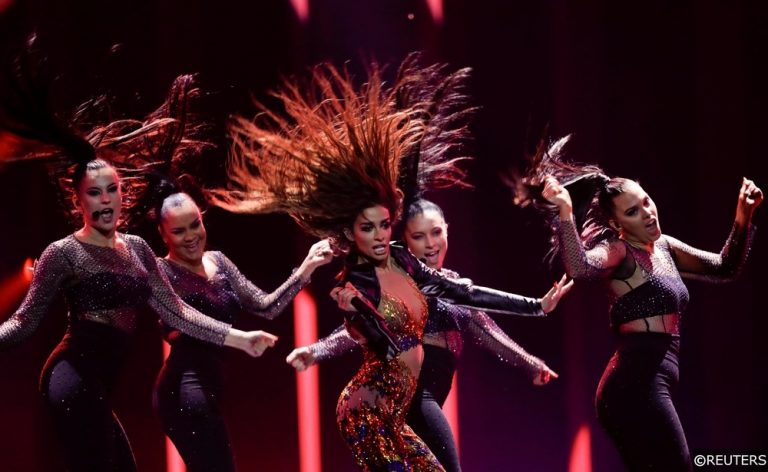 Eurovision Song Contest predictions, betting Tips and best bets for the 2018 finals from Lisbon, Portugal. We take a look at every country and predict who will win the Eurovision 2018?
Cyprus
Singer: Eleni Foureira
Song: Fuego
Verdict: A banger of an ethno-pop tune with a sensational dance routine channeling Beyonce and Shakira. The vocals are a big concern and it arguably lacks class for outright victory despite a huge gamble in the last couple of days. Star Rating: ⭐⭐⭐⭐
Israel
Singer: Netta
Song: Toy
Verdict: A quirky and contemporary dance floor filler complete with chicken noises but the staging leaves a lot to be desired and vocals were very shaky in semi-final. Will contend if toning down the silliness. Star Rating: ⭐⭐⭐
Ireland
Singer: Ryan O'Shaughnessy
Song: Together
Verdict: First appearance since 2013 for the Kings of Eurovision. Ostensibly this is a dull song and falsetto tends to struggle with juries but the beautiful staging lifts it to a high level. The top ten looks likely from a nice late draw. Star Rating: ⭐⭐⭐
France
Singer: Monsieur Madame
Song: Mercy
Verdict: Classy electro-pop with some cool drum beats and a beautiful message about a migrant baby born at sea. Terrific visual hook crescendo as well as excellent staging and vocals. Star Rating: ⭐⭐⭐⭐⭐
Sweden
Singer: Benjamin Ingrosso
Song: Dance You Off
Verdict: Yet another contemporary and chart-friendly song from the Swedes performed by a male pop-robot. Feels a little contrived and singer lacks stage presence but is certainly a contender for a top-five birth. Star Rating: ⭐⭐⭐⭐
Italy
Singer: Ermal Meta & Fabrizio Moro
Song: Non mi avete fatto niente
Verdict: Five of Italy's last seven entries have hit the top ten. This is a likeable male duet, but is slightly let down by gravelly vocals and the lack of a melodic chorus Star Rating: ⭐⭐⭐
Lithuania
Singer: Ieva Zasimauskaite
Song: When We're Old
Verdict: Schmaltzy piano ballad duet which lacks a beginning, a chorus and an end. Impeccable vocals but just too sickly to strike a chord. Star Rating: ⭐⭐
Germany
Singer: Michael Schulte
Song: You Let Me Walk Alone
Verdict: Shades of Adele and Ed Sheeran with a familiar if somewhat dated singer-songwriter sound. Tugs at hearstrings as it's about Michael's dead father, but it may struggle to capture votes from the Eastern bloc. Star Rating: ⭐⭐
Estonia
Singer: Elina Nechayeva
Song: La Forze
Verdict: Plastic popera with a strong visual trick surrounding the act's dress. Impressive vocals but the song lacks a hook. A top-ten contender but no more than that. Star Rating: ⭐⭐⭐
Norway
Singer: Alexander Rybak
Song: That's How You Write a Song
Verdict: 2009 winner Rybak returns with a blood and guts performance reminiscent of a teenager attempting to copy a Bruno Mars track. Poor lyrics and a poor semi-final performance. Star Rating: ⭐⭐
Moldova
Singer: DoReDos
Song: My Lucky Day
Verdict: Only an average ethno-pop track but this is all about the slapstick stage show which Moldova are fantastic at pulling off. A must watch and top-ten contender. Star Rating: ⭐⭐⭐
Czech Republic
Singer: Mikolas Josef
Song: Lie to Me
Verdict: Contemporary chart-friendly song but breathy vocals, a chauvinistic message, and dislikeable child-man singer are all major negatives. Will struggle with juries.. Star Rating: ⭐⭐
Bulgaria
Singer: Equinox
Song: Bones
Verdict: Dark Rag 'n' Bone Man-style song but five vocalists make it difficult to stage coherently. However, it's one of the best songs and showed signs in semi they were getting their act together. Star Rating: ⭐⭐⭐⭐
Finland
Singer: Saara Alto
Song: Monsters
Verdict: Uptempo, yet dark, pop song tackling mental health issues. Catchy chorus and Saara Alto's second-placed finish in the UK X Factor makes her well known to western voters. A likeable effort. Star Rating: ⭐⭐⭐⭐
Hungary
Singer: AWS
Song: Viszlat Nyar
Verdict: A moderate heavy-metal track that is transformed into something quite likeable by the pulsating performance of AWS. Absolutely no chance of winning but it deserves it's place in the final. Star Rating: ⭐⭐⭐
Australia
Singer: Jessica Mauboy
Song: We Got Love
Verdict: An absolutely diabolical Steps-esque track which could have been written by primary school children. Shocking vocals in the semi-final and an even worse dress. Star Rating: ⭐
Denmark
Singer: Rasmussen
Song: Higher Ground
Verdict: Dark folk ballad with a hint of Lord of the Rings and Fantasy VII. Sickly lyrics and a smug singer make this a contender to finish in the bottom five . Star Rating: ⭐
Spain
Singer: Amaia & Alfred
Song: Tu cancion
Verdict: Sickly-sweet Disney duet which is ever so slightly redeemed by the female half being borderline tolerable vocally. Get the buckets and handkerchiefs ready. Star Rating: ⭐
Netherlands
Singer: Waylon
Song: Outlaw in 'Em
Verdict: If a Garth Brooks song and a Bon Jovi song had a baby, this would be the horrific mutant offspring. Leopard print and over the top dancers to the fore. Simply awful. Star Rating: ⭐
Ukraine
Singer: Melovin
Song: Under the Ladder
Verdict: A good show opener from an uptempo act with some classic Eurovision staging and a flight stairs set on fire. It has racked up massive Youtube numbers but a bad draw ruins any chance it may have had. Star Rating: ⭐⭐⭐
Austria
Singer: Cesar Sampson
Song: Nobody But You
Verdict: A dated and dull song is rescued by an extremely likeable performer. However, vocals were a struggle in semi-final and anything around mid-table would be a good result. Star Rating: ⭐⭐⭐
Portugal
Singer: Claudia Pascoal
Song: O Jardim
Verdict: If you were victorious with a smokey jazz number last year, why change the formula? A very likeable singer and a nice song for a beauty spa reception, but not a contender for a repeat success. Star Rating: ⭐⭐⭐
United Kingdom
Singer: SuRie
Song: Storm
Verdict: The United Kingdom yet again send a song that's about ten years too late for Eurovision. Storm is a beige upbeat pop number with boring visuals and SuRie struggles to carry the big stage alone. Star Rating: ⭐
Albania
Singer: Eugent Bushpepa
Song: Mall
Verdict: A bland pop-rock effort but at least it's sun in Albanian so it offers something different. It deserves some patronising pats on the heads that's about it. Star Rating: ⭐⭐
Serbia
Singer: Sanja Ilic & Balkanika
Song: Nova deca
Verdict: Haunting ethno-pop with a gorgeous Eastern undertone featuring a man who looks like a 1980's wrestler, tin-whistle Gandalf, and wailing backing singers. Star Rating: ⭐⭐⭐
Slovenia
Singer: Lea Sirk
Song: Hvala, ne!
Verdict: Slovenian drum 'n' bass dance track lacks a decent chorus while the bit where they pretend the music drops is absolutely cringeworthy. Highly likely to finish on the right hand side of the scoreboard. Star Rating: ⭐⭐
Recommended Bets
France at 16/1 with Betfred
Moldova Each Way at 66/1 with Betfair (paying 4 places)
Bulgaria Top 4 Finish at 8/1 with Betfair
Views courtesy of Stephen Cass from the Racing Post – Follow Stephen on Twitter @CassStephen