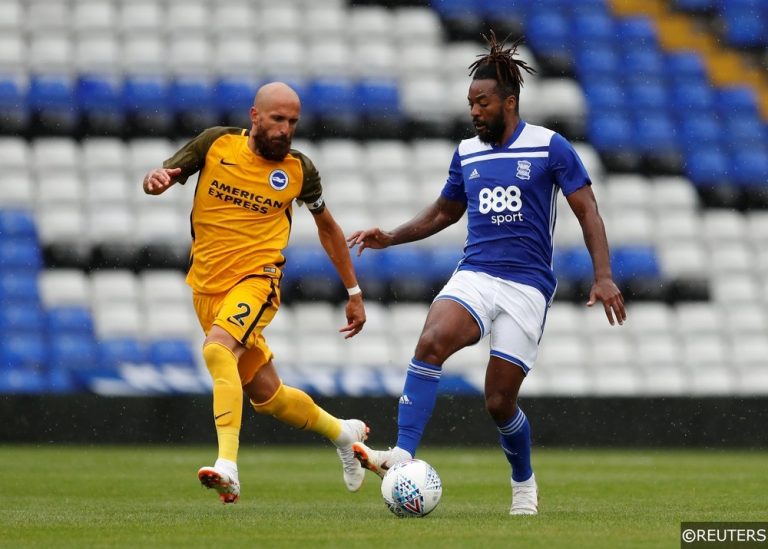 Each week we analyse the weekends games in the Sky Bet Championship and produce a weekly expected goals round up. This week we had a double schedule, we had a full weekday schedule and a full weekend schedule to boot.
For those who are not too familiar with how expected goals works, here's a quick rundown.
Read More: Expected Goals (xG) Round Up: Premier League Week Six
What are expected goals (xG)?
Expected goals basically gives a percentage chance of a shot becoming a goal. It's a good way to evaluate the quality of the shots being taken. For example a shot with a 0.30 expected goal (xG) value should be scored 30% of the time. It's been calculated by crunching data from thousands of historical shots and filtering them by distance, type of shot, type of pass and the number of defenders between the attacker and the goal.
When you're sat in the stands or on the sofa shouting at your player "how have you not scored that?!". Expected goals is a way of quantifying how many times they should have actually scored it.
Championship Week Eight Expected Goals (Midweek)
xG Diff
xG
Home
Actual
Away
xG
xG Diff
-0.73
1.27
Villa
2
0
Rotherham
0.6
0.6
1.54
1.54
Derby
0
0
Blackburn
0.65
0.65
-0.18
0.82
Ipswich
1
1
Brentford
0.98
-0.02
-0.99
2.01
Leeds
3
0
Preston
0.15
0.15
-0.38
1.62
Wigan
2
1
Hull
0.62
-0.38
1.16
2.16
Stoke
1
0
Swansea
0.7
0.7
-1.35
2.65
West Brom
4
2
Bristol City
2.25
0.25
-0.65
1.35
Forest
2
1
Sheff Wed
0.56
-0.44
-0.61
1.39
Middlesbrough
2
0
Bolton
0.46
0.46
0.23
2.23
QPR
2
0
Millwall
0.78
0.78
0.58
0.58
Sheff United
0
0
Birmingham
1.58
1.58
-0.26
0.74
Reading
1
2
Norwich
0.6
1.4
Unlucky Teams
Derby
Derby hosted an impressive looking Blackburn side to Pride Park and this had all the makings of being a great game. Derby dominated the ball having 60% possession and had 14 shots with just 3 of those on target. They also had 8 blocked shots as well showing Derby had the better of this game. This was shown in the expected goals as they created 1.54 xG to Blackburn's 0.65 xG. Derby can feel aggrieved with not picking up all 3 points here.
Birmingham
Birmingham have been a strange team this season, they create a lot of chances and are playing some really good football but can't seem to put the ball in the net. This was the same story when they traveled to Sheffield United. Birmingham had 13 shots, 5 on target, 4 off target and 4 blocked compared to just 3 on target, 2 off target and 1 blocked from Sheffield United. Birmingham created 1.58 xG to Sheffield's 0.58 xG and will feel hard done by with not picking up a win here.
Lucky teams
Norwich
Reading have regularly been on the wrong side of the xG statistic and their game against Norwich was no different. Reading created 0.74 xG for their solitary goal however the Canaries managed to score 2 despite only creating 0.6 xG throughout the match. Just like the xG stats suggest it was a very even game with little separating the sides but the scoreline.
Championship Week Nine Expected Goals (Weekend)
xG Diff
xG
Home
Actual
Away
xG
xG Diff
-0.38
0.62
Wigan
1
0
Bristol City
0.94
0.94
0.68
1.68
Aston Villa
1
2
Sheff Wed
1.34
-0.66
-1.32
1.68
Derby
3
1
Brentford
0.46
-0.54
0.29
1.29
Forest
1
0
Rotherham
0.25
0.25
0.37
0.37
Ipswich
0
0
Bolton
0.39
0.39
0.11
1.11
Leeds
1
2
Birmingham
0.17
-1.83
0.77
0.77
Middlesbrough
0
0
Swansea
0.25
0.25
-0.94
2.06
Reading
3
0
Hull
0.87
0.87
-1.19
1.81
Sheff Utd
3
2
Preston
0.87
-1.13
1.31
3.31
Stoke
2
3
Blackburn
1.29
-1.71
-0.65
1.35
West Brom
2
0
Millwall
0.49
0.49
0.68
0.68
QPR
0
1
Norwich
1.1
0.1
Unlucky Teams
Aston Villa
Aston Villa are having a strange season, despite a lot of uncertainty around Bruce's future as well as the immediate financial future of the club, Aston Villa ended the transfer window in strong shape. They bought in a whole host of players including Tammy Abraham and Yannick Bolasie on loan, both excellent additions but despite this Villa have struggled. They created 1.68 xG at home to Sheffield Wednesday but the Owls are in form and although only creating 1.34 xG showed their clinical edge scoring twice and taking the 3 points back to Sheffield.
Leeds
Leeds will be asking themselves how they lost this game, everything was set up for a routine home victory but Birmingham came and spoiled the party. Leeds created 1.11 xG in the game which is below their usual standard and fair for the goal they scored. Birmingham however created 0.17 xG and somehow managed to score twice. Che Adam's strike in the 7th minute had just 3% chance of being a goal whilst his 2nd had just a 4% chance of finding the net. Unfortunately for Leeds both did find the net and they went home empty handed.
Stoke
Stoke have been in poor form this season after being labelled as the clear favourites for the title and an immediate return to the Premier League. Stoke were on the wrong side of an xG nightmare this weekend. Blackburn created 1.29 xG which was the second best tally this weekend managing to convert that into 3 goals. Stoke on the other hand seemed to find a Blackburn defender with every shot at goal. They had 18 shots, of which 3 were on target, 5 off target and 10 blocked. Despite this the Potters created a huge 3.31 xG for their 2 goals although maybe a portion of the blame has to be taken by Saido Berahino for missing a late penalty to equalise.
Lucky Teams
Wigan
Wigan have been flying high this season following their promotion from League One and it's likely they will be more around the play-offs this year than the usual relegation battle. They played a Bristol City side who always seem to start the season well then crash and burn midway through. This was a relatively poor match in quality, Wigan created just 0.62 xG and scored the only goal of the game. Bristol City can feel hard done by after creating 0.94 xG but they didn't deserve any more than a point here.
We now head into a full midweek schedule of Carabao Cup action so make sure you check out our Free Betting Tips & Predictions. 
Get in touch with us by emailing us at info@freesupertips.co.uk or tweet us on Twitter @FootySuperTips.