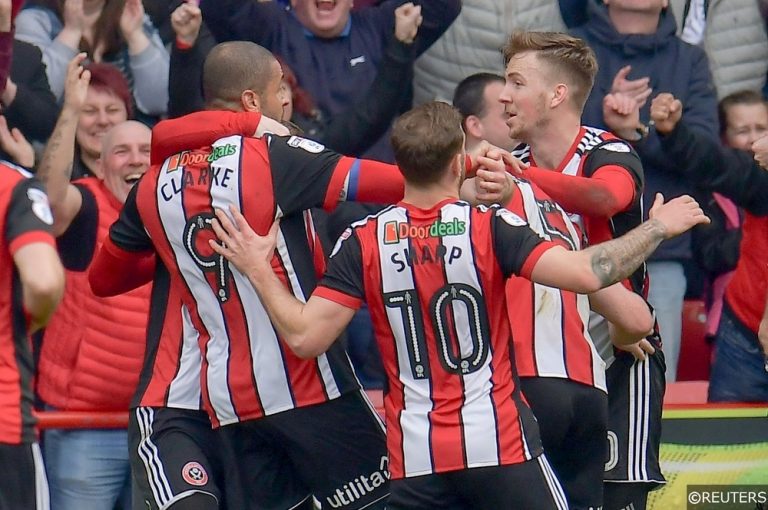 This season we have introduced a round up of expected goals each match week of the Sky Bet Championship. This week we had a full weekend schedule, comprised of a Friday night game, 9 Saturday games and 2 Sunday matches.
For those who are not too familiar with how expected goals works, here's a quick rundown.
What are expected goals (xG)?
Expected goals basically gives a percentage chance of a shot becoming a goal. It's a good way to evaluate the quality of the shots being taken. For example a shot with a 0.30 expected goal (xG) value should be scored 30% of the time. It's been calculated by crunching data from thousands of historical shots and filtering them by distance, type of shot, type of pass and the number of defenders between the attacker and the goal.
When you're sat in the stands or on the sofa shouting at your player "how have you not scored that?!". Expected goals is a way of quantifying how many times they should have actually scored it.
Read More: Expected Goals (xG) Round Up: Premier League Week Four
Championship Week Six Expected Goals
xG Diff
xG
Home
Actual
Away
xG
xG Diff
0.36
0.36
Leeds United
0
0
Middlesbrough
0.49
0.49
0.49
0.49
Birmingham
0
0
QPR
1.59
1.59
-0.02
1.98
Brentford
2
1
Forest
0.24
-0.76
0.36
1.36
Hull
1
2
Derby
1.23
-0.77
-1.14
0.86
Preston
2
2
Bolton
0.58
-1.42
0.03
1.03
Reading
1
2
Sheff Wed
0.47
-1.53
-3.02
0.98
Sheff United
4
1
Aston Villa
0.37
-0.63
-0.85
1.15
West Brom
2
1
Stoke
1.69
0.69
0.01
1.01
Wigan
1
0
Rotherham
0.83
0.83
0.28
1.28
Millwall
1
2
Swansea
1.2
-0.8
0.66
1.66
Ipswich
1
1
Norwich
1.03
0.03
-1.98
2.02
Bristol City
4
1
Blackburn
1.43
0.43
Unlucky Teams
QPR
Despite losing his first 4 games of the season, Steve Mclaren's side showed what they were capable of last week with a fine 1-0 victory over a Wigan side who had made a great start to life back in the Championship. This week they headed to the West Midlands to face Birmingham who were without a win this season. This was a game QPR deserved to win as they created 1.59 xG compared to Birmingham's 0.49. It's positive signs for QPR fans after a very shaky start.
Reading
Reading were bang on their xG this week as they created 1.03 and scored 1. They were unlucky however due to their opponents Sheffield Wednesday scoring 2 goals and winning the game despite only creating a minimal 0.47. They have really been on the rough side of xG so far this season, they sit bottom of the table yet their xG tally would expect to see them sit in 12th!
Stoke
Stoke will feel aggrieved not to have come away from the Hawthorns with at least a share of the spoils, the Potters created 1.69 xG compared to the Baggies 1.15 xG. This doesn't help Gary Rowett's cause and relationship with the fans as the pre-season Championship favourites are sitting in a lowly 18th place. They don't deserve to be much higher, xG ranks them the 13th placed team so far this season.
Lucky Teams
Bolton
A crazy game developed down at Deepdale as Preston and Bolton shared the spoils with a 2-2 draw. The game however was not littered with clear cut chances despite the scoreline as they created 0.86 vs 0.58. You could say Preston were a bit unlucky not to take all 3 points but despite being 2-0 behind they would have been happy with the point. Bolton have rode their luck with xG so far this season, they sit a lofty 8th in the table however if you factor in their expected xG position they would sit as low as 22nd!
Flattering Results
Sheffield United
The Blades performance on Saturday will have sent home fans in dreamland as their team thrashed a strong Aston Villa side 4-1 at Bramall Lane putting Steve Bruce under increased scrutiny. The score doesn't tell the whole story as they only created 0.98 xG despite scoring 4 goals! Villa can't feel hard done by the result however as their poor showing only recorded 0.37 xG.
Bristol City
Bristol City ran out comfortable 4-1 winners in the end in Sunday's match at Ashton Gate however the scoreline flattered the The Robins somewhat as they created 2.02 xG. Blackburn were by far the better side in the first half and created 1.43 xG in the match despite only scoring 1 goal. Bristol City deserved the win on the balance of play after a fantastic second half and the xG stats back it up too, maybe not quite by such a landslide.
We now head into an International break so make sure you check out this week's International Predictions.
Get in touch with us by emailing us at info@freesupertips.co.uk or tweet us on Twitter @FootySuperTips.