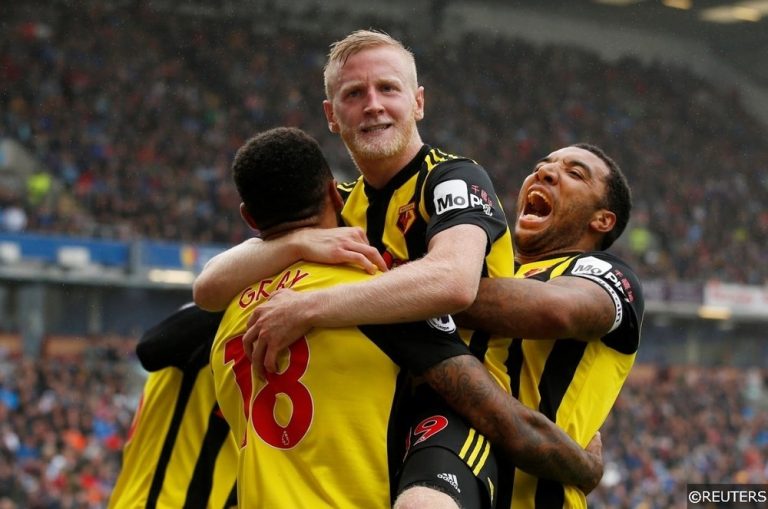 Here we take a look at the weekend's Premier League action and how they fared based on expected goals (xG). This week we had a full weekend schedule with 7 Saturday games and 3 Sunday games.
Not sure how expected goals works or is calculated? Here's how.
What are expected goals (xG)?
Expected goals basically gives a percentage chance of a shot becoming a goal. It's a good way to evaluate the quality of the shots being taken. For example a shot with a 0.30 expected goal (xG) value should be scored 30% of the time. It's been calculated by crunching data from thousands of historical shots and filtering them by distance, type of shot, type of pass and the number of defenders between the attacker and the goal.
When you're sat in the stands or on the sofa shouting at your player "how have you not scored that?!". Expected goals is a way of quantifying how many times they should have actually scored it.
Read More: Expected Goals (xG) Round Up: Championship Week Six
Premier League Week Four Expected Goals
xG Diff
xG
Home
Actual
Away
xG
xG Diff
-0.11
0.89
Leicester
1
2
Liverpool
1.27
-0.73
1.15
3.15
Brighton
2
2
Fulham
1.58
-0.42
-0.73
1.27
Chelsea
2
0
Bournemouth
1.23
1.23
-0.12
0.88
Everton
1
1
Huddersfield
0.77
-0.23
1.75
1.75
Palace
0
2
Southampton
3.21
1.21
1.32
1.32
West Ham
0
1
Wolves
1.38
0.38
0.44
2.44
Man City
2
1
Newcastle
0.54
-0.46
-0.96
1.04
Cardiff
2
3
Arsenal
1.76
-1.24
1.14
1.14
Burnley
0
2
Man Utd
2.75
0.75
-1.5
0.5
Watford
2
1
Tottenham
0.7
-0.3
Unlucky Teams
Brighton
Brighton came from 2-0 down to come away from their match against Fulham with a share of the spoils. They can feel hard done to not to have taken all 3 points however as they created 3.15 xG for their 2 goals whilst Fulham only created 1.58 xG for their 2 goals. Brighton sit 14th in the table after 4 games, where as their xG performance ranks them 12th.
West Ham
Manuel Pellegrini's start to life at the London Stadium couldn't have gone much worse, having lost all of their opening 4 games. What doesn't help their cause is when they don't take their chances which is the case here against Wolves. The Hammers created 1.32 xG however failed to find the net. Wolves missed a glorious chance through Jiminez however made West Ham pay with a late Adama Traore strike. Wolves created 1.38 xG so they were good value for their goal however West Ham fans will be left to rue missed chances and fantastic keeping from Rui Patricio in the Wolves net.
Bournemouth
A trip to Stamford Bridge was never going to be easy for Eddie Howe's side however they will be pleased with how they equipped themselves. Based on xG statistics they have a cause to feel they deserved something out of the game. The Cherries created 1.23 xG however failed to score whilst Chelsea created just 1.27 xG despite scoring twice. Bournemouth sit 6th in the table however based on xG statistics they deserve to even higher in 3rd place.
Lucky Teams
Liverpool
After a good first half performance Liverpool fell apart in the second half, with Alisson's horrendous mistake against Leicester gifting the Foxes a route back into the game. Claude Puel's men created 0.89 xG whilst Jurgen Klopp's Liverpool created just 1.27 xG. Based on stats a draw would have been a fair result but Liverpool kept their perfect start to the season intact with a 2-1 victory
Watford
Watford kept up their impressive start to the season with a 4th win from 4 to put them joint top of the table going into the International break. They beat Pochettino's Spurs 2-1 despite only creating 0.5 xG. Spurs can feel hard done by here not picking up a point however a team of Spurs calibre should be creating more than 0.7 xG.
We now head into an International break so make sure you check out this week's International Predictions.
Get in touch with us by emailing us at info@freesupertips.co.uk or tweet us on Twitter @FootySuperTips.