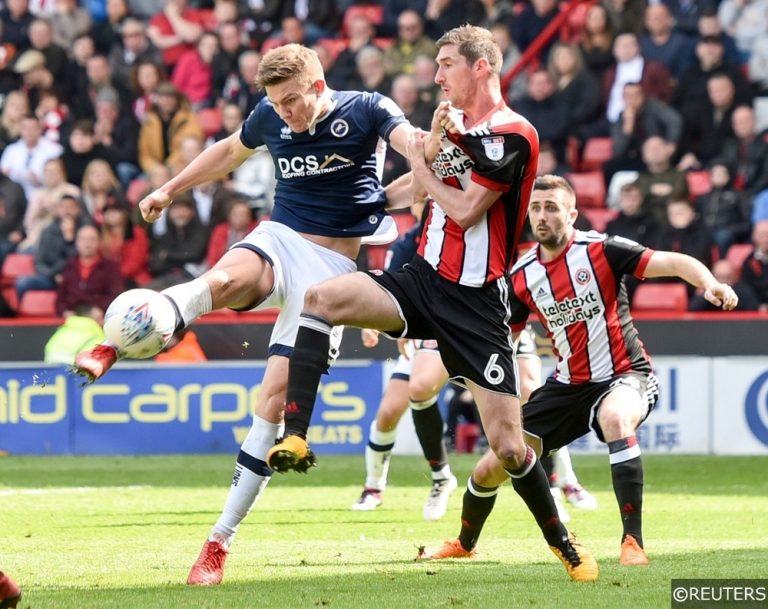 Each week we analyse the games in the Sky Bet Championship and produce a weekly expected goals round up. This week we had a full midweek and weekend schedule to get stuck into.
For those who are not too familiar with how expected goals works, here's a quick rundown.
What are expected goals (xG)?
Expected goals basically gives a percentage chance of a shot becoming a goal. It's a good way to evaluate the quality of the shots being taken. For example a shot with a 0.30 expected goal (xG) value should be scored 30% of the time. It's been calculated by crunching data from thousands of historical shots and filtering them by distance, type of shot, type of pass and the number of defenders between the attacker and the goal.
When you're sat in the stands or on the sofa shouting at your player "how have you not scored that?!". Expected goals is a way of quantifying how many times they should have actually scored it.
Read More: Expected Goals (xG) Round Up: Premier League Week Eight
Championship Week 11 Expected Goals

Lucky Teams
Aston Villa
2 managers under intense pressure met as Steve Bruce's Aston Villa hosted Alex Neil's Preston. Aston Villa stormed to a 2-0 lead inside the first half and looked on course for a much needed win until early in the 2nd half a James Chester red started their collapse. Preston scored 3 times in 30 minutes to take the lead however they couldn't hold on to it, new signing Bolasie equalised in the 91st minute and then they were awarded as 96th minute penalty which Whelan missed. Despite scoring 3 goals and a penalty, Aston Villa only created 1.58 xG. They could think themselves lucky they drew however this is not a sentiment shared by Steve Bruce who was subsequently sacked.
Unlucky Teams
Millwall
Millwall travelled to the Midlands to play a Forest side doing better than their expected points tally would expect. This was another case where Aitor Karanka's side got more than they deserved out of the game as they created just 0.67 xG whilst Millwall created a huge 4.69 xG.
Bristol City
Bristol City have been a side who have started well and then struggled in the back half of the season recently however this season they are floating around mid table at this early stage. The hosts were unlucky here as created 2.04 xG in the game without scoring whilst the hosts created 1.15 xG. Based on chances you'd expect this to have been 2-1 to Bristol City but somehow it's a game that ended goalless.
Championship Week 12 Expected Goals

Unlucky Teams
Norwich
Norwich took on a struggling Stoke City side at Carrow Road as the visitors sit well in the bottom half. Stoke have been hard done by the expected goals metric this season so it's probably about time they were on the lucky side this week. Norwich created 0.77 xG without scoring whilst Stoke creating 0.74 xG for their goal. Stoke seem like they are finally going in the right direction now and building momentum.
Swansea
This is definitely one of those games where you scratch your head and go, "how did they lose that". Ipswich created just 1.21 goals in the game yet managed to score 3 goals whilst hosts Swansea scored just 2 goals despite creating 3.52 xG. Ipswich so far this season are one of just two teams who are in the same league position as their expected points league position.
Bolton
Bolton are in trouble off the field and now they are looking in trouble on the field too,  after a superb start to the season they find themselves in 16th place however their expected points table has them 24th. This week they created 1.13 xG without scoring where as Blackburn won by scoring 0.99 xG. Bolton will feel they deserved a draw but should be thankful they aren't even lower.
Bristol City
Bristol City played well on Sunday creating 2.05 xG in the game however a lack of clinical finishing meant they only scored one goal for their efforts. Sheffield Wednesday on the other hand ran away 2-1 victors despite only creating 0.95 xG. Sheffield Wednesday look like they are in a false position, they sit 6th in the table however their expected points tally has them 22nd.
Lucky Teams
Nottingham Forest
Aitor Karanka's travelled to his old stomping ground with his Forest side failing to impress so far this season. If there's one thing Karanka's sides have been it's clinical and Forest are no different. They created just 1.09 xG at the weekend however they managed to score twice. Middlesbrough on the other hand created 1.34 xG and failed to score. Nottingham Forest currently sit 5th in the table however their expected points tally has them in 16th. To become a promotion chasing side they need to create more chances for their forwards as they can't expect to ride their luck every game.
We now head into the International break as players take part in the UEFA Nations League so make sure to check out our free betting tips and predictions. 
Get in touch with us by emailing us at info@freesupertips.co.uk or tweet us on Twitter @FootySuperTips.