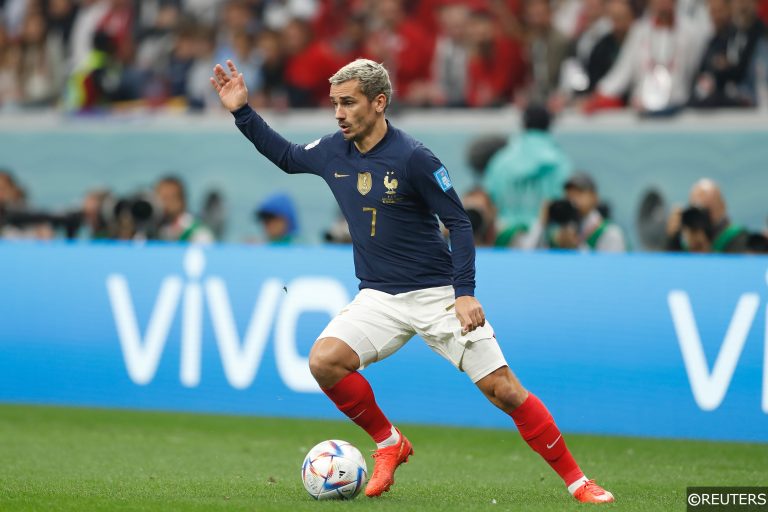 Who's going to win the World Cup?
"France will win. Even against England and Morocco, when they were not at their very best, they were able to create the chances that enabled them to win the game.
"I think it could be a highly entertaining game. It's going to be so intriguing. Argentina has improved since the start of the tournament, but for me I'm going to stick with France. I just think at the moment they seem to find a way to win."
How do they go into the game, and how do you defend against Lionel Messi?
"I don't know if they're going to try to do anything different. What a lot of teams have tried to do when they lose the ball is close the line particularly between the midfield and the defence, whether they will try to do that or not, they might go man for man, I just don't know with France.
"I've just got a feeling they think that maybe they are the better team, so they'll just take their game into the final.
"Obviously they know the dangers of Messi and the rest of the Argentina team. The best way is trying to restrict the ball that they get into Messi, but as we've seen he puts himself into positions so when they break up play he can get the ball and influence the game.
"He is so strong to knock off the ball, which is his really strong point, and his ability to pick out that final pass is absolutely sensational at times.
"It's going to be intriguing whether France do change the way they line up, but my gut feeling is they probably won't."
Reports are suggesting that Gareth Southgate is considering his future as England manager, what are your thoughts on this?
"I don't know whether the situation is completely clear with regards to Southgate. I've been listening to what a lot of people are saying, and I think we're in a little bit of a conundrum with him.
"I think if he wants to stay, the FA will keep him. I don't think the FA will ask him to step down or sack him.
"I simply don't believe that, because of what he's done in the last three tournaments. I just feel that England now need to make the final step and find a way of winning when the team usually finds a way of losing.
"England should've beaten France, they were the better team apart from the first 15 minutes, but they seem to find a way to lose. I think that is the next step with Southgate, can he change that mentality.
"There's been talk about Thomas Tuchel, Brendan Rogers, and a few other names mentioned, if they come in, what guarantee do we have that they can do any better than what Southgate has done?
"That is the big question, are we guaranteed that we are going to be more successful – getting to finals and winning them. It's a great conundrum, people are saying tactically at times he gets it wrong, so would a new manager get it right in those big games?
"Southgate's record speaks for itself, in terms of taking England a long way in major tournaments.
"I think the defining moments are the critical ones that have really cost us. It is a case of watching the space and seeing what happens.
"I think he's doing a really good job, but then my mind says, could someone else do something slightly better to give us a bit more of an opportunity? That is the big question, and I don't think there's any guarantees. The FA will keep him if he wants to carry on."
A lot of your fellow pundits say this England team was the best of their lifetime. Do you agree? Could this team really defeat Sir Bobby's Italia 90 team or Venables' Euro 96 side?
"I would say the depth of this squad is bigger than those two teams, so it's up there, if not better.
"It's got a huge potential with some young players in this team, and we really don't want to be talking in eight years time about a team that missed a huge opportunity with the players that we have now, and some of the players coming through.
"I think that's why there's this debate with the manager and should we look for someone else.
"This squad has got huge potential but that potential has to go to the next level, and the next level is to win a major tournament. But that's a huge ask, because there are some very good teams around."
Jude Bellingham's attitude has been spoken about since England's knock-out, could he be a future England captain?
"I would think so, the way he has conducted himself, the way that he's played in games, I think people look at him and think he could be somebody that could have that drive, that ambition, and the other players have got that, but sometimes you want someone.
"Players are vocal, sometimes they lead by example, he looks to me that he could do a bit of both, the way he can drive the team forward, it wouldn't surprise me in the very near future, if he continues the way he's going, that he does go on to be England captain.
Bellingham was one of the stars of the World Cup, where do you think he will ultimately end up in the summer?
"I don't know if he's going to end up anywhere, I think he could be staying where he is, unless somebody's got a huge amount of money.
"If you look at his age, then I would think his transfer fee would be excess of well over £100m, he could be going up to £125m, which is a ludicrous amount of money.
"The reason I say that is because in five – six years time, he's not even then potentially at his peak, so his sell on value is going to be more, if not the same. I can't see him moving for £60 – £80m when his resale value, if he keeps developing the way he is, could be even higher.
"That's where the club that he's at now has that big discussion. Even if they want to sell him, or if he wants to move, that's the big question that needs asking. Everyone has assumed that he's going to move, but it's not a guarantee."
What are your thoughts on Ben White's release from the England squad?
"Confusing is the best word I can use.
"I'm still not completely sure what happened, I haven't heard anything from Arteta. I think everybody wants to move on, I think until we get a defining answer to the question – why did he leave – will we ever get that, I'm not sure we will.
"It's one of those, if he's had a big fall out and then you feel that you are not integrating, not part of the squad, then mentally it can become very difficult.
"I think for me it's hard to talk about something when we still haven't had a full explanation of what's happened, I think we need to be a little bit careful of what we say when we're actually not aware of the full facts.
"Whether England will disclose that in the future, or whether Arsenal will, then I have doubts, so I think once the Premier League starts, no one will care anymore and everyone will just get on with it.
"Looking in from the outside, it looked strange, but we don't know all the details."
Will the break help or hinder Arsenal in their run for the league title?
"We've got a huge January that is for sure, we were in sensational form, we've done incredibly well.
"I don't think a lot of people expected us to be where we are, but we have to pick that up now, because the expectation of not only the clubs that we're playing, but the supporters has changed dramatically.
"I also think there's huge excitement around the January transfer window.
"In terms of what Arsenal will do, they've put themselves in a great position. Obviously the Gabriel Jesus injury has complicated things a little, will Arsenal go in and try and fill that hole?
"I think they'll only do that if they can get the right player that they really want, and with Arsenal it's always hard to guess who they're actually looking at, there's always lots of names thrown around, but it's so hard to work out what they are actually going to do, or not going to do.
"They're in a great position and we need to just continue that form as if the World Cup didn't exist. The first two or three weeks might tell us everything that we need to know, but hopefully it's the same as what's already been happening in the first half of the season."
Who is the best Premier League option Arsenal can turn to in the January transfer window to soften the blow of losing Gabriel Jesus to injury?
"The problem that Arsenal have is that Arteta likes to play a certain way.
"Let's say Joao Felix is being mentioned with Arsenal, I think when you bring somebody in, are you confident that they are going to fit straight into your team?
"I'm pretty confident Eddie Nketiah is going to be the one leading the line and Arsenal are then going to take a look and see if they can bring someone in to strengthen the position.
"We think Jesus might be out for three months, but can they make that big statement and get somebody that we're not even thinking about? Someone who could potentially keep them elevated in the position they're in.
"With Nketiah for me, he's improved dramatically from the run of games he got through to last season to this season, this will be his chance to show us how he's improved again.
"That's what he needs to keep doing, and he's coming into a team that's playing with huge confidence, which should make a big difference.
"I expect Nketiah to lead the line and then I'm looking to see whether a huge statement will come in the January transfer window, who that will be, I have no idea, because we may have a chance with Fabio Vieira already at the club. It's taking him a little time to settle and to fit into the team, and he's not playing regularly.
"Everyone thinks that Arsenal will buy a player and they'll slot into the team fine, but it doesn't always work like that, as we've seen on many occasions with world class players who have gone to clubs and it doesn't work, so they have to be a little bit careful."
Should Cristiano Ronaldo be considered as a short-term option?
"It's a no from me and there's only one simple reason; it would be a short-term gap to fill.
"A lot of people might say that's great, let's do it, I wouldn't be able to argue with that, but I think the way Arsenal start games, they press high, they're full of energy, and Ronaldo is an unbelievable player, but I don't think he has the legs to be able to do that any more.
"I'm certain he doesn't. I think Arsenal would have to change their style of play to bring him in, and I think that move would be a complete disaster."
Would Tammy Abraham still be a good option for Arsenal?
"He's a player I've talked about before when Arsenal were looking at options, obviously Jesus was heavily linked for a long time.
"I kept wondering if the move would ever happen and then it became more and more apparent that it was.
"Abraham was somebody who was talked about, and I'm sure he would fit into the Arsenal team.
"With Jesus, it's his work ethic that has really driven Arsenal forward, even when he's not scoring, and you're looking for a centre-forward that can still be as lively as that even if they're not scoring, and that's a big question that unfortunately is very difficult to answer.
"Abraham was linked before, I don't know whether it was serious or not, and I thought with what Arsenal were looking at, younger players and trying to develop them, then he would fit into the squad. Whether he's on Arsenal's radar or not is a completely different question."
How do you rate Arteta? Is he currently the best coach in the world?
"No. He's a coach that's just started on his own managerial career, even if you asked him that, he may even laugh himself, because how can you class someone as the best that's just started their managerial career?
"That's not being rude, he's been at Arsenal as a player, he's worked under Wenger, he's been with Guardiola as a coach, so he's obviously somebody that I feel is doing a great job.
"People didn't realise when he came to Arsenal the amount of players he's needed to clear out and remodel the team, he's now doing that, but people want to see what happens with the transfer window and Jesus' injury.
"Can Arsenal keep the form going throughout the season? Something that we didn't have the ability to do towards the end of last season?
"He's doing a great job, but I think he's a fair way of being the best manager in the world at this moment in time.
"There's a huge excitement around for the first time in a long time. The big thing is, can he keep that excitement going with the way that his team plays. I certainly hope he can, then maybe in a few years we can come back to the question."
Looking ahead of Arsenal v West Ham on Boxing Day, what are your thoughts on the game?
"I played for both obviously, but I spent a huge amount of time at Arsenal, 13 years, a huge portion of my career was at Arsenal, it's the place where I was the most successful with the teams I played in in terms of trophies.
"I had a great time at West Ham, but if you would ask me on that day, I will still be supporting Arsenal, because I consider it to be my team.
"I do have a great affection for West Ham because of the way I was treated when I was at the club.
"I still want Arsenal to win. If they don't, all the doubts start to come back straight after the World Cup, but I have huge admiration for West Ham, particularly what David Moyes has done over the last few seasons.
"That being said, this season so far has surprised me because they've been off the pace from where I expected them to be."
Could this game be a defining moment in Arsenal's title run coming off the international break?
"Not yet, but I think by the end of January, we'll have quite a good idea of what our expectations should be for the rest of the season.
"I still have great belief that we'll be right up there, it's just whether we can stay ahead of Manchester City or can we at least put a strong challenge in.
"January might tell us that."