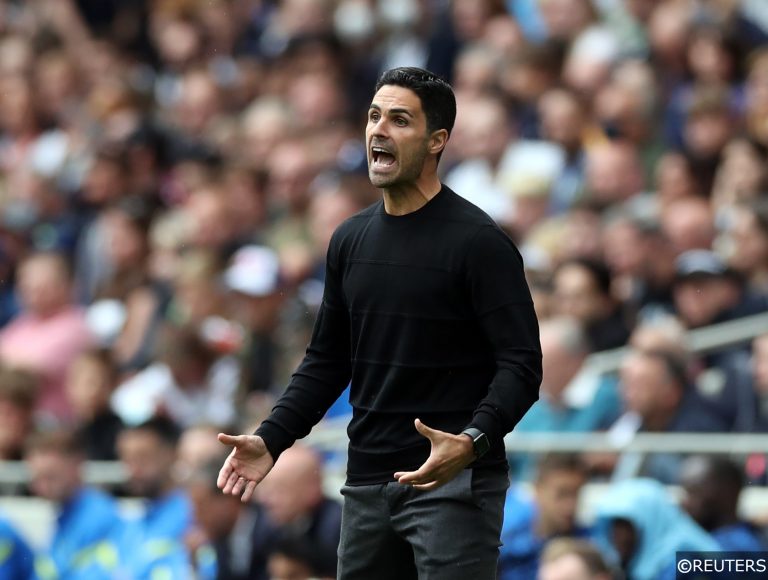 Content Editor at Free Super Tips, Alex was born in the shadow of Old Trafford and is an avid Man Utd fan. After graduating from university he combined his love of football, writing and betting to join FST and now closely follows goings-on in all of the top European leagues.
FST caught up with Nigel Winterburn this week ahead of Arsenal's clash with Aston Villa on Friday night, touching on hot topics such as Mikel Arteta and Alexandre Lacazette's future and Ben White's stuttering start to life at the Emirates.
Alex Lacazette has made an impact during his last 2 substitute appearances- should he start against Villa? In place of who?
I think he's going to give Mikel Arteta something to think about.
I've always been very keen on Lacazette because of what he brings to the team compared to the other players in his position.
I think he links up play really well and he made a big impact by scoring against Crystal Palace.
It brings another option to bring Lacazette up front and switch Aubameyang in a slightly wider position as they have done before.
As the front three usually do, they can all rotate, and we'll have to see if Saka is fit as well.
If Saka can't play, then it would be an obvious choice that Lacazette plays through the middle with Aubameyang wide.
Can you understand why Arsenal haven't moved to open contract talks with Lacazette? Will the club regret letting him leave?
It's looking that way.
Arsenal's policy, this season particularly, is to bring in younger players, but then you have to respect the decision on Lacazette's behalf.
He may feel he isn't getting enough game time and needs to move on or is he somebody who feels he might want to stay?
I don't know those details, but anyone who has anything about them wants to play football and to me he's a guy who thrives on playing games.
I'll be disappointed to see him go if he does leave because I still think he has an important part to play for Arsenal.
I'm not in and around the training ground, so I don't hear what the situation is fully.
Who would you like to see join the club to replace Alexandre Lacazette?
The way the club has looked this season, it's not about who it is, it's more about price and age range.
Do you go for another younger striker who's up and coming despite having Nketiah and Balogun?
We don't know how they'll progress and if they'll be ready in 12 months' time.
Do we need somebody to come in and played more Premier League like a Calvert-Lewin.
Calvert-Lewin is certainly somebody I like because he's mobile and is proving that he can score goals, so that's the type of player Arsenal will be looking at.
But you're looking at £60-£70 million, so it's a big ask and you're also saying that striker would be number one choice for that price.
Aubameyang would be pushed out to the left-hand side and then you've got Saka and Smith-Rowe as well.
It would be exciting because competition for places would be a lot tougher and we'd find out a lot about some of our players.
It's someone along those lines, we were linked with Tammy Abraham in the summer.
People said he didn't score enough goals, but he was a young player who didn't have a lot of game and since moving on, he's become successful in a short period of time.
But that sort of age range is where Arsenal will be looking at if Lacazette does leave.
Should Arsenal spend money in January?
Most clubs always say that it's difficult in January and I don't see Arsenal doing a lot of business.
If the opportunity is there, they may bring in one or two, but realistically Arsenal will go again in the summer ready for the following season.
We have brought a lot of players in and I think we need to see where we are at Christmas and the end of the season.
I've said it many times before and my thoughts are the same, this season will be a bit of a roller-coaster.
We'll get a first half like we had against Tottenham, then performances like we had against Brighton and Crystal Palace.
Unfortunately, it's going to be the case this season for supporters, you'll see periods of frustration and periods of brilliance.
Last week Thierry Henry expressed doubts about Arteta's Arsenal so far this season. Do you share the same concerns, or are you seeing signs of progress?
I think you have to share them because there's too much inconsistency in the level of performances.
Although you're never going to replicate the Tottenham performance every single game, I'd like to think that we can be a lot closer to that performance compared to the last two.
The thing I will give Mikel Arteta and the team credit for is the fact that they stuck in there and they fought for the points.
When you look at negatives, you've got to also got to look at the positives and they kept trying to find a way back into the game against Palace.
It looked like it wasn't going to happen after Tierney hit the crossbar, but with Lacazette coming on it made a difference.
I like that part of the team showing some fight, but the level of performances is still too wide apart.
Do you think time is running out for Mikel Arteta or should the board give him more time?
We're in a results business and Mikel Arteta knows that there's no getting away from it.
Although he's putting a different team together and it needs time to develop.
People will always be comparing managers and it's already happened with Patrick Viera.
The results will give Mikel Arteta time, or the results will absolutely destroy him which is when people will be talking about a change.
I'm all for supporting the managers, I think Arsenal was a big job and we'd fallen a lot lower than people thought we would.
This is a big season for Mikel Arteta and Arsenal, there's no European football, so there's plenty of time out on the training pitch.
This season Arsenal have a good chance to get a good team structure in place and a style of play.
I think some people say they're struggling to see what the style of play is and I understand why they are saying that.
But personally, I believe he will be given until the end of the season, I don't understand why you would invest that amount of money with a money just to sack him.
It's a bit of a waiting game and then we can make our judgements at the end of the season, but those judgements will come after every game anyway.
Ben White- Do you have a message for fans that are less than impressed by his start at Arsenal?
We're always very quick to criticise and I've always said that players, regardless of price tags, need to come in and hit the ground running.
Sometimes it doesn't work like that, and they need time to settle in, but he's come with a big price tag and a reputation to help that back four develop into a solid backline.
Like every player, you are judged on every single game, and I've said it all along that you need to be a 7/10 every week as a defender.
You want to keep those performances consistent, eliminate any errors and keep your job simple.
It's not difficult, defenders are there to keep clean sheets and stop the opposition.
Anything from the attacking point of view such as passing out from the back is just an advantage and an added bonus.
Most players in the Premier League now are very comfortable on the ball, but the individual belief, positioning and ability to defend is what's important.
Ben White is still developing and getting to understand how Arteta wants to play, but because he's the guy who cost a lot of money, he'll get stick when Arsenal concede goals.
What did you make of Ben White stating he has never watched football as a fan? Would that influence his development? Do you agree with Vieira when he says watching games "shows the passion you have for the sport"?
It's a difficult one because I don't think you need to watch all football and I only like watching the Premier League myself.
When I was playing, I was watching a lot of football because I was studying opposition players that I was coming up against.
I'd like to think he's watching enough football to know who he's coming up against because you're putting yourself at a disadvantage if not.
It just gives you an idea of what positions players might take up on the pitch, so I can't believe he's not watching anything of the opposition.
The more you watch people, the more of an idea you get about what they're going to do in a game, which is why I did it as a player.
I wouldn't criticise him in one way because we've had players in the past who have said they don't like playing football and they just like the money involved.
I'd be disappointed if he wasn't watching games to get an understanding of opponents he's coming up against.
I can understand where he's coming from if he wants to switch off after training or a game because there's times, I would do that myself.
I wonder if it was a bit tongue in cheek or if it meant in the literal term, I don't watch any football.
I would be quite interested to have a one to one and talk to him because I don't see the advantages of not watching football.
Even if it was just the Premier League because that's all that Arsenal need to worry about at the moment.
Of course, you played in one of the best defensive units in Arsenal, and Premier League history. What do you make of the new-look Arsenal defensive unit, and do you think that they have the potential to get Arsenal back to where they want to be?
With Arsenal that backline will always be under scrutiny because people perceive it hasn't been looked at enough over the past few seasons.
People will make comments even if we don't concede and claim it looks shaky at times, but you have to give them credit for keeping clean sheets.
It's nice that those players are in place, and they'll play a lot of games together, you want to see that improvement going forward.
You want that little bit of protection from the players in front but as long as you're organised as a back four you can help stem the tide.
They still need to improve a lot as a back four, it's been nice to see those clean sheets recently and there's a lot of comradery back there.
With Ramsdale in goal, he's pretty pump so when one of his defenders puts in a block you can see he's all over them, encouraging and that's the attitude we like to see.
How much did Arsenal miss Granit Xhaka against both Brighton and Palace? Is he irreplaceable or do arsenal need to look for another midfielder in January?
I don't think they will bring in a replacement because they had the time to do that in the summer which they didn't do.
They brought in Lokongo who has huge potential, but he's still learning the game with the Premier League being so quick.
With Xhaka I always smile when I'm asked about him because he's a player that divides opinion.
He must have huge influence in and around the club, hence why we always seem to be talking about him.
It's a shame that Partey and Xhaka haven't had the game time together to see whether that partnership works.
He's certainly a player who divides opinion and I've never seen another player who divides opinion the way Xhaka does.
Do you think playing youngsters like Saka, Smith Rowe every week will come back to bite them? Should he rotate and look after them or are you happy for him to play them every week?
They're going to get a rest and sit out the odd game because that's modern football.
When Arsene Wenger used to tell me I needed a rest, he wouldn't look me in the eye because I would be glaring straight back at him.
I'd much rather be playing than training so that was my personal feelings on it as a player.
But the issue we have is that there's been an intense international period, so the players aren't getting that break or recovery time.
I don't think it will affect the younger players because they're managed so well within their clubs that they get plenty of rest time.
If I'm being honest, I'm not aware of any young player that doesn't like playing football.
There have been plenty of instances of takeovers being mooted – Aliko Dangote, Daniel Ek – do you think now is the time for the Kroenkes to go? Given what has happened at Newcastle, is big investment the only way Arsenal will compete for the top four again?
Well potentially there's financial fair play and there's been a ban put on about sponsoring your own team basically as I understand.
In all honesty, I don't see our owners selling up unless they get some ridiculous offer, and it makes sense to sell.
I don't see them moving on and they aren't going to sell at market value, it would be in excess of that value.
We know that there's names interested, and companies interested but are they willing to pay more than the market value which would be considerably more.
I don't think the Kroenkes will be selling anytime soon.
What would you like to see Arsenal do differently against Aston Villa?
I'd like to see us play better.
I think we look lightweight at times, and I keep going back to Tottenham, but we were very aggressive in that first half.
The passing was sharp, it was smooth, and the movement was outstanding, everything that Arsenal did in the first half of that game was the type of performances we want to see from our team.
Unfortunately, we're not seeing enough of that at the moment, and I sometimes feel we keep the ball for the sake of keeping the ball at the back at times.
I'm just waiting for us to lose the ball, so I like to think we can be more explosive in our attacking play.
The pace and the aggression we saw against Tottenham is what we need to see and unfortunately, we haven't seen that in some of the other games.
Any predictions for the game against Villa?
After the other night I'm a little nervy, but I always predict my team to win, a bit like Mark Lawrenson with his predictions.
It'll be a close game and really competitive, I think there'll be goals and I think Arsenal might edge it 2-1.
They're on a bit of an undefeated run, but with the two games we've had you would say you need a minimum of four points from those games and then you're sitting in a much better position.
Another draw or lose will send out the wrong signals so getting that victory is important.
You had a short spell at West Ham too, just how well do you see your former club doing this season?
In terms of the Premier League, they've done really well, they had a slight slip up against Brentford with that last minute loss. They've come back really well and they're well organised.
With Antonio in the team, he's powerful up front and David Moyes has got them believing in what they're doing.
In a way it may have helped having a lockdown in the London Stadium because a lot of supporters were unhappy with having to go there.
But what's happened in lockdown is that West Ham produced that fabulous season last season and all of the sudden there's a renewed energy with the supporters.
The West Ham fans are very passionate about their team and if you ask most of them they just want 100% effort and they will be right behind the team.
I think it's just rolled on from last season and they're doing great and the early signs are they will have another successful season and be in and around the top seven.
They had an opportunity to sneak into the top four and just fell away slightly, but if they get anywhere near the top four again then the owners will be delighted at that.
Watch this space because I think they will keep picking up a lot of results.
What have you made of Kurt Zouma's influence on West Ham's start to the season? Do you think Chelsea will regret letting him go? Does it say something about West Ham's status under Moyes that Zouma was so determined to make the move?
He may have felt that his opportunity at getting game time would be better at West Ham.
You can stick around at a club for a while but to me it's clear, if the game time is limited then you move on.
You go and try to build your career again with a new team, so I give great credit to Zouma who could have sat with Chelsea.
He could have a couple of more trophies, but how big of a part would he be in that and it's a lot better to play 30 games for West Ham then it is to play 10 for Chelsea.
It looks to me he just wanted more game time and it's great credit to David Moyes who has brought in a great addition to the squad.
I think he'll play a big part for West Ham.
Jack Wilshere has been training with the club recently, where do you think his future lies and why do you think he hasn't been able to find a club yet?
I'm surprised he hasn't managed to get a club; I don't know his situation and whether he takes a nominal wage and gets paid every time he plays.
Maybe it's because of what people perceive to be Jack's lack of game time and injury record and clubs don't want to bring someone in that potentially will be injured again.
He'll say he's fit for a long time now, but he'll know himself training and playing games is totally different.
I'd like to think that he can pick up a club, but the longer it goes the harder it comes.
Football is ruthless, you can be forgotten about very quickly, but he's doing the right thing training at Arsenal and working towards his coaching badges.
Hopefully he's getting to train a lot of the time and having that interaction with players because it can be depressing training on your own.
He just needs a club that will take a chance on him and I'm sure he still has a lot to offer.
Return to Arsenal?
I don't see it.
We're all sentimental and we all want these things to happen, but I think time has moved on.
Personally, I don't see it happening, but I'm not at the training ground and if Arsenal picked up some injuries in that position, then I would never say never.
From what I see coming out of the ground is that Jack wants to train and keep his fitness up and working with the U23s for his coaching badges from my understanding and that's as far as I see it going.
I could be wrong because we're all very romantic with ex-players returning and Jack is someone with ability.
I've always said just imagine what could have happened had he been fit and had the training time down the years.
He shows a lot of mental strength because training on your own when coming back from injuries is difficult and I wish him all the best in finding a new club.