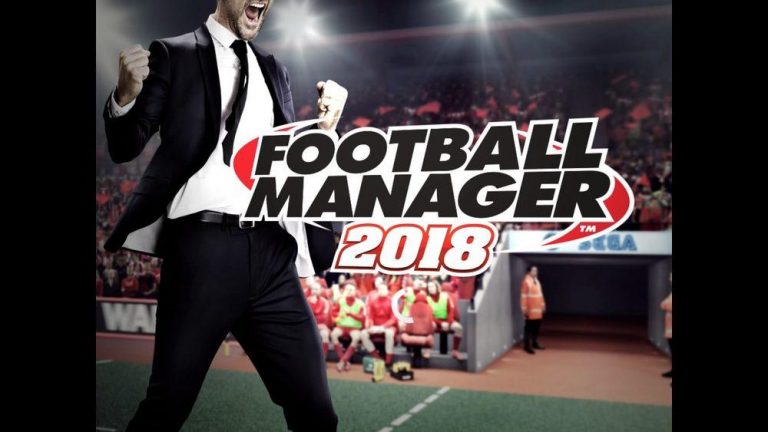 Content Editor at Free Super Tips, Alex was born in the shadow of Old Trafford and is an avid Man Utd fan. After graduating from university he combined his love of football, writing and betting to join FST and now closely follows goings-on in all of the top European leagues.
This is Part 7 of our Road to Moscow Football Manager series. You can read the previous instalments below:
The big quadrennial event is finally upon us. Russia kick off their World Cup in Moscow against group favourites Uruguay, and even with Vladimir Putin on the VAR decks they can't manage to overcome the odds. 2-0 to the South Americans, but our eyes are focused a few days down the line. We face Belgium in the opener, and it's a match that could very well determine the winner of Group G.
Read More: What we Learned from England's Actual Warm Up Friendlies
World Cup Group Stages
Now it's just time to settle down and watch some football. Maybe we'll do some training sessions in between, but surely the best way to prepare for a World Cup opener is by watching the rest of the World Cup, right?
Apparently not. The FA Chief insists that we do daily training sessions before our opener against Belgium.
England vs Belgium
Annoyingly we open with the hardest match of the group. Belgium are full of talent, and they've even brought young Leon Bailey along to rub salt in our wounds. The kid had the chance to play for England right at the start of my reign, but opted for Roberto Martinez' side instead. Hopefully we'll teach the young gun a lesson here.
I delve into their squad in preparation, committing myself to hard work for the first time in my tenure. Unsurprisingly with Eden Hazard in the side, many of their attacks come down the left hand side. More surprising is the fact that all but two of their 34 goals have come from inside the area, so we want to hold them at range and keep everything tight in our own box.
Thomas Meunier seems especially susceptible to a mistake or two, which bodes well for the in-form Rashford up against him. On the other flank we can see Jordan Lukaku is completely inept at putting crosses in for his older brother, so we can concentrate all our defensive efforts on Hazard there.
The pre-match press conference rolls around and after a few boring questions from boring reporters the devious mind of Daniel Ibanez is back. This time, oddly, he's asking about hotels. I tell him to shut his mouth.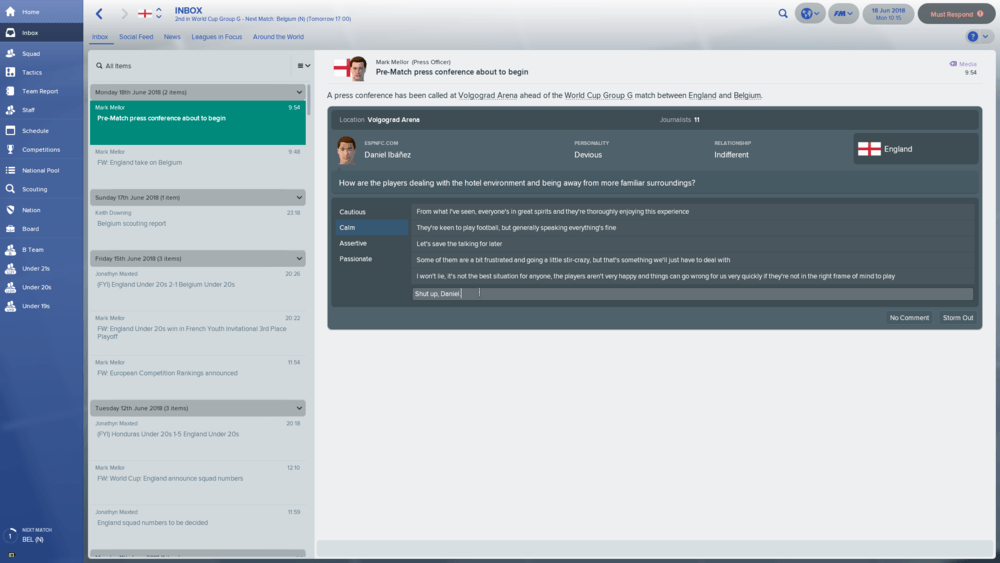 Last point of call is the weather report. We're playing at Volgograd (strangely enough) and it's reported to be a warm evening with a chance of brief insect infestations. So far the World Cup has been without any major shocks, but shortly before kickoff news filters through of Panama's shock win over Tunisia in the Group G opener.
There's little in the way of surprises from the final Belgium squad. I've opted to play both Dier and Henderson to try and be a little more defensively cautious, and Alli can drop back in there if we're still struggling.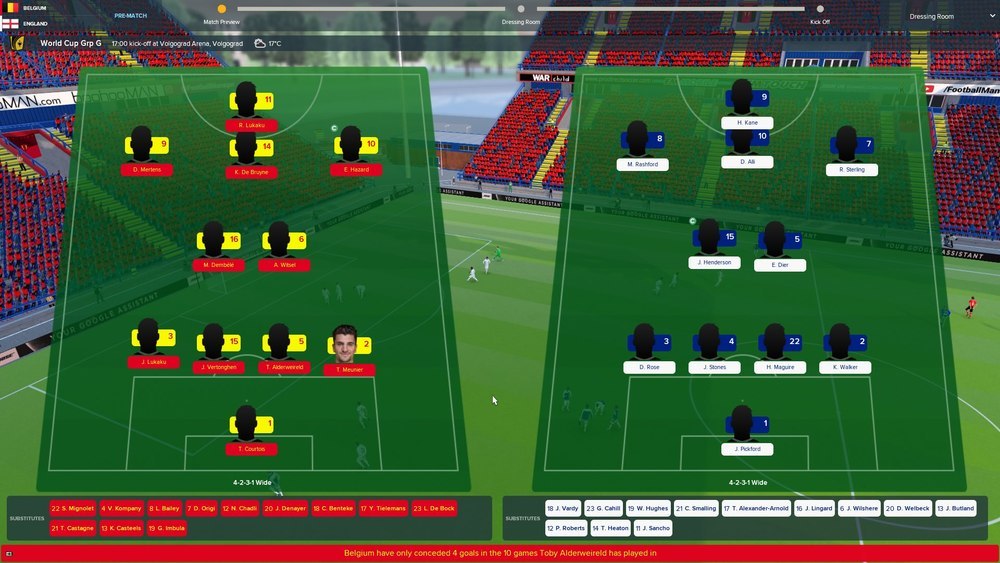 I've instructed the lads to get stuck in and close the Belgians down early. Basically, I'm trying to kick them off the park. Whether it works or not remains to be seen, but this is the biggest test of my short managerial career so far.
"Do this for the fans." I passionately proclaim to my subjects just before they head down the tunnel. Half of them ignore me.
Within the first minute both of us have had a clear attempt on goal, with Dries Mertens firing into a brave Harry Maguire before we launch a counter attack and Dele Alli blasts wide from 18 yards. It has the makings of a classic so far!
By the five minute mark Pickford has already had to make a fantastic save and Alderweireld has had a goal disallowed. End to end stuff, although most of the action seems squarely focused on the wrong end from my perspective.
Ten minutes later and I start considering pulling Alli back into a midfield three, but it's as if the vaguely arrogant youngster has read my mind. He makes a late dash into the box to pick up on a flick on from Kane. BANG. 1-0 England and Volgograd erupts!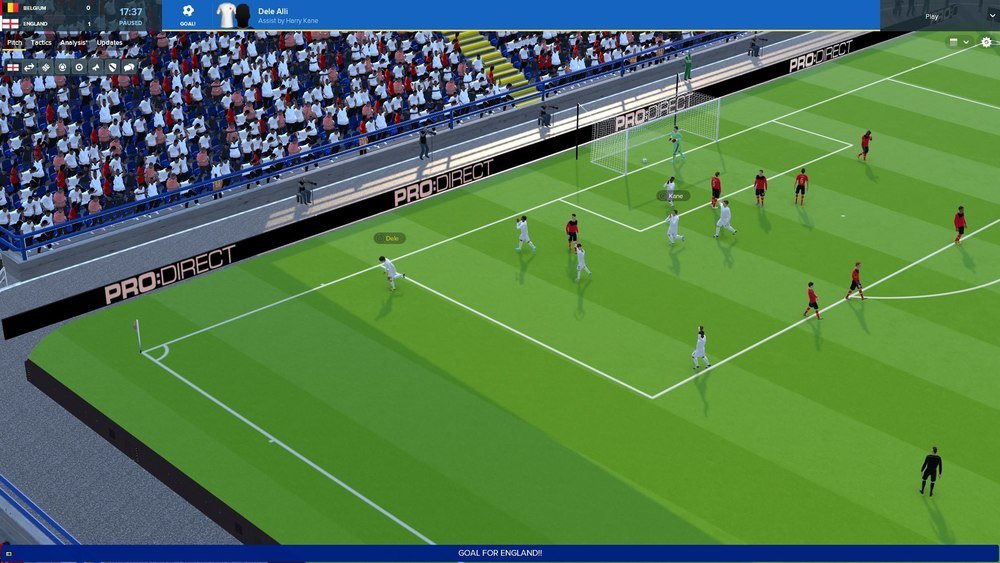 A breathless first half ends with us 1-0 up, but I've honestly got no idea how. Mertens, Lukaku, and Hazard all missed absolute sitters, and I'm just praying that Belgium are doing their usual bottle job of the World Cup.
I can't count on that though. I bring the feckless Sterling off for Jack Wilshere and adopt a slightly narrower formation, dropping Dier back so he's just in front of the defensive line. The three in midfield should stifle the Belgians, and Henderson's Mezzala role allows him to drift out to the right when necessary.
It's only Jordan Lukaku out there anyway. He's not likely to do anything special (famous last words if ever I heard them)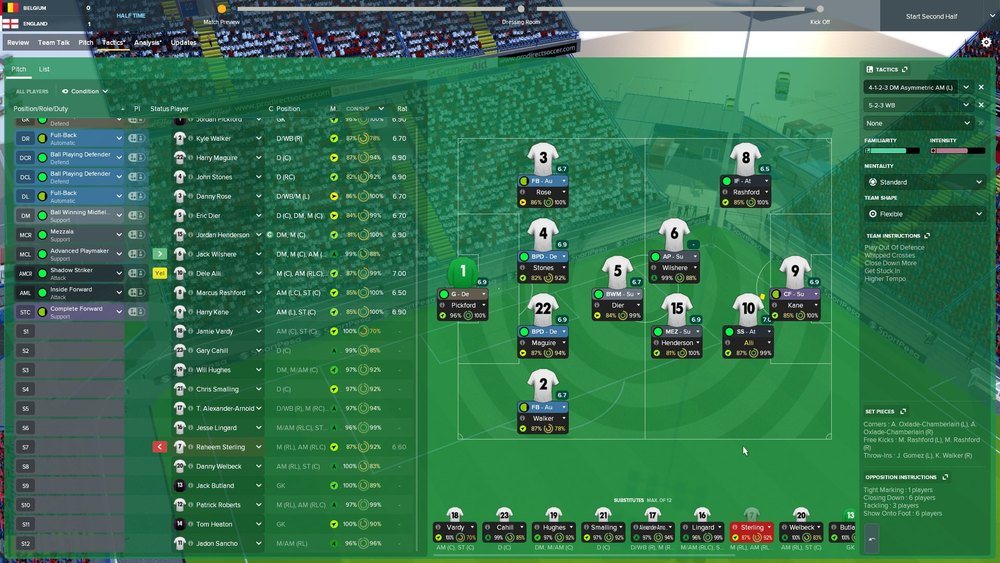 Romelu must have heard me slagging off his brother in the dugout. Three minutes into the half and he's powered a header past Pickford to level the scores. That's a shocking time to relinquish momentum, and I can see this being a mountainous task now.
Fortunately things don't go that way. We manage to sit on the 1-1 scoreline pretty comfortably, with the only notable event being when Jesse Lingard (on for Henderson, who's injured again) decided to have a pop at goal from about 35 yards and sent the ball somewhere into the troposphere.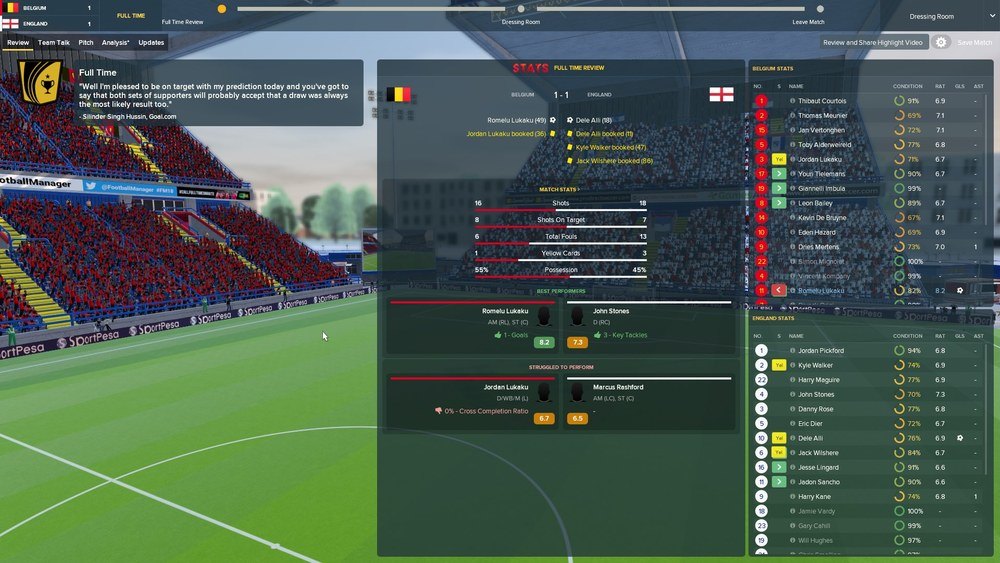 The stats don't tell the whole story. Belgium could've easily won that had they taken any of their glaring opportunities. We only had that single clear cut chance which Alli buried. To be honest I think the statisticians were counting Sterling's countless misplaced passes as shots.
It seems Roberto Martinez has my morals mistaken, coming out in the post match press conference to state that he would never believe that Gary Northdoor would send his players out to intentionally inflict injuries on his players. I wanted to kick them off that Russian turf and I succeeded, so I politely correct the Everton reject.
England vs Tunisia
Next up is Tunisia. They lost to Panama in their opening game, but I'm not taking anything for granted in this job. I need a win here to keep our qualification hopes in good stead, and after all the reporters in my post-match press conference slated me for not beating Belgium I honestly think I'll be stoned to death if I don't win this one.
Tunisia's scouting report comes back with some promising results. They're very weak down the right side of their defence so I'll be demanding that Rashford punishes them, whilst most of their own goals come from central areas of the pitch, an area where I feel we're pretty strong.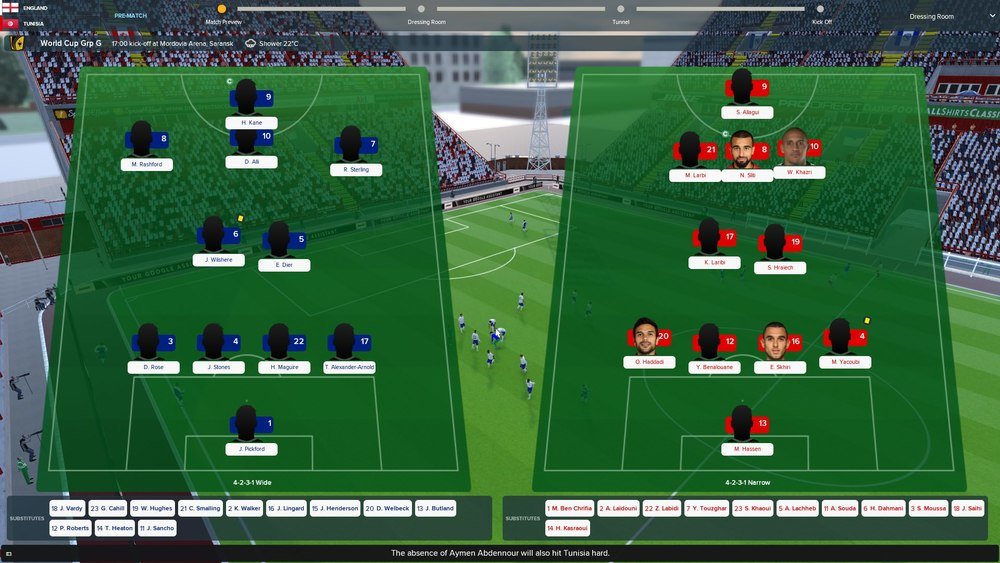 Just a couple of changes. The fragile Henderson is replaced with Wilshere, a more positive option anyway, and Alexander-Arnold comes in for a tired Walker at right back. Other than that I've instructed my stooges to focus their attacks down the left and told Rashford to loiter around the top of the pitch like he's a teenager waiting for the Trafford Centre to open.
The match starts dreadfully boringly, and just as we're starting to open Tunisia up on a semi-regular basis I get the news that everybody expected. Jack Wilshere? Injured? Well, somebody call the bloody press. Looks like it's you after all, Henderson.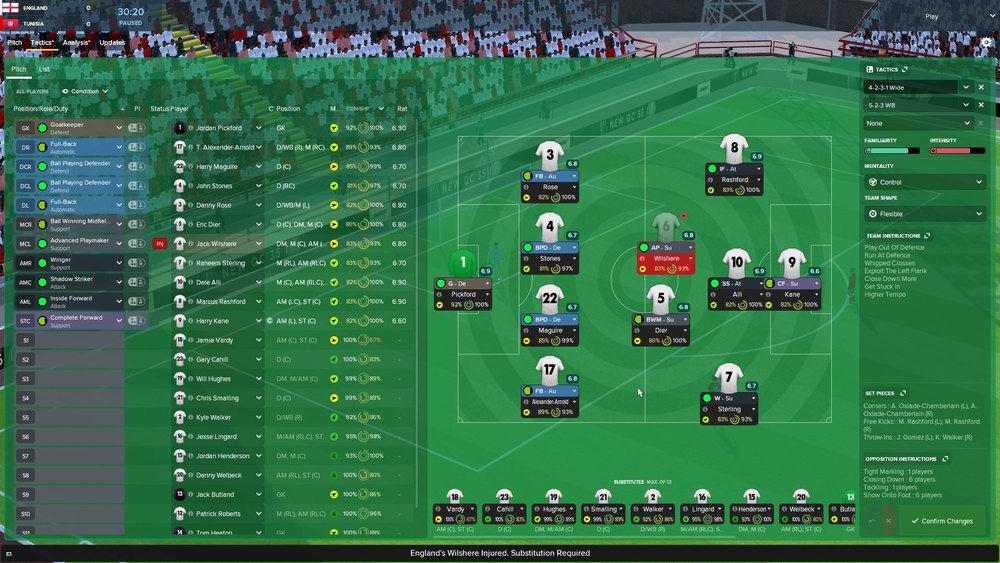 Next up on the growing list of cock ups and misdemeanors is Harry Kane, who sharply robs their centre back of possession with the grace of a world class centre back. Then he blasts it straight at the goalkeeper from eight yards with the grace of Emile Heskey in the A-League.
The resulting corner has me screaming from the touchline. I've specifically instructed them to deliver the ball to the near post. I spent ages constructing this corner routine, but does Jordan Henderson care? Does he hell. For the third time this match he whips the ball out to Rashford, who's standing about 30 yards out and attempts a first time volley that goes so far over that it interrupts the daily Russian Air Force military drill.
Half-time comes around and I tell them I'm displeased with their efforts. Bollocking them does seem to improve their motivation though, so let's hope we see more in the second half.
It certainly doesn't seem that way two minutes in though. John Stones, ball playing centre back supremo, glides forward with the ball and plays one of the most pathetic passes I've ever seen. It slowly rolls to the Tunisian defender standing three yards in front of him, who launches the ball forward to a striker who nearly slots it past Pickford. That was a let off.
I scream at the lads from the touchline, and that seems to get the message across. It's the faithful combination of Sterling and Rashford again, with the former whipping a ball to the back post for Rashford to smash home. 1-0 to the Lions!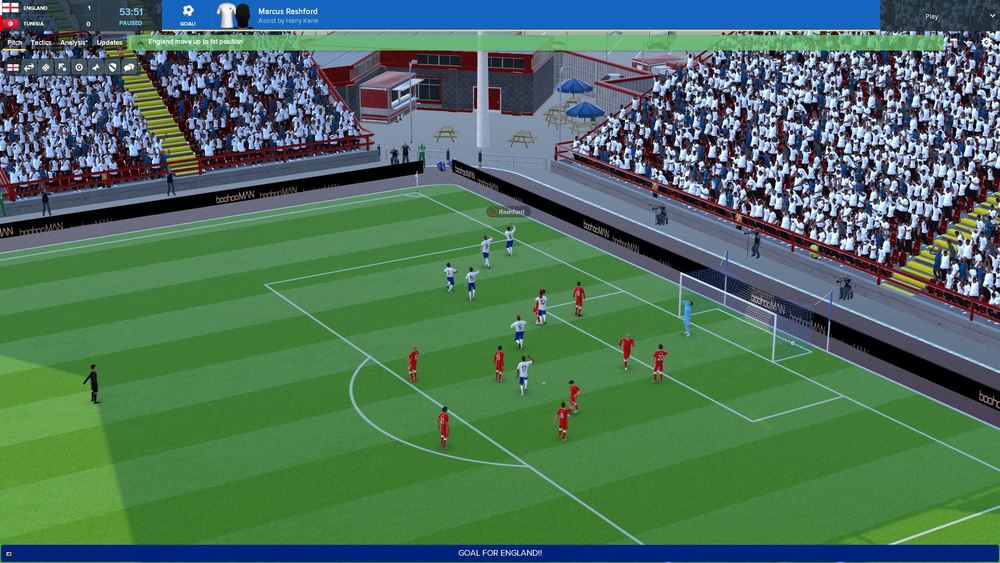 Tunisia have barely posed a threat going forward, but I'm still not confident in our defensive ability. A few tactical changes to try and retain control of the match pay dividends too, with Sterling involved again as he sets up Harry Kane for 2-0. Surely the match is settled?
…It is now. We've kept possession in a professional manner, and in the 91st minute our patience is rewarded as Sterling pounces on some torrid Tunisian defending to smash home from six yards. Football is coming home!
But we can never end it on a high note can we? A lapse in concentration sees Stones give away a needless corner, which is subsequently converted by Oussama Haddadi to forfeit our clean sheet and end the game on a slightly sour note.
Jack Wilshere is out for the rest of the tournament too, but I didn't really need to tell you that, did I?
Read More: Was Southgate Right to Snub Wilshere?
England vs Panama
Match day three is upon us, and all I have to do is avoid defeat to Panama to secure the safe but expected passage through to the knockout stages. I'm leading the group on goals scored as well, so if we can keep this momentum going we should qualify as group winners.
Let's not go counting any chickens just yet though. We are England, remember?
It's more of the same in the tactics department. We're pressing high and often, playing a fast tempo, and running at the their sloth-like defence as often as possible.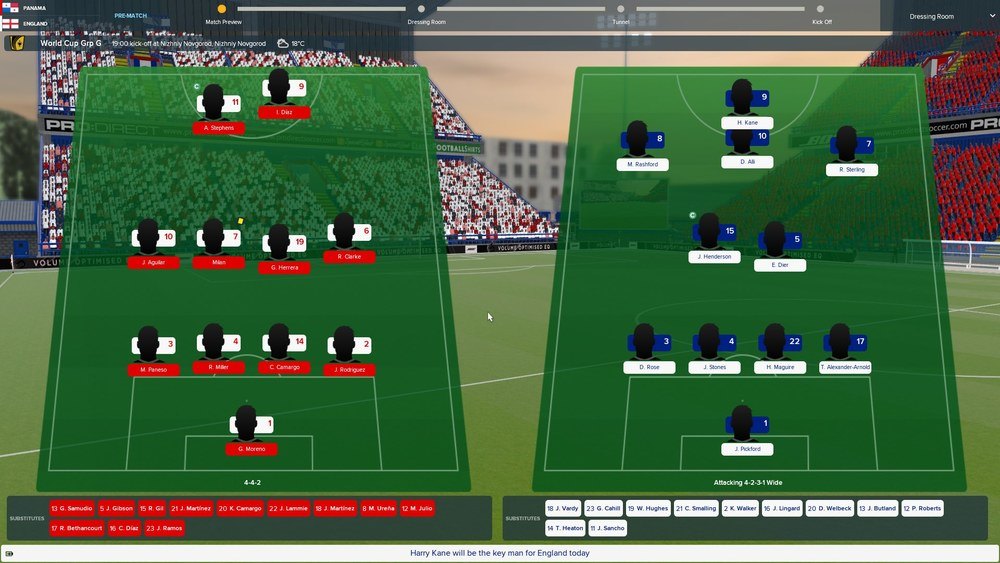 Things start well. We're zipping the ball about sharply and the Panama defence don't have a clue how to stop it. Danny Rose and Eric Dier both spurn very early chances, but I'm not even close to being worried yet.
It turns out I was right to be unmoved by Rose and Dier's incompetence up front. The Panama right back makes a right hash of things under no pressure, allowing Rashford to nick the ball off him and run through on goal. He shows the Spurs duo how it's done by blasting it into the far corner.
If we can just get another goal before half-time we can relax and give the lads a bit of a breather, that's the plan anyway. It seems Dier hasn't got the memo though as he spurns another golden chance after a spell of Panama pinball in their own half.
The Central American minnows just can't cope with us. Every time they lose the ball they're on the back foot, and it's Rashford again in the 22nd minute to punish them. Panama lose the ball on the edge of our area and Rashford is on it like a famished dog. He starts the counter attack, and quicker than Usain Bolt can say gold medal he's up the other end of the pitch to finish the move off. Wonderful stuff.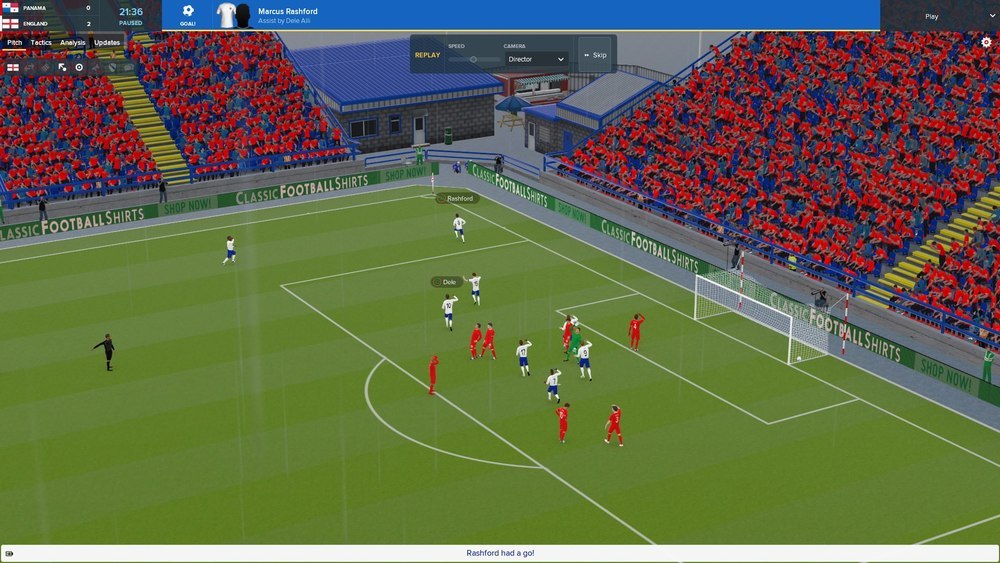 This is turning into a bloodbath. Sterling completely messes up a one on one (as per usual) and hits the post, but the evidently dozing goalkeeper doesn't even bother reacting to the rebound, and even Sterling can't miss an empty net.
He's not done yet though. He bags another quickly after and then instantly sets Rashford up for his hat-trick. It's half-time, we're 5-0 up, and Panama haven't mustered a single shot on our goal. This is an absolute demolition job.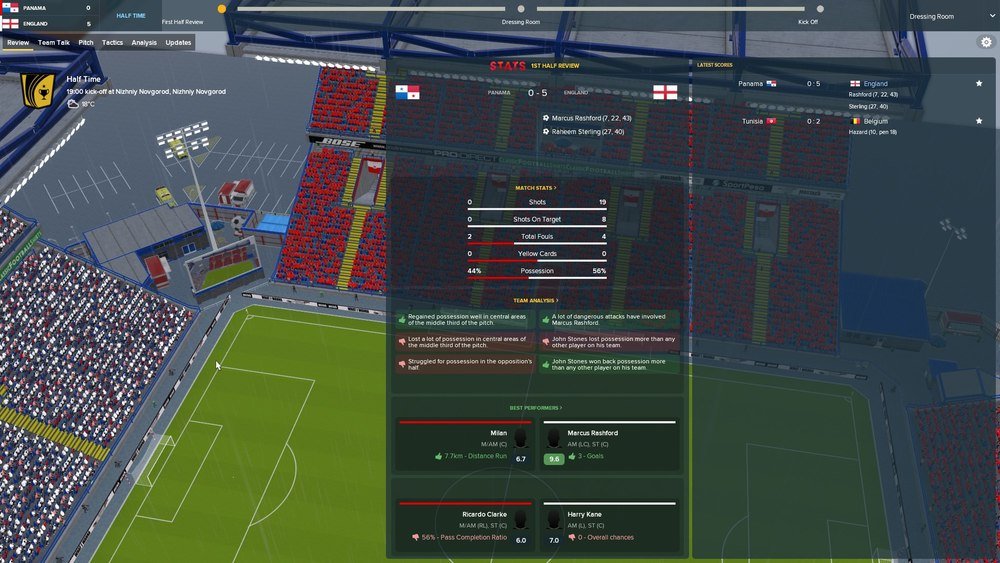 I tell the boys to slow the tempo down and give themselves a rest for the second half, and it instantly bites me on the arse. Turns out they thought that meant they can just do nothing, and ten minutes into the second half Panama head in a consolation goal. Or at least that's what I hope it is.
The remaining 35 minutes pass without anything happening at all. I'm almost asleep in the dugout by the time the final whistle is blown. It was a poor second half showing, but I'll forgive the players for that after such a scintillating opening 45. At least it offered them some sort of rest ahead of the knockout stages.
Worryingly, Harry Kane was abysmal. He wasted about 10 decent chances and I was my second lowest rated player. He needs to step it up for the knockouts.
Read Part 8 of our Football Manager journey here…
Follow Free Super Tips on Twitter to stay up to date with our daily tips and predictions or browse more football content on our website: