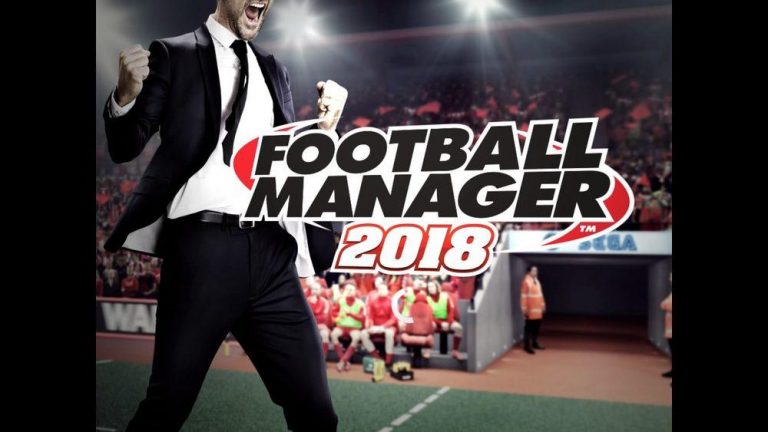 Content Editor at Free Super Tips, Alex was born in the shadow of Old Trafford and is an avid Man Utd fan. After graduating from university he combined his love of football, writing and betting to join FST and now closely follows goings-on in all of the top European leagues.
This is Part 9 of our Road to Moscow Football Manager series. You can read the previous instalments below:
World Cup Quarter Finals
It just had to be, didn't it?
A promising England side booking their place in the World Cup quarter finals. Should Lady Luck shine down her beacons of hope on the young lions, or should Lady Luck draw them against Germany?
'Give the bastards Germany. That'll teach them not to dare to dream.'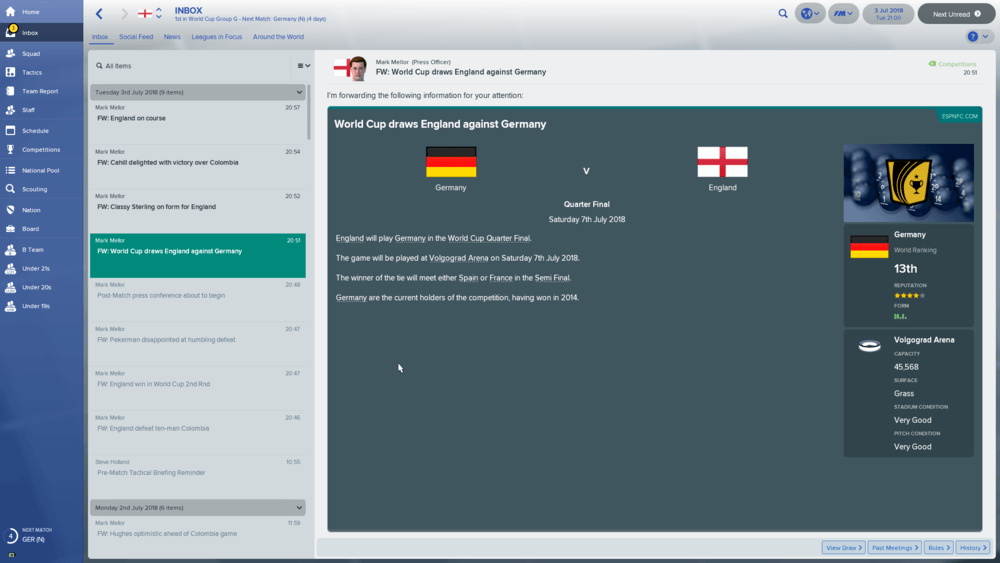 England vs Germany
The age old enemies meet again. We've faced each other countless times over the years, but more recent times have favoured Joachim Low's brutally efficient Germans. They won the trophy back in 2014, and they're not going to give it up easily.
They've conceded one goal in their four games so far, although they did need a penalty shootout against Serbia in the last 16.
I found all this out myself of course, because my scouts seem to have clocked off again. I received the email from Keith at 11:19pm (undoubtedly from the pub), telling me that he's been unable to compile a full report on Germany as very little statistical data exists for the team.
He's sabotaging us, I'm sure of it. The Queen will be hearing of this when we get back home!
No time to dwell on that now though, it looks like I'll have to do my own research. One problem with that, however. Sports Interactive have always struggled with licensing in Germany, and that leaves me needing to decipher this ridiculous setup:
Read about Germany's actual squad here.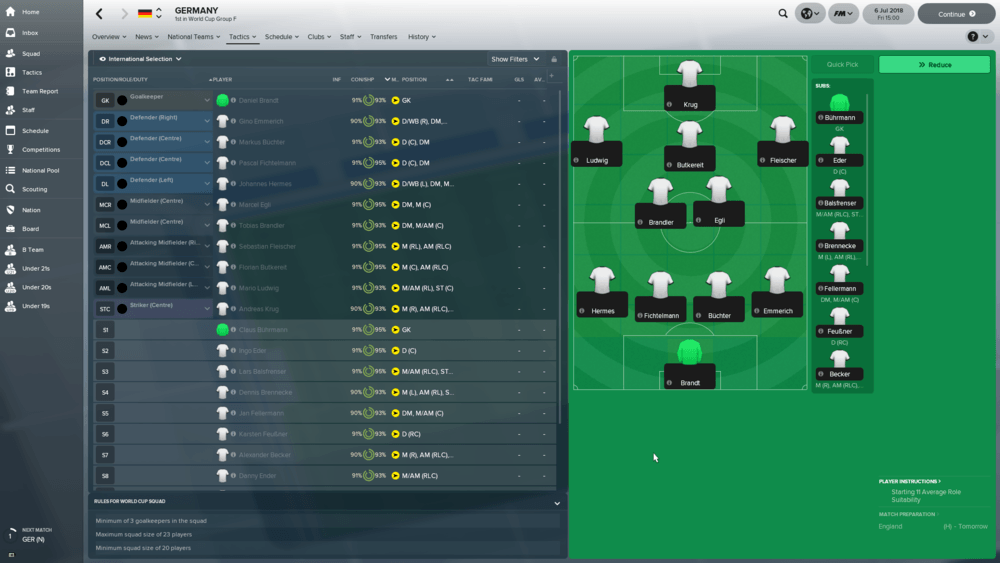 I honestly have no idea who most of them are meant to be. No wonder the damned Germans win so many tournaments with this level of secrecy! It's like the football equivalent of North Korea, and I bet they take some hints from South Korea and start swapping shirts too.
Not ideal, but neither is the fact that the majority of my team are absolutely shattered. I'll have to rely on the strong English contingent at the Volgograd Arena to push the boys on.
This is it, a quarter final clash with Germany. My tenure at the helm of the Three Lions depends on this match. Win it and I get one over our arch rivals and take us into our first semi-final for decades. Lose, and I'm just another England manager to fell at the quarter final hurdles. It's make or break time!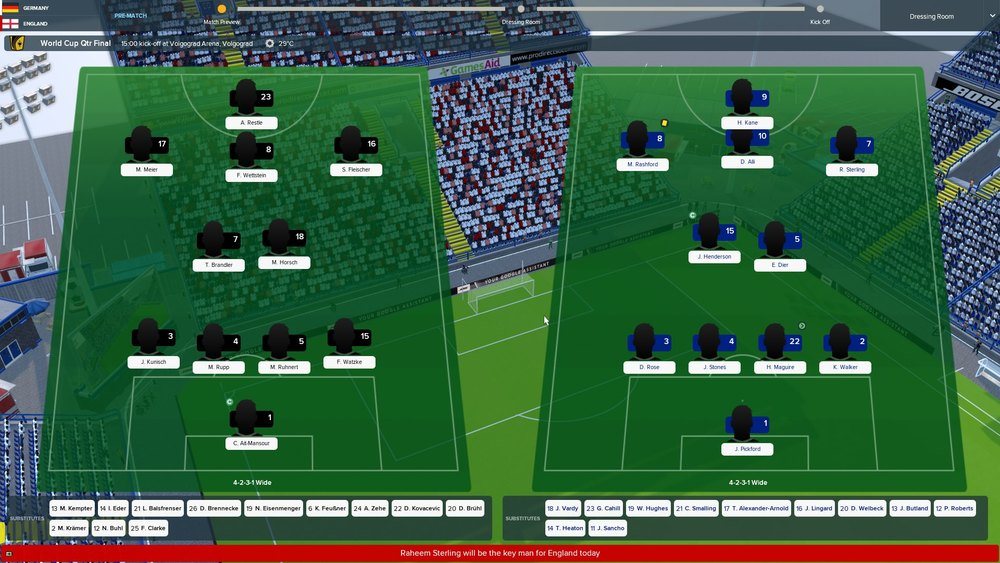 I tell them to pick up where they left off against Colombia, and to my astonishment most of them are listening to me for once! I have a lot of motivated faces staring back at me.
Time to try and make some sense out of my opposition. I note Fabian Watzke's (whoever the hell he is) low level of bravery and tell the to get stuck into him. Marcel Horsch (whoever the hell he is) is the same in the centre of the park and Andreas Restle (whoever the hell he is) will be tightly marked up front.
I shake Joachim Low's hand and settle into my technical area. It's game time!
A cagey start as you would expect, but I get my first glimmer of hope as Rashford embarks on a dazzling run through the entire German defence. His finish lets him down against the great Ait-Mansour in the German goal, but it's a promising sign.
Nothing much happens for the rest of the half, with the only notable even being a brief flare up of tempers late on. Kyle Walker and Eric Dier both go into the book, as does Kunitsch. Whoever the hell he is.
We seem comfortable with the German threat so far, so I passionately tell the players to do this for the fans, and they all listen keenly to my stirring words.
15 minutes into the second half and I start getting worried. Stones and Rose have both added their names to the referee's book, and now four of my five defensively minded players are on yellows. Meanwhile, further up the pitch, all of my attackers are completely shattered.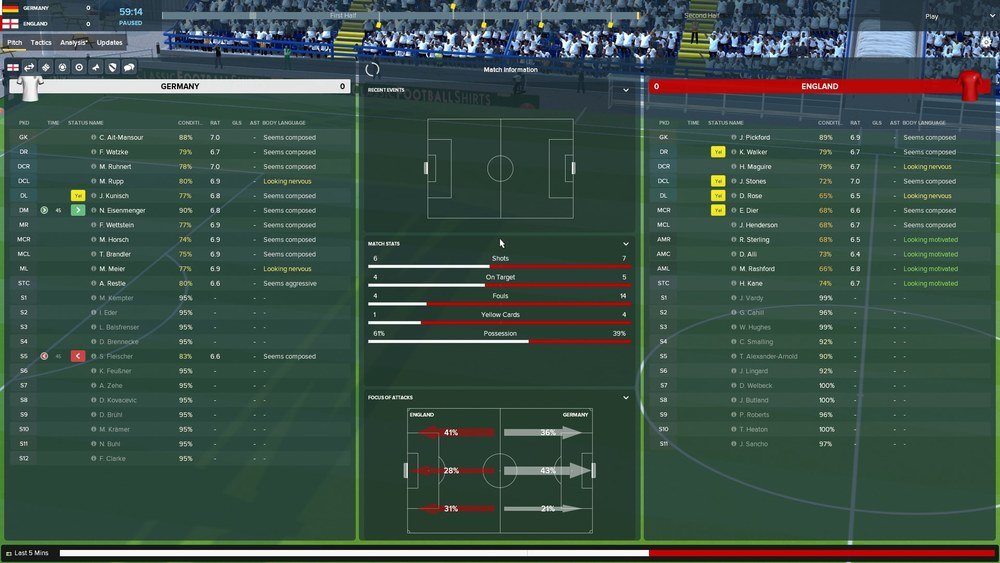 I give it ten more minutes and decide to haul Alli and Sterling off. They haven't performed well so far and we're in need of some fresher legs, so Lingard and Roberts get the nod. I send them on and scream encouragement from the touchline.
It's still a cagey affair, but right at the end things start to open up. Germany nearly find the net from a corner but Kunisch (him again) puts the header over. A minute later and Harry Kane lashes a shot against the woodwork, obviously desperate to avoid extra-time. It's unavoidable though, an extra half an hour awaits, and I'm already having palpitations at the thought of a penalty shootout against the fearsome Germans.
The knackered and booked Eric Dier is replaced with the fresher legs of Will Hughes, but I'm not feeling good about this at all.
We get a bit of an early break (perhaps literally) as the fragile Restle is taken off injured after Germany have already used all their substitutions. We may be a lot more tired than them, but at least we're playing against ten men now.
Half-time in extra time and still nothing has happened. It's very even, and now I have a decision to make. Do I go attacking and try and get the win here, or hold out as we are and head to a potentially unwinnable penalty shootout?
I take a risk and go for the win, and two minutes later it pays off. I go hurtling down the touchline (okay, I leap out of my chair in my office) as Will Hughes plays a delightful lofted ball through to Kane. The previously impenetrable Ruhnert beats him to the ball but inexplicably squares it across his own six yard box. Who else is there but Marcus Rashford, he smashes it goalwards, and Ait-Mansour's chocolate wrists can only palm the shot into his own net. 1-0 to the Lions!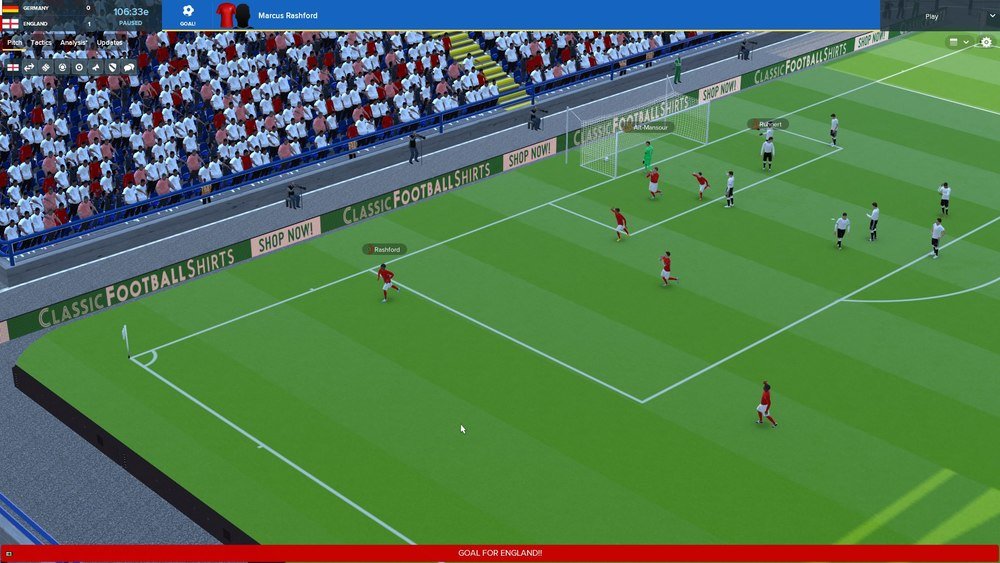 Batten down the hatches lads. There's a siege a'comin. I pull Lingard and Hughes back to pack the midfield area and try to retain possession.
The siege doesn't come instantly though. First up it's another England attack, but Rashford can only head against the bar this time. He's carried us in this World Cup campaign, so I'll happily forgive the young lad.
In fact, the siege never comes. The downtrodden Germans don't even have another shot on Pickford's goal and we finish off the stronger side. The final whistle blows and I breathe for the first time in 15 minutes. It wasn't the prettiest of play, and we committed a huge 22 fouls on the nameless Germans, but it's a win and an end to our quarter final curse.
Read More: Analysing England's Centre Back Options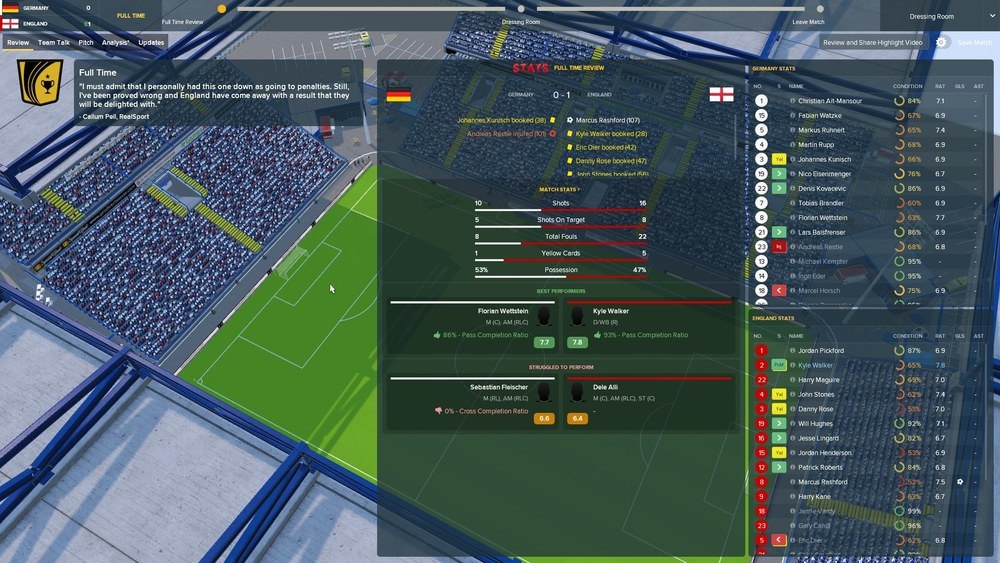 Steve Holland thinks that I don't need to address anything specific in the post-match team talk. The blithering idiot must be in cahoots with Keith the scout. I tell them I'm delighted with their efforts.
There's just one more nation standing in the way of an historic World Cup Final. France knocked out Spain on penalties in the quarter finals, and have beaten Croatia, Australia, and Peru so far. They lost 2-0 to Denmark in their group opener though, so it's not all been plain sailing.
I'm feeling optimistic about it. Whatever happens now I can class this as a success anyway!
Read Part 10 of our Football Manager Journey here.
Follow Free Super Tips on Twitter to stay up to date with our daily tips and predictions or browse more football content on our website: