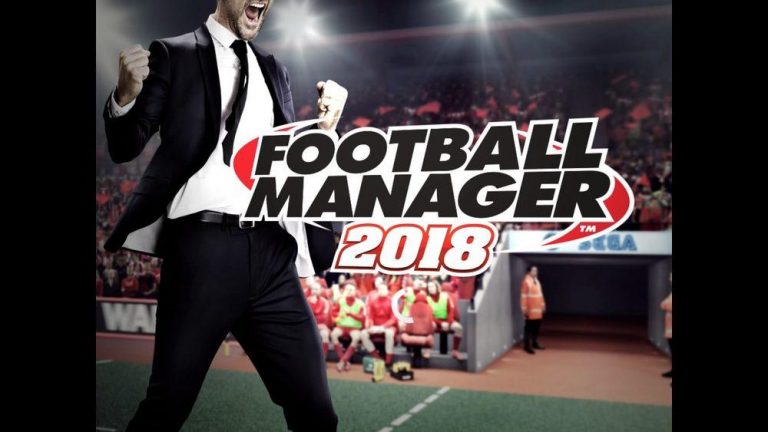 Content Editor at Free Super Tips, Alex was born in the shadow of Old Trafford and is an avid Man Utd fan. After graduating from university he combined his love of football, writing and betting to join FST and now closely follows goings-on in all of the top European leagues.
This is Part 2 of our Road to Moscow Football Manager series. You can read the previous instalments below:
After putting in an excellent attacking display against Scotland and demolishing Malta we're left needing just a point from Slovenia before we can book our tickets to Russia.
We better win though. If we only get a point it'll be Ryanair tickets all around.
Two and a half weeks before our match against Slovenia I receive an infuriating email. Jordan Henderson is injured – again. He's becoming a liability now, and I think I need to delve a little deeper into my midfield options. Alex Oxlade-Chamberlain follows on a week later with an identical injury, and I seriously consider making a drunken late night phone call to Jurgen Klopp to ask him what the hell he's playing at.
A few days later and I'm foaming at the mouth. Another email bearing bad news, with Jurgen Klopp's murderous training methods sidelining Adam Lallana for a month. I search around the menus for a way to tell him how much I despise him, but coming up empty handed I briefly consider offering him the role of England U19 scout in the hope that it will keep him away from my senior squad. I decide against it, instead hoping the crazy German will be sacked in the near future.
Read more about Germany chances in the World Cup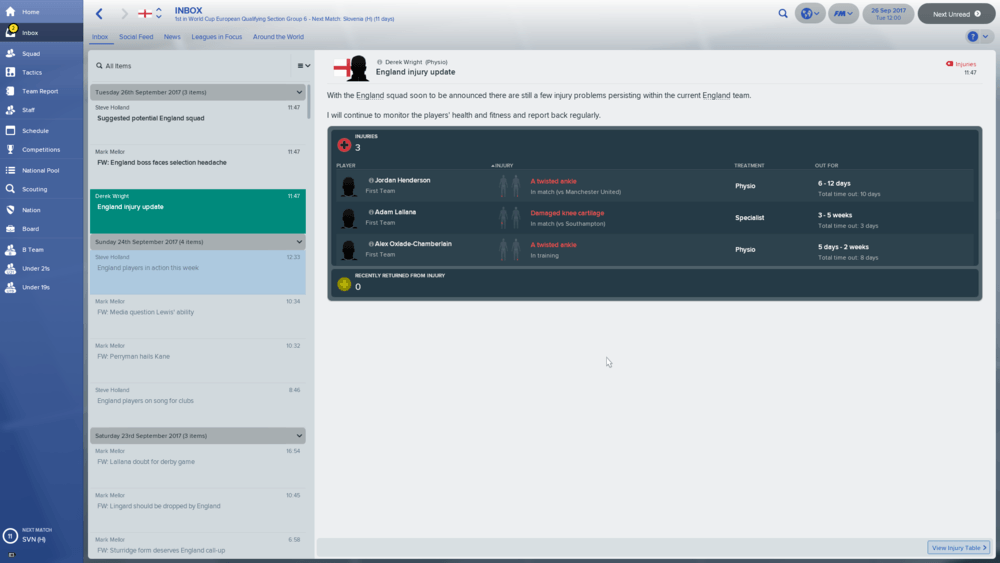 On the plus side, both John Stones and Jadon Sancho are performing admirably for their clubs and Danny Welbeck and Ben Mee are giving me something to think about with their performances. When the time to name our squad comes around I opt for a few changes. Joe Gomez was unimpressive at left back, and after Luke Shaw was given game time at Old Trafford I decide to give him a chance to impress me.
Phil Jones, who has barely kicked a ball under Mourinho, is axed to make way for the now fit Gary Cahill, while Harry Winks gets his call up to replace the stricken Liverpool duo. Henderson keeps his place after the overworked Liverpool physio tells me that he should recover in time.
Jones isn't happy about being left out so I try to explain my decision. I can almost imagine his gurning face mumbling back at me. He's played one match in almost two months for Manchester United, and according to him this classes as 'plenty of football'. Fortunately Wilshere took his exclusion with a bit more grace than Mr Last Ditch. I may reward him for his patience in the next squad.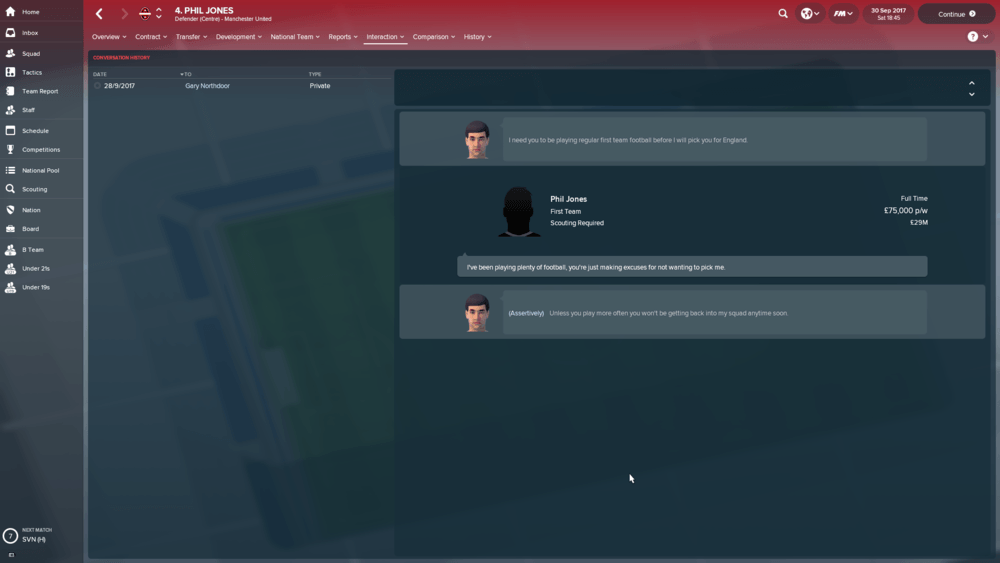 England (1st) vs Slovenia (4th)
A few days before the match I receive news that Slovenia's star player, Jan Oblak, is a major doubt after injuring his wrist (what was he doing?) It's good news on the injury front for once.
The pre-match press conference goes without a hitch as well, although Jim Milne was back again with his inane questions. "I don't care about Turkey's manager, Jim." I reply assertively.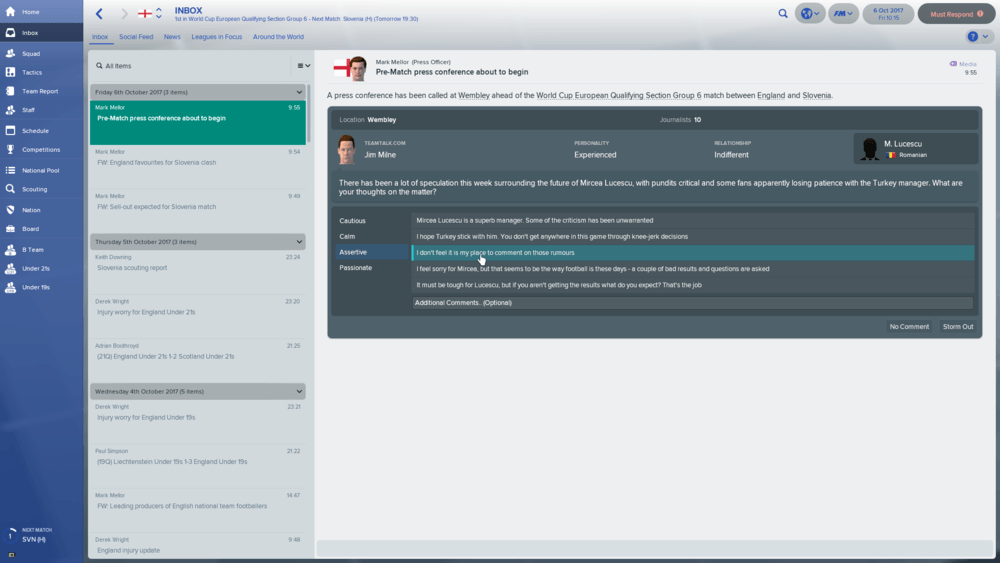 Taking a long, hard look at Slovenia's last couple of fixtures reveals that they favour a 4-2-3-1 formation with star outfield player Kevin Kampl utilised as a central playmaker. Jasmin Kurtich is a formidable presence in the holding midfield role as well, but apart from that they aren't anywhere near England's level.
Benjamin Verbich has potential, but he was shocking in their 3-2 loss to Slovakia and Pucko, his opposite number, was pretty poor too. Vitesse striker Tim Matavz seems to have all the agility of an oil tanker, but he is good in the air so that's something we'll have to account for.
I bring the towering Gary Cahill in to keep tabs on Matavz, and Eric Dier drops back a bit and gets instructed to take care of Kampl. The rest of the setup remains the same, with Loftus-Cheek deputising for the perennially doubtful Henderson.
The crafty Slovenian devils have mixed it up. Beric and Ilicic are much better than the previously favoured Matavz, and Kampl's been moved out to a more effective right midfield position. The two defensive midfielders mean that they should struggle to link up with the strikers though, so a small tactical change pre-match should sort this out.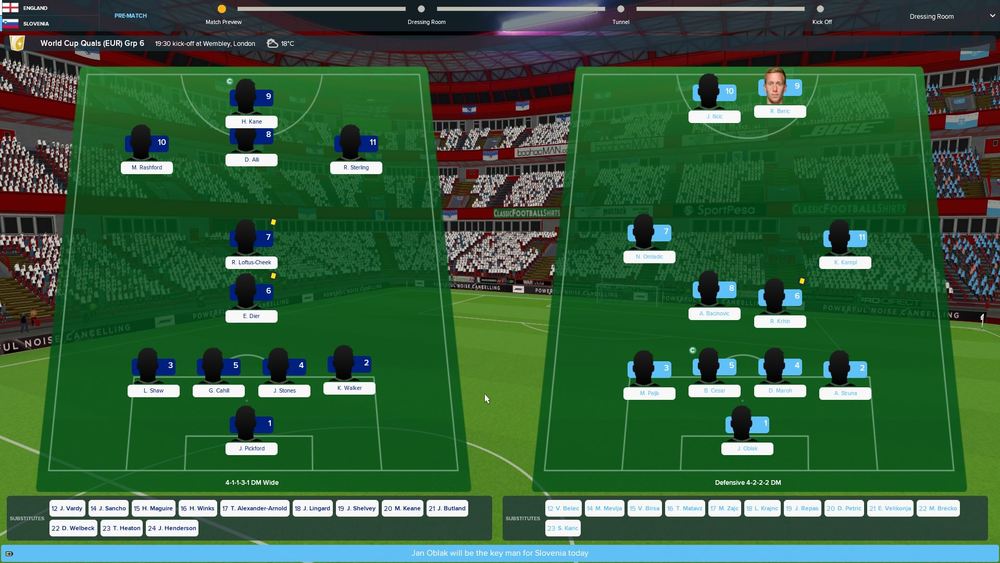 Oblak is playing, but he's still carrying that injury. 17 minutes in and he is visibly shaken, rolling the ball out to his centre back alla Loris Karius and almost allowing Alli to net. His poor finishing lets him down, but two driven shots at Oblak's fragile wrists must have hurt him.
It's definitely a more cautious start by us, but we're holding our own and passing well. 27 minutes in and Sterling continues his excellent form on the right wing, spinning around their full back and whipping it into the danger area. A brief scramble later and the ball lands at Loftus-Cheek's feet to prod home. 1-0.
Two minutes later and Oblak is at it again. A tame throw out and Alli is on it like a hungry wolf, but once again his finishing lets him down. It could be three, and I hope that we don't live to regret these missed chances.
It's been a good half, and I stroll down the Wembley tunnel to tell the lads to keep up the good work. They're delighted. Alli comes off for Wembley specialist Lingard at the break, and I instruct our men to close Oblak down at all opportunities to try and force him into yet another mistake.
My team talk was obviously well received, because 15 seconds into the second half and we're 2-0 up. Straight from kickoff Lingard plays the ball back to Walker, who must've stuck a rocket up himself during the break because he drives through the entire Slovenia defence before whipping a cross in to an unmarked Rashford.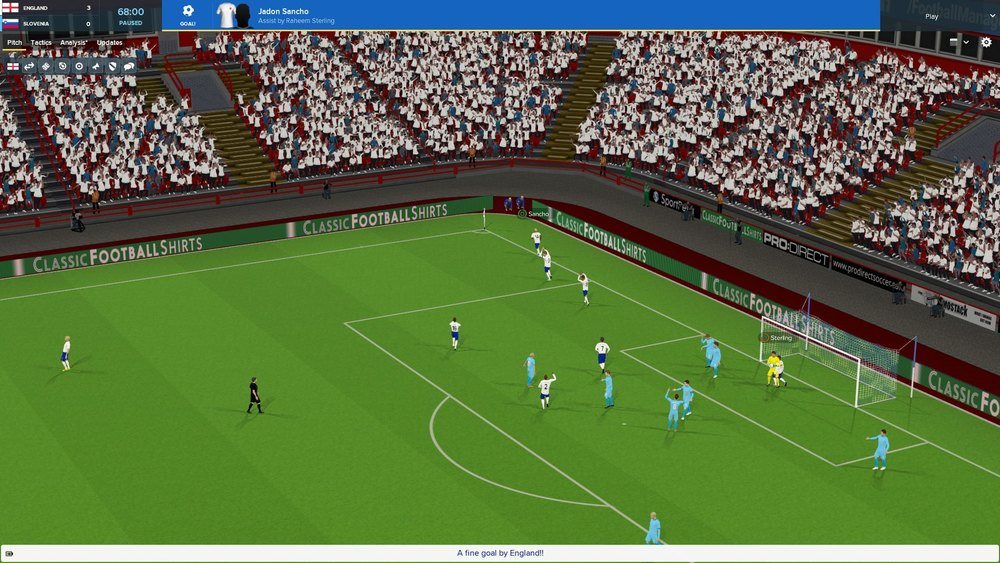 It's more of the same after I switch to counter attacking. Slovenia fail to pose any threat to our defence, and they're getting run ragged down the right wing. Oblak has been terrible, and another misplaced pass gives Sterling time to bring it down and run into space, putting a deep cross towards the fresh legs of Jadon Sancho. 3-0.
The icing on the cake comes in the form of a beautifully worked Raheem Sterling goal, set up by an unusually selfless Harry Kane. Sterling deserves a goal for all his hard work, and a 4-0 win will do just fine.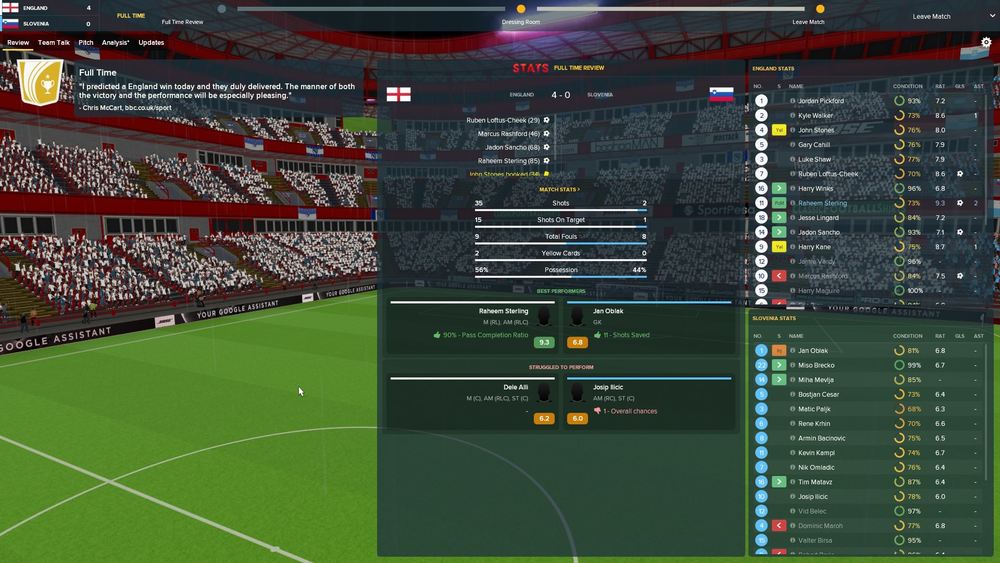 Yes, that's 35 shots on goal. We should have scored more, but it was a well balanced performance overall. Limiting them to two shots is a very promising sign, and I'm starting to wonder what all the fuss is about. At this rate we'll be strolling out of Heathrow Airport with the World Cup trophy aloft in nine months time.
Read More: How Important is Harry Kane to England's Chances?
England (1st) vs Slovakia (2nd)
Next up on the cards is 2nd placed Slovakia, and while the result doesn't matter a bit to us I'll be demanding a win.
It seems like the bookies have been on the sauce though. They priced us at 4/6 at home to Slovenia, but despite Slovakia being a better side in better form they've given us incredibly short odds of 1/3 to win here.
The pundits have obviously been out on the lash with the bookies too, and proceed to single out Nurnberg striker Adam Zrelak as Slovakia's key player, rather than the world-class Marek Hamsik. Good job I do my own research and don't rely on these clowns.
A few tactical changes are in order now that I've got a few games under my belt. I tell the lads to focus their attacks down the right wing after having such success with them recently, and opt for an even wider approach to exploit this.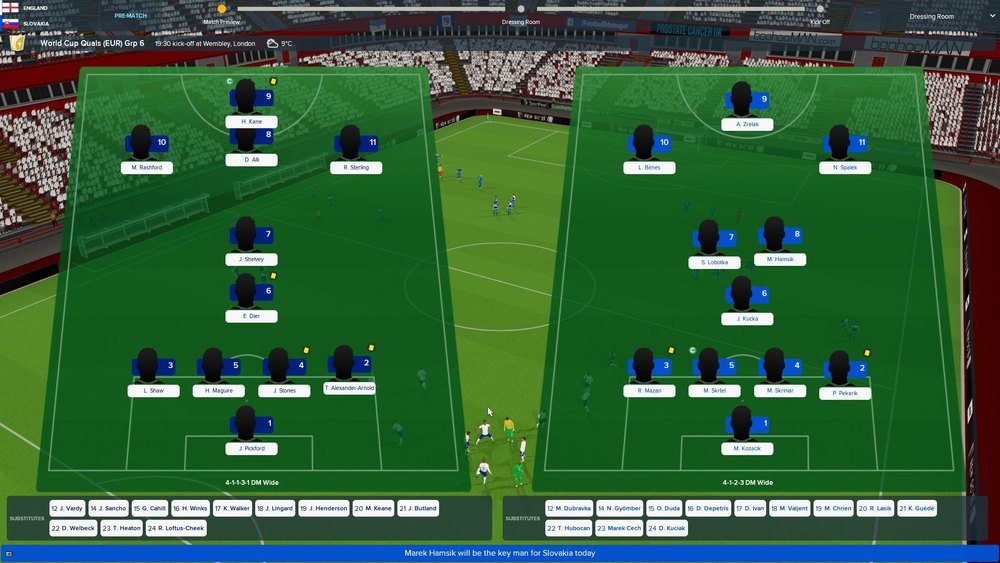 I instruct Dier to mark Hamsik closely, and get Harry Maguire to keep his eye on Zrelak too, if only to avoid the wrath of the pundits should he get a goal. Jonjo Shelvey comes in for Loftus-Cheek, who seems incapable of playing two games in a row, and Alexander-Arnold takes over from Walker to give him a bit more game time.
Absolutely nothing happens in the first half. Not a single highlight to speak of. This is not how I want our qualifying campaign to end, and after Marcus Rashford has a goal disallowed in the 46th minute I storm down the tunnel in disgust.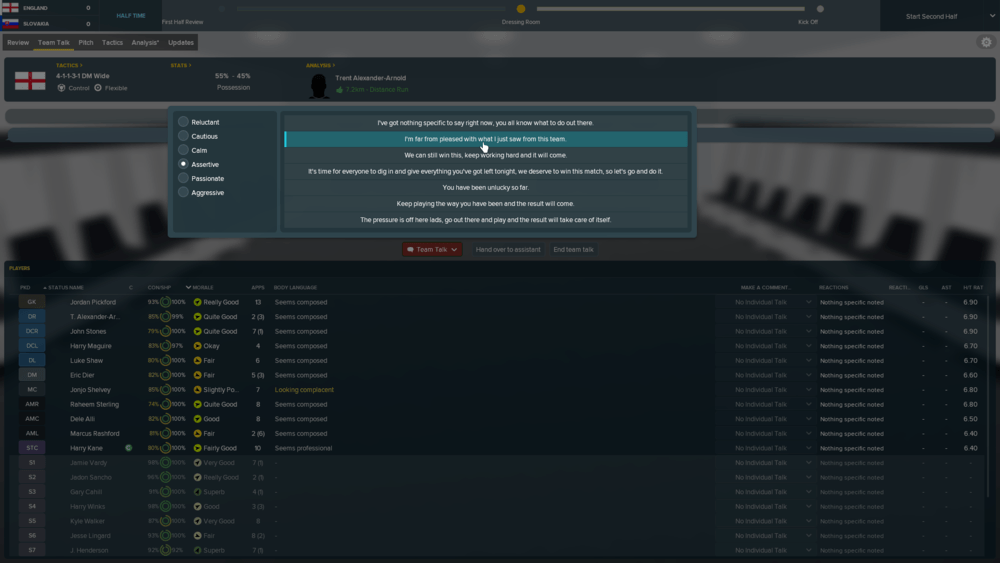 Harry Kane doesn't take kindly to my team talk; Steve Holland tells me that he seemed to switch off. I'm not sure how it's possible to be more 'off' than he already was, so I decide to teach him a lesson and bring Vardy on in his stead.
I drop Dier back into the centre of defence and go three at the back, bringing Henderson on to replace a knackered Sterling. It's an asymmetric 3-2-2-2-1 with Rashford pushed out wide. It can't get much worse so I may as well take a risk.
It doesn't get any worse, but it's certainly no better. "Show some passion!" I roar from the touchline, but nothing changes. I haul Rashford off for the effervescent Jadon Sancho and pray that this isn't the start of my downfall.
The last kick of the game sees Luke Shaw belt it out of play for no reason. We managed to make it a full 90 minutes with just a single highlight, which happened to be Rashford standing half a mile offside and then complaining when his goal was ruled out. That's how World Cup qualifying ends – Not with a bang, but with a deafeningly silent Wembley crowd bored to tears.
I storm down the Wembley tunnel for a second time, batting away reporters on the way. I cancel the private jet to Russia and decide to compromise on Thomas Cook. Harry Kane won't even get an in flight meal included after his reaction to my team talk. That'll teach them.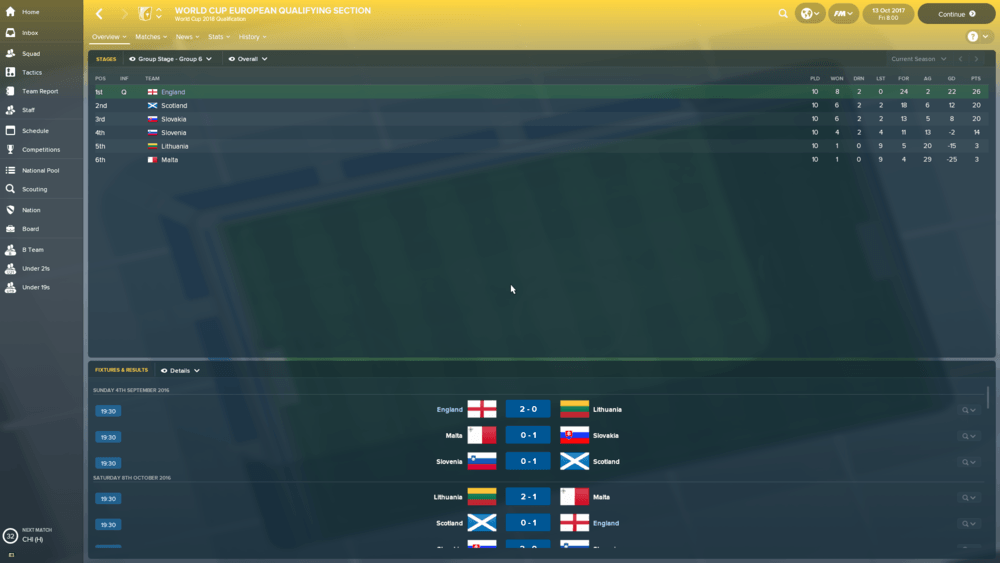 That was abysmal, but after my petty outburst I take the time to glance at the final qualification standings and afford myself a little smile. Top of the group was expected of me, but it's good to have that first hurdle out of the way.
I've got a month or so to calm down before I see their disinterested faces for our friendly against Chile though, so that should be enough time to cool down. Unless Jurgen Klopp decides to maim any more of my midfielders, that is.
I settle down for a long four weeks of scurrying around looking busy. I've got a large stack of completely blank paper to lug around with me, and I've even bought an iPad so I can pretend to do important, tactical things on it. I actually plan to just browse the Free Super Tips app. Such is the life of a national team manager.
Read Part 4 of our Football Manager Journey here.
Follow Free Super Tips on Twitter to stay up to date with our daily tips and predictions or browse more football content on our website: