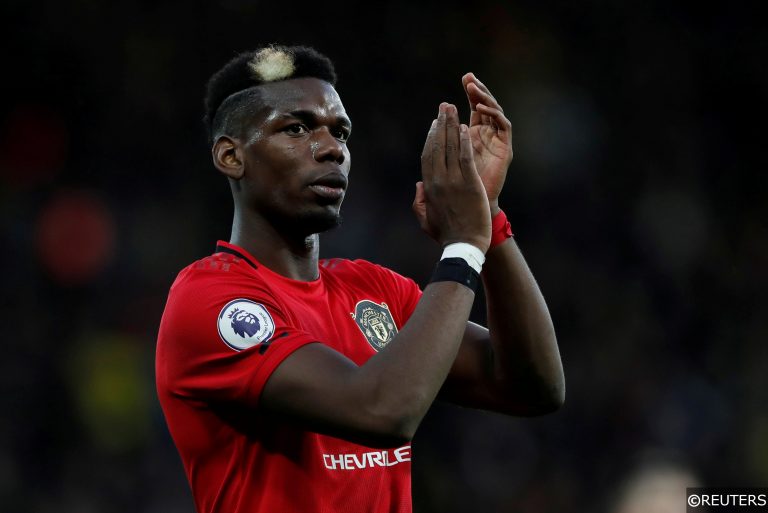 An Arsenal supporter and occasional match-goer, Liam has been involved in football journalism for a number of years and joined the Spotlight Sports Group in 2018. He is studying for a degree in German and Spanish, can speak French too and is particularly interested in the Bundesliga and La Liga.
Having turned 27 this month, Paul Pogba is arguably entering the peak years of his football career but the Frenchman still looks a long way off what was expected of him when he was a Juventus prodigy.
The 2019/20 campaign has been a challenging one for Pogba, who has not made an appearance for Man United since a 4-1 win over Newcastle in December due to injury.
Speaking to the United podcast, though, he gave an update on his efforts to get back to full fitness. He said: "I'm already training and touching the ball. I've been frustrated, a long time ago. Now I'm almost there, so I'm just thinking about getting back and training fully with the team and everything.
"You think bad but I've never had something like this in my career so i always take it in a good way. It makes me more hungry to come back and do well. And, yeah, it just shows me as well how much I love football."
So Pogba is working his way back into the Man United picture but with his off-field antics, mediocre performances and prickly temperament considered, is the midfielder really worth the fuss?
Summer transfer best outcome for all parties
Pogba's agent Mino Raiola has hinted that the midfielder could be tempted by a move to Real Madrid, which would likely be in the region of a £100 million transfer, and that could very well be the best situation for both the player and Man United.
Through his own doing, Pogba has shed his key player tag this term. The arrivals of Bruno Fernandes and Odion Ighalo at Old Trafford in January have culminated in an 11-game unbeaten run for the Red Devils. They are clearly coping without him.
In a developing Scott McTominay they have an anchor midfielder of the future, while Fernandes, who has scored twice and laid on two assists already, is the new creative outlet in town. Pogba's most likely role in the team when he returns would be alongside McTominay but it is common knowledge the Frenchman is not particularly effective in a deeper role.
His figures to date struggle to justify the £89 million fee United paid for their former youth product too. In 102 Premier League appearances, he has scored 24 goals and 25 assists – figures typical of a decent player but not a magnificent one.
Pogba's personal character also doesn't align with United's newfound recruitment policy. In Aaron Wan-Bissaka, Daniel James and Fernandes, United have signed young, hungry players who let their football do the talking and are honoured to wear the shirt.
The midfielder's strong social media presence – Graeme Souness has called him a 'bit of a Youtuber' – and changing hairstyles are arguably just part and parcel of the modern-day footballer but a player needs to maintain work ethic and ability alongside the life of luxury.
That is, however, a balancing act Pogba cannot seem to master and the Frenchman's time at Old Trafford could, and perhaps should, be coming to an end.