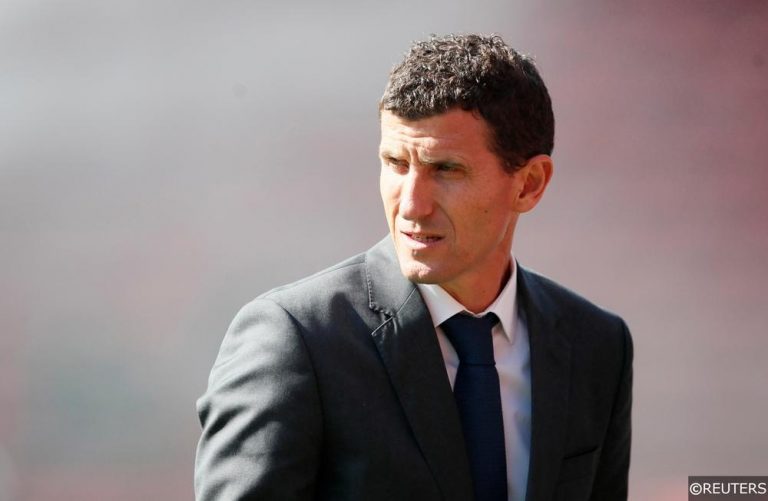 Simon Winter
@simonjwinter
September 3, 2018
Show Bio
Born in the south east of Ireland, Simon put his life-long love of football to good use when he started a successful independent blog in 2010. That opened up an alternative route to a career in journalism, and having had work published across a number of sites and publications, Simon joined the staff at Spotlight Sports Group in 2018.
"Everybody is happy because to get four wins in a row is not easy and we are enjoying it, the players, the supporters. It's a big moment for us. Knowing it's only the beginning."
Javi Gracia was positively giddy in his post-match press conference on Sunday evening. The Watford manager was vibrating with self-satisfaction having watched his team beat one of the Premier League's best.
The Spaniard's soundbites would have further titillated an already euphoric Watford fanbase. "It's only the beginning" is a quote that suggests that Gracia is confident that there are more good days to come.
Maybe just as exciting was his assessment that Watford had "played better" this season. The suggestion that Watford beat Spurs in second gear might be a little disingenuous, though the idea is still enough to push Hornets fans into realms of delirious optimism.
Watford's fantastic 2-1 comeback win against Tottenham Hotspur maintained their perfect start to the Premier League season, and simultaneously ended their opponent's own flawless run.
It was the Hornets first win against Spurs since their 3-2 win at White Hart Lane in the second round, second leg of the 1994 Coca-Cola Cup, when a Lee Nogan double inspired Watford to a 3-2 win over Klinsmann and co. (Tottenham won 8-6 on aggregate).
Check out our expert Premier League betting tips, predictions and match previews here.
Javi Gracia – Giant Killer
Javi Gracia's managerial record has an almost existential feel to it. The Watford job is the Spaniard's tenth in as many years and charting the 48-year old's career path so far, feels like mapping the route of a continental soul searcher on a journey of self-discovery.
The Pamplona born former defensive midfielder has taken jobs in Spain, Greece and back again, with a brief stop in Russia with Rubin Kazan before arriving on English shores in January. His reputation has taken as many turns as his managerial pilgrimage, though it was during his stint at Malaga between 2014 and 2016 that he earned his "giant killer" nickname.
Gracia had already forged a reputation as a "coach" in the literal sense of the word. He excelled in making players better rather than simply signing better players. He proved that early in his career during his time Pontevedra and Cádiz respectively, and though his methods couldn't keep Osasuna up years later in his most high-profile job in 2013/14, Malaga saw something in Gracia that they liked.
Impressive record against Barcelona and Real Madrid
Malaga had lost the considerable financial backing of Abdullah bin-Nasser al-Thani the year before Gracia arrived, which meant that talent was flowing steadily out of La Rosaleda as los Boquerones attempted to balance the books.
With incoming transfers out of reach, Gracia did what he does best – organising the collective and improving the individual. Malaga finished in a highly respectable 9th place in 2014/15 and 8th the season after. It was the club's performances against La Liga's biggest teams that turned the most heads however.
In Gracia's first year at the club, Malaga took four points off Barcelona, drawing 0-0 with them at home in September 2014 and beating the eventual champions 1-0 at the Nou Camp in 2015.
Kicking the legs out from underneath reputations was something that Javi Gracia started to relish and in 2015/16 it was Real Madrid's turn to have their nose bloodied. Malaga drew 0-0 with Real at the Bernabéu and held the giant to a 1-1 draw later in the season at La Rosaleda.
Gracia's tactical intelligence and bravery in the second game against Real in particular earned the coach enormous amounts of praise. Gracia has also masterminded a 1-0 win over Real's City rivals Atletico earlier in the season. Barcelona beat Malaga in both La Liga meetings in 2015/16, but their narrow 1-0 and 2-1 victories were some of the title winners' toughest tests of the season.
2018 and Watford
After his success at Malaga, Gracia endured a testing year as coach of Rubin Kazan in Russia, where he struggled to adapt to the cultural differences in a notoriously difficult league for foreign coaches to settle in.
Gracia employed five translators to help transfer his instructions to a multinational squad, though it wasn't enough to overcome the tactical confusion and mis-interpretation. The Volzháne finished in a disappointing 9th position after which, Gracia and Rubin parted ways in June 2017 after a relationship that lasted just one year.
Watford came calling six months later, handing the Vicarage Road keys to a new manager for the 4th time since their promotion in 2015. Trigger-happy owner Gino Pozzo hoped that Gracia's tactical cleverness and his reputation for improving players could help Watford punch above their weight against some of the division's better sides.
After an 1-0 FA Cup loss at Southampton in his first game in charge and a point at Stoke in his Premier League managerial debut, Gracia faced champions Chelsea in his first match at Vicarage Road.
Watford won 4-1 to record their biggest home win of the season, earning Gracia instant adoration. The Hornets won three of their first four league matches under Gracia's stewardship and the Spaniard could have been forgiven for thinking the Premier League was a walk in the park.
However, Watford closed out the season with just one win in nine league games and whispers of discontent in the boardroom were beginning to surface. Really, that makes their start to the 2018/19 all the more remarkable, in that, nobody saw it coming.
Read More: Patient Parma Celebrate Return as Juve Run Through the Motions
Gracia's tactical switch
Before the 2018/19 Premier League campaign got under way, Gracia was the bookmaker's favourite to be the first manager sacked. In fact, it's not a stretch to suggest that one or two bad results inside the first handful of Watford fixtures might have seen Pozzo reach for the well-worn ejector seat button.
Gracia had other ideas however, and setting his team up in an unorthodox, but fluid formation, Watford set about catching the rest of the Premier League cold.
Watford have adopted a relatively flat 4-4-2 structure without the ball this season, with Will Hughes and Roberto Pereyra the widest of four midfielders. The duo have played narrower and a little further infield than traditional wingers however – a tactical adjustment that has had huge defensive benefits for Watford so far this season.
The Hornets conceded just three goals in their opening four Premier League fixtures, with their more tightly woven centre funnelling opponent's advances into wider, less threatening areas. The tactic is proving an extremely efficient way of reducing the opposition's attacking threat.
Read More: Expected Goals (xG) Round Up: Premier League Week Four
The numbers
Watford have conceded the 3rd highest number of crosses per game (22) so far in 2018/19, but have allowed the 3rd fewest shots on their goal on average (8.5) behind Liverpool and Manchester City.
In possession, it's been all about directness and efficiency for Gracia and Watford. The Hornets have been expressive and eager to commit bodies forward, though they are going about their business in a simplified way.
Only Burnley have played more long balls per game on average than Watford this season. The Hornets have averaged 76 long passes per Premier League contest, while they also rank 3rd last for average passes completed (69.6%).
Watford rank 12th for average shots per game (12), but 9th for average shots on target (4.8). Interestingly, expected goals models show that Watford have hit the net approximately twice as often as they should have.
Continuity has also been key – Watford have picked the same eleven players for each of their first four Premier League matches against Brighton, Burnley, Crystal Palace and Tottenham Hotspur respectively.
Home advantage has also played a part in their early success, and three of Watford's first four league matches were played at Vicarage Road. Javi Gracia's Premier League record there since arriving in January has been excellent – Watford have won 7, drawn 2 and lost 1 of his home league games in charge.
After the international break, Watford play Manchester United, again at Vicarage Road, in another test of Javi Gracia's tactical acumen. The Hornets are buzzing and with United struggling to find their own identity, Watford will face them having firmly cemented theirs. Don't bet against Gracia and Watford taking another major Premier League scalp on September 15th.
Follow Free Super Tips on Twitter to stay up to date with our daily tips and predictions or browse more football content on our website: