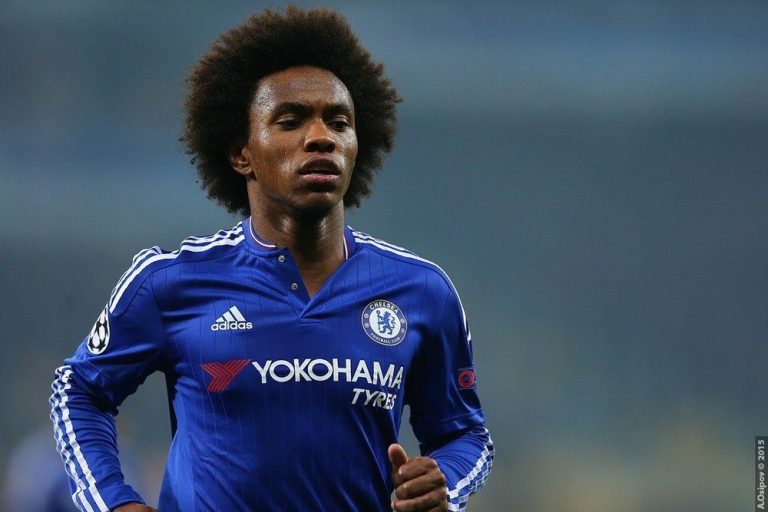 Simon Winter
@simonjwinter
Born in the south east of Ireland, Simon put his life-long love of football to good use when he started a successful independent blog in 2010. That opened up an alternative route to a career in journalism, and having had work published across a number of sites and publications, Simon joined the staff at Spotlight Sports Group in 2018.
By Aleksandr Osipov from Ukraine (Willian / Виллиан) [CC BY-SA 2.0 (https://creativecommons.org/licenses/by-sa/2.0)], via Wikimedia Commons
The summer transfer rumour machine has been cranked up to full speed this week and with activity behind the scenes starting to intensify, it won't be long before the first official deals are penned and announced.
Despite a healthy 2nd place Premier League finish, Manchester United are once again expected to be one of the busier clubs in the market. Already, United have been linked with dozens of players and though a lot of those links feel like tenuous column fillers, others feel more concrete.
Read more: World Cup 2018: The Biggest Names Not Going to Russia
Chelsea's Brazilian winger Willian has been earmarked as one potential addition. The 29-year old is frustrated with life at Stamford Bridge and he is understood to be keen to reunite with the man who brought him to England in 2013, Jose Mourinho.
But while Willian undoubtedly possesses a skillset that United lack in his position, the overall profile of the player should be a cause for concern among the club's already fractured fanbase.
Just as big as the divide between the pro and anti-Jose Mourinho factions, is the yawning chasm down the right-hand side of United's attack. The lack of thrust from that flank has been a large factor in United's underwhelming forward play for a sustained period. Of course, Jose Mourinho's own reductive tactical outlook has been just as important a factor, though a better player in that area would certainly help.
With zero goals and three assists in his last twenty-one appearances, the charming but ineffective Juan Mata is ready to be ousted from the right-hand berth he has never really looked comfortable in. But is replacing the 30-year old Spaniard with Willian, who will be 30 by the time new Premier League season gets under way, really the best solution?
The idea feels like a transitory fix at best, a temporary patching of a hole instead of the refabrication it really needs. The most worrying aspect of the deal is the apparent ramp up in the kind of short-termism long associated with and often reviled in Jose Mourinho's management style.
Willian, a player who has largely built his game around explosiveness and pace, would arrive at Old Trafford on the cusp of depreciation. That's not a cruel assumption to make. 30 is generally the age where footballers' physical attributes begin to wane, before they begin to deteriorate more rapidly a year or two later.
Was Willian the only viable option United's collective scouting and management personnel could come up with for that position? It seems more likely that Mourinho dismissed the alternatives in favour of what he viewed as the least risky move.
Adding Willian to United's right would be an almost identical replication of what Mourinho has done on the opposite side. Alexis Sanchez, 29, was brought in from Arsenal in January and was immediately favoured over the precocious Anthony Martial. The Frenchman, 22, has since been completely marginalized and looks certain to move away from Old Trafford this summer.
Martial had been United's Player of the Month for three of the first six months of the season between August and January but has started just six times since Sanchez' arrival. And really, he might have been allowed to leave last summer had Mourinho's pursuit of the Croatian Ivan Perisic been successful. Perisic turned 29 in February incidentally.
The same patterns and trends are also quite easily identifiable in Mourinho's other rumoured transfer targets. With reinforcements needed in central defence, United have been heavily linked with Spurs' Belgian stopper Toby Alderweireld.
Alderweireld, who turned 29 in March, has played just six times in 2018 and though he was initially kept on the sidelines by injury, it looks as though he has lost his place in the Spurs team to the exciting young Colombian defender Davinson Sanchez. Again, it feels as though United are targeting a player on a downward trajectory.
The stench of short-termism is difficult to ignore. Conceivably, United could start the 2018/19 season with Antonio Valencia (32), Toby Alderweireld (29), Nemanja Matic (29), Alexis Sanchez (29) and Willian (29), occupying key positions in the team.
Of course, that won't mean United have suddenly assembled a team of physically spent geriatrics, but it does mean they face the prospect of another expensive rebuild inside the span of a few seasons.
It's a transfer policy that lacks imagination and bravery. Mourinho would call it risk aversion, though ironically, it's probably the riskiest approach of all. By building a side around a core of players at their supposed peaks, there is nowhere to go if it doesn't work. If success isn't instant, the project fails. There isn't the silver lining of untapped potential to point to or excuses of developmental teething problems to fall back on.
In dragging the average age of the team up so considerably, Mourinho would be bartering the club's long-term future in exchange for a shot at immediate success. At best, that's an all or nothing charge for silverware, at worst it's the selfish punt of a single-minded egotist.
Follow Free Super Tips on Twitter to stay up to date with our daily tips and predictions or browse more football content on our website: